Weddings are joyous celebrations of love and unity. In today's digital age, creating a stunning wedding website has become an integral part of the planning process. Well-designed wedding website allows couples to share their love story and other important information. To help couples build a functional website, there are numerous wedding PSD website templates available that offer beautiful designs.
In this article, we will explore the best wedding PSD website templates available.
List of the Best Wedding PSD Website Templates:
1. Wedding Atelier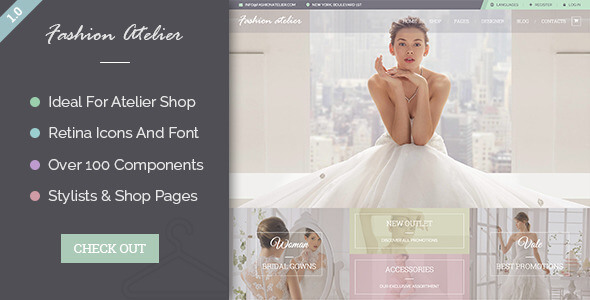 Welcome to wedding fashion atelier theme where you can set up your wedding e-commerce with this fantastic bridal store design.
2. Wedding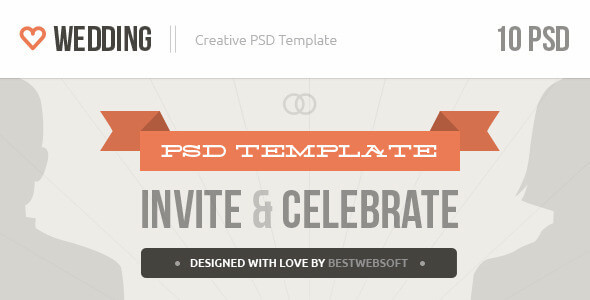 Wedding template is a stylish design to send invitations to your friends and family, store information about location, create beautiful galleries, and much more.
3. Larasati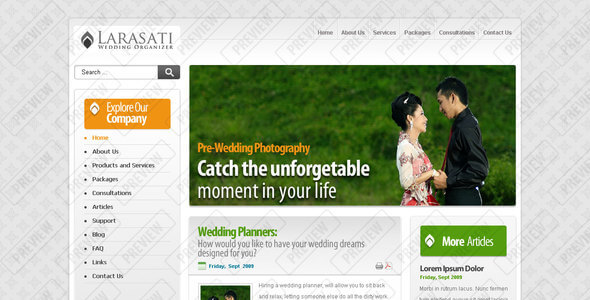 This simple and clean wedding organizer template with a "batik" background could be an option for your company profile website. Though the design style has a semi-portal website touch, it can accommodate a lot of info or content for your website.
4. Wedding Couple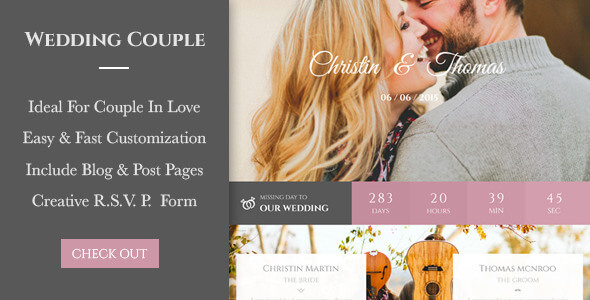 Wedding Couple is an elegant and clean website and a theme of one/multi pages. A theme is designed to give all the information to wedding guests. Inside the package, there are PSD files of all pages optimized in order to perform simple and fast customization.
5. Royal Event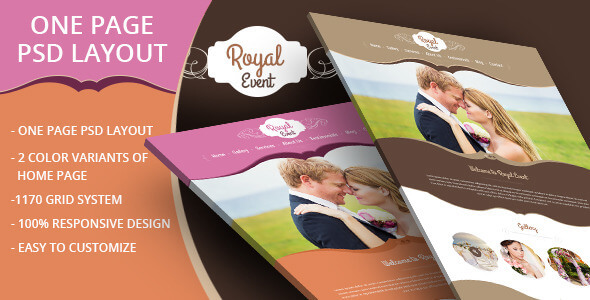 Royal Event is elegant and beautifully crafted for wedding events. It consists one-page template, a clean, modern, and flat PSD template.
6. Gittys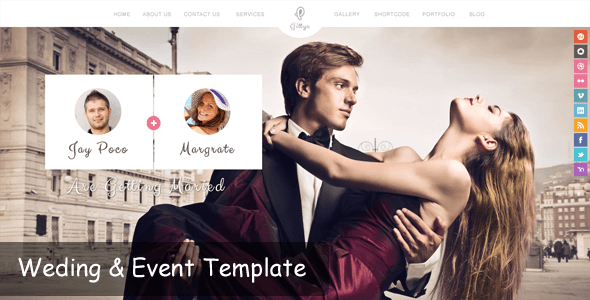 Gittys is a Wedding and Event theme. 7 total PSD files. Clean design with fully editable organized layered.
7. Wedding Reval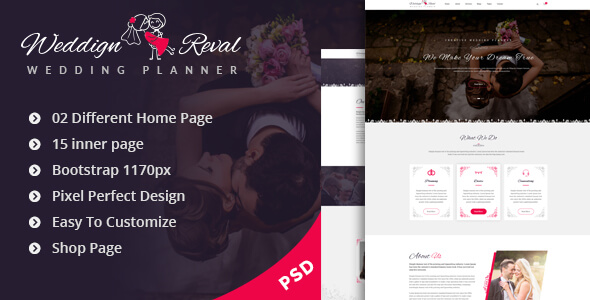 Wedding Reval- is one of the best Multi-Page PSD templates for Wedding planners, Wedding Agencies, and Businesses. This design is creatively designed for Weddings, Wedding planners, Businesses, and Other organizations.
8. Happy Day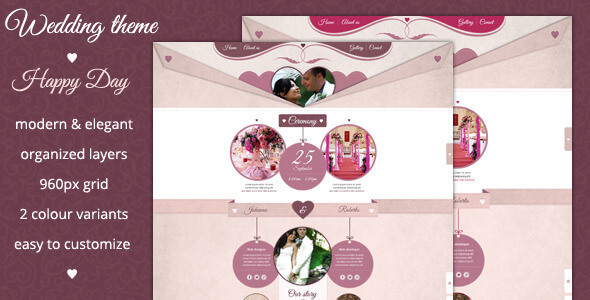 Happy Day is an elegant and modern theme and is also very easy to customize. It contains 2 PSD files which have been well organized. All colors can easily be changed.
9. Love Ceremony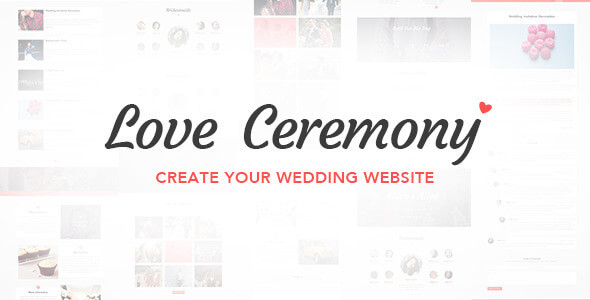 Love Ceremony is an elegant PSD template that is specially designed to share wedding details with your guests. Make it simple for guests to RSVP and find all the necessary information about wedding ceremonies.
10. Pump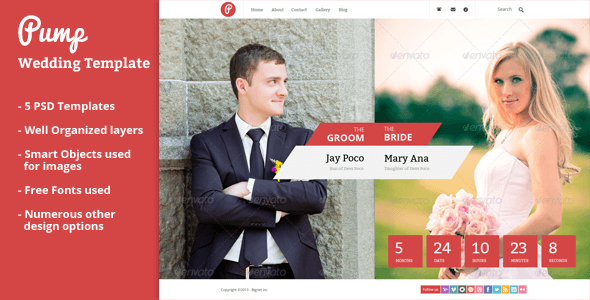 A pump is a Wedding and Event theme. 5 total PSD files. Clean design with fully editable organized layered.
11. Forever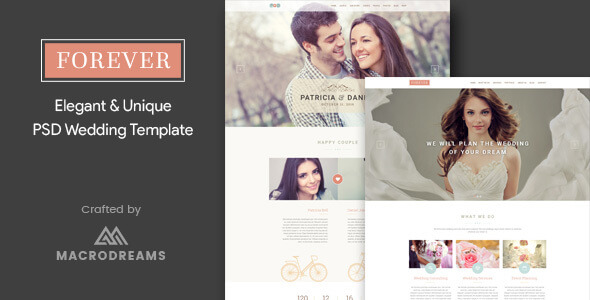 FOREVER is an elegant and clean wedding template perfect for a couple to share the joy of engagement and wedding with friends and family. This theme is also best suited for wedding planners and wedding organizers.
12. FlatLove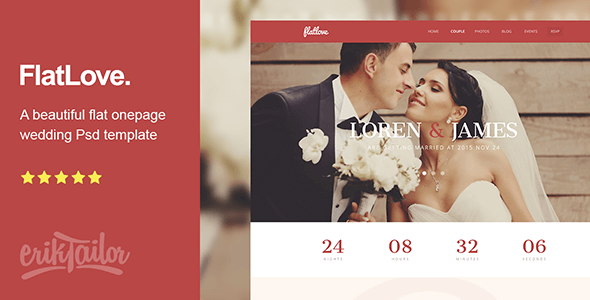 FlatLove is an exclusive one-page wedding PSD template for couples before their marriage, crafted with love in a sophisticated, yet modern clean, and minimal flat design style.
13. Shadi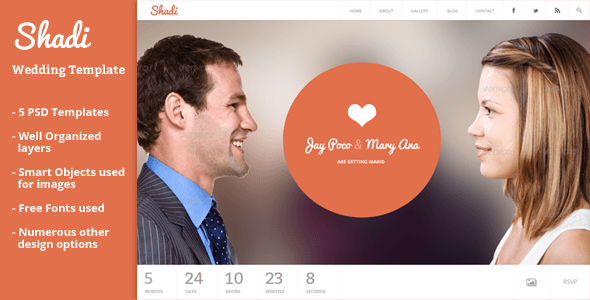 Shadi is a Wedding and Event theme. 5 total PSD files. Clean design with fully editable organized layered.
14. Themenum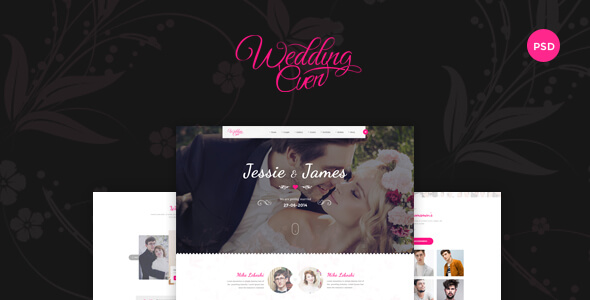 Wedding (themenum) one / a sleek and clean PSD template with multiple pages. PSD is designed to give all the information to the wedding guests.
15. Mariage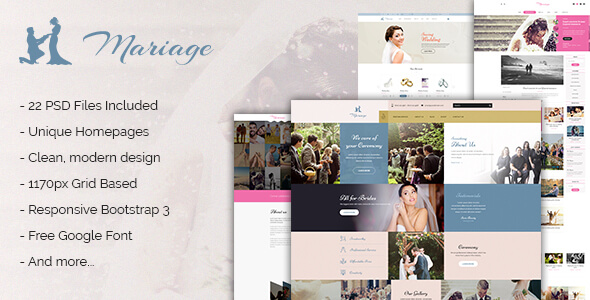 Mariage – A premium PSD template comes with multiple homepage layout styles. The unique and modern template is ideal for a wedding website. The template also includes essential pages for an eCommerce shop: Shop, Product Detail, Shopping Cart, Blog, and Contact.
16. Lovewed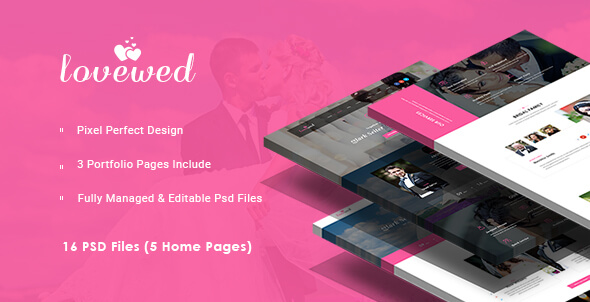 Lovewed is a clean wedding event PSD template with 5 different homepage layouts. It's fully managed, editable, and easy to use. If you like my template, please rate it 5 stars. perfect for a couple to share the joy of engagement and wedding with friends and family.
17. The Wedding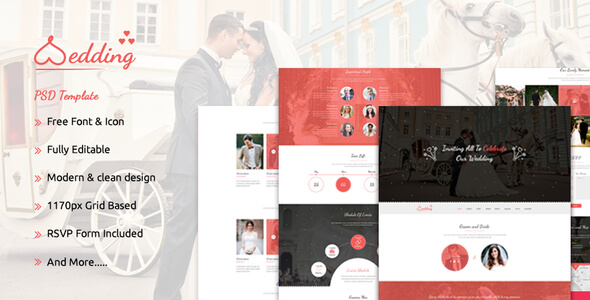 The Wedding – Bootstrap Responsive PSD Template is a modern and clean PSD Template for all Wedding related web site. This PSD supports a bootstrap responsive 1170px grid layout, It has predefined styling and colors and many features built especially for Weddings, Wedding planners, Engagement, invitations, and events.
18. Weddy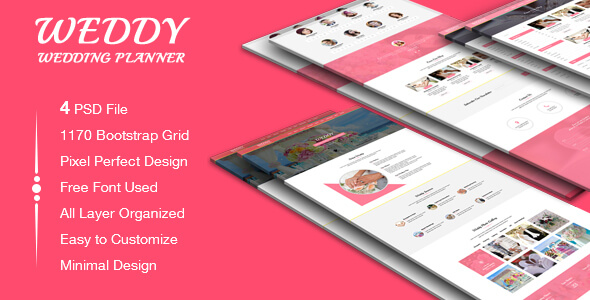 Weddy – is a modern, elegant, and professional PSD template. This template is ideal for Wedding planners, Wedding Agencies, and Businesses. This template is also creatively designed for Creative, Corporate Portfolio, and any kind of business.
19. Dear Bride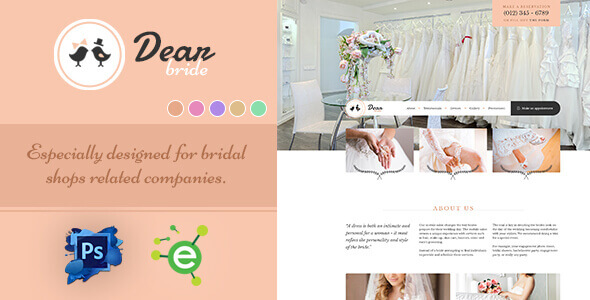 Dear Bride – One Page Wedding Salon PSD Template is a Creative, Unique, Rich, and Modern template specially designed for bridal shops and wedding salon-related companies. It's a One Page PSD with 5 color variations containing everything bridal shops related companies need.
20. Wedding Invitation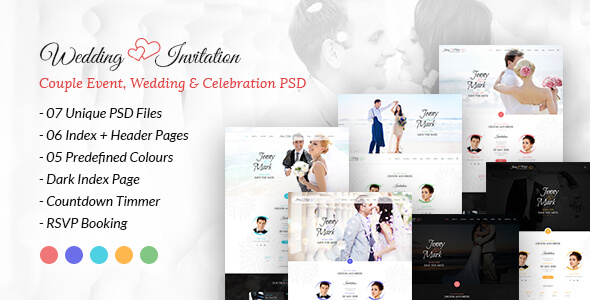 Wedding Invitation Multipurpose and clean PSD template with 6 Index + header style + Dark Variation. Great Design for wedding invitations or engagements. Coming with wedding features such as Countdown, Couple Timeline, Location Map, RSVP, Grooms Family, Brides Family, Friends, Gift Registry, and others.
21. James And Shuchi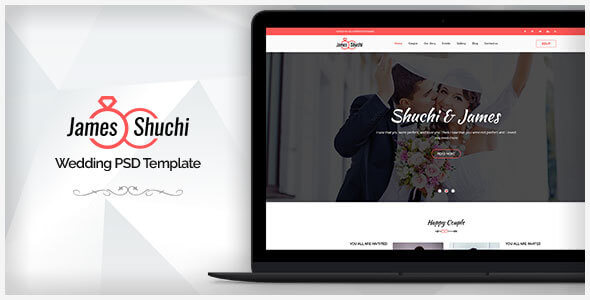 James and Shuchi Wedding PSD Template is an awesome design idea for your wedding website. Easy and intuitive website experience. PSD files are well organized and named accordingly so it's very easy to customize and update. Total 06 PSD files have been included.
22. Special Day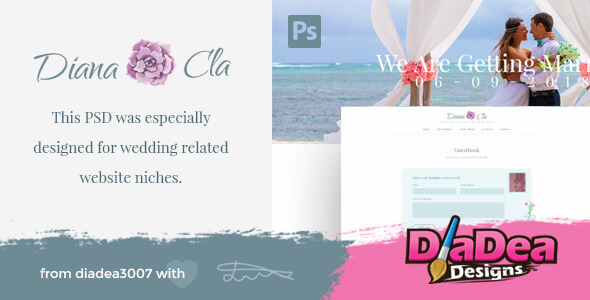 Special Day was specially created for all types of wedding and ceremony website niches. It has an integrated bootstrap grid, which makes the development process faster. This is a PSD Template specially designed for all types of weddings, ceremonies, couple love, and many other relevant wedding invitation, engagement, or wedding agencies in various fields.
23. Best Moments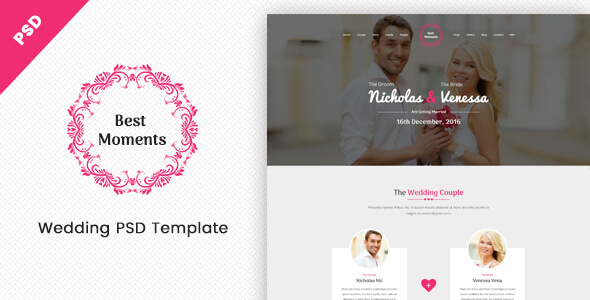 Best Moments is a perfect PSD template for a Wedding. This design was created to make a great Wedding Website.
24. La Ame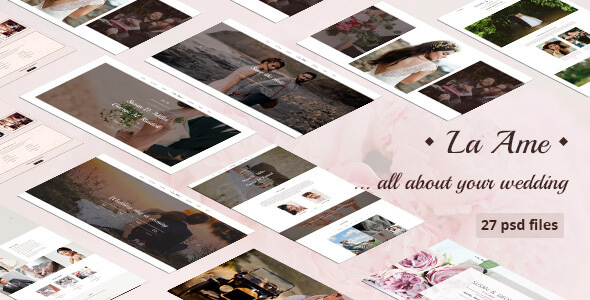 La Ame is the perfect choice for a couple looking for an elegant and clean PSD template for perfect wedding planning. Tell about your love story and invite your dear friends and relatives to the celebration.
25. Forever Love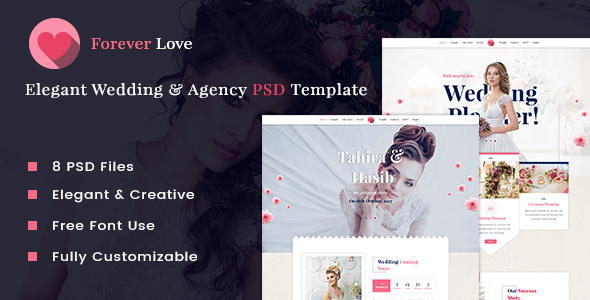 Forever Love is the elegant wedding and Agency PSD Template. It is best suited for Wedding agency business n personal weddings. This is a business template that is helpful for Weddings.
26. Flora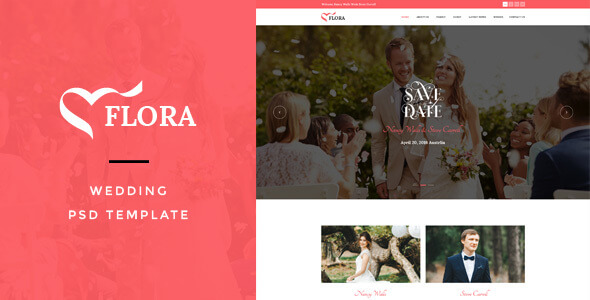 Flora: Wedding PSD Template suitable for all types of Wedding Celebrations.
27. Momonto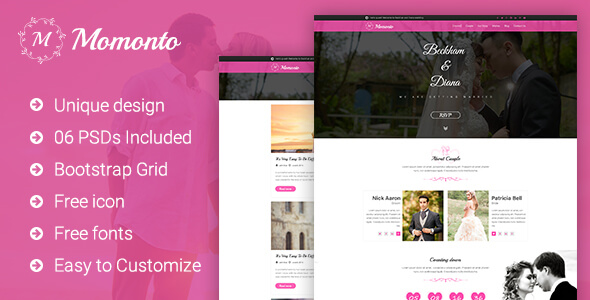 Momonto is the best suited for Wedding Template. The PSD template comes with 06 PSD files with clean, tidy, pixel-perfect, creative, hand-tailored, and unique to make sure it complied with all strict standards with best practices and includes everything you need to start a website for your wedding activities such as invitation, RSVP, introduction.