The spa and salon industry is known for its commitment to providing relaxation and beauty services to clients. In the digital age, a well-designed website is essential for promoting and showcasing the services offered by spa salons. However, PSD website templates provide a versatile and customizable solution for creating stunning websites. By using these templates you can create a website that reflects the unique atmosphere and offerings of a spa salon. In this article, we will explore some of the best spa salon PSD website templates available in the market.
List of the Best Spa Salon PSD Website Templates:
1. Lotus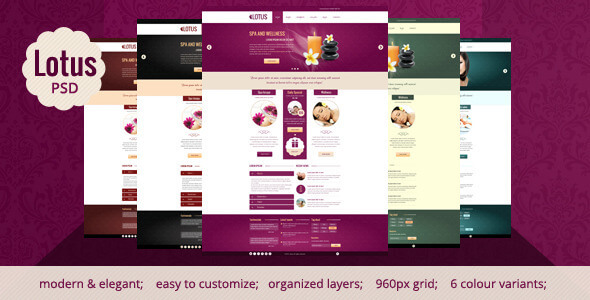 Lotus is an elegant and modern theme for spa and wellness centers but it is also very easy to customize it for other business like restaurant, hair and beauty salon and other.
2. Dream Spa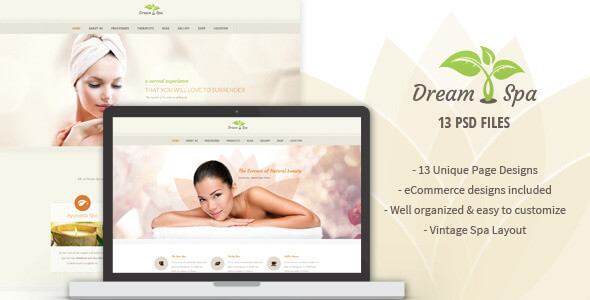 Dream Spa is a vintage-type vibrant PSD theme designed especially for the spa, salons, beauty centers, ayurvedic businesses, etc.
3. Spa Treats
SPA Treats brings to you a breathtaking and vibrant PSD theme designed especially for spas, salons, beauty centers, ayurvedic businesses, etc.
4. Wellness Beauty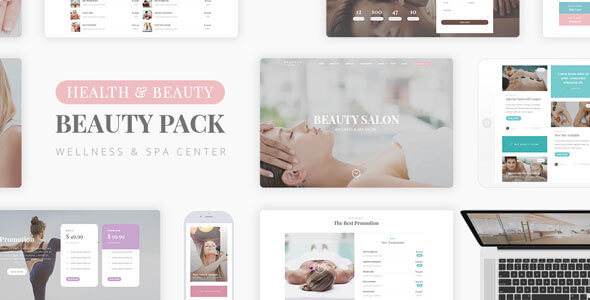 Wellness Beauty is a template designed for a wellness center that wants to show all treatments and offer complete beauty care services. The single treatment page contains all the information that the beauty center needs to communicate to its customers and there is a booking system.
5. Good Looks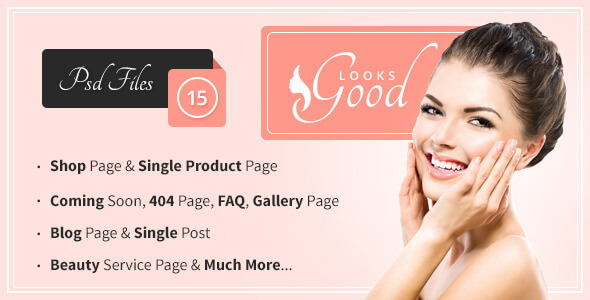 Good Looks is a template created especially for beauty salons and spas. It includes 15 PSD files with all hovers and stats included. It also includes shop pages for companies that as well sell products.
6. Lemon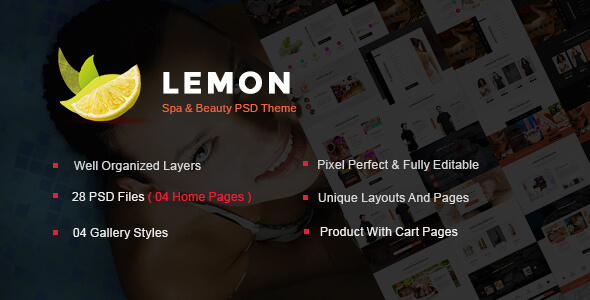 Lemon is a Spa and Beauty PSD template with a minimal and modern design. If you are looking for a Trendy Spa Salon kind Website, Lemon is the best fit for you. It has all the features you need to start a Spa and Salon Business or promote an existing business.
7. Clinique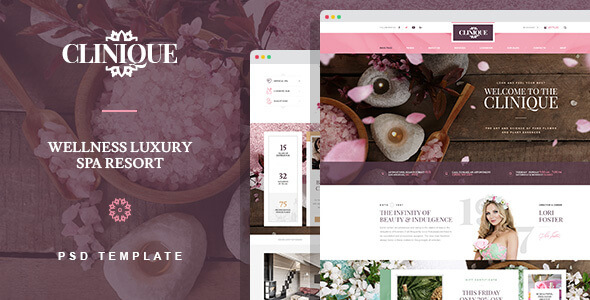 The spa salon PSD template is an original and unique PSD theme for beauty salons, spa salons, health, and beauty center. The theme has an eye-catching and highly functional design based on the analysis of real projects.
8. Chiropractor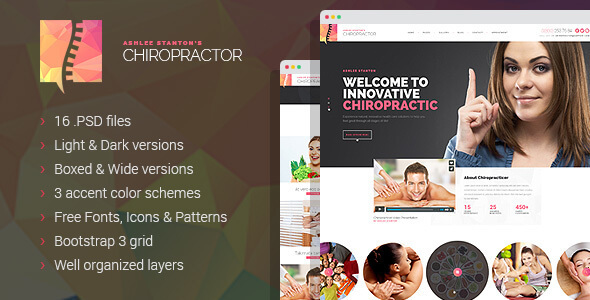 A chiropractor is a modern PSD theme built for chiropractors, spa salons, massage, and other services related to health and beauty. The theme has a well-structured layout optimized for a further convention to HTML, WordPress, and Joomla.
9. Paradise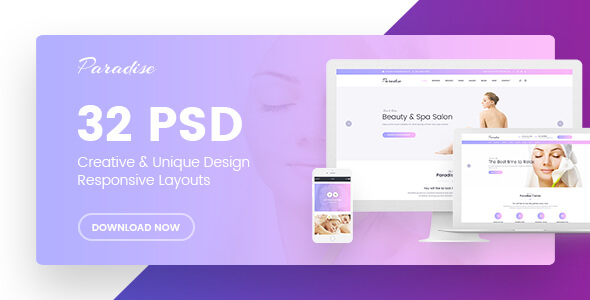 Paradise is not only for Beauty Spa but also for a theme for other beauty services such as Nail, Hair, Tattoo, Massage… even a yoga center. With unlimited color, you can choose the best suitable color to make your brand stand out from the crowd.
10. Plash Spa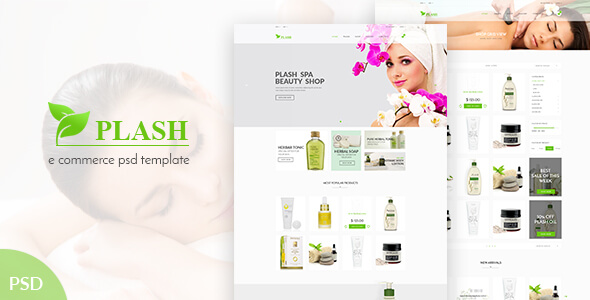 Plash Spa – eCommerce PSD Template is a unique eCommerce website template designed in Photoshop with a modern look.
11. Prettier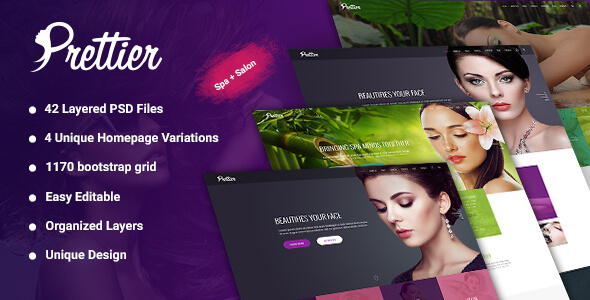 Prettier – Beauty Salon and Spa PSD Template. It is easy to customize, and all the layers are well organized to make any change easy to do without any problems.
12. Hair Salon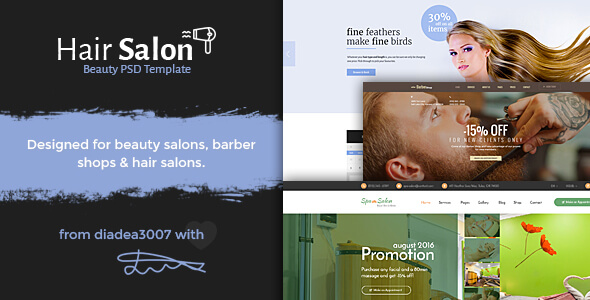 Hair Salon is a simple and clean PSD template for beauty salon-related website niches. It has an integrated bootstrap grid, which makes the development process faster. This is a PSD Template specially designed for all types of beauty salon or barber shop websites.
13. Cartel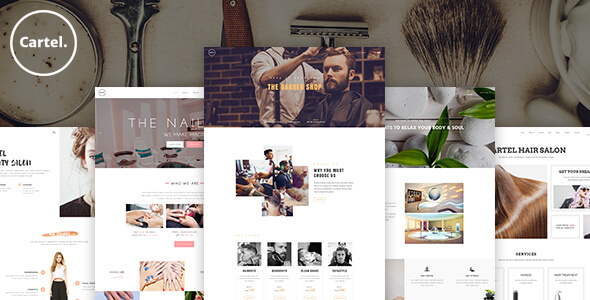 Cartel PSD Template is designed carefully with perfect pixels and trendy style. It is created for barbers, hair care salons, beauty, or health care websites. The design is modern and unique also perfectly organized, so you can easily change its color, and text everything you need.
14. Unique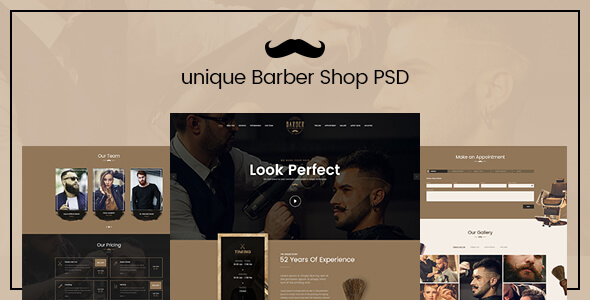 Unique is a clean, elegant, and modern Barber Shop landing page PSD template. This is One Page PSD Template design for Barber Shop, Beauty or Healthcare website landing page.
15. Natural Beauty Salon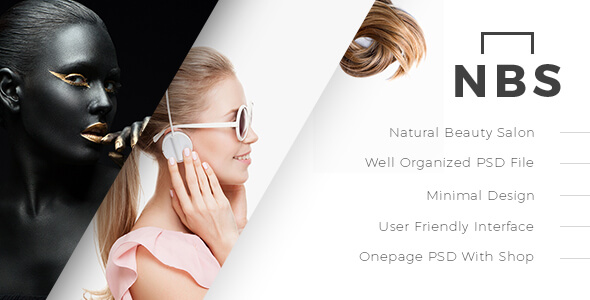 NBS is a Minimal Onepage PSD template designed in Photoshop with a modern look. This is for a beauty Parler or salon shop. They can also sell their product by using this template and you can provide all kinds of services to make them smile.