In today's digital era, having a professional and visually appealing website is essential for any corporate entity. A well-designed website not only enhances the brand's online presence but also helps in engaging potential clients. When it comes to creating a corporate website, Best Corporate PSD Website Templates offer a convenient and versatile solution.
In this article, we will explore the Best Corporate PSD Website Templates.
List of the Best Corporate PSD Website Templates:
1. Circles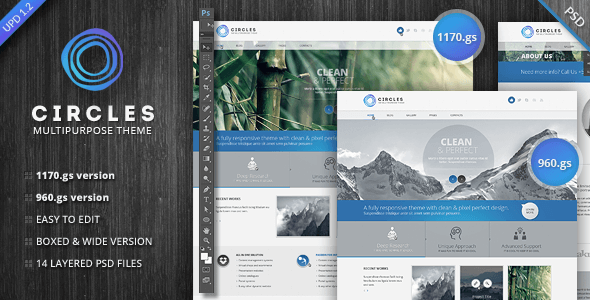 Circles- a theme that combines minimal and perfect grid design with functionality and usability.
2. Marine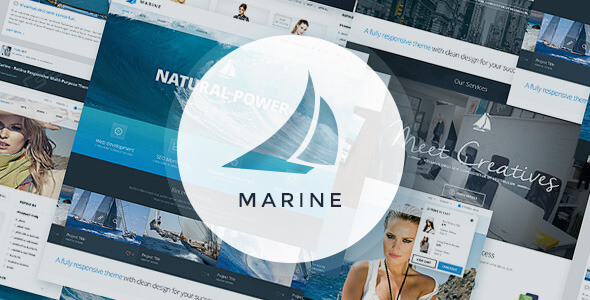 Marine – a multipurpose theme that combines minimal and perfect grid design with functionality and usability.
3. REWORK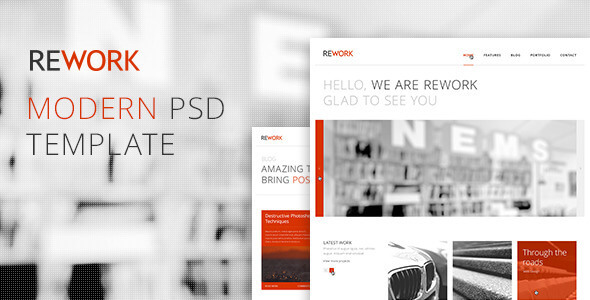 REWORK is a layered PSD template for business, software, or blog site. This is a flexible and multipurpose, modern, and sleek site template, suited for any situation. REWORK template makes it easy to create a world-class website with a unique style and clear focused message.
4. MukamMulti Purpose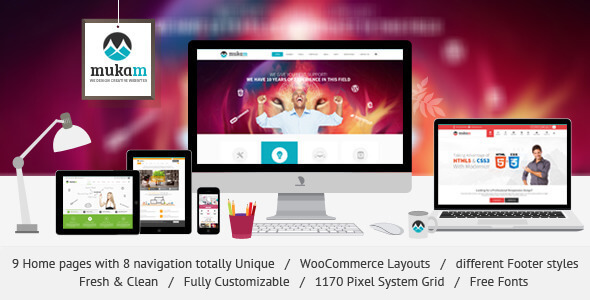 Mukam – MultiPurpose PSD Template is an awesome design for a website of business, Corporate, and Web Studio. The themes have a uniquely modern and creative look Well Organized layers make it very easy to update Site content is 1170px wide.
5. inspiron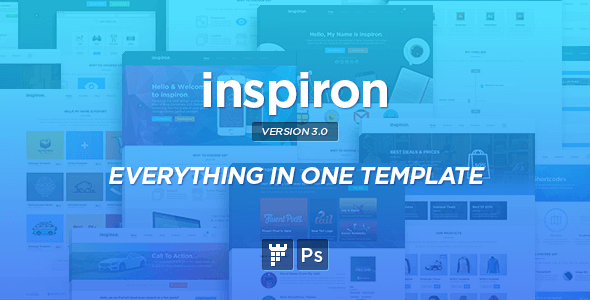 Inspiron is an awesome Multipurpose PSD Template, made for creatives and designers, contains high-quality elements with tons of shortcodes, is layered very well, and contains 20 PSD files, based on a 960 grid.
6. IOD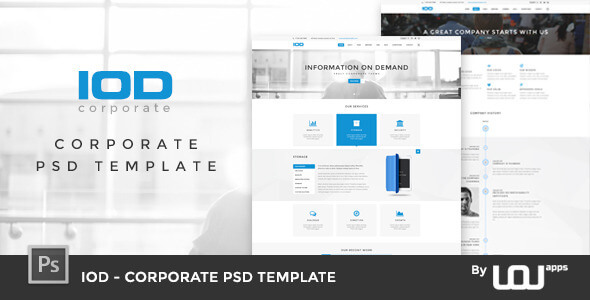 IOD is an "Information On Demand" driven PSD Template that offers a complete solution for Corporations willing to illustrate their company's information in a clean, simple, and efficient way.
7. Masakini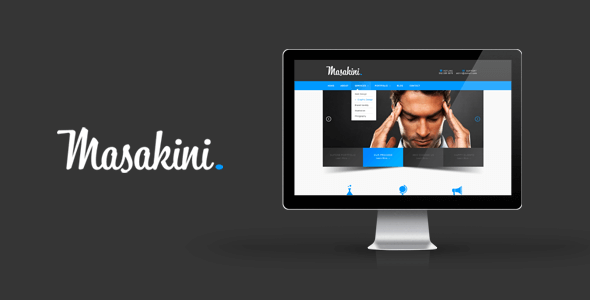 Masakini is a clean multipurpose corporate and business PSD template suitable for any kind of business or corporates. This item was designed in Photoshop with well-structured layers and folders so it's easy to use.
8. Knight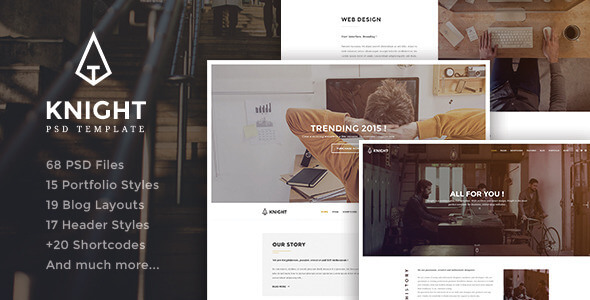 Knight is a multipurpose Corporate and Shop PSD template that is the most perfect solution for business, and online shop websites. With the greatest features packed in a template, Knight will help you build unique and modern websites, with no shortcode knowledge required and at the lowest cost possible.
9. BookMarks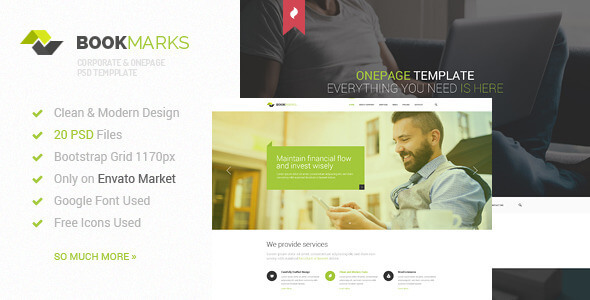 BookMarks – Corporate and OnePage PSD Template is a Good Idea special for you. The Best Solution for Your Business Projects.
10. Meriada Pro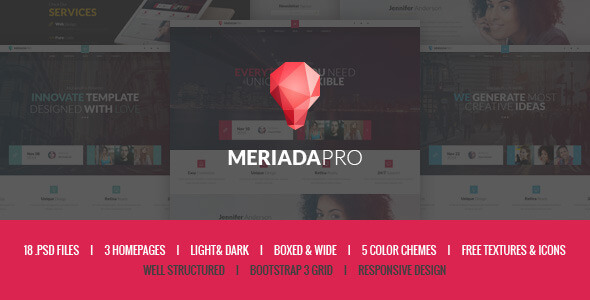 MeriadaPro is a modern, clean, and professionally crafted PSD template. It has 3 homepages. This template suits any type of portfolio, personal website, business, corporate, design studio, etc.
11. OLEN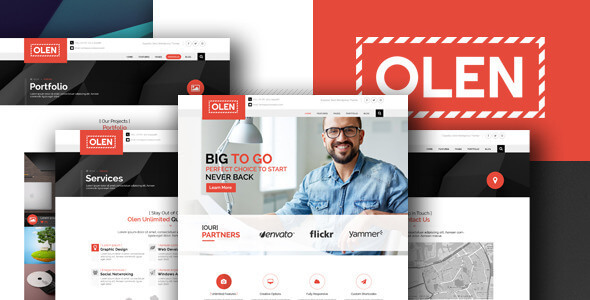 OLEN is a clean and modern PSD Template designed by our creative team to serve as the multipurpose corporate theme. It's designed for agencies, business companies, portfolios, and much more.
12. Finance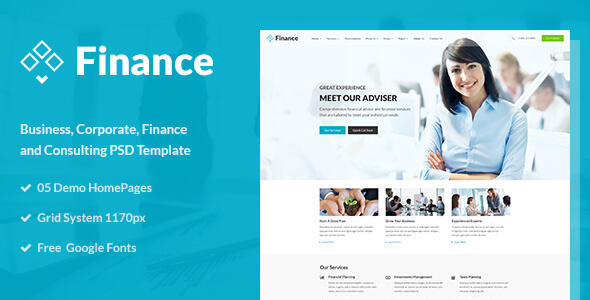 Finance is a clean PSD theme suitable for Business, Corporate, Taxes, Finance Services, Online Banking, Insurance, and Consulting services. You can customize it very easily to fit your needs.
13. BOOM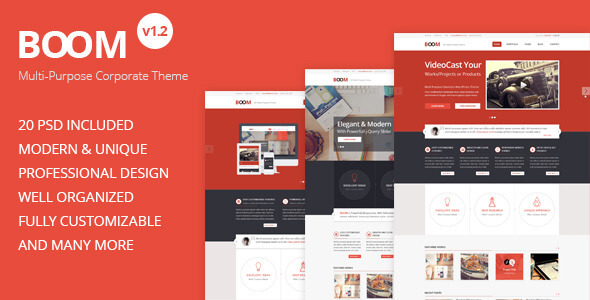 BOOM is a Multi-Purpose PSD Template with a clean and smooth design. It's Ideal for any corporate agency, creative studio, or portfolio. The PSD files are fully layered and easily customizable.
14. Compact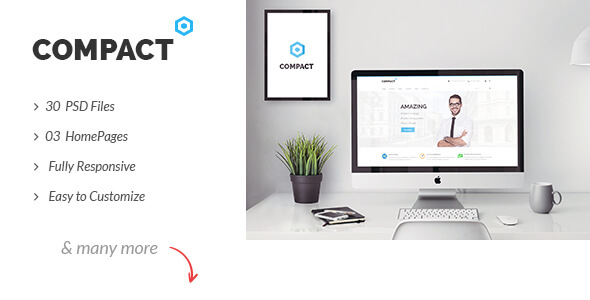 A compact is a clean PSD theme suitable for Corporate, Business, You can customize it very easily to fit your needs.
15. Twitch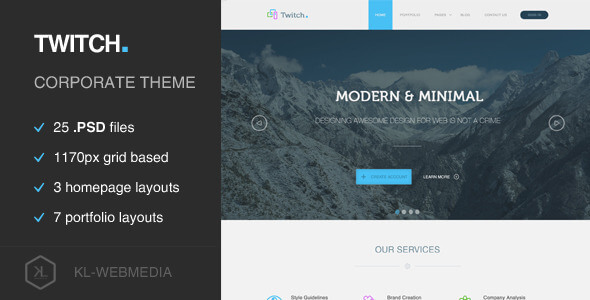 Twitch – Corporate PSD Template contains 25 layered and well structured.PSD files. Including 3 different homepage layouts, 7 portfolio layouts, 10 blog layouts as well as about us, contact, and services pages, you will get a variety of styles for your own homepage.
16. Slideit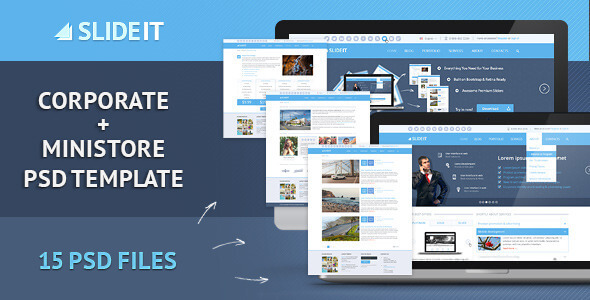 Slideit PSD Template is designed for a corporate solution and business sites also added store page templates that may be required for some business decisions. Many of the elements can be easily resized and suitable for retina display (use font awesome).
17. Blaze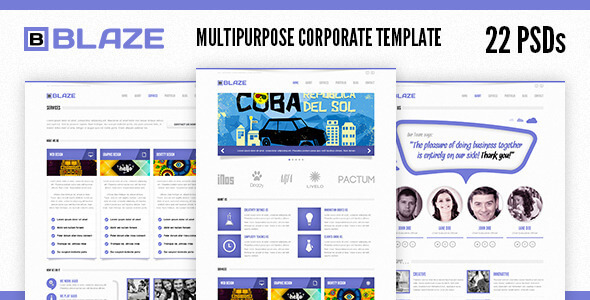 Blaze is a clean and creative corporate multipurpose PSD template. It is perfect for a personal portfolio, agency website, or any kind of business that requires a professional look and feel.
18. Simplemente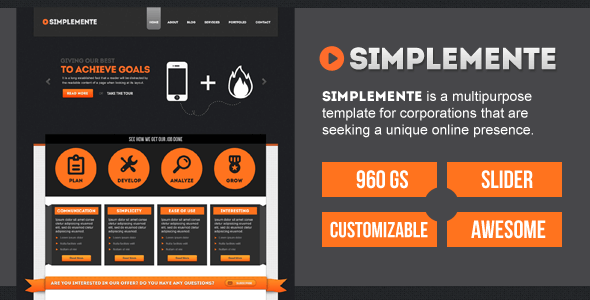 Simplemente is a multipurpose template for corporations that are seeking a unique online presence, comes equipped with a slider and a trendy footer.
19. FINANBOX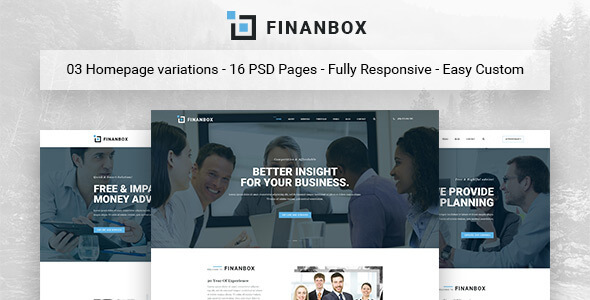 Welcome to my theme page! FINANBOX – Multipurpose Business and Corporate Business PSD Template. You can customize it very easily to fit your business needs.
20. MASTER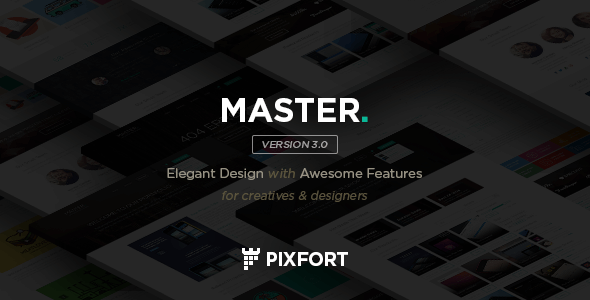 MASTER is a Multipurpose Corporate PSD Template, Minimum Adobe CS Version CS6, layered very well and contains 15 PSD files, based on a 960 grid.
21. Bider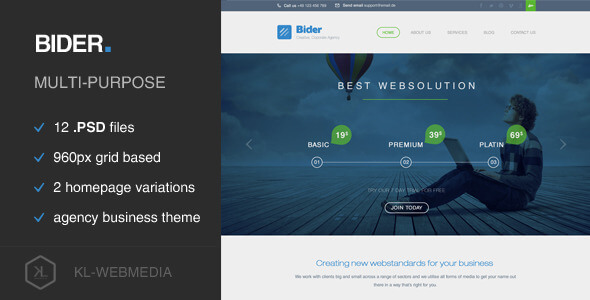 Bider is a corporate and creative template for any kind of agency or company. Start your website with hundreds of features and options. Bider is based on the 960 px grid system designed for a responsive website.