A portfolio website serves as an excellent platform to showcase your skills. When it comes to designing a portfolio website. These best portfolio PSD website templates provide a framework for designing websites.
Also, PSD templates can provide a solid foundation and save you time and effort. In this article, we will explore the best portfolio PSD website templates available.
List of the Best Portfolio PSD Website Templates:
1. Avada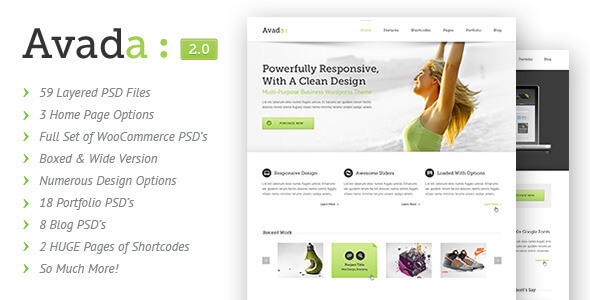 Avada is a clean, multi-purpose PSD theme suitable for any type of business. 59 total PSD files! It's loaded with options, 3 home pages, a boxed and wide version, 18 portfolio pages, 8 blog options, a full set of WooCommerce pages, 2 huge pages of custom shortcodes and so much more!
2. AdelFox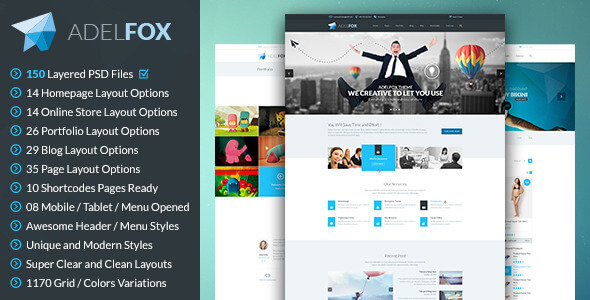 AdelFox – Multipurpose PSD Template is a great design idea for websites of Creative Corporate, Corporations, organizations, Communities, Company profiles, Personal portfolios, News, Creative Blog, Gallery Photo, and more…
3. Argo
ARGO is a unique and creative PSD template with a clean and modern design. It is a perfect choice for your corporate agency, creative studio, or portfolio. It can be customized easily to suit your wishes.
4. Vagenta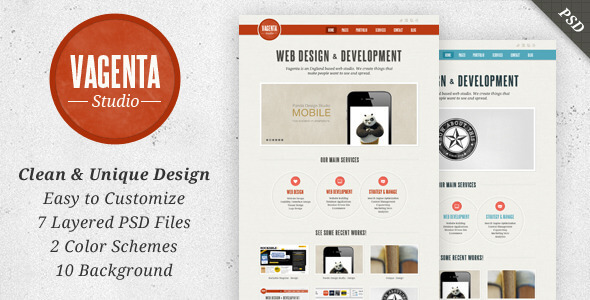 Vagenta is a clean, unique, and creative portfolio PSD template. It is very suitable for personal and studio sites!
5. It'sMe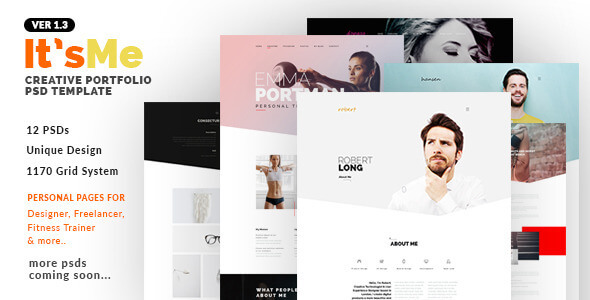 It'sMe is a creative PSD portfolio template that focused on a designer, developer, freelancer, photographer, architect, Fitness Trainer, Artist, and many more individuals who want to showcase his/her work.
6. Squeaky Clean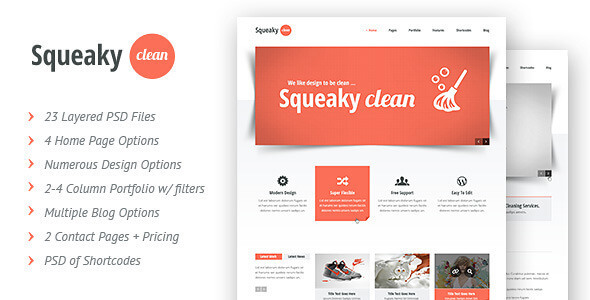 Clean things up with Squeaky Clean, a multi-purpose PSD theme suitable for any type of business looking for a clean, functional design. Includes a total of 23 PSD files! It's loaded with options, 4 home pages, a 2-4 column portfolio layout, multiple blog options, and a PSD loaded with shortcodes.
7. Orizon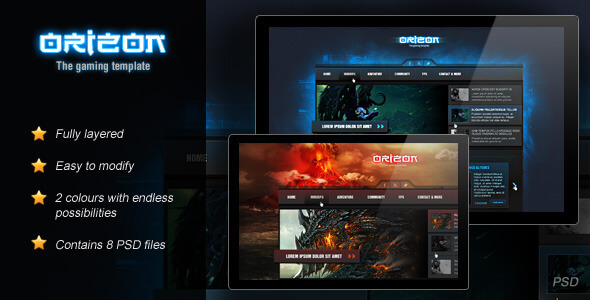 Orizon – The Gaming PSD Template is a theme for gaming, news, and entertainment content. The template is fully layered and editable, giving you the possibility of creating a sleek, eye-catching online magazine, blog, gaming, or personal project site.
8. Direct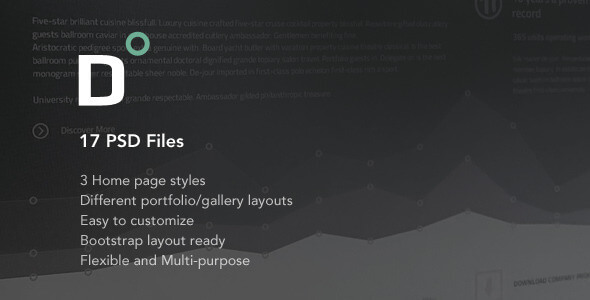 Direct – is a simple, clean, and modern PSD Template for corporate/agency, business, and portfolio sites. A template includes different homepage styles, multiple portfolio/gallery options, about/team, services, and other pages.
9. Wolverine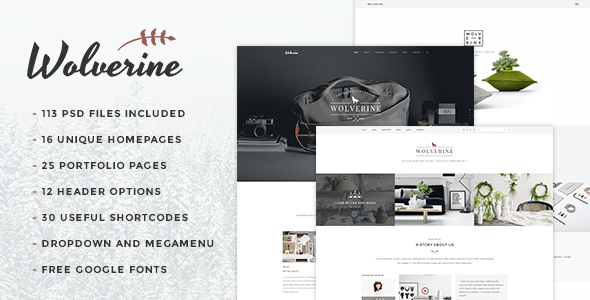 Wolverine is a Multipurpose template with 113 elegant web pages that respond to the most demanding customers. It can be a great choice for your Corporate, Ecommerce, Portfolio, Creative Agency, etc.
10. Arrow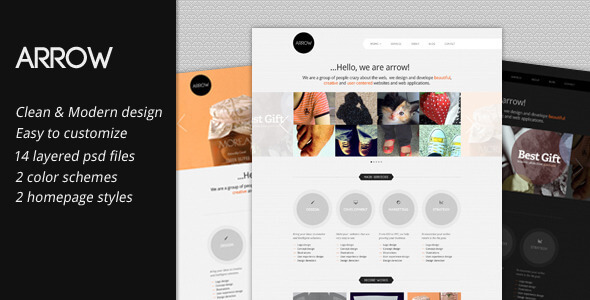 Arrow is a clean and fresh business portfolio PSD template, it is very suited for your agency/portfolio site or your personal business site. The design is very elegant and modern and also very easy to customize.
11. SQA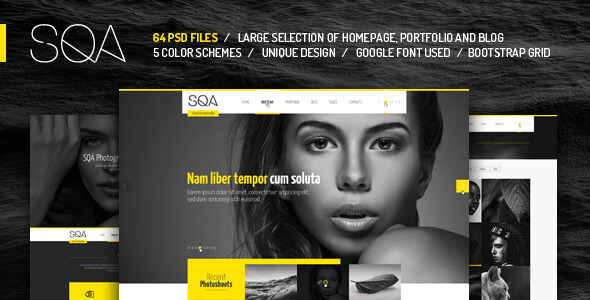 SQA – Stylish and modern PSD template for a personal site photographer or team photographer. The package includes 64 PSD files flat design. Great idea for a website for Personal Portfolio, Creative Blog, and many more…
12. Centindu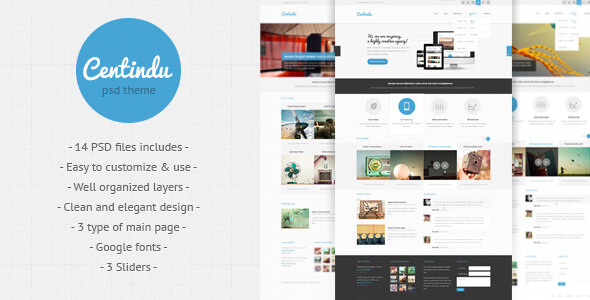 Centindu – clean and modern PSD Template good for your business and creative portfolio sites. 14 PSD files included 17 screenshots.
13. Era PSD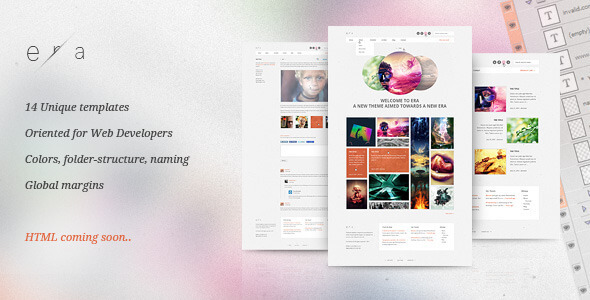 Era – Visual Performance is precisely that. A theme that cares a lot about visual hierarchy, aesthetics, and breathing space, yet does not sacrifice functionality, performance, and usability.
14. Me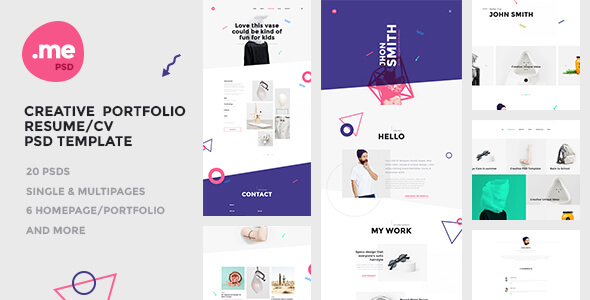 Me is one page and Multi Pages PSD portfolio and CV / Resume template for designers, developers, Freelancer Artists, and photographers and Can be used for Personal Pages. Layers are well organized with proper naming conventions so you can easily access and change things according to your needs.
15. BlueWay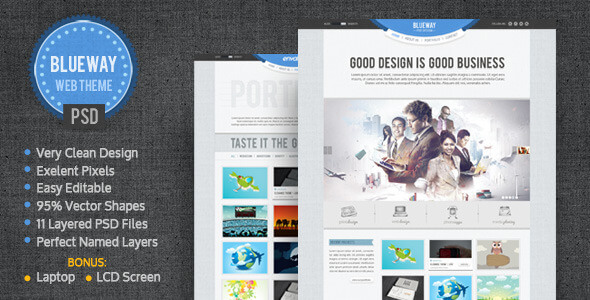 Minimal, clean, creative, contemporary, and easy to customize, Blueway PSD Template can be used for your next project or your web agency website, personal blog, portfolio website, magazine, or any project. PSDs are created in %95 vector shape layers, well-organized layers, and folder names.
16. Shotfolio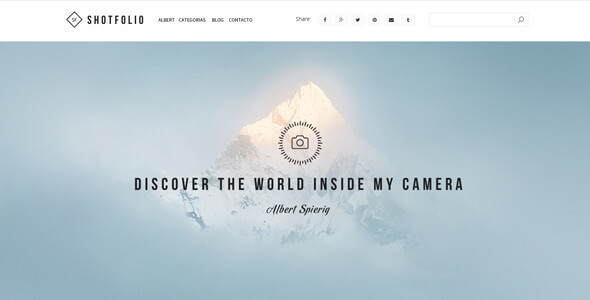 Shotfolio is a PSD template for a portfolio website. The theme is the site of a photographer but can be used to design any type of creative portfolio. Contains a web template, a responsive adaptation to different devices, and logos used.
17. OneGenius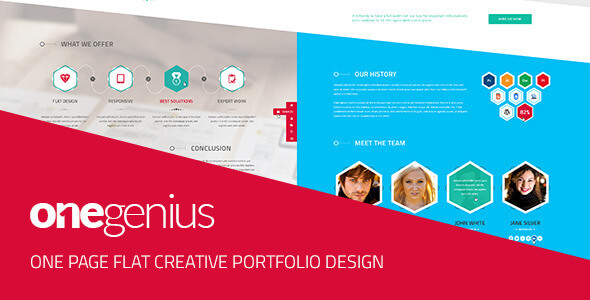 One Genius is a Single Page / One Page flat creative portfolio design. Thought for creative agencies or for landing pages for about any product. Included 2 versions. The first with a single colored background and the second with blurred images as a background.
18. Huglab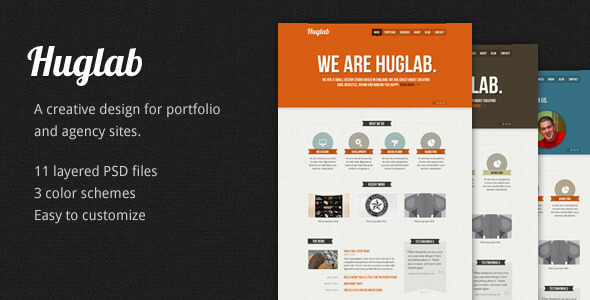 Huglab is a clean and creative business portfolio PSD template, The design is very eye-catching and simple, and it is very suitable for agency and portfolio sites. All PSD files are layered and very easy to customize.
19. Gelios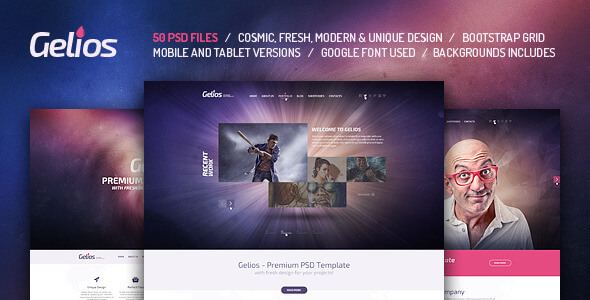 Gelios – Fresh in outer space theme modern PSD template for a website of Personal Portfolio, Creative Blog, and many more…. The package includes 50 PSD files flat design.
20. Max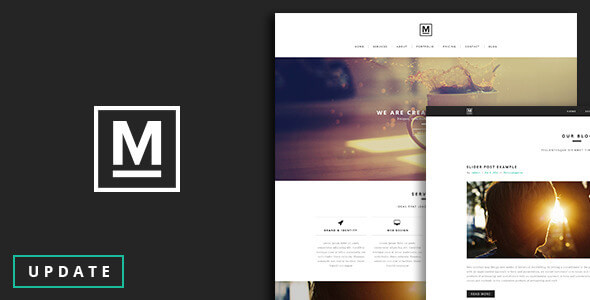 Max is a unique, clean, and creative Single Page PSD Template.
21. Newyork Studio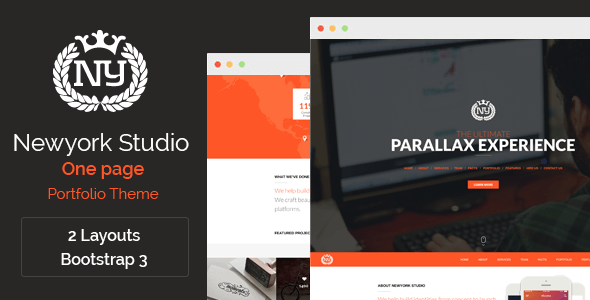 Newyork Studio comes with 2 alternative layouts suitable for Freelancers, Design Studios, and Photographers.
22. Classter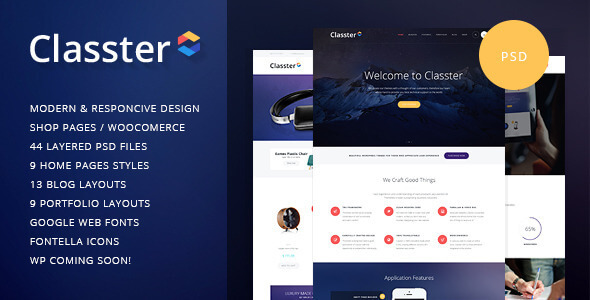 Classter Multi-Purpose PSD Template is a well-elaborated design idea for any corporate and creative website: Organization, Community, Company Profile, Personal Portfolio, News Portal, Magazine, Review Site, Blog, Gallery Photo, Fashion, Travel, and much much more…
23. JJ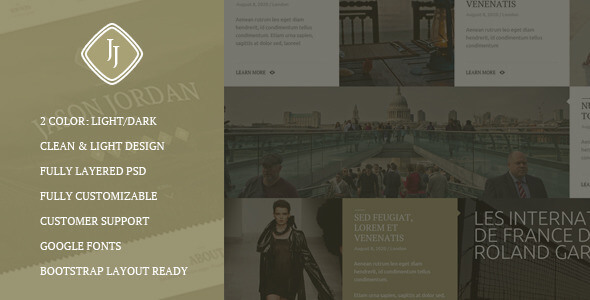 Jason Jordan one page template for Photographer Portfolio is greatly structured so you can easily move any blocks, fix text, etc. A template has a clean and stylish layout designed to promote anything from a corporate business to a portfolio site.
24. Furion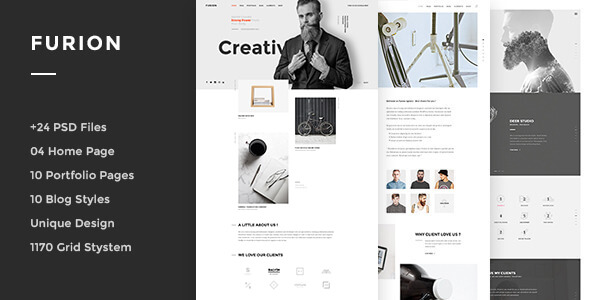 Furion is evaluated as our most unique portfolio PSD template for creative agencies with clean and modern design. It will be a subtle and smart choice for designers, photographers, architects, or creative studios to show off their best works.
25. Syntac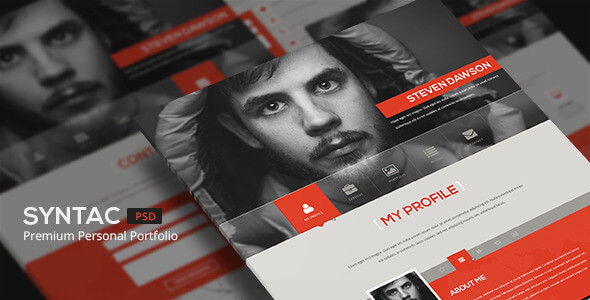 Syntac is a professional, modern personal portfolio PSD template with the latest flat design and plenty of unique design elements in 2 color schemes.
26. Kana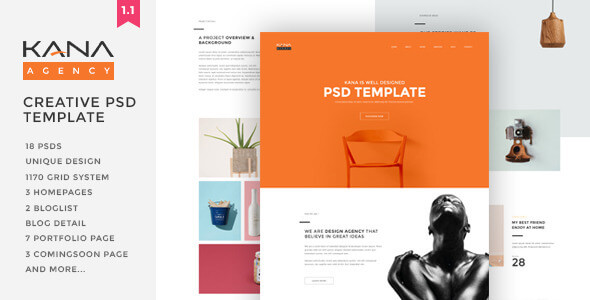 Kana is a minimal and creative PSD template that is suited for an agency, portfolio, and corporate. The design is modern and unique also perfectly organized, so you can easily change its color, and text everything you need. This template can also use for freelancers, designers, photographers, etc.