A visually appealing and user-friendly website can enhance the institution's online presence. It can help you in attracting potential students, and effectively communicate with them. If you're looking to create a stunning website for your educational institution, education PSD website templates can be a great option.
In this article, we will explore the best education PSD website templates available.
List of the Best Education PSD Website Templates:
1. University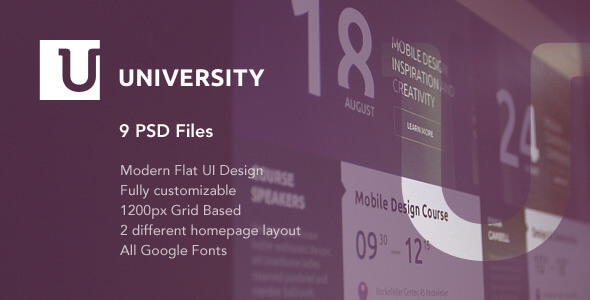 University – is a flexible flat UI PSD template for educational organizations. It will perfectly suit the needs of any modern university, college, school, or other educational business. The template consists of well-organized components that are easy to modify.
2. Dewantara University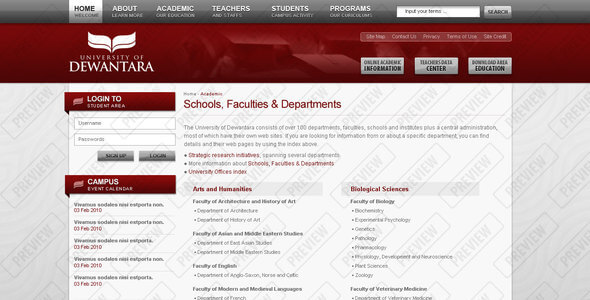 Dewantara PSD template is a simple and well-organized company profile (semi-portal) website layout that is suitable for your university, school, campus, or other educational business. With "download area" and "school facilities", this design accommodates both needs, for school promotion and for students' needs.
3. Baby Kids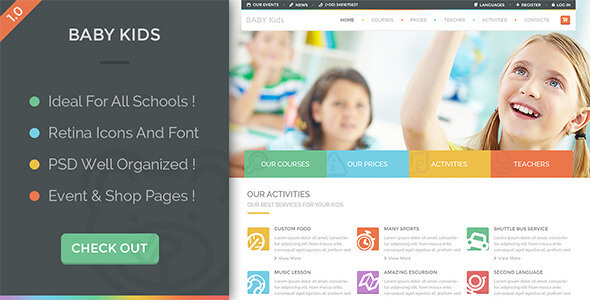 Baby Kids education template is a multi-page website and a theme Multipurpose. Inside the package, there are PSD files of all education pages optimized in order to perform simple and fast customization. The site has been designed for education in elementary, and primary schools.
4. Universo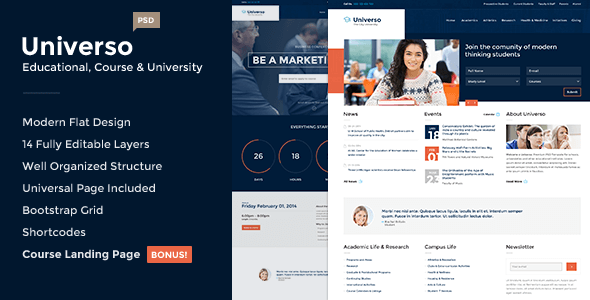 Universo is a flat, modern, clean, and professionally crafted PSD template suitable for education, courses, college, university, or any profit or non-profit organization which wants to be presented in a modern way. 14 included PSDs are well organized and fully layered.
5. Lincoln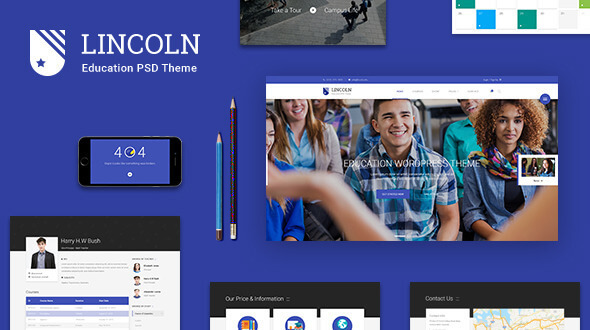 LINCOLN is considered our best Educational PSD Template so far using the latest trendy material design for Education and Learning Centers which will surely amaze you with a ton of amazing block layouts.
6. Online Education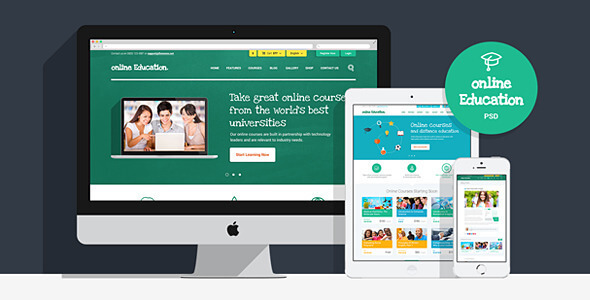 Meet Online Education – awesome modern design, large-scale options, and a wide spectrum of use!
7. Academica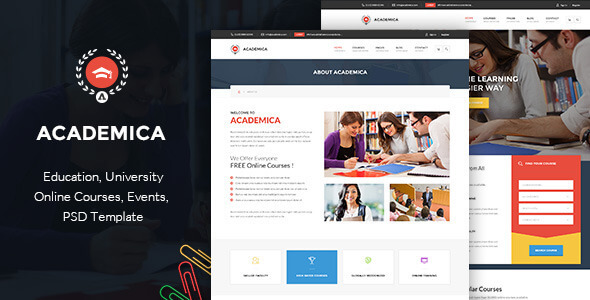 ACADEMICA is a Modern, Creative, Responsive, and Multipurpose PSD Template Design suitable for Educational Institutions like Universities and Colleges, Online Courses / Online Learning, and Events.
8. EducationPress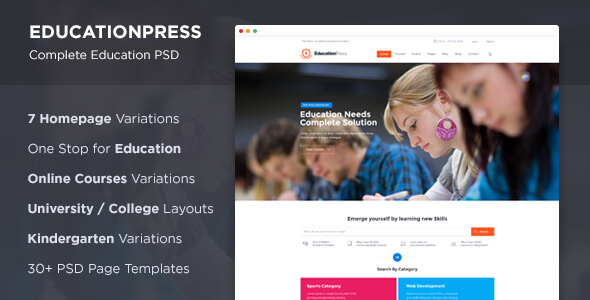 EductionPress is your one-stop solution template for Education needs. It comes with so many features and variations.
9. Learning System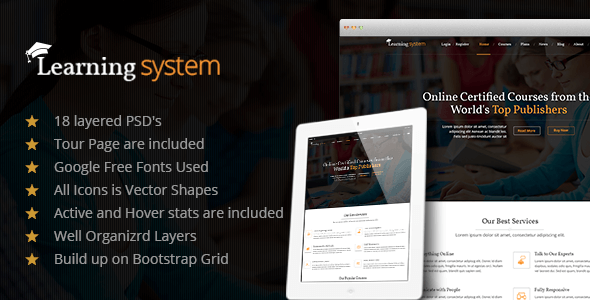 Learning System PSD's Template is a highly customizable PSD template. Based on Bootstrap's and Foundation 12 column Responsive grid Template, Suitable Learning Management System, businesses like Courses and Studies.
10. Academia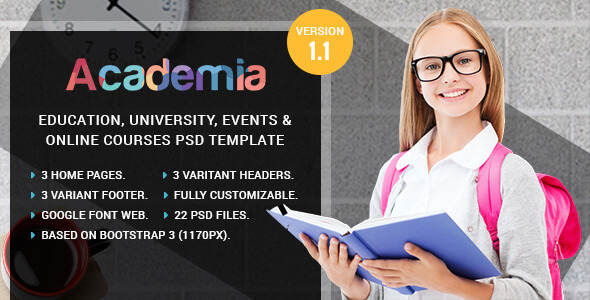 Academia is a large education business PSD theme created especially for the education center, university, academy, online courses, and events. It is very easy to use.
11. Estut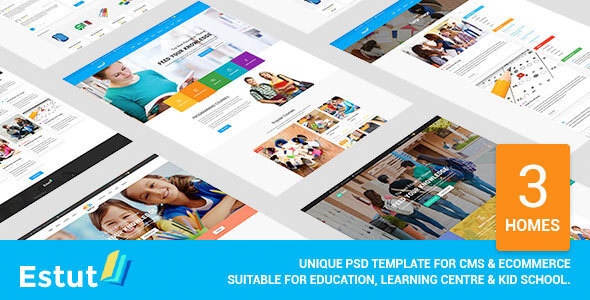 Estut PSD Template is suitable for Education, language learning center and kid school purposes, not only CMS themes but also designed to use at Ecommerce themes. This PSD Template contains 12 pages with homepages, subpages, fully layered, easily editable, and well-organized in naming and layers, and groups.
12. Western University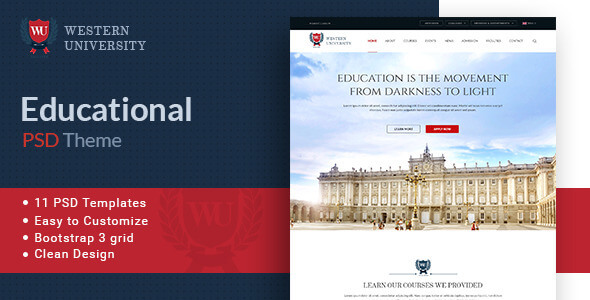 Presenting the most exclusive "Western University | Educational PSD Theme" in the marketplace. With the complete package, you have a wide range of possibilities to design almost any kind of personal and professional web layout.
13. BeSmart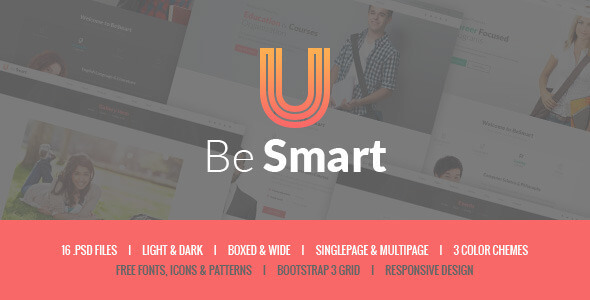 BeSmart is a modern, clean, and professionally crafted PSD template which can be used for Courses, Training, Events, Online Learning Systems, and other sites related to education. It also can be used for any other site.
14. Univer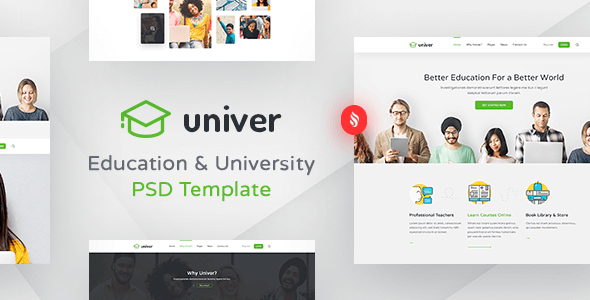 Univer is a clean and modern Education and University PSD Template. It's a solution for any university or educational institution. This template includes 24 carefully designed pages in Adobe Photoshop CC, which are easy to edit and customize to fit your needs.
15. UNIVERSUM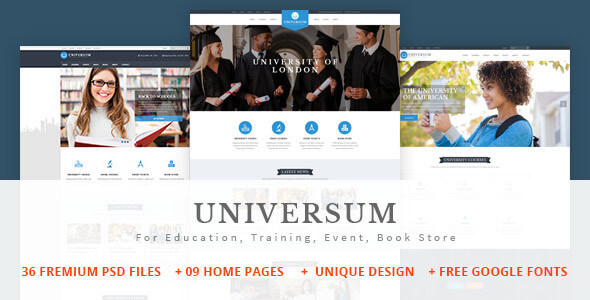 UNIVERSUM is a clean PSD theme suitable for universities, schools, courses, events, education, bookstore. You can customize it very easily to fit your needs.
16. Academic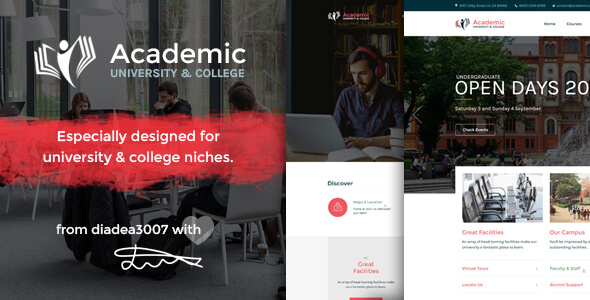 Academic – University and College PSD Templates are specially made for university-related websites. It includes 20 PSD files fully layered and easily customizable. The template has been done in Photoshop CS6 using the 1170 grid system, with each PSD file neatly layered and organized into groups.
17. Kidzone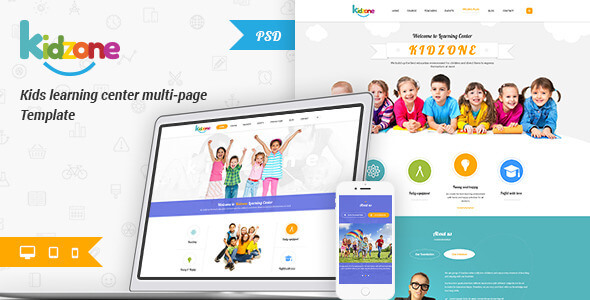 Kidzone – Kids Learning Center is a multi-page web design that is suited for any type of school such as a learning center, kindergarten, primary, secondary, high school, and university.
18. HappyKids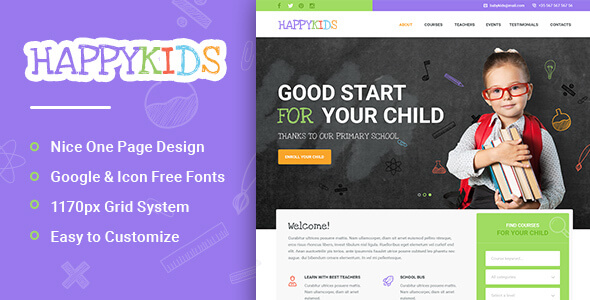 HappyKids is a primary and kindergarten school PSD template for kids and educators. BabyKids has been designed for elementary, and primary schools. Its colorful graphics are ideal for children's and toy stores.
19. Studylms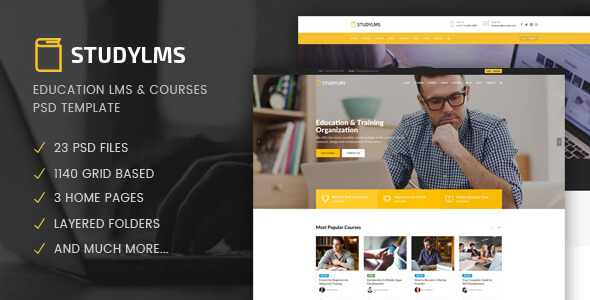 Studylms PSD template is designed specifically for Online Course tutors, Coaching centers, Educational Training Centers, Colleges, Academies, Universities, Schools, and everyone that needs a smart learning management system (LMS).
20. Preschool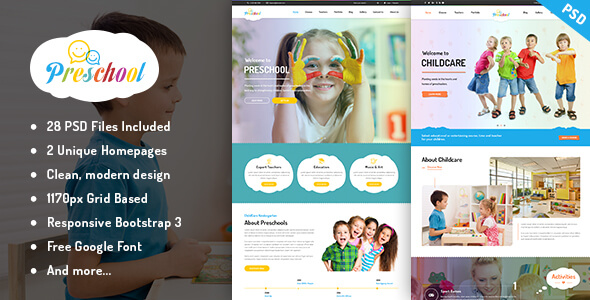 Preschool – A clean and creative PSD Template which is best suited for kinder gardens, preschool, education, and training websites. It will enable you to convert this template to any CSM platform or Html template easily.
21. Giraffe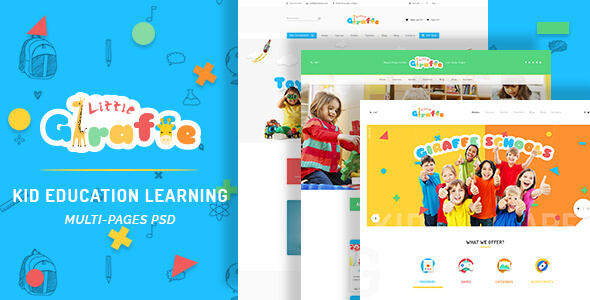 Giraffe – Kid Education Learning PSD Template comes with a colorful style and informative layouts majoring in Kid education at kindergartens, learning centers, and child care centers.
22. Aristotle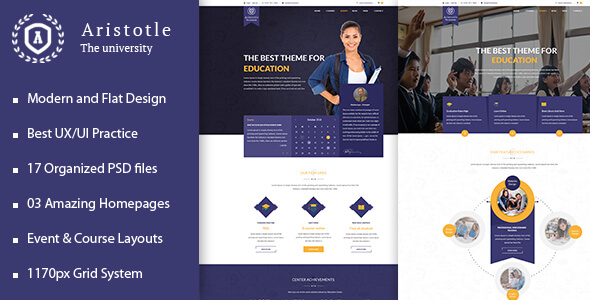 Aristotle is a clean and professional PSD template for education websites or institutes. Everything is clear and easy to customize when Aristotle is well organized in set PSD files.
23. EDUCA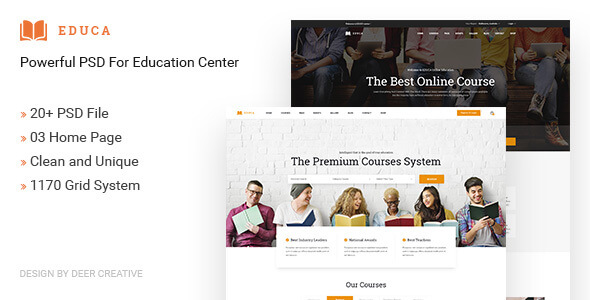 Welcome to my template page! EDUCA is a Modern, Creative, Responsive, and Multipurpose PSD Template Design suitable for Educational Institutions like Universities and Colleges, Online Courses / Online Learning, and Events.
24. Educat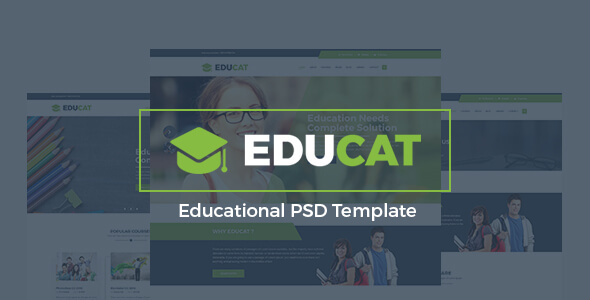 Educat – Education PSD Template.PSD files are well organized and named accordingly so it's very easy to customize and update. A total of 12 PSD files have been included.
25. Caelum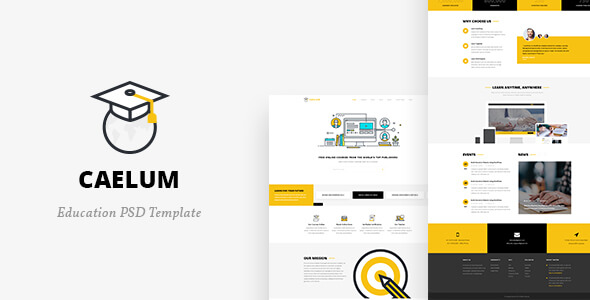 This is a uniquely designed website template designed in Photoshop with a simple and beautiful look. PSD files are well organized and named accordingly so it's very easy to change any and all of the design. Template files are built to be 1170 px wide.
26. My LMS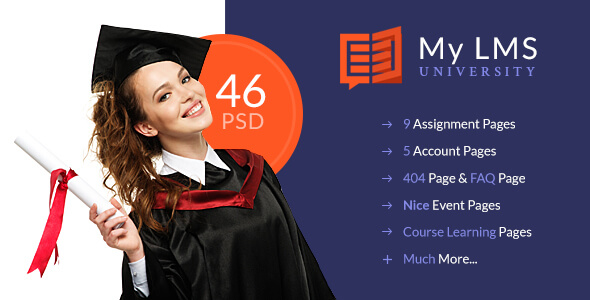 My LMS University is a PSD template made especially for universities and education-oriented websites. It includes 46 PSD files with fully editable layers and all stats + mouseovers included.