Free real estate WordPress themes are a great option for those looking to create a professional and functional website for their real estate business.
WordPress. It is an excellent platform for real estate websites because it has many features and customization choices. You can quickly build a WordPress website that presents your listings and services in a professional manner with the aid of free real estate WordPress themes.
We'll examine some of the top free WordPress real estate themes in this article. These themes have been chosen with attention based on their attributes, aesthetics, and usability.
List of Free Real Estate Themes For WordPress:
1. Real Estate Salient
2. Construction Realestate
3. Realestate Base
4. NexProperty
5. Restance
6. Real Estate Realtor
7. Real Estate Agency
8. VW Construction Estate
9. Real Home
10. Real Estate Right Now
11. Real Estate Management
12. Aarambha Real Estate
13. fRealEstate
14. Real Estate Property
15. Villa Estate
16. Realestate Agent
17. fEstate
1. Real Estate Salient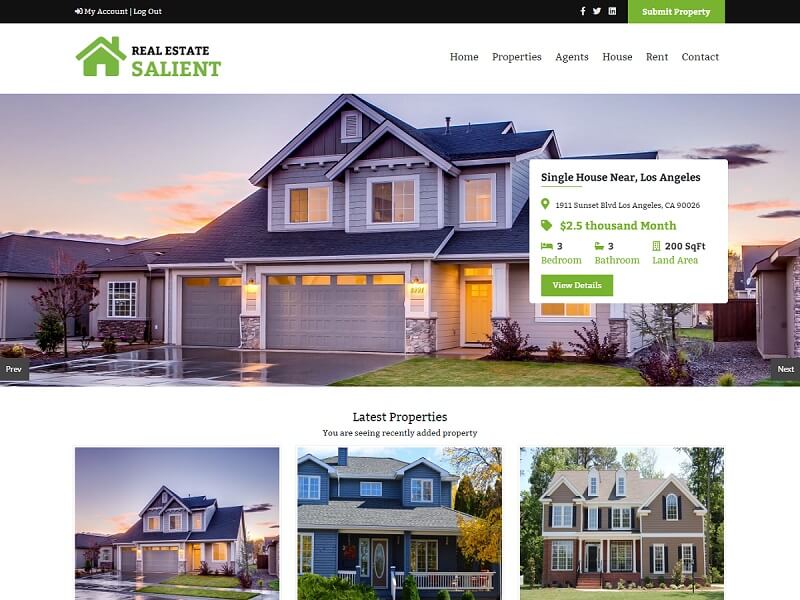 A free, completely responsive WordPress theme for real estate firms and brokers is Real Estate salient. It contains a dedicated front page, customizable options, and also an elegant inbuilt slider. This theme can handle all property inclusion, agency maintenance, bills, and everything else thanks to an essential real estate plugin. One fantastic feature is the ability for the user to add properties if desired.
Moreover, social media is integrated into the theme. This indicates that users of social media sites like Facebook and Instagram can also draw in new followers. Because the theme is SEO-friendly, it will improve the site's position in search results. The theme is professional-looking because of its lovely designs, templates, layouts, fonts, and many other features.
2. Construction Realestate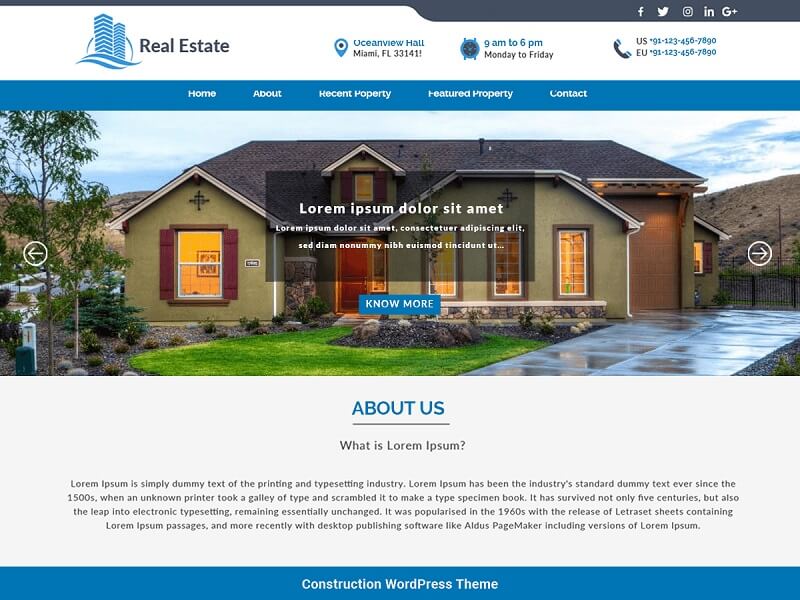 Construction Realestate is a free WordPress theme ideal for construction and real estate websites. The theme provides a modern and polished design with a fully responsive layout. So it adjusts perfectly to all screen sizes and gadgets.
Moreover, the theme has a variety of flexible features that make it easy for real estate companies to build a website that satisfies their specific needs. Also, the theme provides various home page templates that help users showcase their products and services.
3. Realestate Base: Free Real Estate Theme For WordPress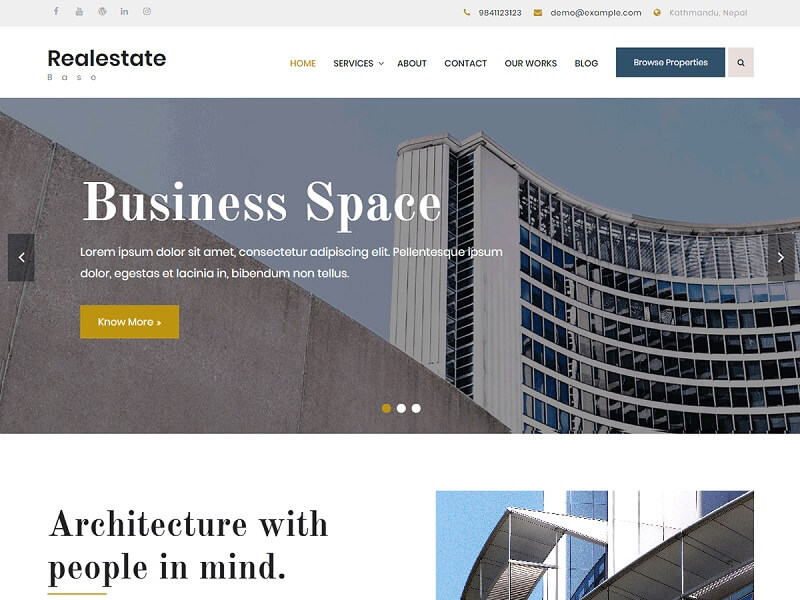 A simple and lovely real estate WordPress theme. Realestate Base is a versatile theme appropriate for real estate agencies, agents, contractors, builders, interior designers, architects, and brokers, this theme is also ideal for blogs, business, corporate, or portfolio websites.
Moreover, it enables you to construct advanced custom websites in a matter of minutes. No matter how experienced you are with coding or development, it generates exact, high-quality outcomes. Due to this theme's responsiveness, it looks stunning on screens of all sizes, from tiny phones to large monitors. Furthermore, this feature ensures that your website is easily accessible and readable on any device.
4. NexProperty: Free Real Estate WordPress Theme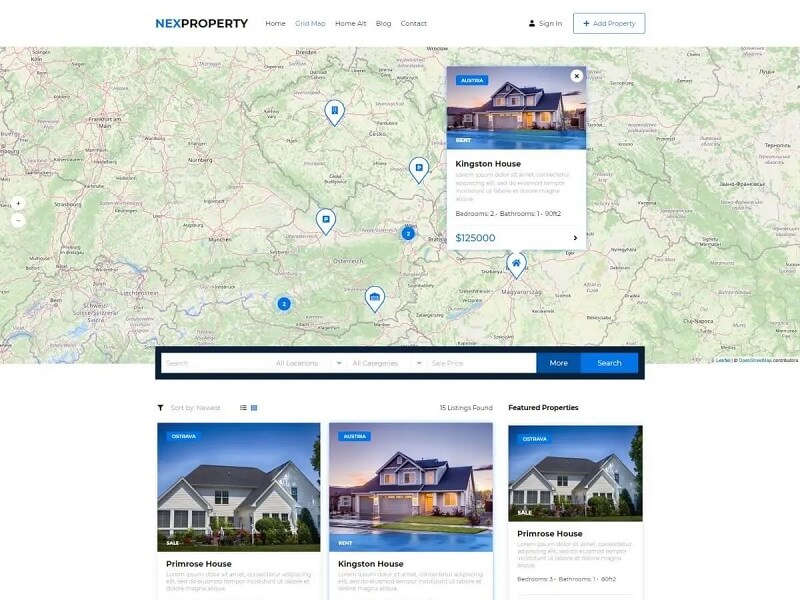 NexProperty is one of the best real estate WordPress themes for businesses related to Real Estate Agencies. This theme will help you to operate any kind of classified listing or directory business. The theme is primarily designed for Elementor, it will help in customizing your website visually.
Moreover, the theme includes an efficient property search feature that makes it simple for users to filter and locate properties that meet their needs. It also has a section for featured properties where you can draw attention to your best properties by highlighting them.
5. Restance: Real Estate Theme Free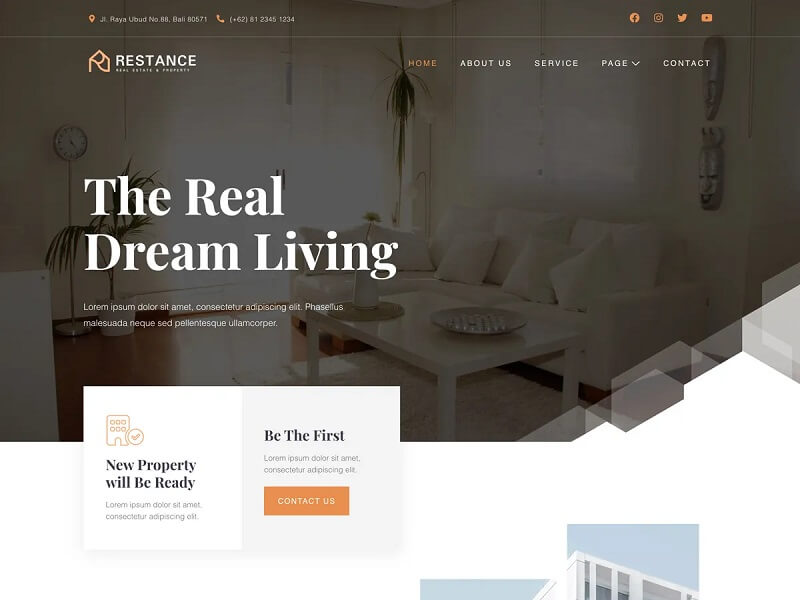 Restance is an elegant and simple looking free WordPress theme. The theme's design is built to suit websites related to the Real Estate business. Also, the theme is fully compatible with the Gutenverse plugin, so you can begin mixing and matching the theme components as per your needs.
The theme comes with a Mobile Friendly and Speed optimized design, so it will work flawlessly on all types of screens and its SEO-friendly design makes it easier for your website to rank high on all search engine results pages.
6. Real Estate Realtor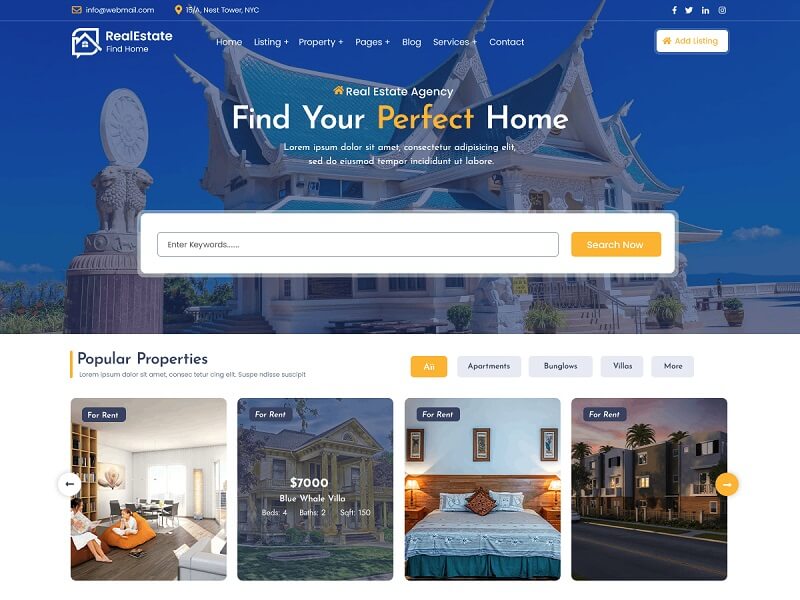 Building contractors, real estate brokers, architects, interior designers, and estate advisors are the target audience for Real Estate realtors. So, you will adore this theme's simple, responsive layout, which is in line with the demands of such organizations. Also, it includes a retina-ready design to display the incredibly clear property photographs and images linked to your work.
Your website will look very polished because it used a good combination of colors, including light and dark shades, along with pertinent imagery. Moreover, it is a free theme that offers you a tonne of resources to get your website up and running quickly. With many possibilities for customization.
7. Real Estate Agency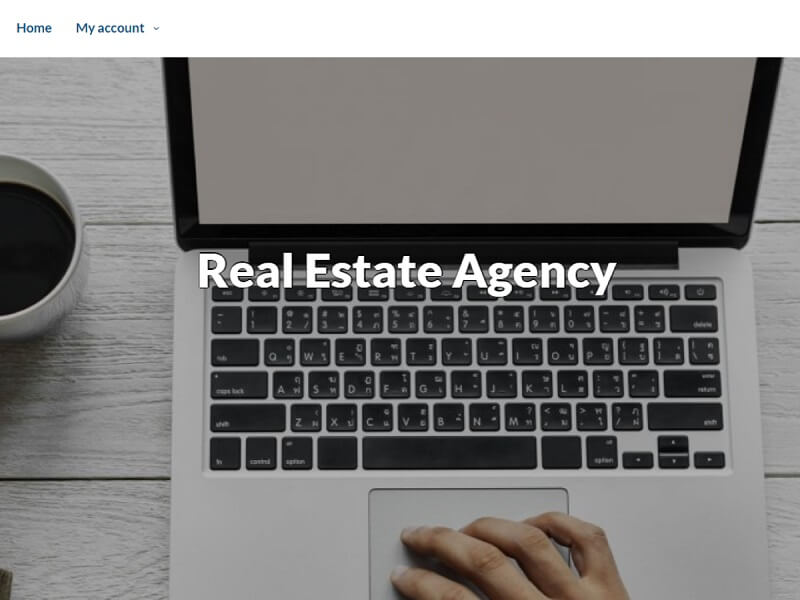 Real Estate Agency is another cutting-edge, multi-use HTML5 theme for real estate agencies. The template is simple to use and has a distinct theme. Also, Real Estate Agency is both SEO-friendly and extremely quick. Compatible with Gutenberg, and WooCommerce, fully responsive, with options for content, header, sidebar, social media icons, breadcrumbs, read more, etc.
Simply try to have fun. The theme works beautifully for websites that are editorial in nature, such as real estate agencies, businesses, and blogs about photography, newspapers, photographs, and also portfolios. Use this WordPress theme for real estate to compete with confidence. For clients browsing for properties, the motif makes a strong first impression.
8. VW Construction Estate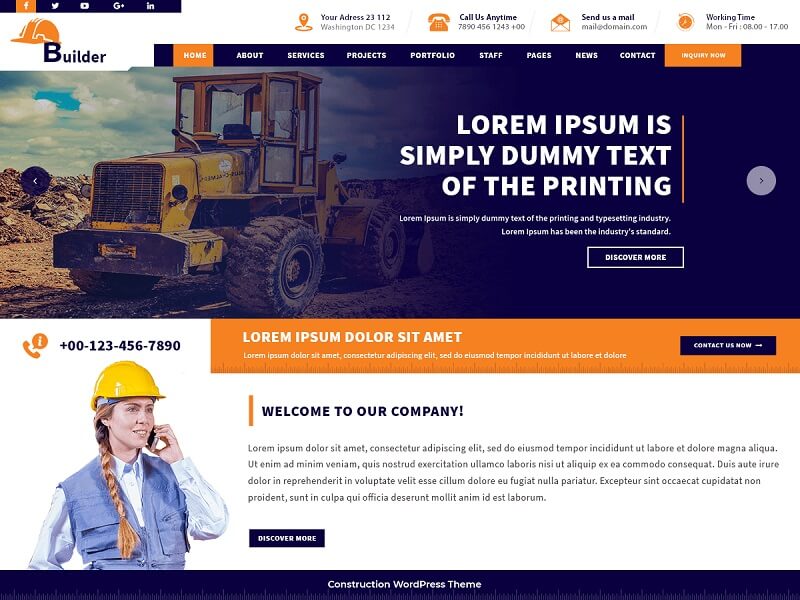 VW Construction Estate is one of the best options for all types of websites in the building and property industry. As it's a multipurpose theme so you can use it to build websites related to any industry.
The VW Construction theme is packed with excellent features and top-notch performance. It includes all the latest features such as cross-browser compatibility and fully responsive design. So you can use these features to make your website professional and more functional.
9. Real Home: Free WordPress theme for realtors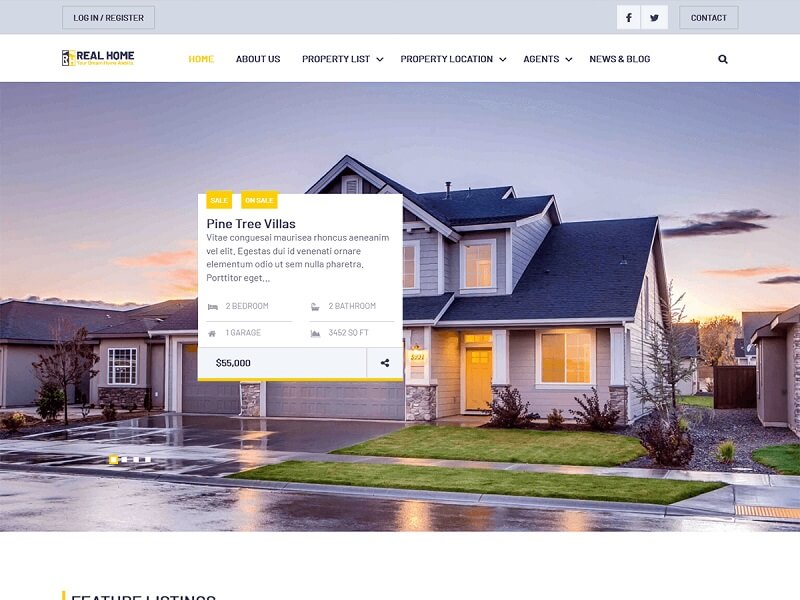 Real Home is a highly flexible free WordPress theme for businesses related to real estate and property. Additionally, with this theme, you can properly present information related to your business on your website in a beautiful manner.
Moreover, it has a theme options panel where you can change your website's colors, fonts, and design. To assist you in getting started, the theme also includes comprehensive documentation and support.
10. Real Estate Right Now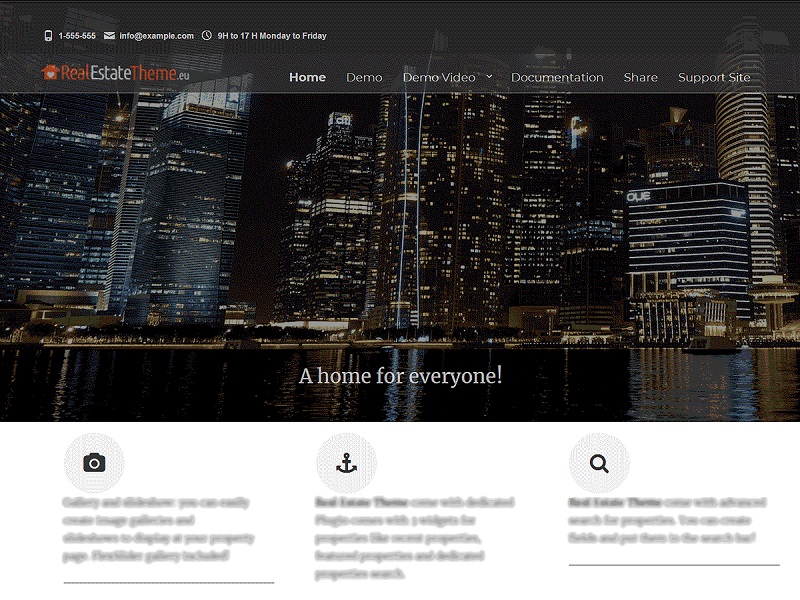 Real Estate Right Now is a free WordPress theme for Real Estate Agencies that supports multiple languages and currencies. Also, you can manage and filter the custom fields by creating your own property fields using the free dedicated Real Estate plugin.
Even users without much coding experience can easily set up and customize this theme. It has an effective theme options panel that enables users to modify the design features. It also includes various custom widgets such as social media icons and a contact form.
11. Real Estate Management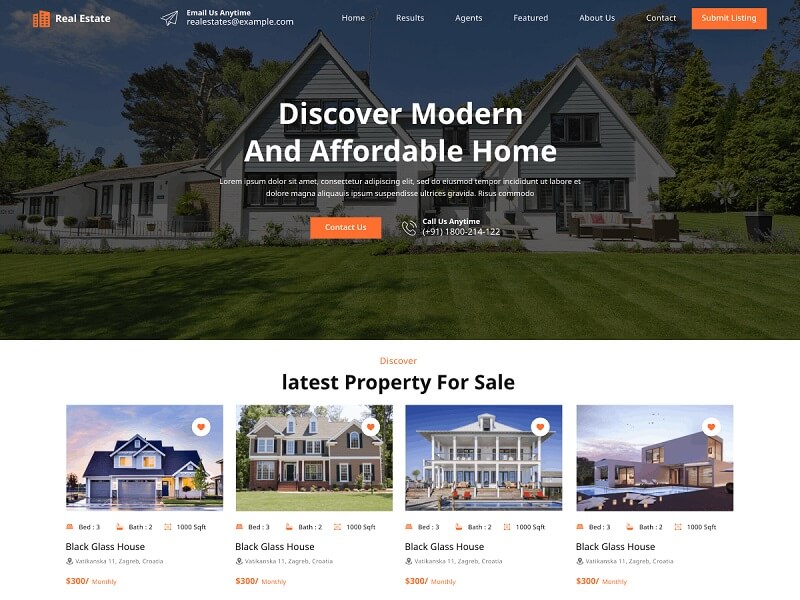 For single homes and apartment buildings, brokerage agent services, rental businesses, home realtors, construction firms, real estate amenities, residential and commercial developers, realtors, real estate investment, lease property, property dealers, rental businesses, and construction firms, real estate management is a suitable theme.
The theme is ideal for real estate firms and related industries. Also, this will assist in changing your company to increase. Also, since they come with sample material, embedding codes are not necessary. Moreover, the example content is a pre-built interface for more quickly and customizable constructing websites.
12. Aarambha Real Estate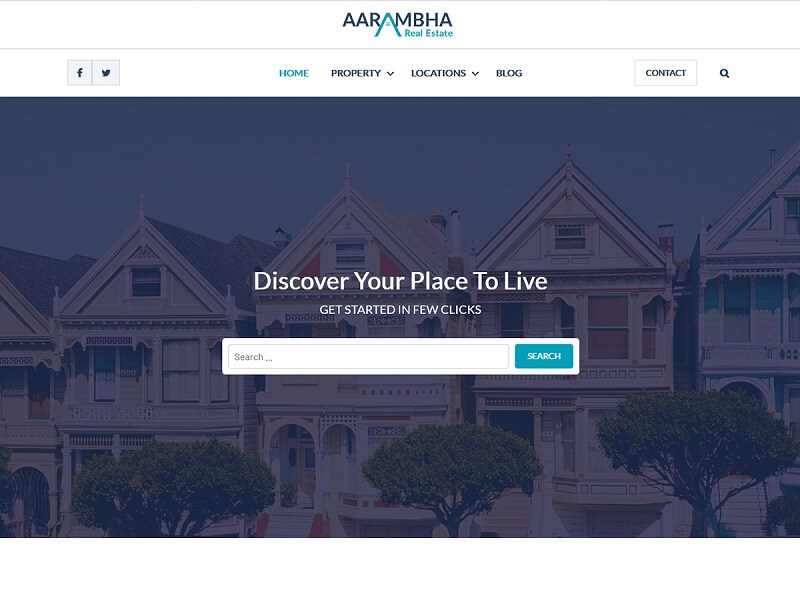 One of the generic themes with good multipurpose characteristics is Aarambha Free Real Estate WordPress Theme, which can be adapted to display properties on websites for marketplaces, real estate agents/agencies, businesses, and real estate. The drag-and-drop header and footer builder included in the theme makes it simpler for users to quickly create any form of header and footer.
Besides this, it offers numerous design options and templates for web listings of properties and services. The theme makes it easier for agents and agencies to be supported by integrating a potent, essential real estate plugin. New agents can be created as a result, and they can post property listings on your website.
13. fRealEstate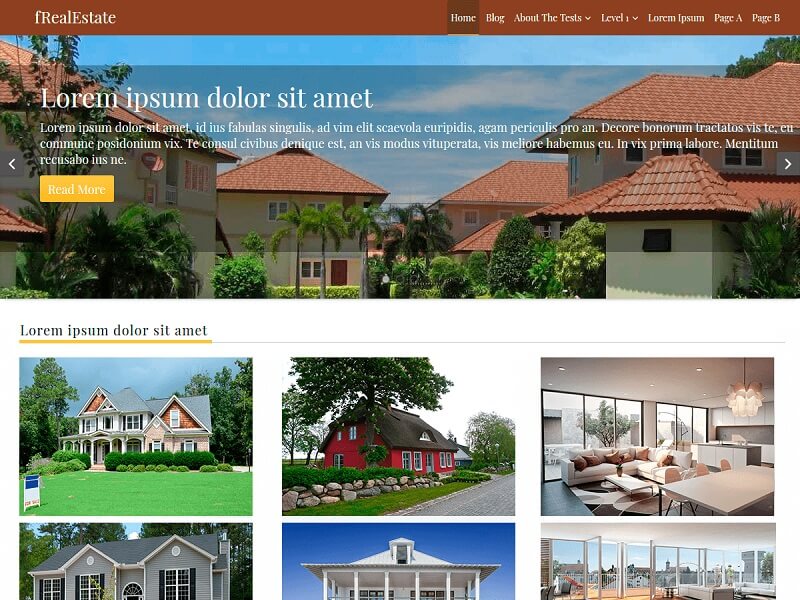 WordPress theme for real estate. The built-in homepage slider (displayed only on a static front page), the animation appearing effect, the custom logo, the multi-level drop-down menu, the custom background, the three columns of footer widget areas, the search engine optimization, the footer menu, the footer copyright text, the support for multiple browsers, and the translation-ready feature are among the features.
Moreover, it works with all necessary free WordPress plugins and can be used with any plugin for real estate. With its straightforward theme options, beginners will find it simple to customize. Besides this, it has strong theme options and unique widgets that make customizing simple and clear.
14. Real Esatate Property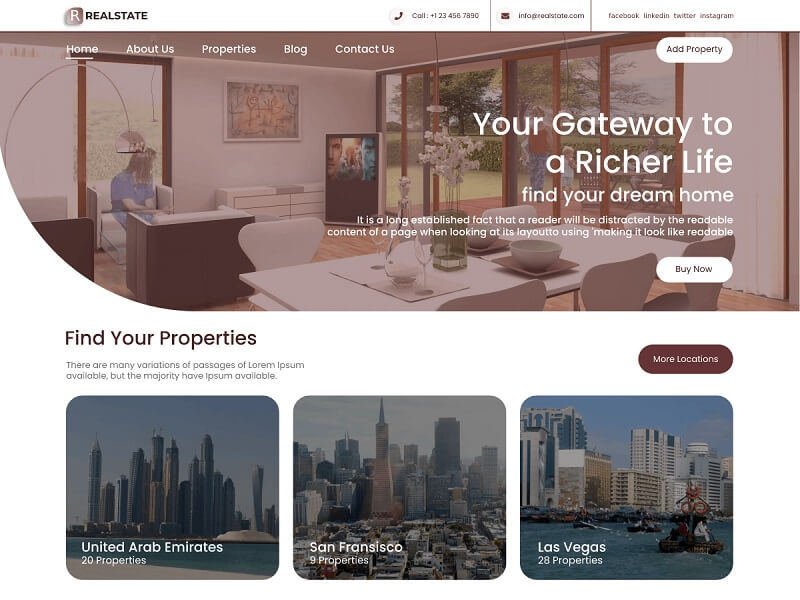 You can create a fantastic website for real estate businesses using this modern and innovative free WordPress theme. Also, it is a minimally designed theme that you can use for a variety of purposes. The theme has a clean layout that helps you to use this theme perfectly.
Moreover, the theme is retina ready and has a fully responsive design that will make your website adjust itself automatically to every screen size. Overall, you can easily modify the theme's interface and can make your website unique.
15. Villa Estate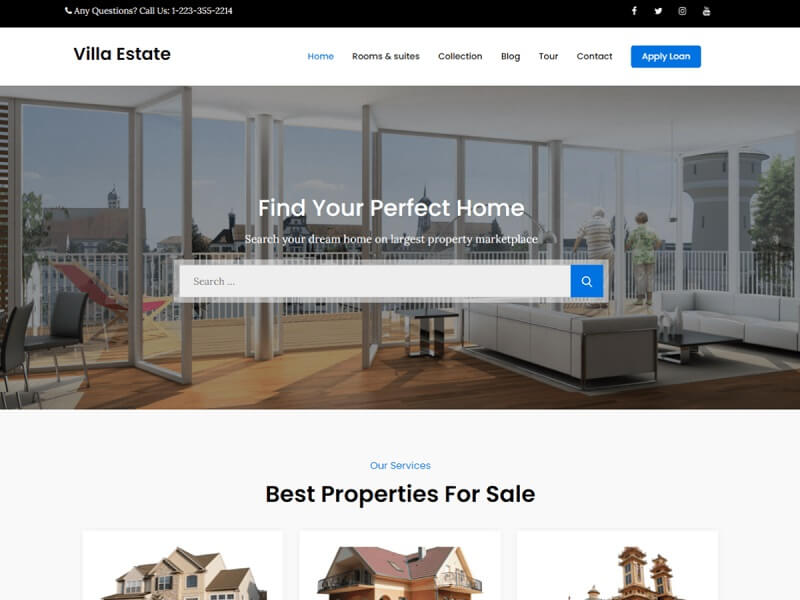 A WordPress real estate theme for selling and renting out property. You can share the information about the listed properties and post the property listing. Also, it features a strong and functional customization feature. No matter how much coding experience or WordPress knowledge you have, you can modify practically every part of the user interface.
The theme also guarantees a seamless user experience for all visitors and is ready for retina displays, translation, flexibility, well-structured, and clean coding. Moreover, Villa Estate can be translated into several languages. In Fact, you can translate your website into another language because the theme is ready for translation.
16. Realestate Agent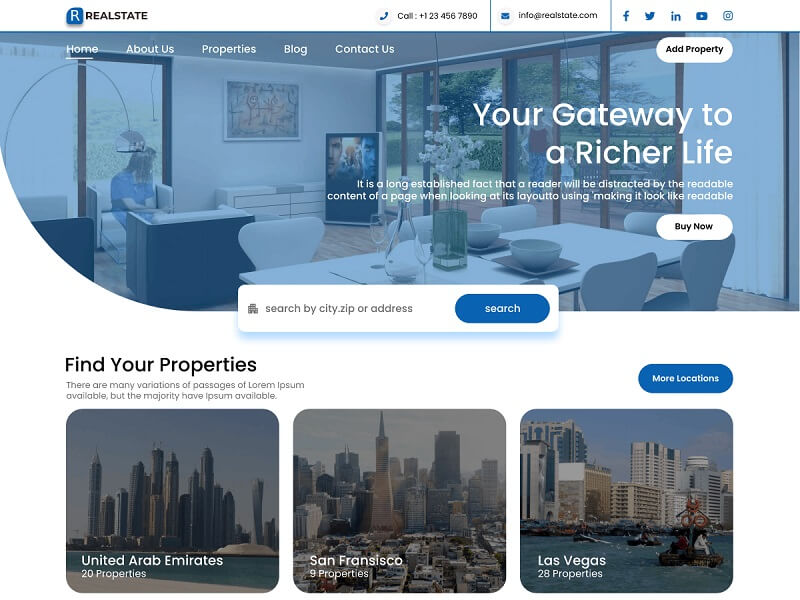 For your real estate agency website, you would do well to choose the real estate agent theme. Utilizing the different plugins and functionalities. This theme is ideal for any business, whether it be a residential, commercial, or land-spanning agency, agent, custom fields, agent, broker, or consultant. Besides this, the theme is tasteful and Gutenberg-compatible.
Users don't need to bother about coding when installing or customizing the theme, either. Users of this theme can utilize it without any coding knowledge at all. The theme's most amazing feature is that it features useful statistics that create a dashboard and allow you to monitor your target audience.
17. fEstate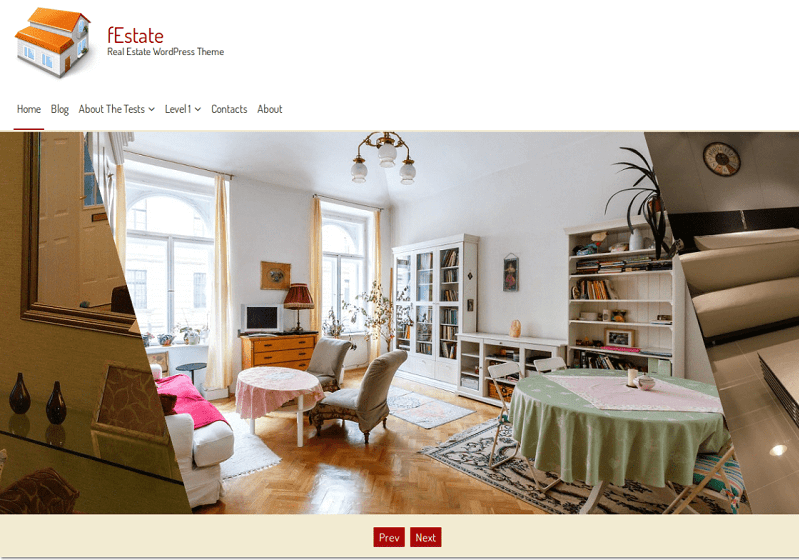 WordPress theme that is fully responsive. For Real Estate websites or blogs, there is fEstate. Included in the features are a custom logo, a multi-level drop-down menu, a custom background, a full-width page template, widget areas for the right sidebar and footer content, SEO Friendly, an integrated homepage slider (displayed only on a static front page), support for multiple browsers, translation-ready, etc.
The user may quickly alter the fonts, background color, graphics, logo, title, or anything else needed thanks to the plugins and customization options that are included. The theme can adapt to any size or type of screen, making it responsive. Also, it works with numerous well-known plugins, like contact form 7.
Frequently Asked Questions:
What is the best WordPress theme for real estate?
The best WordPress Theme for Real Estate will be different for everyone. You can choose the best theme for your website by making a checklist of your requirements.
How to create a real estate website with WordPress for free?
You can create a free real estate WordPress website very easily by using any free real estate WordPress themes available. You can also check our list of top free Real Estate WordPress themes.
Can you make your own website as a real estate agent?
Yes, you can create your own real estate website, it will help you in generating more potential customers and you can also schedule appointments with interested people.
How real estate websites works?
Real estate websites work in such a way that it connects the interested buyer and seller of the property.
Conclusion: Real Estate Free WordPress Theme
In conclusion, you may build a professional-looking website to display your listings and services using one of the many free real estate WordPress themes that are readily available Moreover, these themes can help you create a unique and personalized website that truly represents your brand. Additionally, they provide various features such as responsive design, search engine optimization, and easy integration with popular plugins.
To make sure a theme fits your brand and goals, take into account its design, functionality, and user experience. Therefore, if you want to create a standout online presence for your real estate business, using one of these themes would be a wise choice. So, you can build a stunning and useful real estate website with the correct theme that will help you stand out in a crowded market.