Are you looking for a powerful and easy-to-use platform that lets your potential customers book easily and gets them the best results? Nowadays, online appointment and booking functionality has become a lifeline for businesses looking to thrive in the digital landscape. Each and every small, medium, and large business expert has added the feature on their websites with the involvement of plugins. Likewise, WordPress Appointments and Booking Plugins enable you to display your services 24/7 to your sustainable customers and decrease your manual functions. If you want to promote your services to prospects, then selecting the appropriate appointments and bookings plugin is a must.
Let's dive into discussing some of the best WordPress Appointments and Booking Plugins in 2023:
1. Bookings for Gravity Forms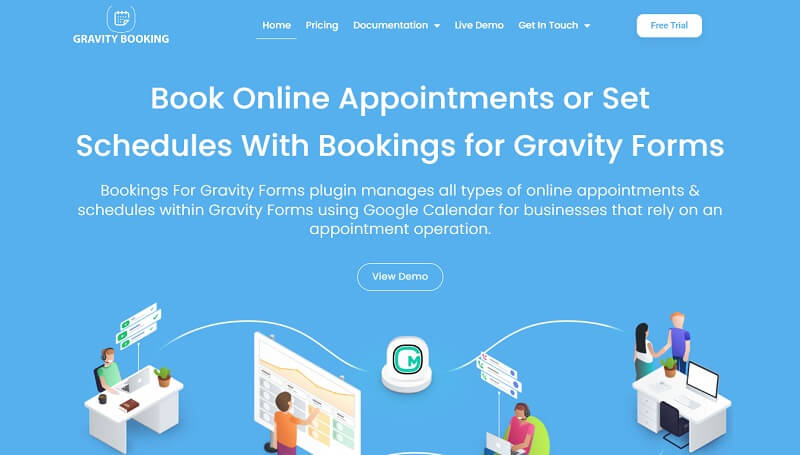 Bookings for Gravity Forms are a powerful and hassle-free way for businesses to manage their regular B2B and B2C operations, i.e., bookings, managing meetings, and scheduling appointments easily and effectively.
As a premium WordPress add-on; it simplifies how your customers schedule appointments and meetings with the help of various self-serving options. It allows users to schedule and manage appointments using Google Calendar. Bookings for Gravity Forms allow you to book multiple appointments online from any listed service-based categories and their types. Whenever a customer visits their appointments, an email is redirected to the customer, and the logs are added to the admin panel.
2. BookingPress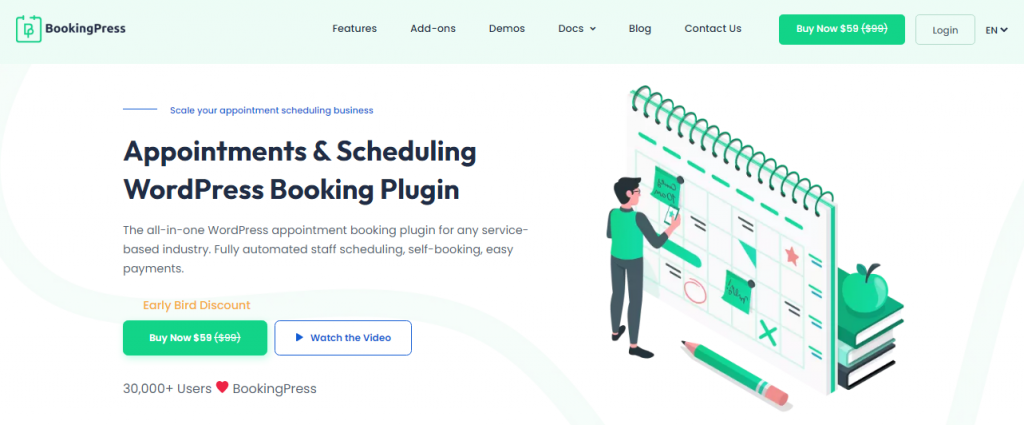 A strong and adaptable BookingPress plugin is one of the best WordPress Booking Plugins available in the current WordPress Plugin respiratory.
The online appointment booking process on the website of your business runs as smoothly as possible because BookingPress is more flexible and packed with fantastic features.
Premium features of BookingPress:
32+ Premium add-on completely FREE (it is the only WordPress Booking Plugin that give such huge facility)
15+ new online payment gateways integration FREE (PayPal, RazorPay, Stripe, Square, Worldpay, Skrill, WooCommerce, etc.)
Award-winning responsive design for frontend and backend
Fully customizable Appointment Booking System
Advance service options with extras selection
Advanced staff dashboard for staff members
Invoicing feature with pdf support
Custom booking fields with conditional hide/show
Fully customizable booking forms and customer panel
Suitable for various types of business
Cart facility for multi-booking
Google, Apple, Outlook calendar integrations
Advanced reports and analysis
Whatsapp & SMS notifications
Customizable email notifications
24/7 Customer support
3. Booking Calendar

The Booking Calendar is one of the standalone booking plugins for the WordPress platform; the ratings display that it hasn't reduced in quality metrics over the past years. The plugin is well-suited for professionals such as massage therapists, gym coaches, lawyers, beauticians, and many more for scheduling and managing appointments.
Furthermore, this plugin provides an elegant and appealing calendar design that matches your website's theme and layout. This is a seamless and powerful plugin for businesses needing customers to book appointments and reservations with the businesses directly; not specific employees. This is because it doesn't constitute any of the features that enable you to add employees or services. It comes integrated with free and premium versions segmented into multiple tiers.
4. Appointment Booking Calendar

Appointment Bookings Calendar plugins consist of two unique elements. Initially, it's one of the only WordPress booking plugins with a freemium PayPal integration. The premium version is used if you want the option to remove the PayPal link and get some relevant features such as coupons.
Furthermore, the appointment booking calendar plugin is mainly used to display an available set of time slots instead of an overall calendar of choices. A calendar is still revealed on your website, but one of the prominent features is to fill in the days that are unavailable and display the times that seem perfect to work for you.
Likewise, the free version looks unique and elegant as compared to other competitors in this comprehensive list. You can also receive a built-in Captcha, available verifications, and a multi-page calendar for people to skim and scan the entire year thoroughly.
5. Amelia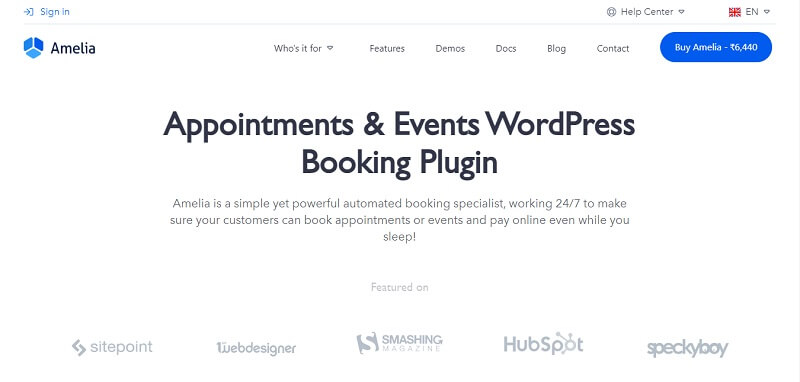 Amelia is a simple and powerful automated booking plugin that works 24/7 to ensure that your customers make appointments and pay online or offline. This plugin is available free of cost and is suitable for SMEs, enterprises, and small businesses. However, large businesses use the paid version of this plugin. Suppose you are looking for a plugin that is perfectly suitable for your employees, types of services, or additional services, with integrated payment methods in one place. In that case, Amelia Pro is the best option for you.
Amelia consists of multiple built-in functions for the specific lifetime period instead of any other available in the marketplace. It provides SMS notifications, letting you be in contact with your potential customers and employees. Also, it synchronizes with Google Calendar and lets your employees keep track of all your appointments in their personal Google Calendar. It has an intuitive and modern design both on the back-end and front-end. Its design is completely customizable to match your website design; which works as an integral aspect added with a simple shortcode.
6. BirchPress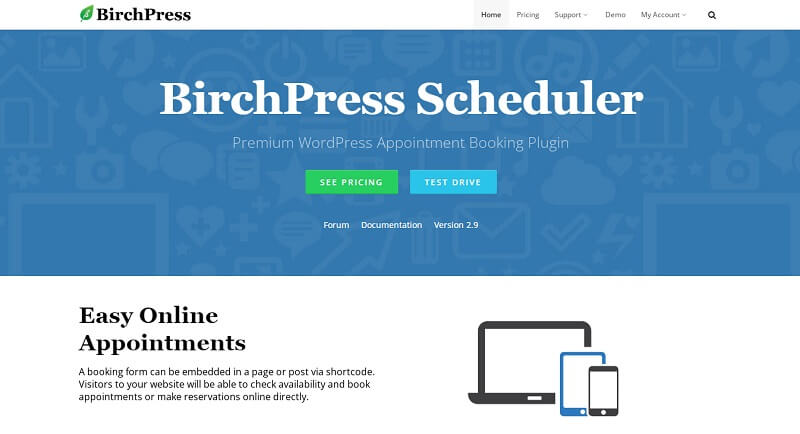 BirchPress is a standard booking plugin compared to the above-mentioned plugins on this list. However, it is still a worthwhile and staunch contender in the market segment. Launched as an open-source plugin, the plugin had discontinued. Today, the premium version of this plugin is available in multiple tiers; and each tier offers more features than its predecessor.
The premium version of BirchPress is available in Personal, Business, and Business+. Each tier adds email notifications and various controls regarding how customers book appointments. However, the support for WooCommerce is only available in the Business+ version, which is the expensive tier.
Final Words
Hence, the above WordPress appointments and booking plugins comprise enormous features that include robustness, mobile responsiveness, a user-friendly interface, seamless online payment processing, instant email notifications, reminders & confirmation, and vice versa. Hence, the benefits of these plugins are endless!