If you are looking for the best free online lead quiz software? If so yes then you have come to the right place. Because in this article, I am talking about the 7 best free online lead quiz software to increase business revenue in 2023. So without wasting more time let's start our topic.
"What sport should you play?"
"What type of personality do you have?"
"How much do you know about Star Wars?"
These types of quizzes go viral in no time!
People can't resist attempting them and here's why.
An article by Huffington Post highlighted that online quizzes are becoming a great way to spend time, test knowledge, and demonstrate your expertise.
Many psychological studies have revealed that people take online quizzes, specifically personality quizzes, to identify their true-self and know their unique story.
Marketers understand this urge. They are leveraging quiz maker software along with the online SEO tools and awesome business management software as a part of their digital marketing strategy to take their lead generation efforts to another level.
You may be wondering, how?
By including a lead form or an opt-in form before displaying the quiz result or between the quiz questions they can collect information about quiz takers, generate leads, create sales opportunities, and make profits.
There is one more critical element – Quiz results.
When users take a quiz, they like the quiz results much more than the quiz theme and questions. Many users anticipate quiz results that reaffirm what they may already know and share with others to let them know too.
In this article, you will learn about the 7 best online lead quiz software and their features to effortlessly create attractive, engaging, and share-worthy quizzes in just minutes. The tools allow you to add your branding in quizzes and enable sharing quiz results to expand as per your audience's reach and create brand awareness.
So, let's get started by exploring the tools.
1. ProProfs Lead Quiz Maker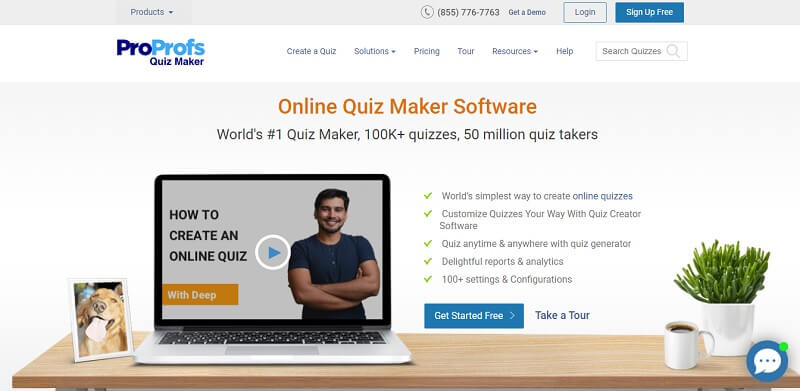 At the top of the list is one of the simplest yet robust tools for creating lead quizzes. The ProProfs Lead Quiz Maker is an incredible tool that allows you to create online personality quizzes, scored quizzes, tests, or surveys. You can build these from scratch or choose from readymade templates from their quiz library.
Features:
100,000+ customizable and interactive quizzes
100+ ready-to-use professionally designed templates and 100,000+questions
Customization option with background images, videos, fonts, colors, presentations, etc.
Quiz branding with company colors and logo
Quiz compatibility with desktops, laptops, and mobiles
Easy sharing via email, with private groups, or embed on your website/ blog
Insightful reports and analytics to track quiz performance
Instant grading and downloadable results
Powerful integrations, including SalesForce, MailChimp, HubSpot, Infusionsoft, and many more
2. LeadQuizzes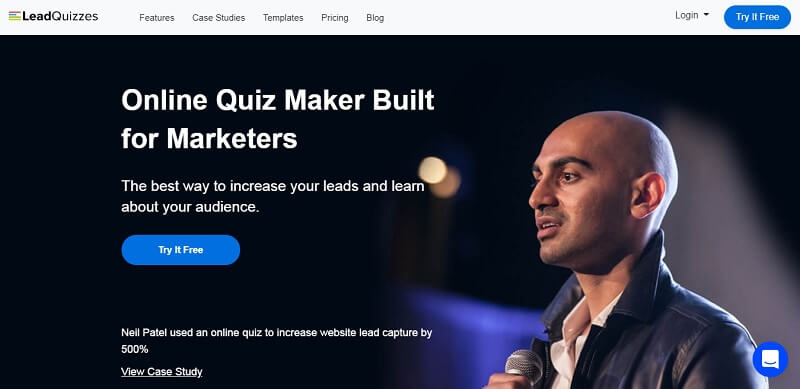 LeadQuizzes is a popular choice of tool to create quizzes that can capture leads, engage the audience, and help you learn more about them. This is claimed on their website, " LeadQuizzes' quiz maker can help you capture up to 500% more leads from your website and advertisement."
With Lead quizzes, third-party integrations with already existing business tools become seamless. The sales and marketing team can leverage the collected data and increase sales.
Features:
Easy-to-use and user-friendly quiz builder
Choice of more than 75 quiz templates
Robust reporting and analytics to gauge user behavior
Customization options to elevate the look and feel of the quiz content
Easy to install and configure website popup feature to increase leads
Attractive custom forms for lead capturing
URL redirect option to drive the quiz takers to the website
3. Brandquiz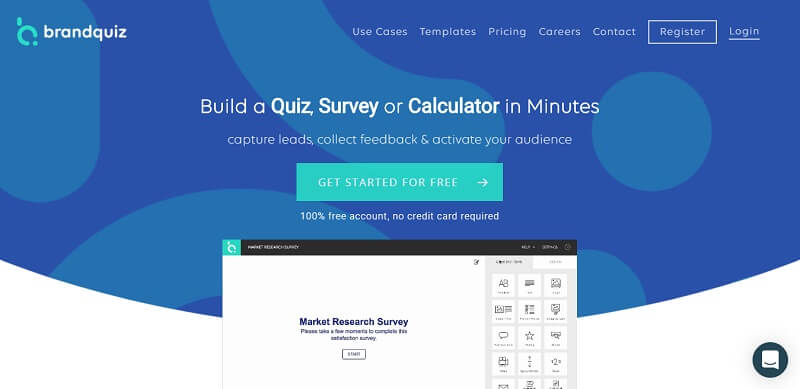 If you are interested in creating the ultimate quizzes to collect feedback, grow your email list, boost traffic, drive conversions, Brandquiz is one quiz maker tool that you can pick without a second thought.
It is effortless to use and works flawlessly to create and develop mobile-friendly quizzes, personality tests, surveys, smart forms, calculators, lead pages, etc. In just minutes.
Features:
Fully customizable quizzes to reach more of your target audience
User-friendly interface with easy navigation
Easy to use drag and drop form builder
Desktop and mobile preview feature
No need to be well-versed in coding
Suitable for both beginners and experienced users
4. Riddle's Quiz Maker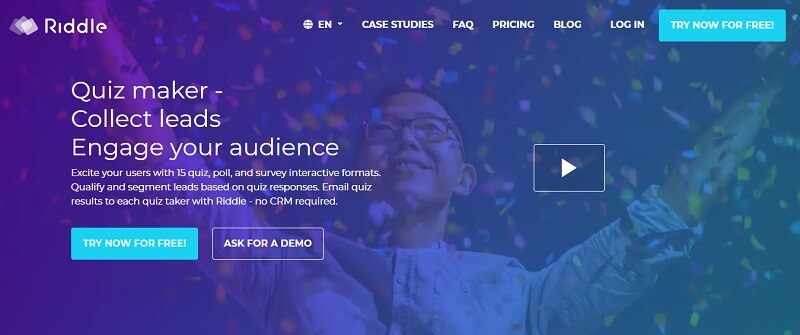 Riddle is another excellent option of an intuitive quiz builder that allows you to create fully responsive quizzes, polls, and personality tests. You can create lead generation forms with an intuitive drag/drop builder and save them for later use.
The upside of this tool is lead qualification and segmentation based on quiz responses. Later it automatically send-out personalized follow-ups to engage more effectively with your target audience and potential customers.
Features:
Choice of 15 types of quizzes, surveys, polls, and more
Customization options to make quizzes more attractive
Impressive reporting features
Available as a WordPress plugin
No coding skills necessary
Integrations with MailChimp, AWeber, and other marketing tools
5. uQuiz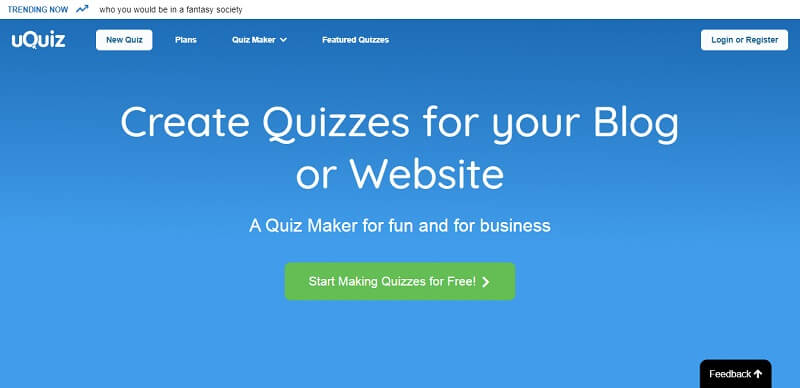 uQuiz is an uncomplicated and easy-to-use quiz maker tool for creating engaging quizzes for your website and blogs to capture the audience's attention and generate leads.
With this tool, you can specify a custom tweet having your brand's URLs and hashtags to promote your quizzes or personality type and get instant feedback from users.
Features:
Simple and easy-to-use interface
Flexibility to create interactive quiz content
Quiz customization and branding options
Provision to add multimedia to enhance quizzes' appeal
Quiz ads to drive traffic to your website
Quiz compatibility with mobile and desktop browsers
6. Survey Anyplace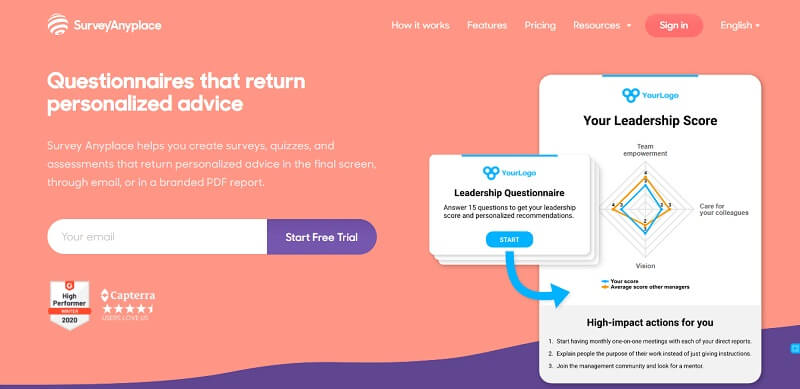 Survey Anyplace is a popular name in the marketplace as a reliable and most advanced survey maker tool. The tool has all the functionality to help you create fun, interactive and personalized quizzes, surveys, and assessments. The interface is intuitive and easy to use. The design features are excellent.
The quiz results and feedback are shared via variable end screens, email, or an auto-generated pdf.
Features:
A large question pool to choose from
Question and answer randomization to avoid response biases
Quiz Timer to track quiz taker's performance speed
Quiz score customization for user engagement and satisfaction
Instant feedback to check knowledge and address errors
7. Qzzr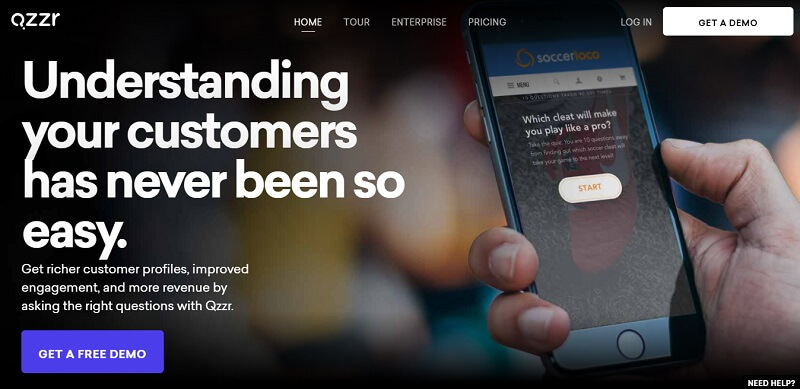 We are ending this list with Qzzr, a reliable cloud-based tool that offers a quick way to create beautiful online quizzes using the content of your choice. It is preferred by businesses of all sizes, digital marketers, advertisers, publishers, and more.
Features:
Seamless drag and drop interface
Custom calls-to-action to send quiz takers to the landing page
A large number of customizable quiz templates
Lead data exporting into third-party CRM applications
Automatic follow-up with potential leads
Drive Revenue And Engagement
With the immense benefits, quizzes can be a marketer's secret weapon. All you need to do is create online quizzes and share them on social media or embed them on your website. To get more clicks, share, and user engagement, make sure you learn about the best time to post on Instagram, Facebook, Twitter, and other social media platforms.
Now you have many options for quiz maker tools but the tool you'll select will largely depend on your usability preferences and unique lead generation needs.
Most of the tools mentioned above come with a free trial. Before you commit to one tool, use your best choices to find the one that fits your needs. You can also read through the most asked business questions and answers to learn from other marketers or analyze the feedback on the various quiz maker tools to make the final decision.