Today, you can find many businesses investing in social media and digital marketing to increase brand exposure and sell products online. They recruit and invest in SEO agencies and experts to help accomplish online marketing goals, as SEO plays a vital role to gain popularity and traction to websites! Also, you can use some SEO audit tools to check your SEO performance.
Safari Brisbane SEO advises that there are a wide range of SEO Tools (some free, some paid) that enable marketers and SEO professionals to understand site performance and suggest actionable SEO improvements through the SEO audit process.
Useful things to know about your website and SEO is how to perform SEO Audit. This will help analyze all your web pages to identify anything you can improve on with each page to increase your search ranking for success.
The best way to get the most out of your SEO efforts is by conducting a technical SEO audit to make sure that all SEO issues are detected and addressed. This way you're giving yourself the best chance to rank highly in the SERPs.
Fortunately, there are SEO Audit Tools you can invest in to make the audit process less time-consuming. But what are these tools?
Read on to find out the 8 useful SEO Audit Tools that help speed up the SEO audit process!
List of 8 Best SEO audit tools we cover:
1. Sitechecker
2. Google Search Console
3. Ahrefs Site Audit Tool
4. SEMRush
5. Moz
6. SEO Site Checkup
7. SpyFu
8. Screaming Frog
1. Sitechecker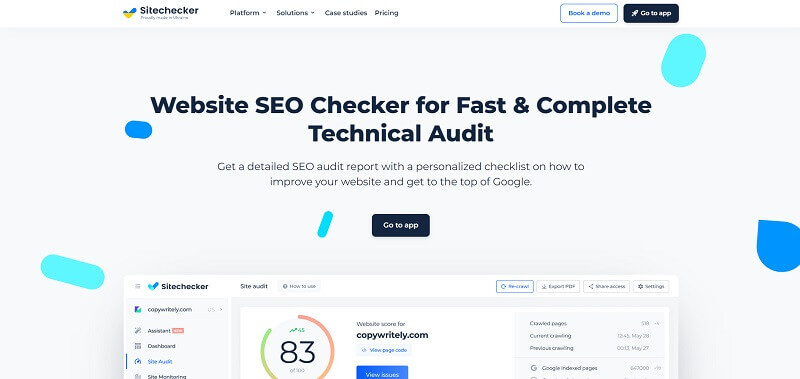 Sitechecker is a very valuable tool for performing website SEO audits. With its comprehensive features and capabilities, it allows users to efficiently analyze and evaluate the SEO performance of their site. For example, one of the features of Sitechecker is the Page Counter, which provides a detailed analysis of all website pages. Page Counter finds all the pages on the website, checks the indexing of these pages by the Google search engine, and identifies any technical problems on these pages.
By conducting an SEO site audit using Sitechecker, website owners and SEO professionals can quickly identify areas for improvement, address technical issues, optimize content, and enhance their website's overall SEO performance. The tool's practical recommendations and customizable settings further contribute to a comprehensive and tailored approach to optimizing a website's SEO, ultimately leading to improved search engine rankings and increased organic traffic.
2. Google Search Console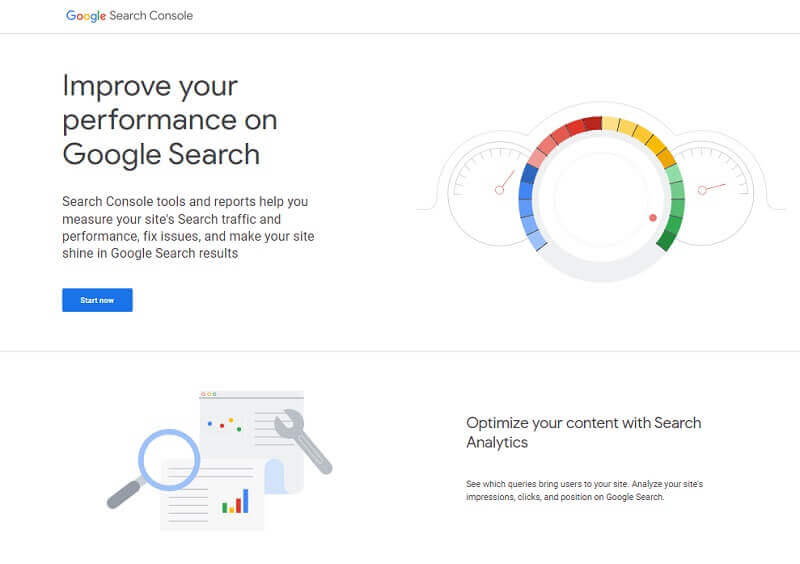 This is one of the best and most popular tools to use when you are a beginner in SEO and website audits. It is a completely free tool that provides a great number of insights, as well as summaries of important things to take note of, like:
Broken links
Page load speed
HTML markups
Indexed webpages
And more
Besides this, the tool will also identify your website's position in various ways, such as the number of clicks from SERP results and its impressions.
While it lacks in some areas and won't provide an absolutely complete picture of your site, it's still a great tool when performing an initial analysis and SEO Audit Tools of your site.
3. Ahrefs Site Audit Tool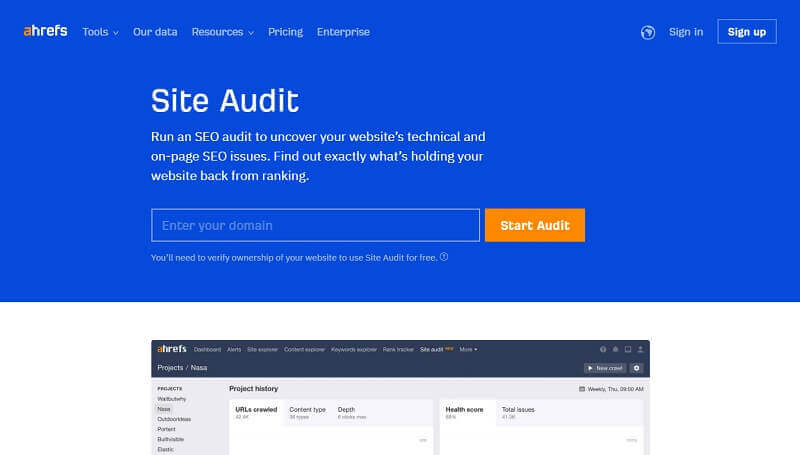 This is another very popular and most-used tool that helps you examine your website's health. The system is able to recognize over 100 technical issues, from the crucial errors down to minor matters. Whatever may harm your website's rankings (like redirects, CSS/JavaScript files, images, broken links, etc), Ahrefs Site Audit can identify and help you fix it right away.
If ever the tool identifies an issue you're not very knowledgeable about, Ahrefs will help you understand what's wrong and the solutions to it. Another advantage to Ahrefs is that it's not the software you need to install, but a cloud-based tool.
Furthermore, website scanning is quick, depending on the website size. Ahrefs can crawl HTML and JavaScript pages, so all web pages will be checked to get the complete picture of your website's health and more details.
4. SEMRush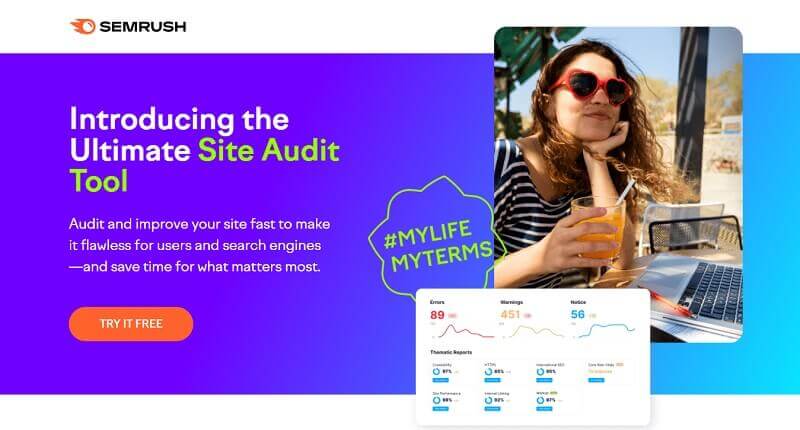 SEMRush is a very well-known SEO tool used for auditing and researching. It helps you track organic and PPC keywords, backlinks, and research about your website and competitors.
Many experts and website owners use this tool to track competitors' data to implement what was learned in SEO efforts for boosting website ranking. It can also be used to help find proper keywords for your content and complete website audits to know what to do to improve your website.
Here are the main features SEMRush offers:
Identify ad strategies and budget of competitors to compare with them
Find competitors' ad copies, as well as the top advertisers and publishers
Backlink analysts
Create effective ad campaigns
Discover the top keywords for both SEO and PPC
Perform complete website audits and position tracking, which you can save and export via analytical reports in Excel
5. Moz
Moz is one of the more popular SEO tool providers, a large SEO agency that many trusts! A lot of website owners and SEO experts trust and use Mozzarellas products throughout their monitoring, including SEO audits.
SEO experts specifically use the Moz Rank, as well as utilize data on domain and page authority as metrics. They take this into consideration as they perform link building with other websites. This can help in seeing if websites are worth link building with and how you can improve your website's domain and page authority.
Another useful tool form Moz is the Moz Crawl Test, which is a synonymous tool with both SEO and website audits. It has a website crawler for site owners to identify any critical website problems, status codes of HTTP, as well as other useful SEO data for audits. Furthermore, it helps you discover duplicate content on your site, any title tag errors, server redirects, and more crucial factors that impact the site's crawl ability and indexability.
What's great about Moz is that you can use its free or professional tools made for any website owner or small to big enterprise businesses!
6. SEO Site Checkup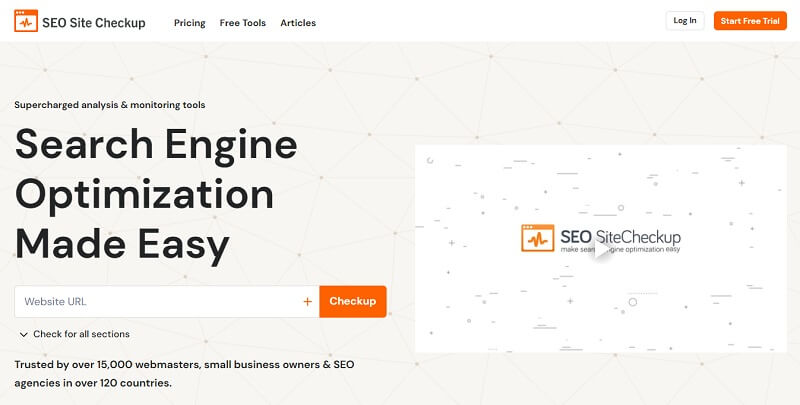 SEO Site Checkup is a completely free auditing tool that can analyze an entire website in six different categories:
Mobile usability
Social media
SEO issues
Server
Semantic Web
This comprehensive SEO tool can give you all data needed from search engines, such as the website health score, overall performance, and any failed checks of your website. That way, you know what you should improve on to help increase your website health score. And make it perform well for both search engines and visitors.
Here are some of the features the tool offers:
SEO Monitoring and reporting
Identify and repair any SEO issues
Competitor analysis
7. SpyFu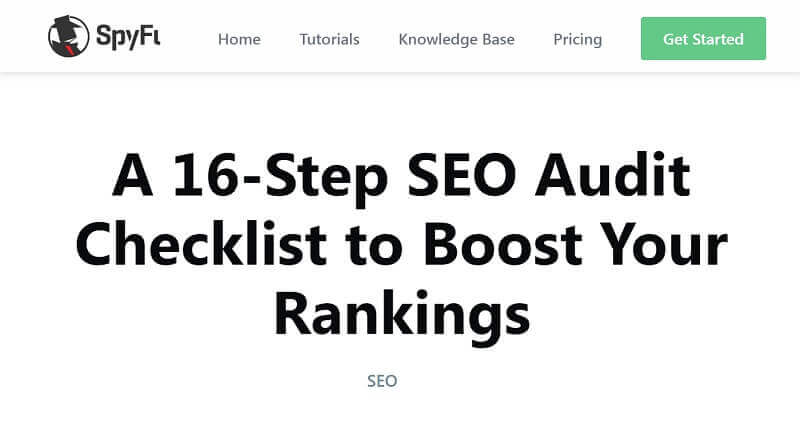 SpyFu is another amazing tool that's meant for competitor analysis. It can extract your competitors' insights so you can observe all of their activities.
This makes it one of the most useful tools for SEO enterprisers and website owners who focus on online and digital marketing with sales-related goals. In fact, SEO experts such as Joel House SEO Sunshine Coast recommend tools similar to SpyFu to study website competitors as part of the SEO auditing process.
This is an online tool, So when you head to the SpyFu homepage and type in a URL. You get all website insights and competitors. Under the competitors, you get data such as the keywords they use, number of searches, backlinks, and more!
These are SpyFu's main features:
Top keywords
Organic search
Inbound clicks
Paid search (PPC)
8. Screaming Frog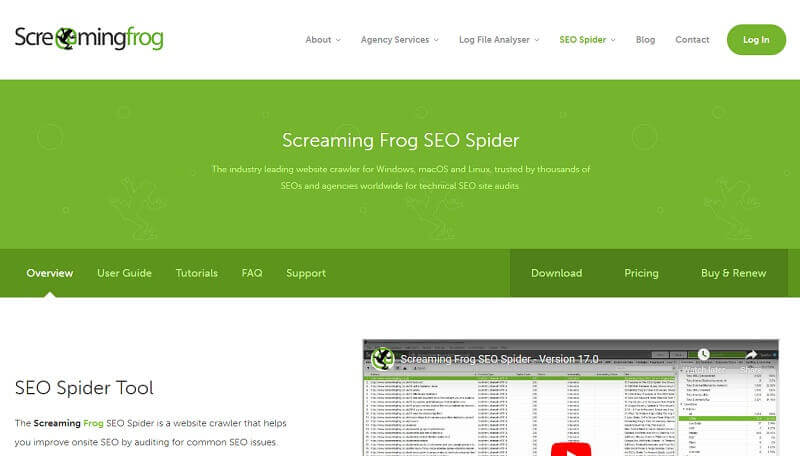 Screaming Frog is a desktop software and a crawling tool for analyzing your entire website. This tool gives detailed insights into any SEO website problems as it crawls everything.
With this SEO audit tools, you can check 30 different parameters, such as:
Outbound and site links
Meta descriptions
Anchor texts
Security
Broken links
ALT tags
Response time
And a lot more!
It's also a cost-effective tool as it can crawl 500 website URLs for free. It analyzes the complete website immediately and on your desktop, so you can use this as a crawling tool to identify the SEO issues you may have to fix.
If you have 500 pages or less and need a free tool for your SEO audit (or crawl), then this one's for you.
While there are numerous SEO audit tools you can use, make sure to stick to the trusted ones that offer a complete and useful package. Use any of these tools mentioned and start reaching SEO goals today!