Wondershare Filmora is a video editing software but it can also be used for making slideshows that you should download right now because it will make your life easier if you have to make slideshows on a regular basis. One always wants the best of everything, including transitions, effects, usability, and ease of access. And for all of you, Wondershare Filmora is that. In this article, we will discuss the best slideshow maker. So keep reading.
When you try something new for the first time and have never used it before, you may be unsure whether you should buy it. However, because this software is user-friendly, it's recommended that you give it a shot.
Features Of Wondershare Filmora
You will be able to enjoy the following core features of Wondershare Filmora video editing software.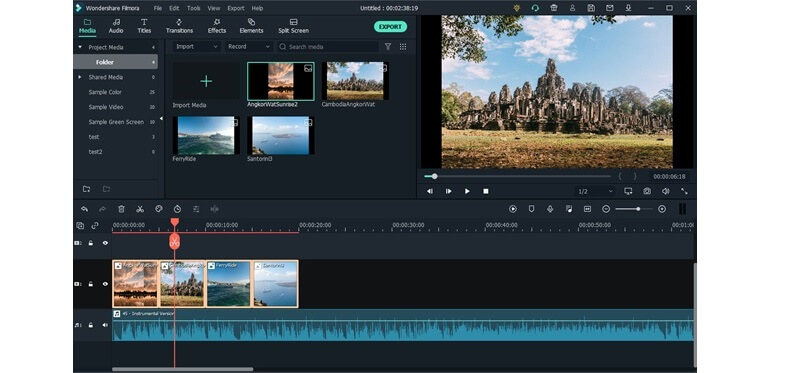 An impressive application that will allow you to make impressive movies.
Allows you to edit and convert videos before sharing them on various hosting websites.
It comes with a large library of graphic elements, video effects, transitions, and titles that you can use to make some awesome videos.
Allows you to import video clips in a variety of formats and save them to a disc as a different file type.
Popular extensions supported include AVI, MP4, and WebM, among others.
Only the audio streams can be exported as mp3s, and the video can be exported in HTML5 format.
Allows you to record multimedia using the available input devices and import videos, photos, and audio files from local folders.
Here are the steps for creating a slideshow on your Wondershare Filmora video editing software, as well as how easily accessible all of its features are.
When you click on the Filmora icon, the following window appears on the screen. To begin working on a completely new project, select the New Project tab. You can select the Aspect Ratio from the dropdown list that appears when you click on the downward-facing arrow for the '16:9 (Widescreen)' tab.
You will be directed to Filmora's workspace, where you can see a variety of features such as Transitions, Effects, Import Media Files, Titles, and others.
Now you'll go through your computer's folders and access them through this window. You will now choose the videos and images that you want to include in your slideshow. This is similar to adding a group of files to Filmora so you don't have to search the computer for the same thing over and over. If you already have a music track ready for the background of your video, add it here as well.
This is how your Filmora workspace will look after you've added all of the necessary images, videos, and music tracks by following the steps outlined above.
To create the slideshow, simply drag and drop your image or video into the timeline-sort space located at the bottom of this screen. Filmora assists you in keeping track of the time for the slideshow. Use your cursor to position the images and videos on this timeline, which will show you the duration of your work right next to the red line.
Moving on to Filmora 9's extra features, where you can explore a plethora of options for choosing your slideshow.
So far, we've worked under the Media tab, and now we'll move on to Audio.
You can also add your own music track that is saved on your computer by selecting the 'My Music' option on the left. This will display another Folder/Arrow-like icon in the center of the page, which you can click to add a music track.
Titles
Titles are the text that will be displayed in the slideshow as credits or subtitles, depending on what the user requires for their slideshow. These are available in Filmora in a variety of styles, giving the user a wide range of options.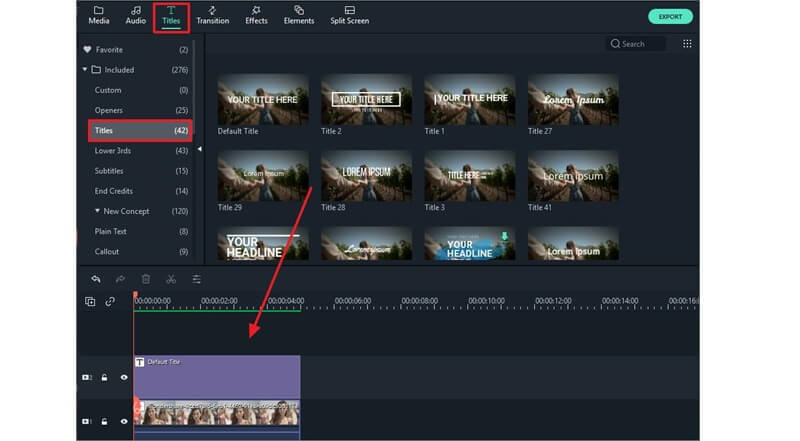 Transition and Effects
Adding a transition to a single image or the entire slideshow helps to make the transition from one image to the next more interesting. For example, if there are two images with no transition effect, the slideshow may not look as appealing as one with a transition effect after each image, whether they are the same or different.
Effects, on the other hand, are more 'image' focused. This is essentially the screen's colors and how the image will appear when it is played in a slideshow. Just like how you might edit an image on Instagram. You can enhance the value of your slideshow by applying various effects to your images and videos.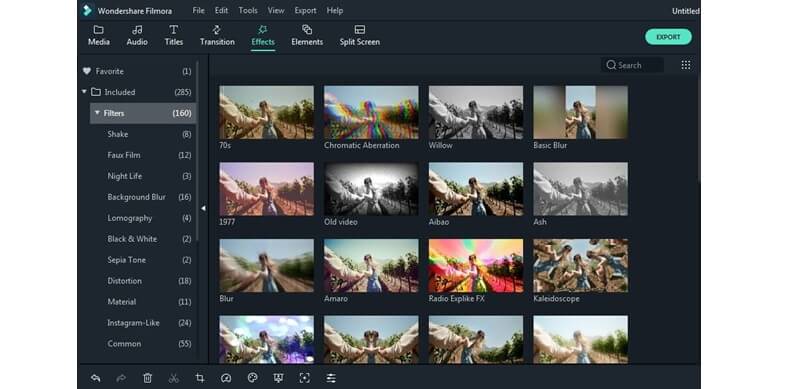 Elements
This is the aspect of Filmora that is most interesting right now. You can add some really cool graphics to your slideshow by using the elements provided by Filmora.
Now sit back and relax; it will only take a few moments for your photo slideshow to be ready for sharing anywhere. Hope so this article on the best slideshow maker will definitely help you in creating a slideshow with Filmora even better.