In this lovely collection of Spa Salon HTML Website Templates, we need to offer you multiple ready-made solutions both fashionable, powerful, and professional in their look.
Together with those mind-blowing templates, you'll get access to distinctive pre-made pages, handsome galleries, and attractive animation outcomes and transitions.
List of the Best Spa Salon HTML Website Templates:
1. Beauty Salon
This Beauty Salon Site Template has been specifically designed for those who not only want to have a good-looking website for their salon but also have all the needed functionality for making it easy for the customer to book an appointment and locate your store on the map.
2. Beauty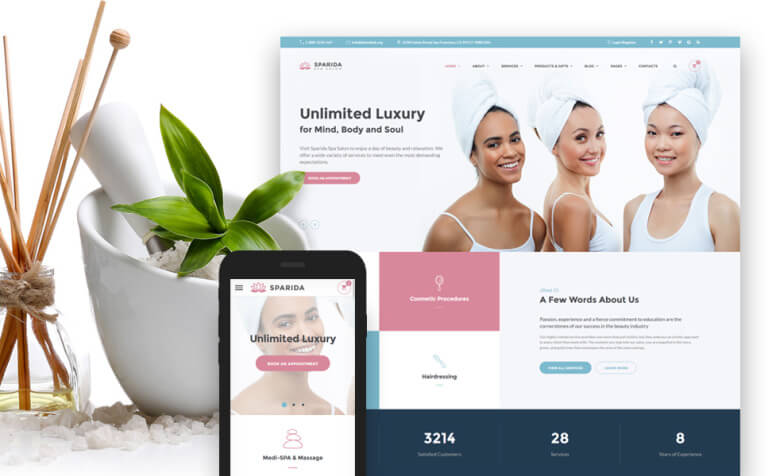 You will enjoy working with this Beauty Spa Website Template almost as much as your clients will take delight in your spa salon itself. Being a multipurpose HTML template, it offers over 50 ready-made pages to choose from.
3. Dream Spa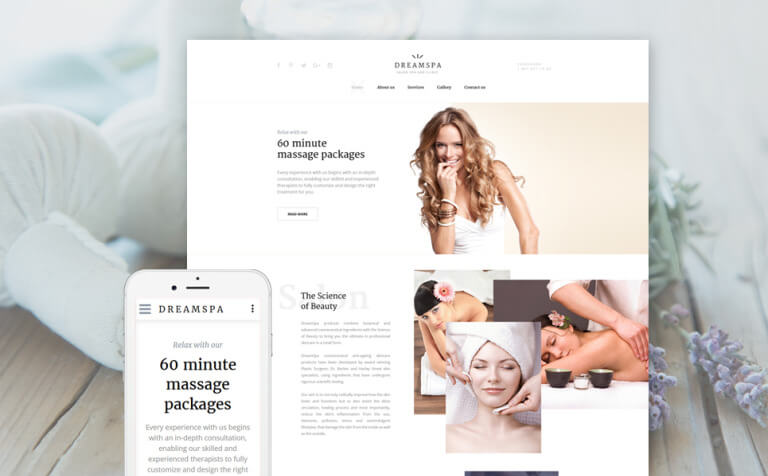 Here is a responsive template meant for spa, massage, nail, hair, or any other beauty salon. Its functional header features a logo, menu, contacts, and social media icons also duplicated in the footer. The content is complemented with high-resolution banners conveying the atmosphere of your establishment.
4. Male Beauty Salon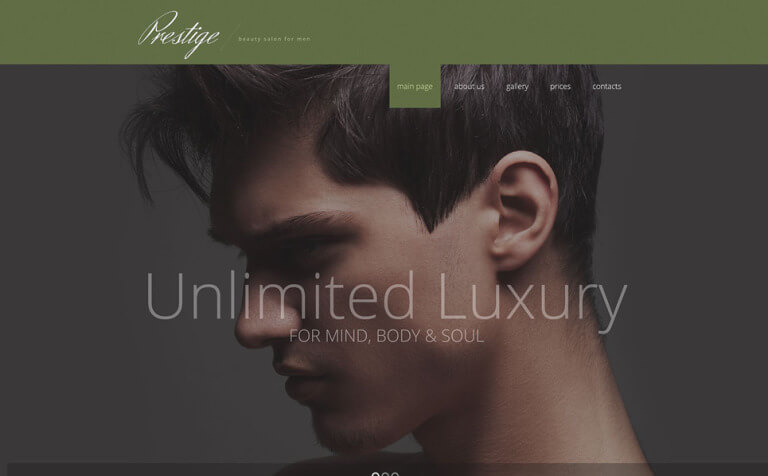 This beauty salon website template is an elegant and contemporary solution for the design of your site. Created with the latest trends in mind, it blends gorgeous visual aesthetics with advanced functionality. The theme has a fully responsive layout, which is indispensable in building an efficient web resource.
5. Relaxation Beauty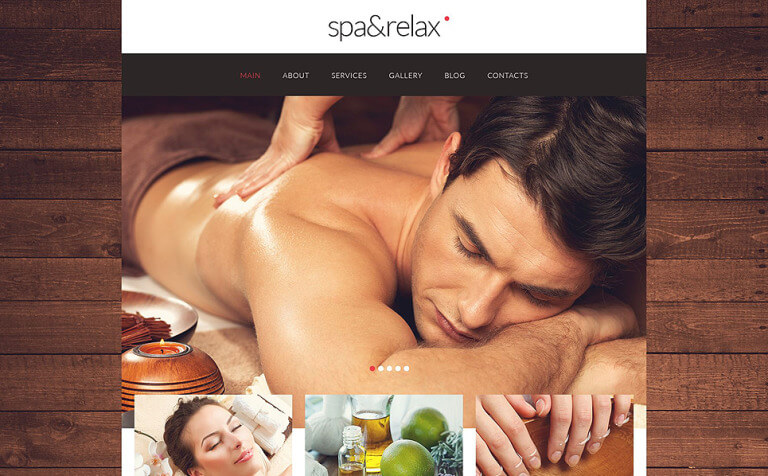 Welcome a responsive and flexible web template created for those of you who want to bring a beauty salon business online. Its spacious layout with wooden texture in the background is an amazing solution for highlighting your services and products.
6. Lotus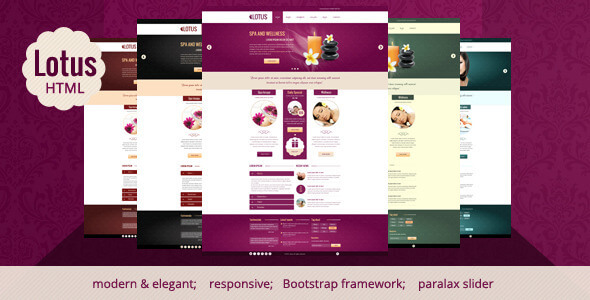 Lotus is an elegant and modern HTML5 Bootstrap responsive website template for spa and wellness saloons but it is also very easy to customize for other businesses like restaurant, hairdressers, beauty salons, and others.
7. Spa Treats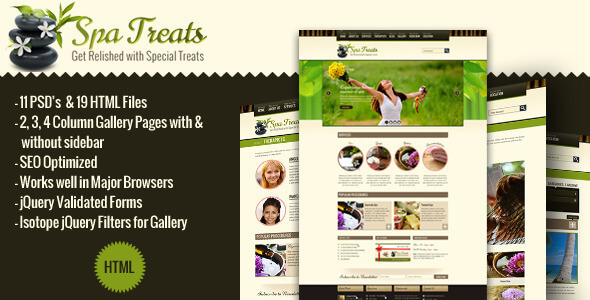 Spa Treats is a Fresh HTML Template with Exclusive features. If you are looking for a Trendy Spa Salon kinda Website 'Spa Treats' is the best fit for you. It has all the features you need to start a Spa or Saloon Business or promote an existing Salon.
8. Modis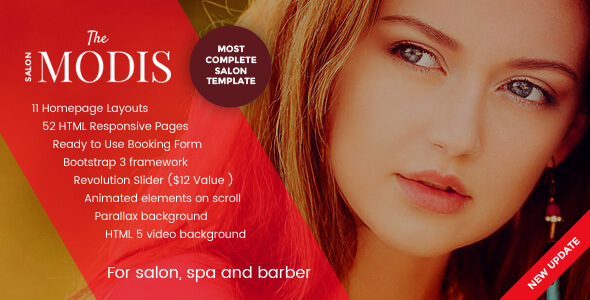 Modis is a responsive HTML 5 website template built with the latest Bootstrap. Perfectly suited for the salon, barber, spa, massage, and any else beauty services. Modis help you to build beauty and modern website in no time.
9. Hair Care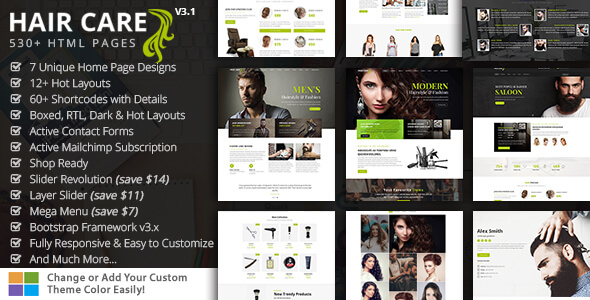 HairCare is a library for Beauty Salon and Barber with predefined web elements which help you to build your own site.
10. Relish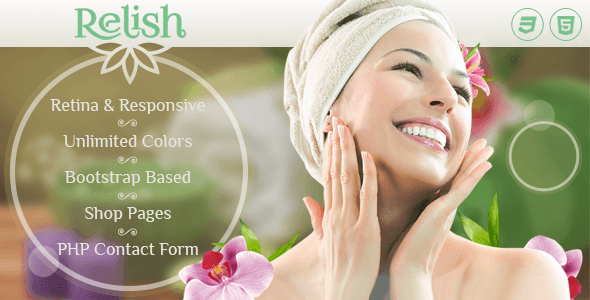 Relish is a beautiful and clean spa salon HTML template, suitable for a wide variety of websites. It will perfectly fit your spa salon, yoga studio, or any other related businesses!
11. Angel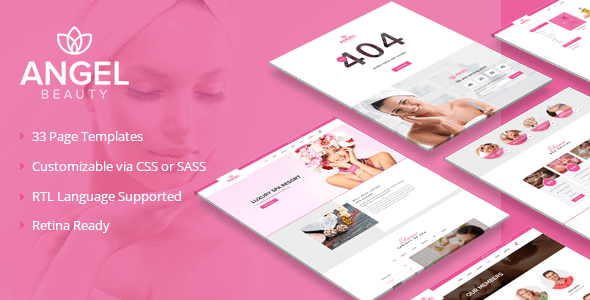 Angel is a responsive, clean, and modern HTML Bootstrap Multipurpose Template. It is designed to showcase services and sell products. This template can be used for any type of website. Especially for Beauty, Spa, salon, Yoga, Barbershop, Care, Hair, Health, Massage, Medical, Physiotherapy, Wellness Centers, Makeup, Cosmetic, Treatment, and personal website.
12. Depilex Salon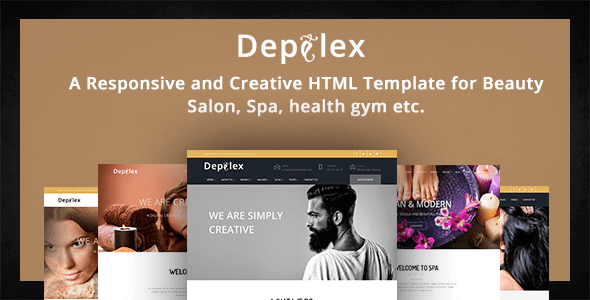 Depilex is a multipurpose creative and clean HTML template, suitable for a wide variety of websites like beauty salons, spas, health and fitness, hotel, and resort. This template was created for anyone looking to start theirs on beauty or healthcare websites.
13. Clinique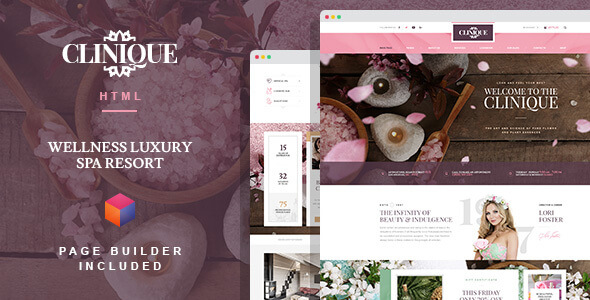 Clinique is an exquisite, luxurious HTML template, aimed to help you create a website related to spa salons, beauty centers, health clinics, or anything of that kind. This HTML template may also work great for an eyelash extension or microblogging salon website.
14. Active Life
Active Life is a bright, new HTML template for chiropractic and rehabilitation centers, manual therapists, and health and wellness clinics. Combining all of the aspects needed for a successful website with a consideration of all the modern standards of the sphere and market, this template will be your best solution for a personal website.
15. Lemon
Lemon is a Spa and Beauty HTML template with a minimal and modern design. If you are looking for a Trendy Spa Salon kind Website, Lemon is the best fit for you. It has all the features you need to start a Spa and Salon Business or promote an existing business.
16. Future Spa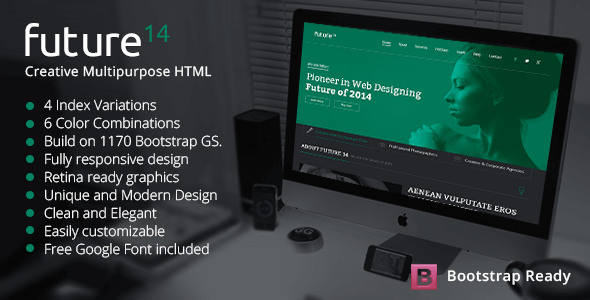 Future 14 Multipurpose HTML is a multi-page HTML Template with a very Modern and Clean Design built with HTML5 and CSS3 JS. It is a perfect choice for your corporate and personal websites. It can be customized easily to suit your wishes.
17. Daily Spanz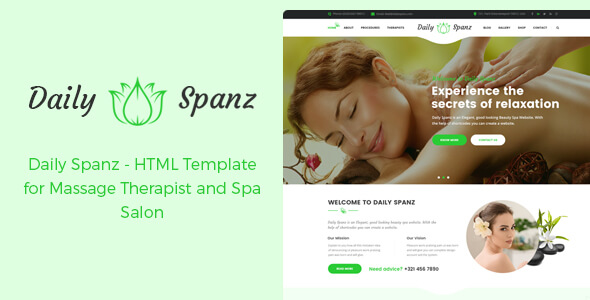 Daily Spanz – HTML Template can be used as Spa and health resorts website as well as for any other purpose. Feel free to create your own website with this finished template.
18. Hair Salon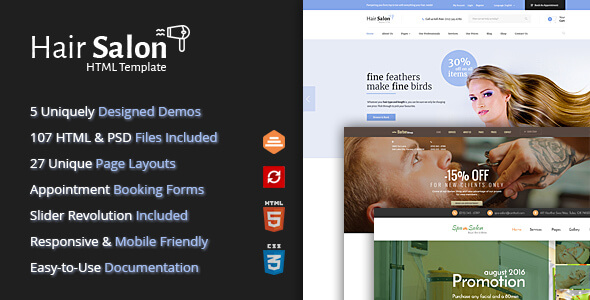 Hair Salon is a premium HTML template built and optimized for many types of businesses such as Hair Salons, Spas, Barbers, Beauty Parlours, Massage Therapist, Barber Shop, Hair Cutting, Cosmetics, Makeup, Nails, Massage Therapy, and Estheticians.
19. Limo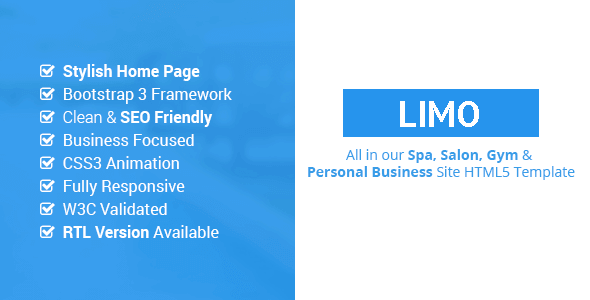 A limo is a clean and elegant Site Template, created for people with life passion in the spa business. The limo is a very simple and clean creative template. Just change your Text, Image, and Colors and get your website. Everything is already made for you!
Conclusion
In conclusion, choosing the best spa salon HTML website template s crucial in creating an engaging online presence. A well-designed website template can help spa salons attract potential customers. It also showcases your services and establishes a strong brand image. Overall, the best spa salon HTML website templates offer a range of features and functionalities that enhance the user experience.