Free wedding WordPress themes are a great option for couples looking to create a beautiful and personalized website for their special day.
Website is one of the most important things of any wedding. A wedding website works as a central hub for all crucial days, you can make a website easily using these Free Wedding WordPress Themes. Also, you can share photos and videos of different ceremonies very easily by uploading them on the website.
Moreover, you can create a column for photos and videos of all members who attended the wedding. Also, you can create some creative sections, like a section where everyone can write well wishes for the groom and bride. Happily, there are lots of fantastic wedding-specific themes available for WordPress. We'll look at some of the top best free wedding WordPress themes in this article.
List of The Best Free WordPress Wedding Themes:
1. Blossom Wedding
2. Catch Wedding
3. VW Wedding
4. Classic Wedding
5. Wedding Hall
6. BB Wedding Bliss
7. My Wedding
8. Nikah Wedding
9. Vivah Royal Wedding
10. Wedding Bells Lite
1. Blossom Wedding Free Marriage WordPress Theme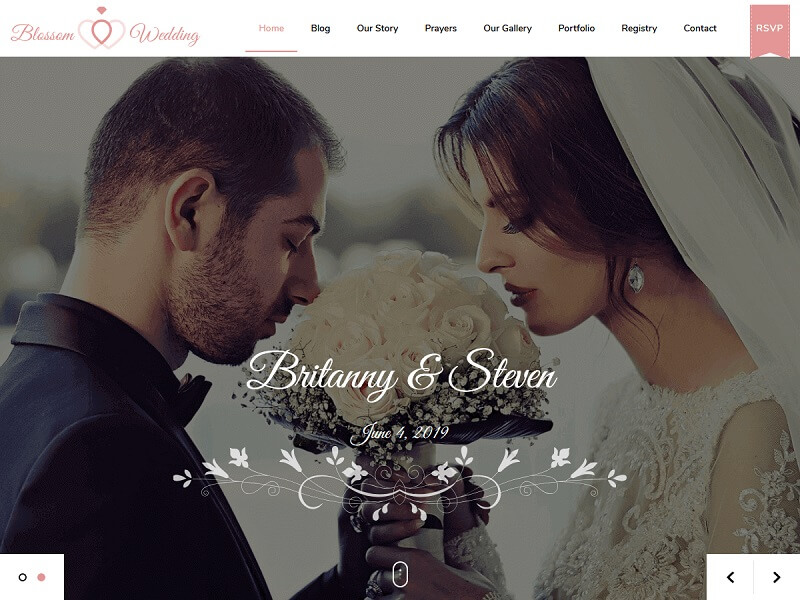 Blossom Wedding is a fully featured and beautiful theme for wedding websites. With this theme, you can create attention seeking wedding website without any knowledge of coding. Also, this theme has unique features that will help you to connect with your guests.
Moreover, the website is speed optimized, it gives a great user experience to your visitors. Not only your wedding plans you can also show your whole romantic journey to your guests. So, you can create a fully functional website for your wedding using this theme.
2. Catch Wedding Free Matrimony WordPress Theme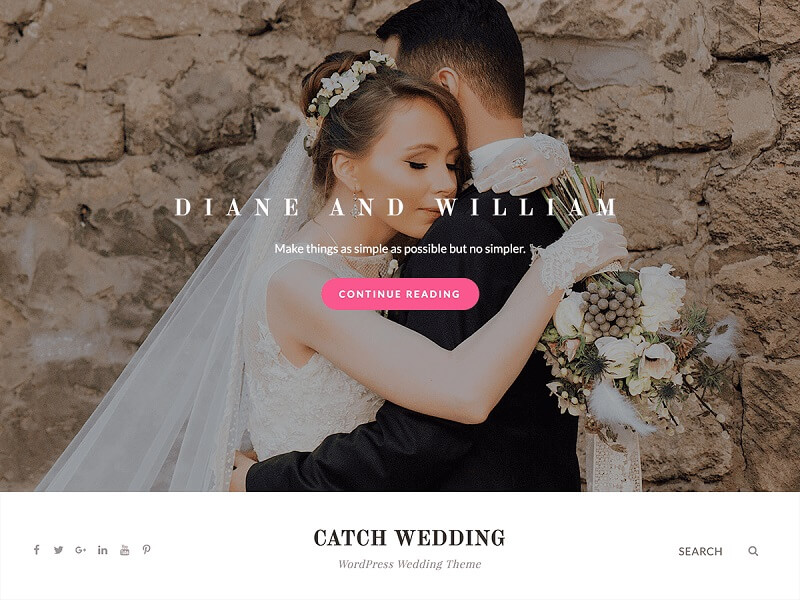 Catch Wedding is a free, minimalistic yet feature-rich wedding WordPress theme. Also, the theme comes with interesting features for wedding websites. The theme is fully responsive and looks flawless across all devices. Also, the theme has a clear and unique design.
You can create a website of your desires using this theme. You can customize this theme easily because the theme is based on Bootstrap design. Catch Wedding is one of the best themes to showcase your wedding using a website.
3. VW Wedding Free Marriage Ceremony Theme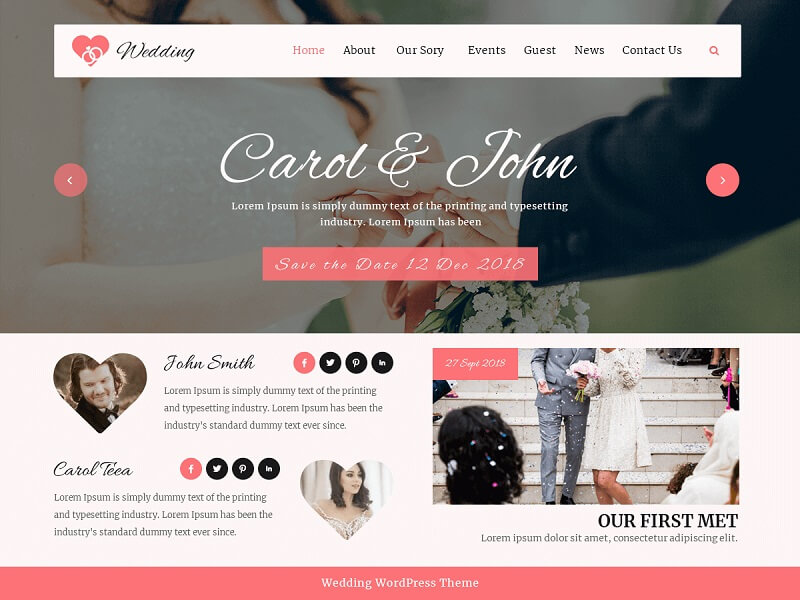 VW Wedding is a classy free WordPress theme specially made for people who want to create a stunning website for their wedding. You can also use this theme on birthdays and other family events. You can create a good portfolio to highlight your wedding celebrations.
The theme is feature rich and has a beautiful layout. Also, the theme's foundation is based on the Bootstrap framework, which makes it easy and simple to use. Also, the theme has four columns layout and it is cross-browser compatible.
4. Classic Wedding Event Planning WordPress Theme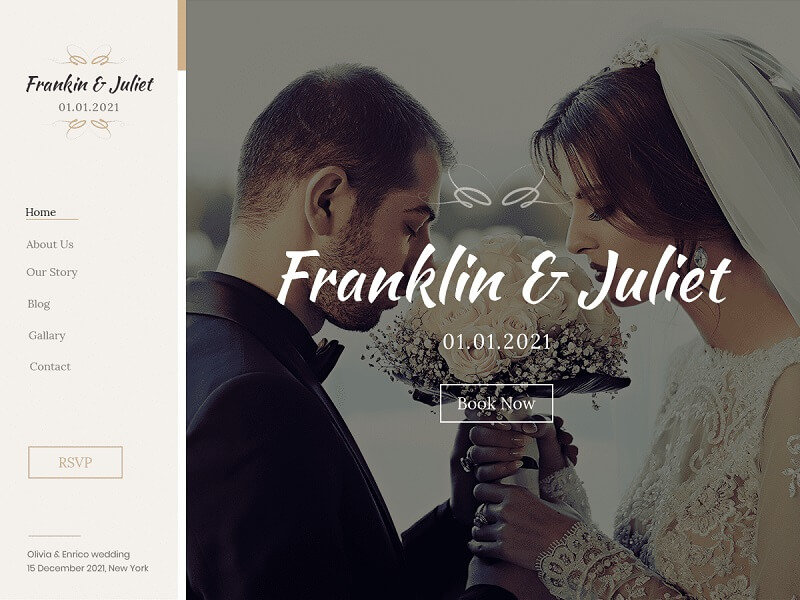 The classic wedding theme is ideal for wedding-related businesses, such as wedding planners. Also, you can use it to display your engagement gallery, wedding gallery, and other wedding-related content. The theme's style is simple but attractive.
Besides this, it can also be used for family gatherings, birthday celebrations, anniversaries, etc. Also, it comes with many features like video display, featured content, etc. The theme is speed optimized, it will provide a great user experience.
5. Wedding Hall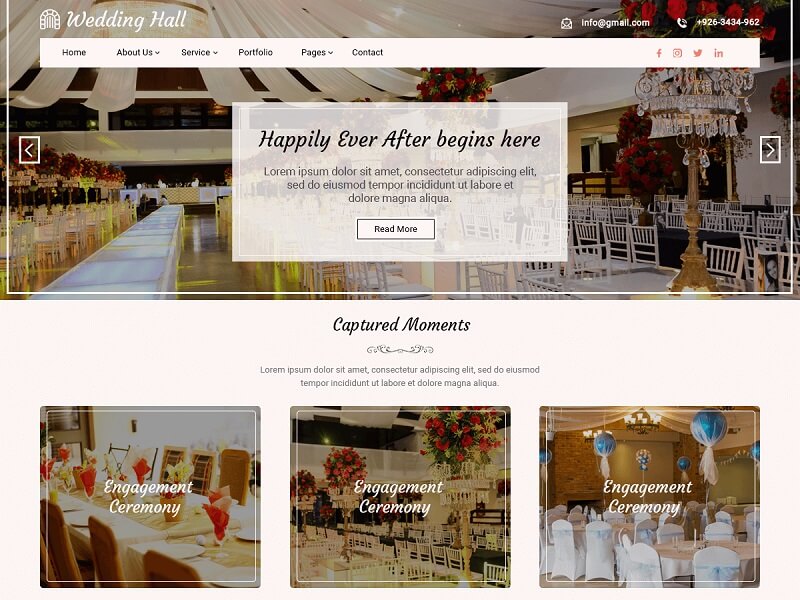 Wedding Hall is a fully responsive and beautifully designed theme for weddings, party halls, etc. Also, with a posh and stylish layout you can present a stunning presentation of your wedding. The design of this theme makes excellent use of social media sharing features.
Besides this, its clean and minimal design will make the visitor focus on the key content and will always grab the attention of your visitors. You can create a full website using this theme's user-friendly interface for free.
6. BB Wedding Bliss
BB Wedding Bliss is a free theme to build a marriage website easily. You can also use this theme for other purposes like art, design, business, etc. Also, it's a fully responsive website and works well on any device. The theme is built on bootstrap.
The theme contains strong shortcodes that create a beautiful website for you. It contains an appealing Call to Action Button (CTA) and a well-integrated, adaptable banner. The theme includes a tonne of features such as color choices, a customizable admin panel, etc.
7. My Wedding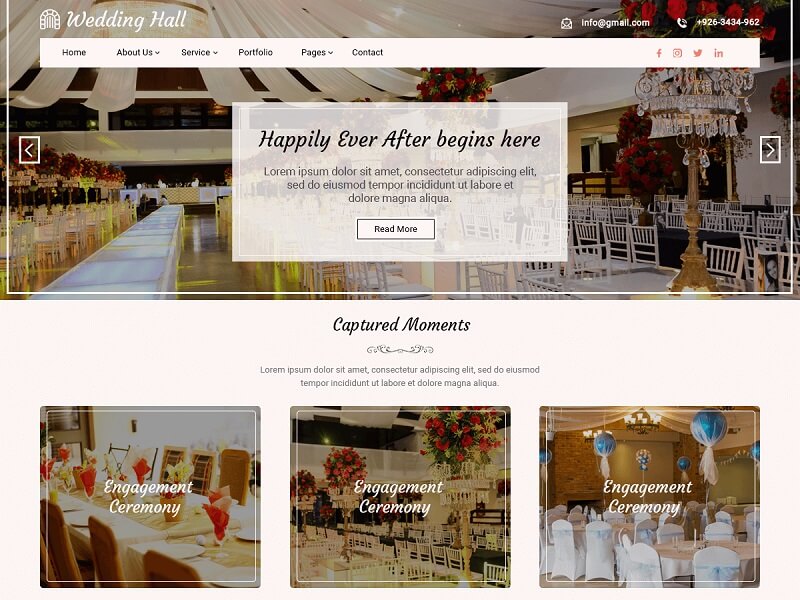 My Wedding is a complete solution for you if you want to create a website for your wedding. Also, it's the most appropriate theme for engagement, wedding planners, etc. This theme has wonderful features, a very sophisticated appearance, and is extremely attractive.
Moreover, It uses shortcodes and widgets for user ease and has a translation-ready design. Live customization options are available, also there are plenty of promotion options available. It's a modernly designed and fully responsive theme.
8. Nikah Wedding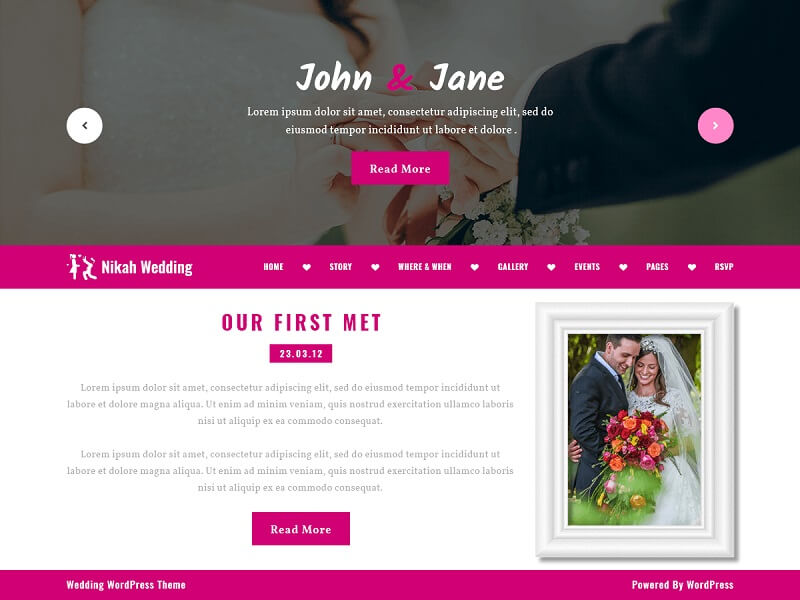 Nikah Wedding is a beautiful and modernly designed wedding WordPress theme. The theme is developed with love and attention to reflect the affection in your relationship. Also, its clean design will make your website highly efficient and performance-oriented.
The adaptable design of the theme makes it a multipurpose WordPress theme. So, you can utilize it for a variety of purposes including personal blogs, wedding photographers, etc. The theme is fully responsive and loads smoothly in all browsers.
9. Vivah Royal Wedding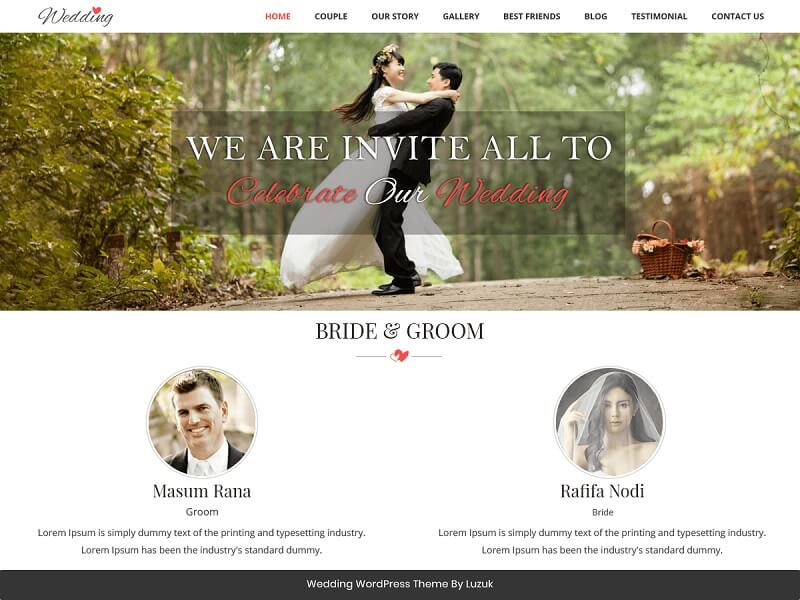 Vivah Royal Wedding free theme is a polished theme for wedding websites to serve invitations for weddings and engagements to people. Anyone can build a website for themselves using this theme without any coding knowledge.
Additionally, you can also use this theme for a portfolio website to show good moments of your life to your friends and family members. It has a very user-friendly design and offers easy navigation. Also, the theme is SEO friendly and cross-browser compatible for a seamless experience.
10. Wedding Bells Lite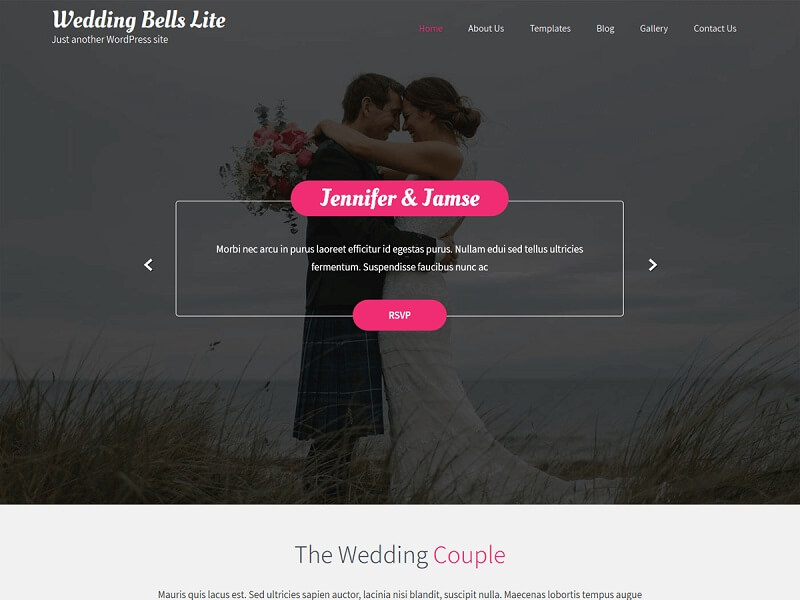 Wedding Bells Lite is a very well-designed and fully featured theme. Also, the theme is created with the intention of giving webmasters the most ambitious website-building framework. So, they can create the most stunning and modern website for weddings.
Moreover, The theme is fully responsive ensuring that your website looks fantastic on all devices. Also, the theme is SEO Friendly, it will increase the visibility of your website and attract more people. Overall, you can create a stylish website using this theme.
Frequently Asked Questions:
Are free wedding WordPress themes customizable?
Yes, most free wedding WordPress themes are customizable to some extent, to match your wedding theme and personal preferences.
Where can I find free wedding WordPress themes?
You can find the best free wedding WordPress themes for your website in our listing.
Can I use a free wedding WordPress theme for other types of events?
While free wedding WordPress themes are primarily designed for weddings, some themes may be suitable for other types of events.
In Conclusion:
There are several free wedding WordPress themes on the market that can assist you in developing a stunning and useful wedding website without spending a penny. Before choosing the right theme, it's important to consider your specific needs and preferences.
Whichever theme you decide on, make sure it complements your wedding aesthetic and captures the spirit of your special day. With a well-designed wedding website, you can showcase your love story, exchange information with your guests, and organize and enjoy the planning process.