Hello there, if you want to know how to choose the best hosting companies for WordPress then keep reading this article.
WordPress is an excellent content management system that helps you easily create and manage your website's content. It offers endless opportunities to build a solid online presence with the help of simple or advanced tools. However, to ensure that your website runs smoothly, choosing the right hosting company is critical.
In this blog post, we will discuss the different things you should consider when choosing a WordPress hosting company. We will also recommend some of the most known hosting companies for WordPress websites. So, without further ado, let's get started!
What To Consider Before Choosing A WordPress Hosting Provider
Any WordPress user knows that hosting is essential to owning a website. Not only does it provide a platform for your site, but it also helps to keep it secure and operating efficiently. But with so many hosting options available, it's challenging to decide which one is right for you.
Luckily, there are some factors to help you make the best decision. To start, think about the size and scale of your website. If your website has lots of traffic, you'll need a powerful hosting plan to handle the demand.
Consider your budget. There are plenty of affordable hosting companies available, so you don't need to break the bank to get started.
Last but not least, think about your needs. If you need additional features like email accounts or e-commerce capabilities, make sure your chosen host can provide them.
WordPress Shared Hosting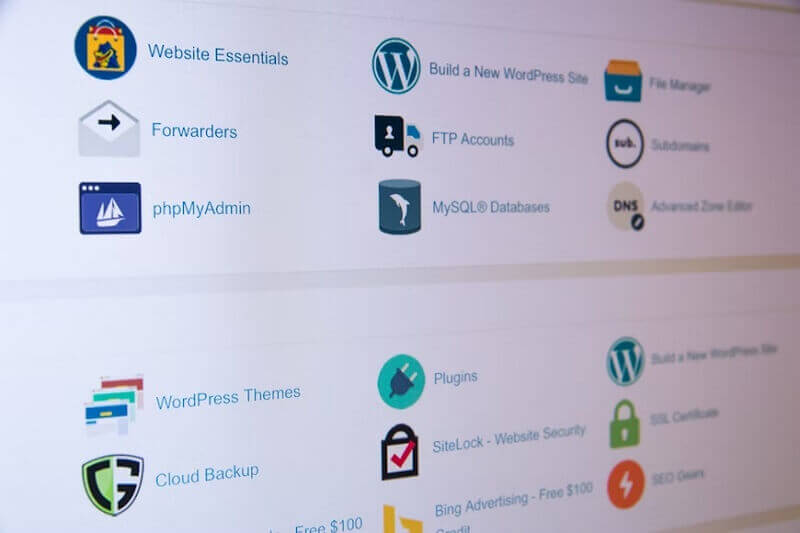 WordPress Shared Hosting is a web service with multiple WordPress sites hosted on a single server. This solution can be cost-effective for small businesses and individual bloggers who want a website but have a limited budget.
The plans typically offer good customer support in case you need help with your site. Although this is a popular and affordable option for many websites, it does have several disadvantages. First, performance can be unpredictable because multiple users share the same server. If another user on the server is experiencing high traffic levels or running resource-intensive applications, your website may suffer from reduced speeds or even downtime.
Also, you will be sharing IP addresses with other users on the server, which could impact your website's reputation if one of the other users is engaging in spamming or other actions that break the terms of service.
For these reasons, it is necessary to know the potential drawbacks before deciding whether you need shared hosting.
WordPress Optimized Hosting
Another option to ensure that your WordPress website runs smoothly and efficiently is choosing a WordPress-optimized hosting provider. This type of host will offer some features and benefits specifically designed to improve the performance of WordPress websites.
WordPress-optimized hosts often provide pre-installed themes and plugins, saving you time and effort. The support is available 24/7 for customers, so you can always get help if you run into any problems and ensure your website will run smoothly and efficiently.
Comparing WordPress Web Hosting Options
Before choosing your hosting provider, there are some factors to consider, starting from budgeting, the site's size, and future professional or individual goals. Also, don't forget to pay attention to WordPress's safety, performance, backup, and support.
Let's have a detailed look at each one of them.
Site Speed and Performance
When choosing WordPress hosting, it's important to consider site speed and performance. A faster site will improve user experience and SEO and may lead to higher conversion rates. There are some factors that contribute to site speed, including the quality of the hosting server, the size and a number of images, and the use of caching plugins.
WordPress hosting providers typically offer a variety of plans with different levels of performance. For example, some providers may offer managed WordPress hosting, which includes optimized servers and other features to improve your site. If you're looking for the fastest WordPress hosting possible, compare providers and plans to find ones that match your goals.
Site Security
WordPress security is a top concern for any website owner. After all, an insecure site can be hacked, leading to lost data, decreased traffic, and a damaged reputation. So, how to make sure your WordPress site is safe?
One of the most important is to use an optimized hosting plan that includes security features such as malware scanning, firewalls, and interference detection. You should regularly update your WordPress installation, themes, and plugins to ensure you're using the latest security fixes.
WordPress SSL / TLS Certificate Support
SSL (Secure Sockets Layer) is an agreement that encrypts traffic between a website and its visitors. TLS (Transport Layer Security) is an improved version of SSL.
To use them on your website, you must purchase an SSL/TLS certificate from a trusted Certificate Authority (CA). Once you have an SSL/TLS certificate, you need to install it on your web server and configure your WordPress site to use it. In most cases, your hosting provider will assist you with this process.
Backup
When choosing a hosting web service, it is important to consider the company's backup capabilities. Ideally, the host should maintain regular backups of all data and files. In the event of a problem, this will ensure that you can quickly restore your website to its previous state.
The frequency of backups is also important. For example, if you update your site frequently, you will need a host that performs nightly backups. On the other hand, if your site is static, weekly backups may be sufficient.
In addition to considering the frequency of backups, be sure to ask about the host's storage methods. For example, some hosts keep backups on-site while others use offsite storage. Offsite storage is considered more secure as it reduces the risk of data loss in a fire or other disaster. When evaluating a hosting web service, always consider its backup policies to ensure that your data will be safe and sound.
Experienced WordPress Support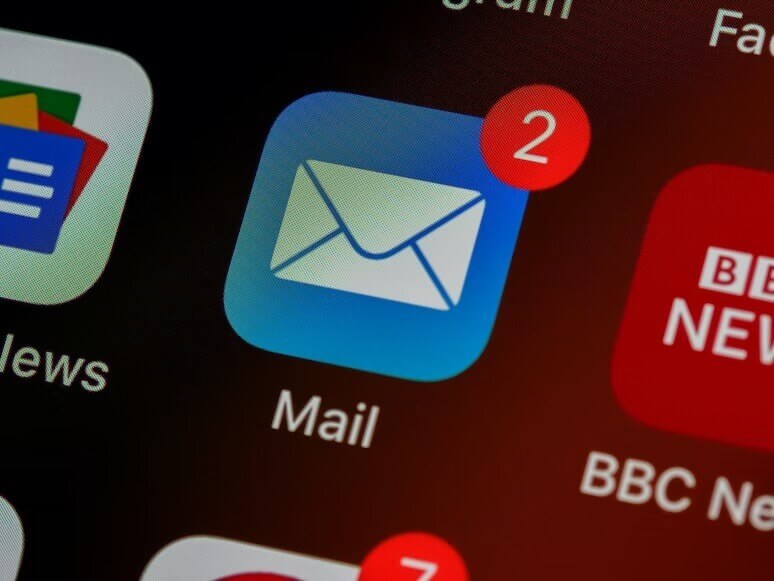 Millions of people use WordPress to build everything from simple blogs to complex sites. However, it can be a complex platform, and users often encounter problems when trying to build or maintain their sites.
That's where experienced WordPress support comes in. WordPress support experts can help users choose the right themes and plugins to set up eCommerce functionality. They can also guide how to troubleshoot common WordPress errors.
WordPress also provides a Support Forum and an IRC channel.
WordPress Hosting Companies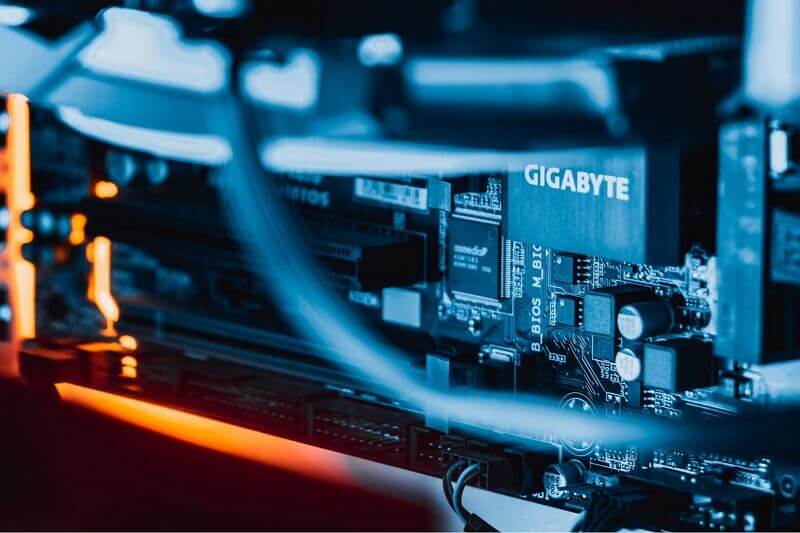 Ready to choose the best hosting provider for your site? Well, we know how challenging selecting one among many providers can be!
We have compiled a list of the most suitable WordPress hosting providers to guide you in making the best decision for your website.
List of the Best Hosting Companies For WordPress:
Bluehost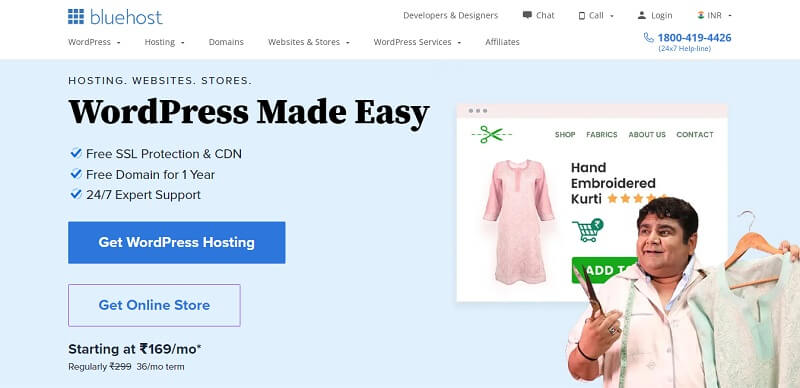 Bluehost is a great WordPress hosting provider. It offers several efficient features and provides everything you need to start with WordPress. Benefits include a free domain name, unlimited storage and bandwidth, and a one-click installer. Bluehost also offers a wide variety of security features, making it a good choice for businesses that want to keep their websites secure.
However, one downside of Bluehost is that it can be expensive if you choose a dedicated plan. So, if you don't want to spend too much on hosting, you should consider a more affordable provider. Another potential drawback is that Bluehost doesn't offer as much control over your website as some other providers. For example, you can't install certain plugins or customize your theme without upgrading to a more expensive plan.
The cheapest plan starts from $2.95 to $49.95 per month for WordPress-specific plans.
SiteGround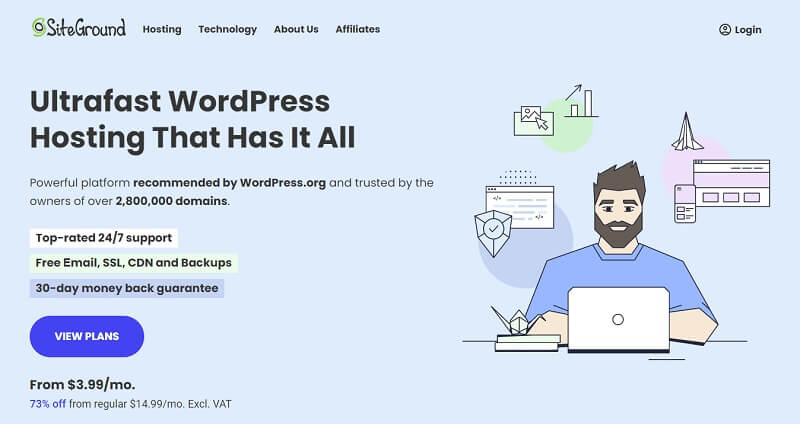 SiteGround is another popular WordPress hosting provider. But what are the pros and drawbacks of using SiteGround WordPress hosting?
One advantage is that SiteGround offers a wide range of features, including automatic updates, daily backups, and secure login. Plus, it's convenient to use, even for beginners.
The most significant disadvantage, however, is the cost. SiteGround is more expensive than other WordPress hosting providers.
The prices range from $2.99/per month to $14.99/per month. However, this is applicable for your first term. Once it's over, you will have to commit to paying the total price.
If you're looking for a credible and feature-rich WordPress host and don't have a limited budget, SiteGround is definitely worth considering.
DreamHost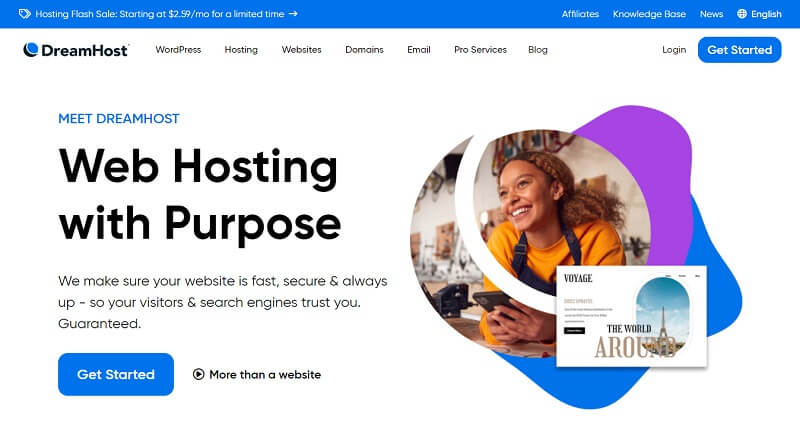 This hosting provider has a lot to offer users in terms of both features and price. It provides a free domain name for the first year. This can save users money if they would otherwise have to purchase a domain name separately. DreamHost offers unlimited storage space and bandwidth, ideal for users with a lot of data or anticipating high traffic levels. Furthermore, it is backed by a Money-Back Guarantee, giving users peace of mind in knowing they will get their money back if they are unhappy with the service.
However, there are also some disadvantages to consider. One is that DreamHost doesn't offer a free trial, so users will have to commit to paying for service at least one month upfront. Another downside is that DreamHost doesn't offer telephone support, so users must rely on email or live chat for help.
Let's have a look at the price plans. The cheapest starts from $4.95, which makes this hosting provider affordable and convenient.
Hostinger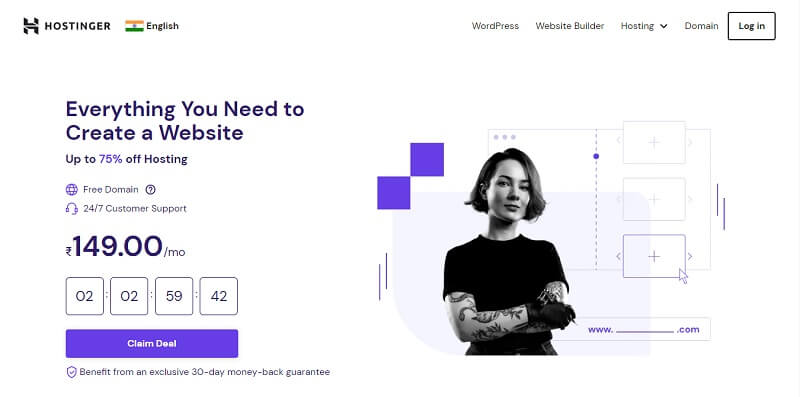 Hostinger is an excellent choice for everyone who wants to start a WordPress site. Its hosting plans are affordable, making them a perfect choice for those on a budget. Another advantage of using Hostinger is the speed. Sites hosted on Hostinger typically load faster than other types of hosting, which is important for both users and search engines.
However, there are no email accounts included with the plans. You will need to set up a separate email account for your WordPress site. Another disadvantage is that customer support can be slow to respond, which is frustrating if you run into an issue with your site.
The WordPress hosting plans start from $1.99–$11.59/month.
HostGator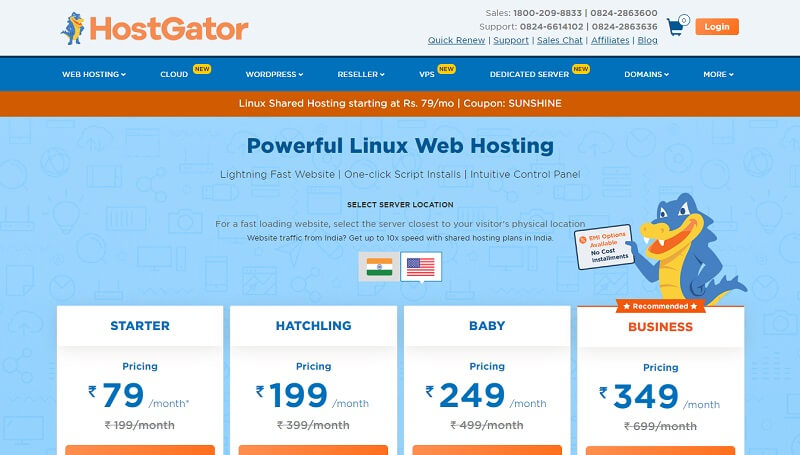 HostGator offers various WordPress hosting plans, including unlimited storage space and bandwidth, a free domain name, and automatic WordPress updates. While this all sounds great on paper, you should keep in mind that HostGator uses a shared server for its WordPress plans. This means your website will share sources with other websites hosted on the same server, leading to reduced performance during peak traffic times.
HostGator does not offer any managed WordPress hosting plans, so you'll be responsible for managing your own site. If you're not confident are you can do so, you may want to consider another WordPress host that offers more support.
HostGator's shared hosting plans for WordPress websites start at only $2.75/month.
Cloudways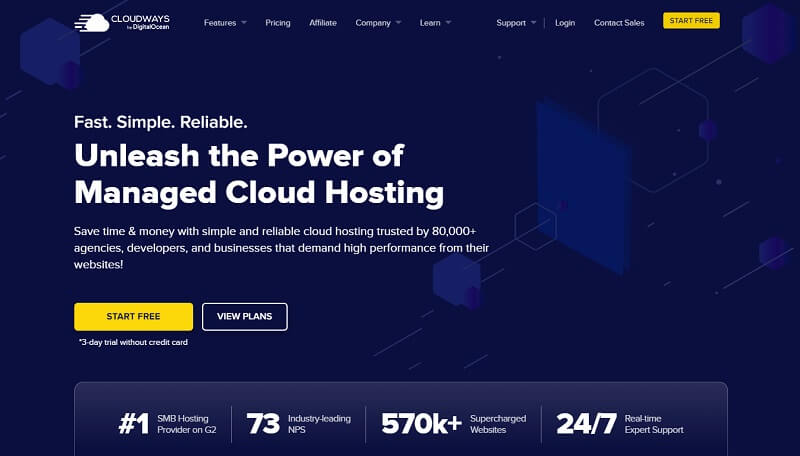 Cloudways is a WordPress hosting provider that offers a managed platform for enterprises and businesses of all sizes. It provides a secure, scalable, high-performance hosting environment for WordPress websites. The company's platform makes it easy to deploy and manage WordPress websites in the cloud.
In addition to offering a managed platform, Cloudways provides a wide range of services and support for its customers. These include 24/7 customer support, a 30-day money-back guarantee, and free migration service.
One downside is that Cloudways can be a little expensive if you're on a tight budget. In addition, it doesn't offer certain features that are included with other providers, such as a WordPress staging environment or an SSL certificate.
The WordPress hosting plans start from $12/month.
Conclusion: Best Hosting Companies For WordPress
The best hosting companies for WordPress will provide you with the features you need to run your website smoothly. They should also offer top-notch customer service in case you experience any problems with your site. Hopefully, the list of the best hosts for WordPress we provided will be helpful, so ensure to keep them in mind before making your purchase. Have you had any experiences with one of these hosts? Let us know in the comments below!