In the age of overwhelming online advertising, printed flyers remain a tried-and-trusted means of business promotion. Many business owners will agree that handing in catchy and professional-looking flyers is an effective way to attract new clients. Instead of spending your time and resources on a new custom-crafted design, we suggest that you use one of the free business flyer templates in PSD assembled here.
The thirty samples included in this unique collection will amaze you with their diversity and excellent quality. While preparing this compilation we tried to include a perfect template for everyone. Announcing an important business event, a huge sale, or an online course, promoting your delivery service or a barbershop – all this and much more is possible with the class-A templates we offer. Be certain that you will easily customize these materials in Photoshop, and download any file in just one click free of charge!
1. Startup Summit – Free Flyer PSD Template
A flyer announcing a perspective startup summit couldn't look better! Gradient color accents look cool and catchy against a B&W image of an aspiring young team. Bold letters in the middle will instantly draw any look. You can adjust this sample in Photoshop within minutes!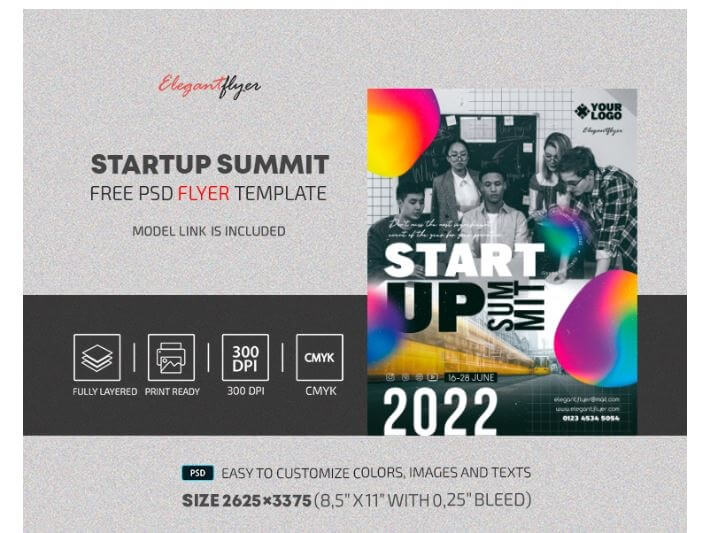 2. Business Event – Free Flyer PSD Template
This light-hearted design can help you promote various business events. Colorful abstract shapes in the upper part of the template will help to interest the potential visitors, while a simple and clean layout at the bottom will keep them engaged. In Photoshop you can easily change the palette and edit text.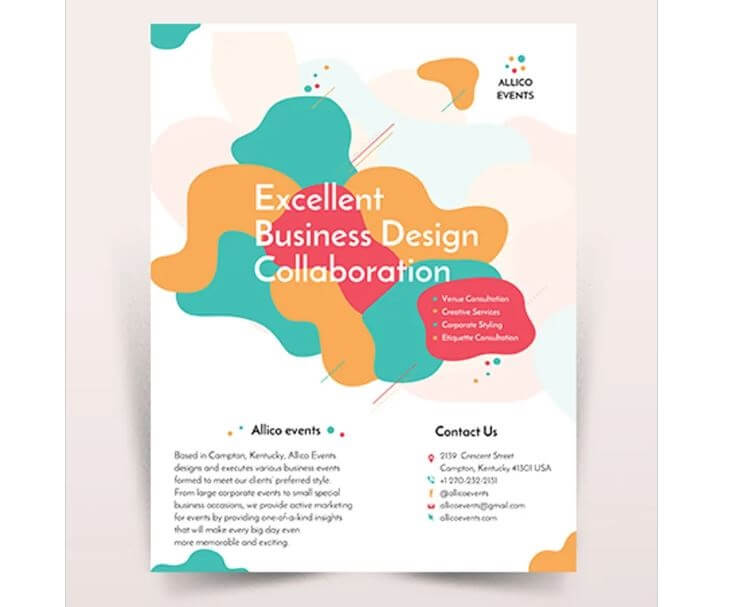 3. Estate Agency – Free Flyer PSD Template
We believe that an intense combination of purple and yellow in this estate agency template is enough to spark your potential client's interest. However, you can try out other color combos in Photoshop. Besides, you can replace the image of the building, and of course, edit the text.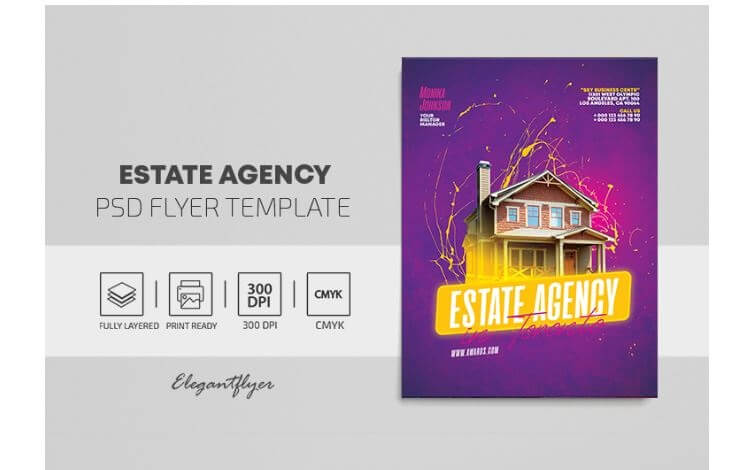 4. Online Lessons – Free Flyer PSD Templates
This template promoting online education looks professional thanks to its minimalist, well-balanced layout. In Photoshop you can easily type in contact details, choose a different color for the background, and replace the photos of the learners in the four-round frames.
5. Online Conference – Free Business Flyer Templates
Download this stylish template, and use it for the effective promotion of an important online conference. Open PS to upload a different photo, change text, and try out various color combos. This can be done even with minimal knowledge of the popular program.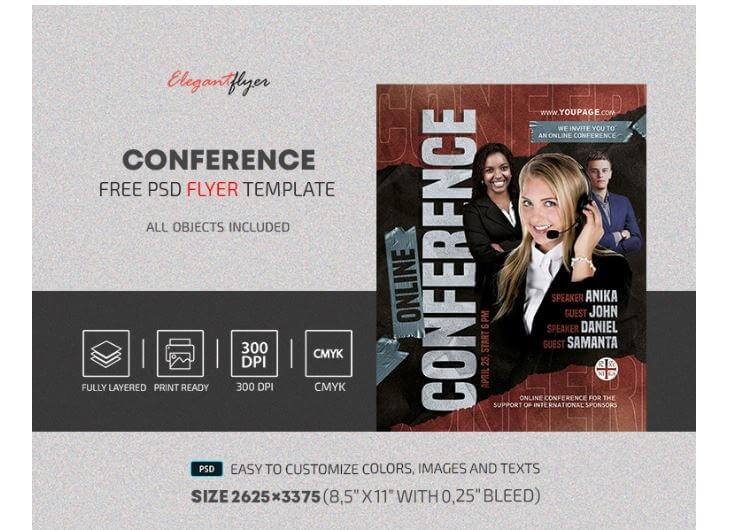 6. Real Estate – Free Flyer PSD Template
The great benefit of this template is that you can use it more than once. A basic layout with stylish diamond-shaped frames can be apt for promoting your company, announcing a conference, or even spreading the news about an exhibition or a concert. The colors, images, and text are all adjustable in Photoshop.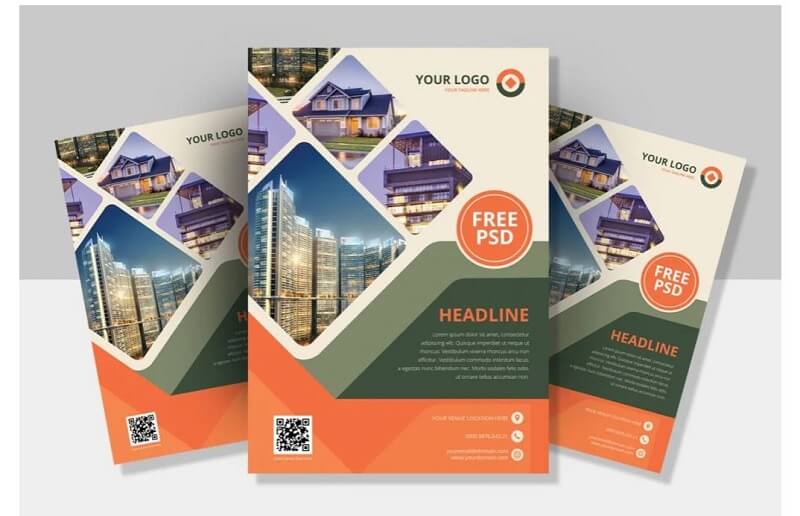 7. Black Friday – Free Flyer PSD Template
The season of big sales is around the corner, and we suggest that you use this fabulous template with an adorable bulldog to announce your special offers! Your customers will love the image of a tailed cutie and fantastic black writing against the bright yellow background.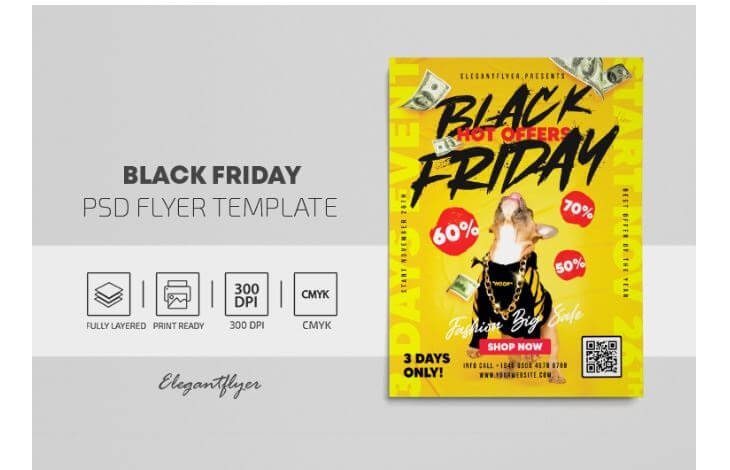 8. Corporate – Free Flyer PSD Template
Don't hesitate to promote your business with this special template! The thought-through layout allows fitting in all necessary info while saving the upper part of the sample for a stylish image with a working environment scene. The template can be ready for print within minutes.
9. Business – Free Flyer PSD Template
Thanks to the right balance of black, white, and golden accents this template looks exclusive and respectable. Use it to introduce potential clients to your company's services and values. The images of people are easy to replace in Photoshop. Besides, you can change the text passages within moments.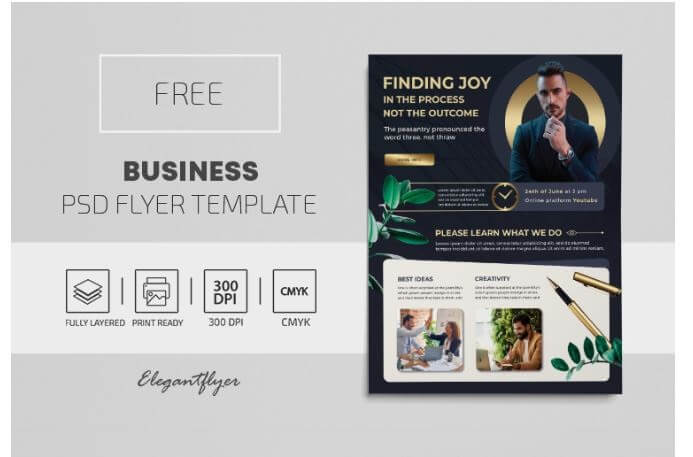 10. Barbershop – Free Flyer PSD Template
Download this fabulous template in classic red, blue, and white colors, to bring in new clients to your barbershop! Electric razors, scissors, and a barber's pole make the sample look atmospheric. A big header with a shiny metallic effect completes the design. All elements are easily adjustable in PS.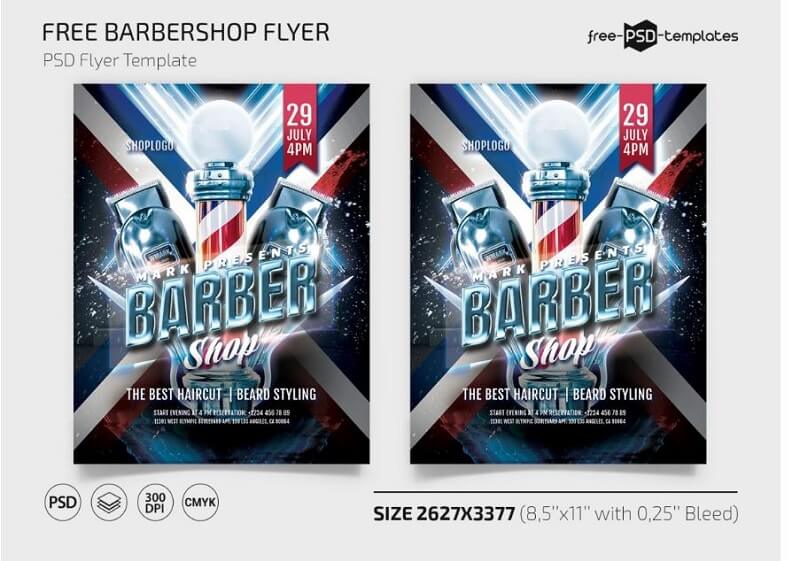 11. Business Startup – Free Flyer PSD Template
Consider using this sample to announce a big startup summit! The bottom part of the template offers plenty of space for the event description. Multiple arrows and intersecting lines add dynamics to this design. We suggest that you replace the photo and try out other color options in Photoshop.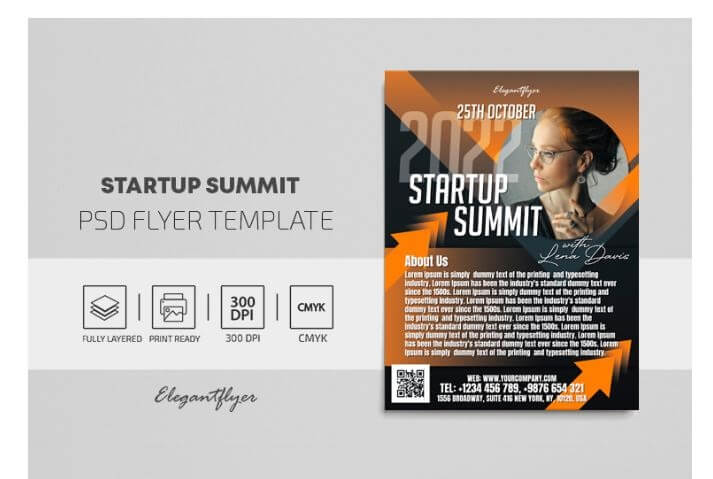 12. Dance Audition – Free Flyer PSD Template
Draw maximum attention to an important dance audition with this wonderful template! The minimalist layout, soft colors, and a photo of a beautiful dancer will help you to engage many professionals. It will take only a couple of minutes to customize this sample in PS.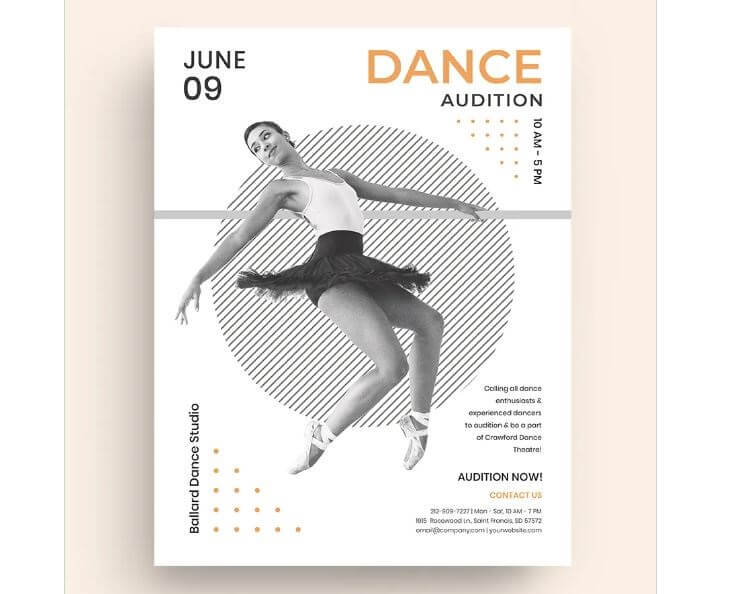 13. Business – Free Flyer PSD Template
Have a look at this cool template for an online webinar. A combination of vivid and intense colors is what makes this design look unusual and stylish. We would recommend you go with the minimum of changes, but you can edit text, upload the apt photos, and add your logotype in Photoshop.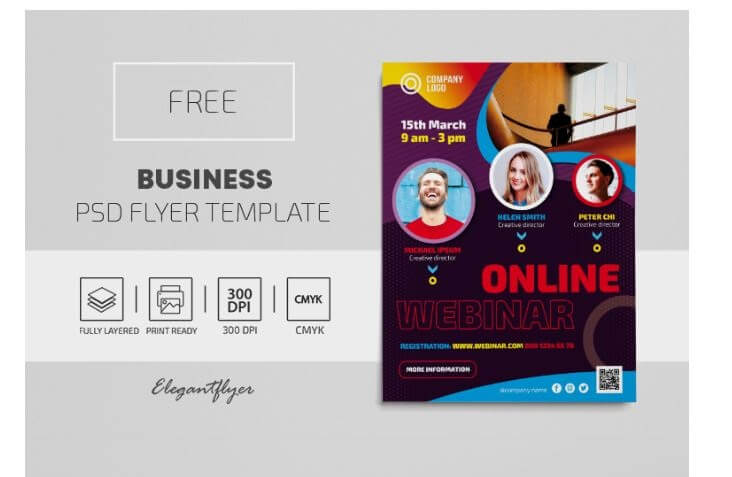 14. Security Services – Free PSD Flyer Template
Minimalist, solid, and professional – this template looks ideal for the promotion of a security system. Calm blue and black contrast with the clear color of the setting. Download this file with a click, open it in PS to customize text, and replace the images in stylish hexagon frames.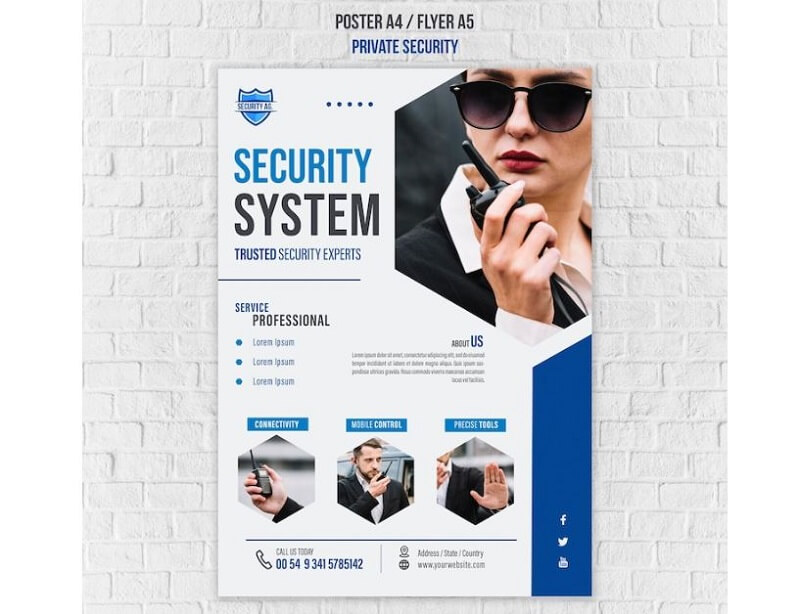 15. Farmers Market – Free PSD Flyer Template
This unusual template will help you to spread the word about the opening of a local farmers' market. Bright hues of yellow and green look eye-catching against the dark background. You can provide short info about the place, and even include a segment of a map for the customers' convenience.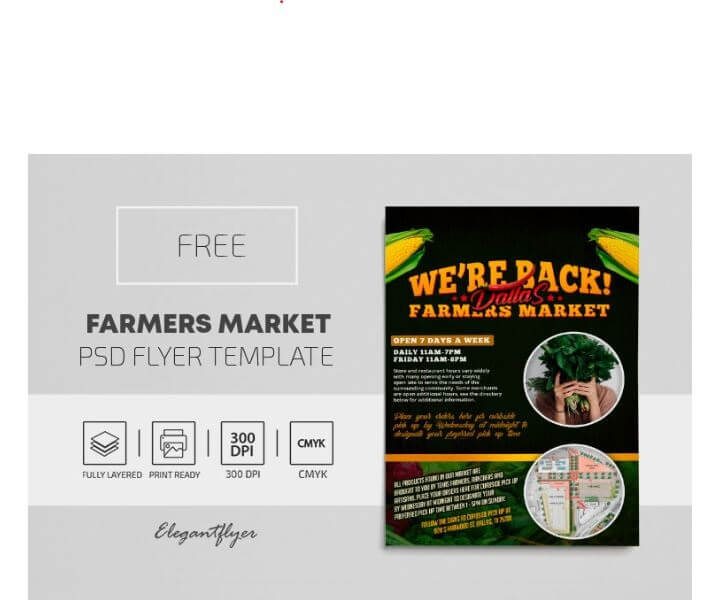 16. Construction Company – Free PSD Flyer Template
An amazing modern city view and bright hues of green make this template look cheerful and engaging! Use it to let potential clients know about the services of your construction company. Run PS to include your contacts, place a logo, and provide other useful information.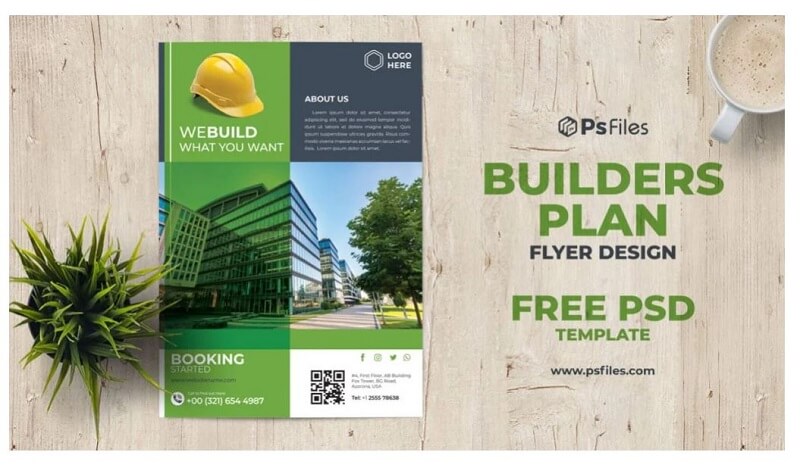 17. Marketing – Free PSD Flyer Template
Use this cool template to offer the service of your marketing company to the clients. A black & white palette, vivid accents, and unusual decor can easily draw the looks. The main focus will fall on the head of the company or another worker. You can replace the image and make other edits in Photoshop.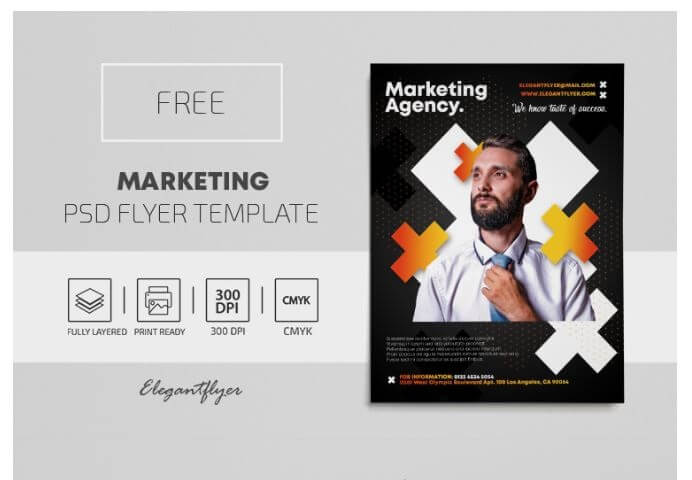 18. Multipurpose Business Flyer – Free PSD Flyer Template
You can use this flyer model for the most various purposes –from announcing an important conference to promoting a company and its services. The colors, text, images, and other elements are easy to customize in Photoshop which means that you can reach a perfect result.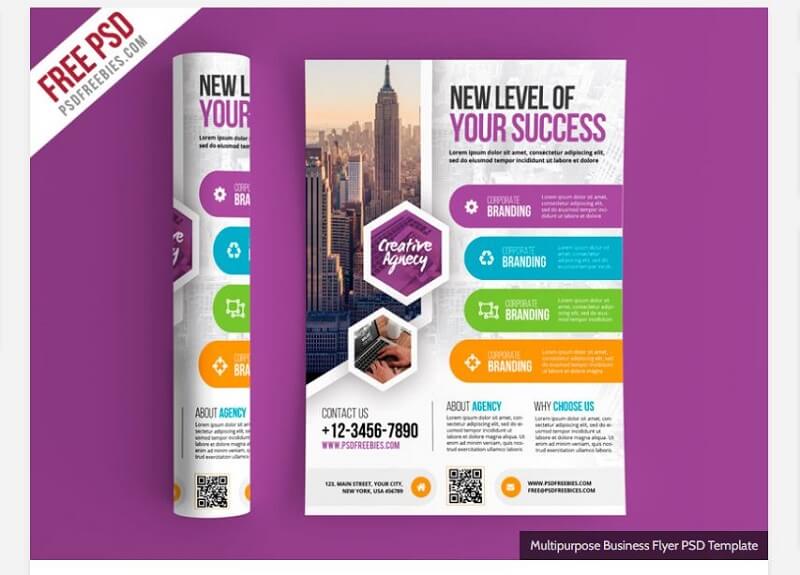 19. Black Friday – Free PSD Flyer Template
Grant success to your big Black Friday sale with this fabulous template! Your potential clients will be impressed by a black & white image of a stylish model placed against a bright background in gradient colors. Download this file, and enjoy fast editing in Photoshop.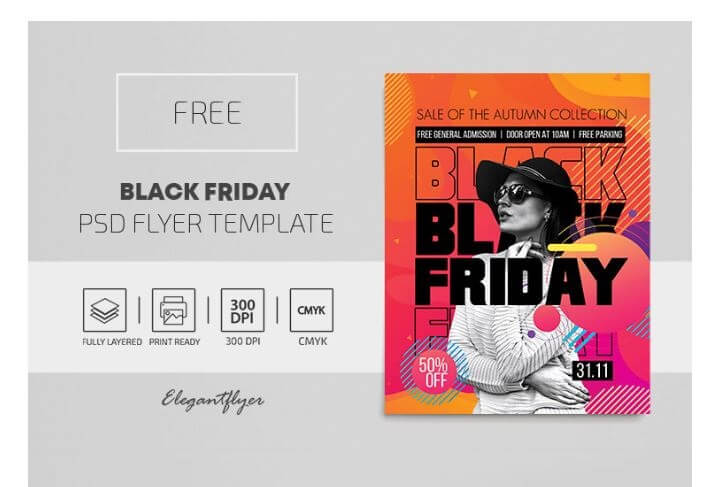 20. Guitar Lessons – Free PSD Flyer Template
This atmospheric template seems perfect for promoting your guitar lessons. A black-and-white image of the instrument and the weathered effect applied to the background adds some vintage charm. Download this file, and open it in Photoshop to edit text and other elements without extra hassle.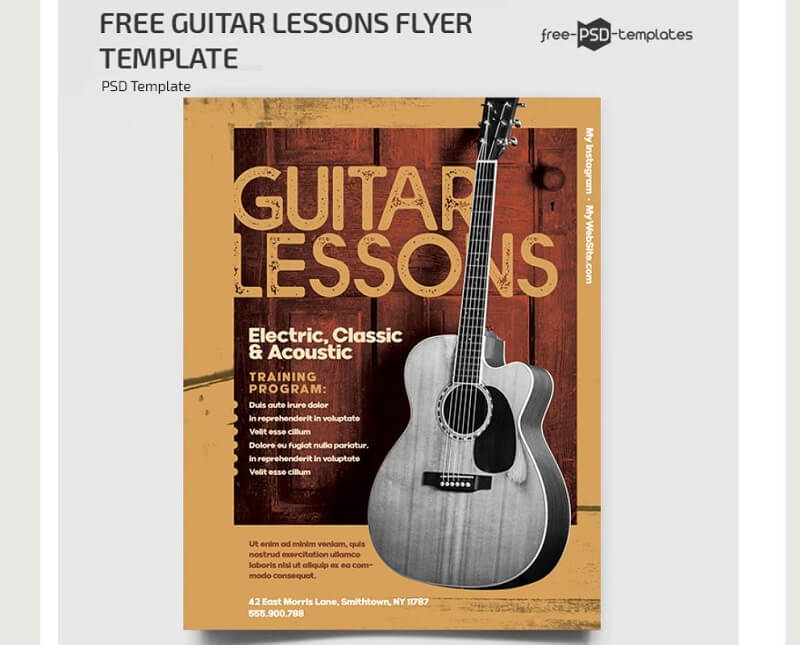 21. Home for Sale – Free PSD Flyer Template
Boost your real estate business with this unique flyer model! Thanks to the smart layout you can feature four images of the property, and provide short info about your services in the middle section. Use Photoshop to change text, upload your photos, and choose any combination of colors.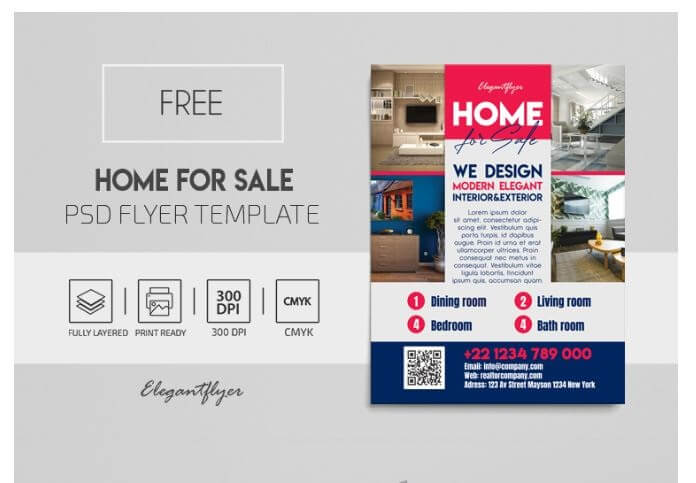 22. Photography Studio – Free PSD Flyer Template
If you need an effective means of promotion for your photography studio, this unique flyer model might be a perfect choice. The template features a dark image of a professional camera which contrasts with the simple yellow background and text on the right. All elements are adjustable in PS.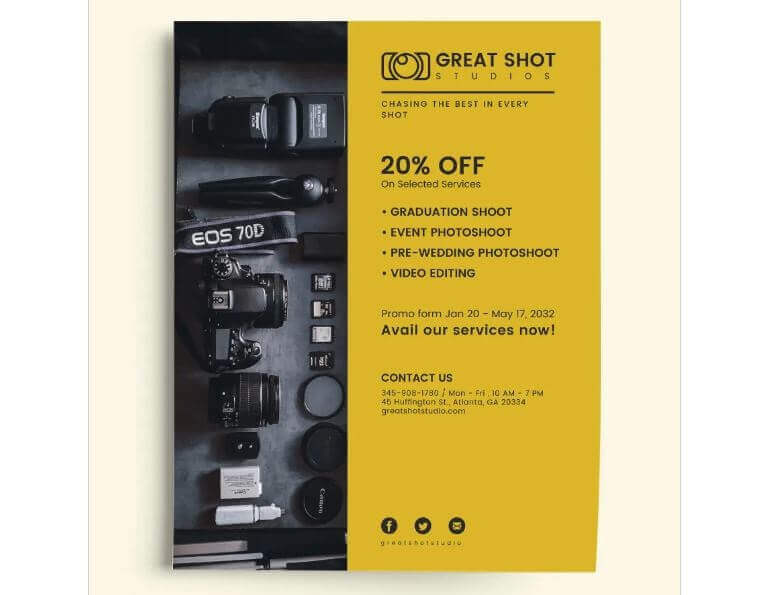 23. Delivery – Free PSD Flyer Template
Promote your delivery services using this cool custom-crafted template. You can keep the offered image of a guy in a bright yellow t-shirt, or upload your own photo. The text and the palette are easy to adjust in Photoshop. Four themed icons add a casual note.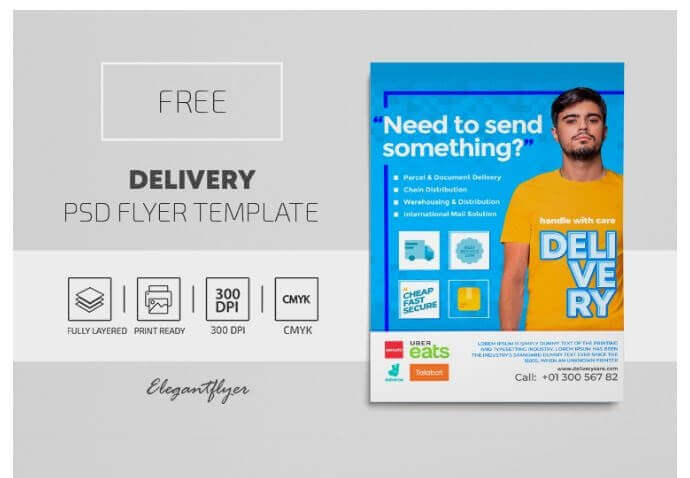 24. Music Event – Free Business Flyer Templates
This monochromic template with a couple of cool yellow color accents can help you announce a concert, a DJ session, or a party. We'd recommend you go with the minimum of changes – it is enough to edit text and replace the photo of a music star. The stylish flyers will bring in a big number of guests!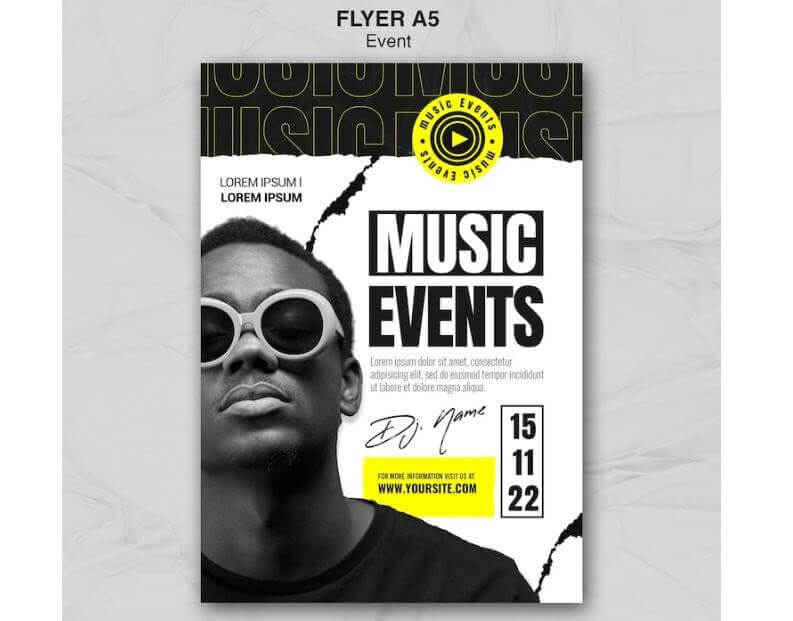 25. Conference – Free PSD Flyer Template
If you'd rather opt for a minimalist and professional-looking flyer design, this sample might be right for you. The template features nothing but well-arranged text and three small frames with photos of speakers. You can edit writing, and try out other color combos in PS.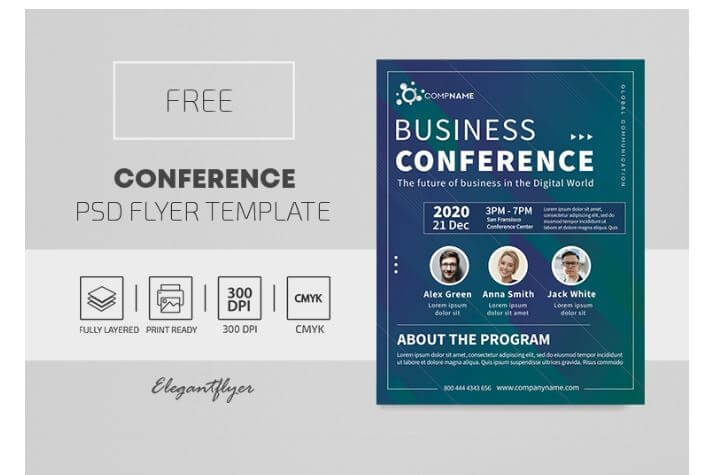 26. Car Rent – Free PSD Flyer Template
Have a look at a cool template we've got here! It was crafted by a pro to help promote your car rental business. The prevailing black-and-white palette is complemented by a few accents in red. You can leave the original image of a car, or upload a different one. Overall, this layout will make your flyers look dynamic and modern.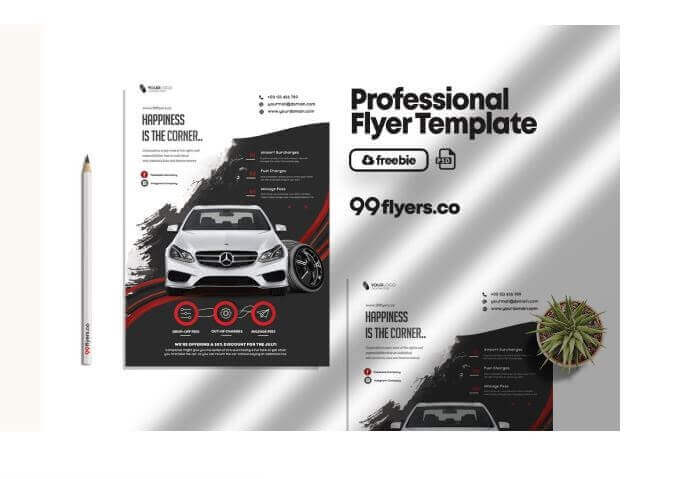 27. Safety System – Free PSD Flyer Template
Thanks to the stylish fonts and a cool image this template designed to advertise a safety system has an incredible futuristic look. An amazing combination of dark and neon colors makes the sample look flawless. Once you've edited the text in Photoshop, the template is ready for printing.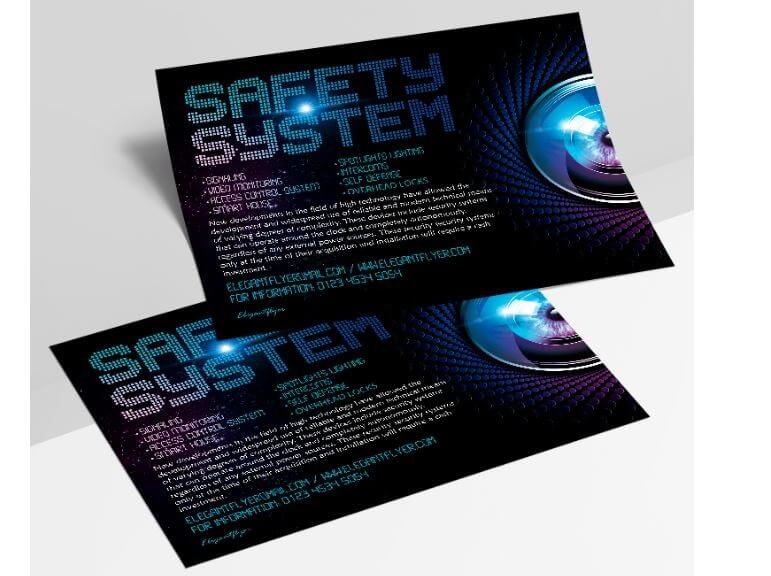 28. Digital Marketing – Free Business Flyer Templates
This simple, solid, and well-organized template have been designed specifically for a digital marketing agency. Small linear icons at the bottom part help to keep the information neat and legible. Feel free to change the text and try other color combos in Photoshop.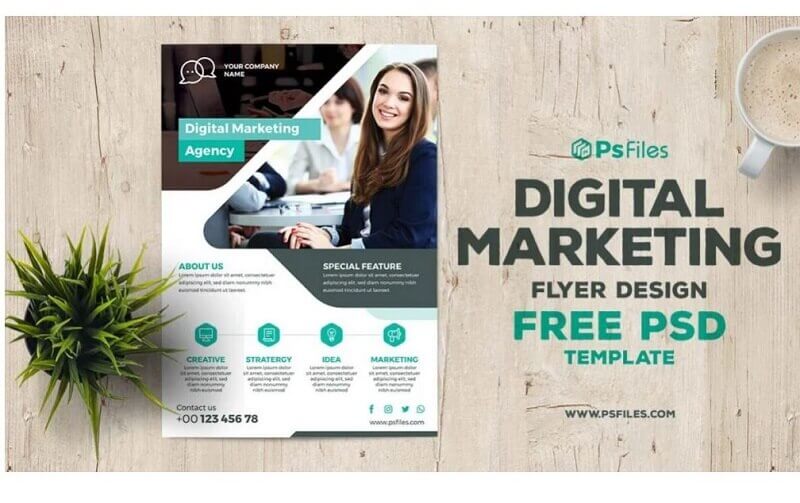 29. Cleaning Company – Free Business Flyer Templates
Gain new clients for your cleaning company with the help of this professional template. A combination of blue, black, and yellow will make your flyers look stylish and catchy. You can provide a short list of your services in a small chart at the bottom half. The images and logo are easy to replace.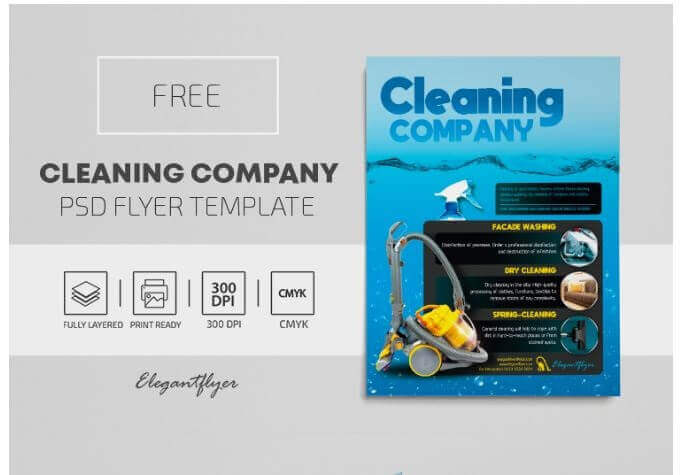 30. Fitness Center – Free PSD Flyer Template
This well-balanced template with a catchy white header can become a great solution for a fitness center. The yellow stripe in the middle will draw extra attention. You can keep the offered image of a fitness instructor, or add your own photo while editing this sample in Photoshop.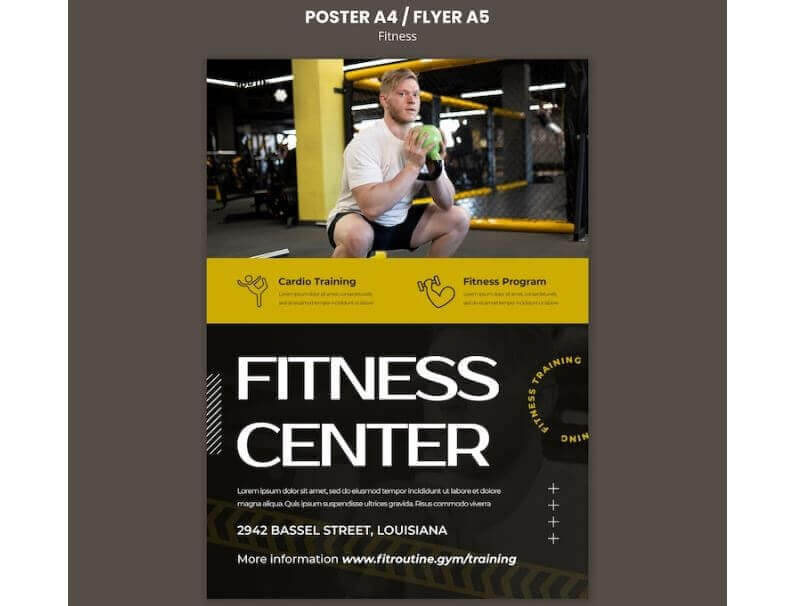 We hope that having looked through our special collection you picked a perfect template for your next promotional campaign. Download it now, and enjoy a fast and hassle-free process of customizing details in Photoshop. All of these free templates in PSD are provided by the best online graphic resources, which means that you can be certain of the highest printing quality!