Hey guys, in this article, I have listed the 6 best online logo creator free tools for your brand design. So keep reading. You have a product that's going to fly off the shelves, but it's struggling with its brand image. You need a logo, but you have no idea how to make a cool design. Also, you can hire a designer, but you don't want to spend a lot of money on the logo. We have compiled a list of high-quality logo creator tools to help you create your brand designs in this post.
Why Is A Logo Important To Your Brand?
Logos act as the "face" of the business or brand. They are a graphical representation of what your business stands for and can be used as a way to promote your brand both online and offline.
It's important to have a custom logo to define your brand and make your business or store stand out from the competition.
Logo Design Rules
DesignBuddy recently did a data analysis of the best brands in the world and what their logos have in common. Here are some key examples from the article that you may want to consider when designing your logo using one of these logo creators:
95% of logos of the most important brands in the world use one or two colors.
93% are simple enough to be recognized in smaller sizes.
Take a look at this Buffer article was written by Leo Widrich – "Why Facebook Is Blue: The Science of Colors in Marketing," to get a good idea of what colors to use for your logo.
Here are some important design rules to remember before diving into logo design:
A logo should be simple: A simple logo design allows easy recognition. And it makes the logo to be memorable and impressive. Effective logos feature something unexpected or creative without being discovered.
A logo must be memorable: Closely following the principle of simplicity, let us consider "the memory". An effective logo design must be memorable, and this is achieved by having a simple but appropriate logo.
A logo must endure: An effective logo must stand the test of time. The logo must be "future proof", which means that it must still be effective in 10, 30, or 60+ years.
A logo should be versatile: An effective logo must be able to work across a variety of media and applications.
A logo must be appropriate: How the logo is placed must be appropriate for its intended purpose.
Some Mistakes You Should Avoid When Designing A Logo
Here are some common mistakes we've found when studying thousands of eCommerce stores. Avoid these design mistakes whenever you can:
Avoid using an unstylish icon.
Do not design your brand logo overly complex.
Ensure it looks good in black and white.
Note: The logo creators that we are going to review in this post are great for online stores and websites. These online logo creator tools are great if you're starting with a minimal budget. You don't need to invest in a professional logo by hiring a designer.
1. Designhill

Designhill logo creator tops my list of logo design software because of its unique features and ease of use. This AI-enabled DIY tool lets even novices create a professional logo design in just a few simple steps and in almost no time. This logo maker comes with a plethora of pre-created logo templates created by some of the world's best creative people. You can pick a template closest to your brand and make changes using its user-friendly interface.
All you need to do is fill in your business name or the text that you want to see in your logo to get started. Then, follow the steps and walk away with a unique and memorable brand logo. Designhill logo generator is completely free to use. However, you need to pay a meager charge to download the design you've created.
2. Withoomph
Although you still can't figure out how to pronounce his name correctly, Withoomph is a fantastic service that is extremely easy to use and creates stunning logos, especially trendy.
Just enter your eCommerce store or brand name and describe it with a few keywords, and it will automatically generate tons of logos that relate to your brand and business.
One of the great things about Withoomph, I think, is that they allow you to adjust little things like fonts, colors, and more to make a design that reflects your brand.
3. DesignEvo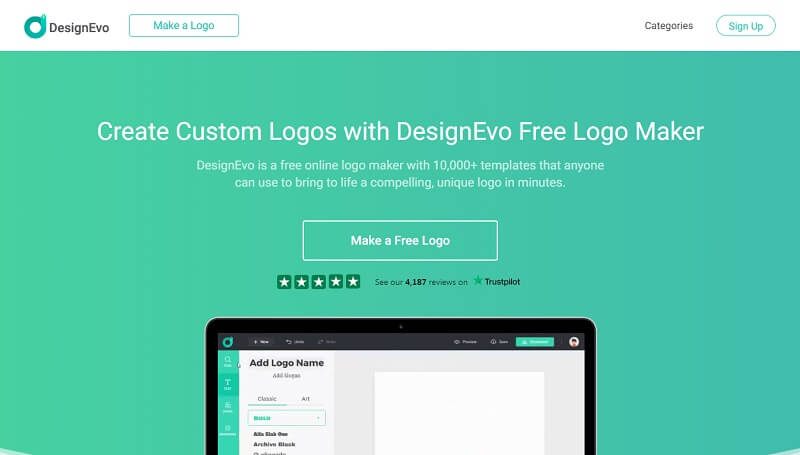 DesignEvo is perhaps the most powerful logo creator on the list. The amount of customizations you can do to your online logo creator is exceptional. It is almost as robust as having 10,000+ glamorous templates and more than a million icons for you to choose from.
One of the great features I love is that it designs logo templates depending on your business. Here are some examples:
Food and drink
Abstract
Bodybuilding logos
Letter
Many, many more.
You can also get started from scratch without a template if you already have a great idea in mind. Otherwise, browse the template to find inspiration or get started with the desired logo template.
It takes a very trendy design concept and makes it easy to use. You are able to take a look at their blog, which shows some of the latest logos that have been generated using their logo generator.
4. Logoshi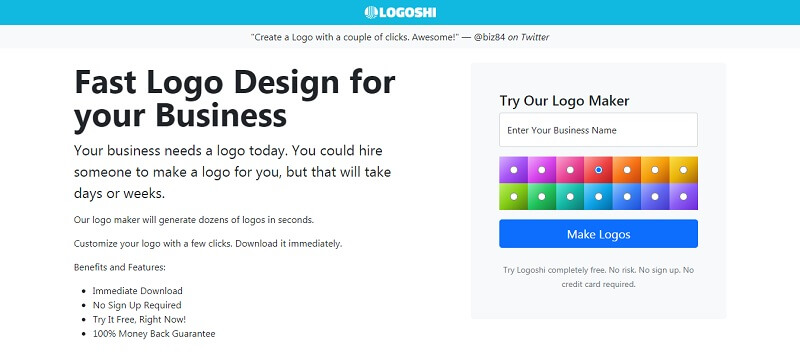 As the most creative logo creator on the list, Logoshi is a fantastic service for creating custom logos.
All you should do is draw or draw whatever you want, enter your eCommerce store or your business name, and an awesome logo will automatically be created in a few mouse clicks.
It's a really excellent service if you're looking for something highly personalized while maintaining a professional look.
5. Logaster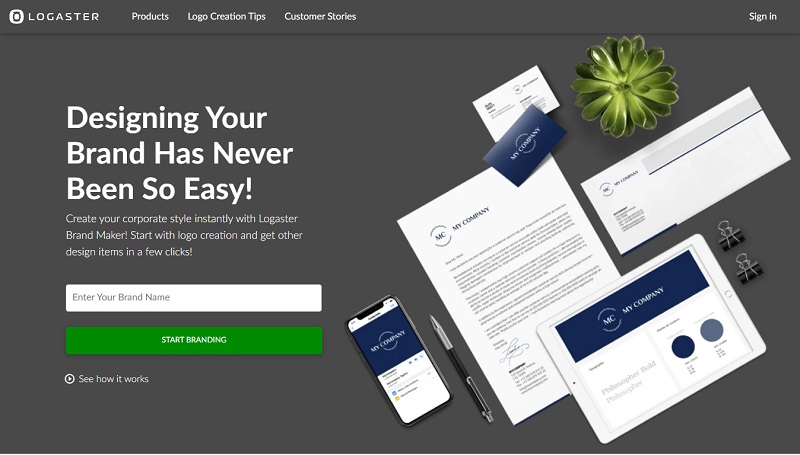 Although Logaster may not be as up-to-date as previous online logo creator tools, it still has a huge number of logos available through its generator.
You will be able to browse through hundreds of logos, all of which are highly customizable in terms of name, slogan, type of business, and color.
6. Adobe's Logo Maker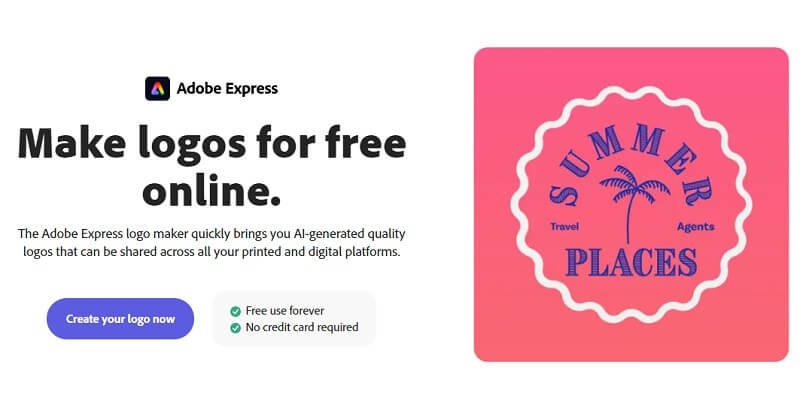 Adobe's Logo Maker is instant, intuitive, and intelligent. It comes loaded with thousands of professionally designed logos, photo editing and effects, animation, and 2GB of storage. If you want to create a professional logo design then this free logo maker tool helps you.