Hey guys, In this article, I have listed the 4 best tools to embed Instagram widget that amplifies your websites reach. So keep reading.
Undoubtedly, Instagram is one of the most useful social media networks for businesses to market their brand or product. The reason is quite simple: it has over 1.074 billion users worldwide, which makes it a great platform, consisting of a huge audience for brand and product promotion.
To extract more advantages from the platform, businesses nowadays have started embedding the Instagram widget on their website. It not only increases the vibrancy of the website but also helps visitors with their buying decisions by providing them with social proof from past visitors.
What Makes Instagram So Important?
Instagram witnessed a sudden rise in popularity because it is easy to use, provides regular updates, and focuses on visual mediums. Visual medium content has always been beneficial for apps and businesses, as it brings out liveliness and vibrancy. Moreover, visual contents remain fresh in the viewer's minds and are considered more effective than text content.
In addition, Instagram is a hub for user-based content, and as we all know, Instagram users are very creative and provide entertaining and engaging content on the platform. Displaying them on the website adds attraction to your website and makes it more appealing.
Various tools now in the market that eases your process and it provides great results. For your convenience, we have listed the 4 best tools that help in your cause and create integration between your website and Instagram.
So without any further ado, let's get into it.
Also, you can check: 6 Perks Of Integrating Instagram Into Web Design.
List of the Best Tools To Embed Instagram Widget:
1. Tagembed
2. LightWidget
3. SnapWidget
4. ProPhoto
1. Tagembed
Tagembed has surfaced as the best social media aggregator in recent times. It helps users to aggregate Instagram posts using hashtags, tags, mentions, etc., allowing users to curate and customize them before displaying them on the website in an attractive manner.
It then provides the option to customize the widgets as per your need. This feature enables you to personalize the widget by changing the font size, font style, color, background, and more and match your website's style. Keep in mind, a good-looking website always attracts people and eventually increases your brand reputation. Therefore, you should take full measures to beautify your website.
One of the main problems that businesses face while embedding the feed, that while gathering posts related to the business, often irrelevant content gets a feature as people often misuse the freedom from Instagram and unwanted content. The tool provides a great solution by offering a moderation feature. With the help of this feature, users can filter out all unwanted and spam content from the feed and make the feed related to the business only.
Moreover, to remove content containing particular keywords from your feed, you can use a profanity filter. It also provides users with the authority to block content from a particular Instagram page or account. In simple words, the tools provide full control over the feed. Therefore, it helps the users maintain the website's quality, which eventually enhances brand reputation.
And if you are thinking, a tool with such features and uses would have a complex process. Then you're mistaken. The tool is easy to use and provides ease in operations. You don't need coding skills and knowledge to set up and run the tool. You just have to prepare Instagram feeds using Tagembed, copy the code and paste it on the backend of your website. Moreover, the tool updates the latest posts automatically; you don't need to refresh the feed manually or hire any specialist to keep the feed running.
2. LightWidget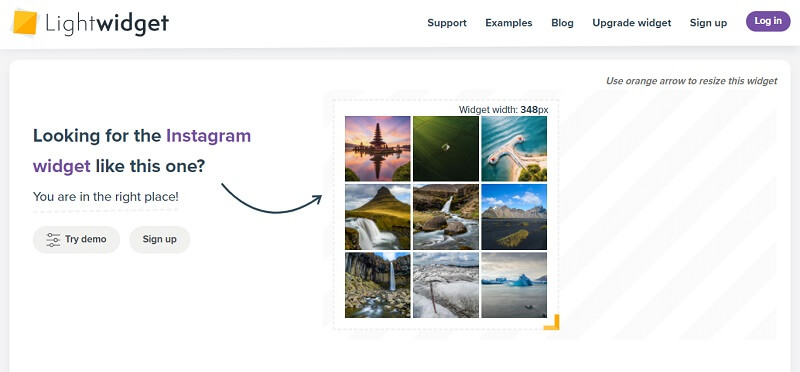 LightWidget is an amazing tool that provides a responsive widget for Instagram that displays Instagram feeds on your website.
The widget is compatible with any screen size. So, you don't have to worry if your visitor is using mobile, tablet, or desktop; the charm of the feed remains the same. Hence, it saves the time and effort that goes into changing the feed as per screen sizes. In addition, however, it allows you to customize the widget setting according to various screen sizes.
The widget loads very fast and is compatible with showing images and videos without affecting the website size.
It offers 3 different types of widgets – grid, slideshow, and columns. Each has its relevance and usage. For example, the grid displays the feed in an organized manner; it provides equal space for each post. Hence, even Instagram uses the same example for their suggestion tab. Another smart way to use a grid widget – showcase images of your various products.
3. SnapWidget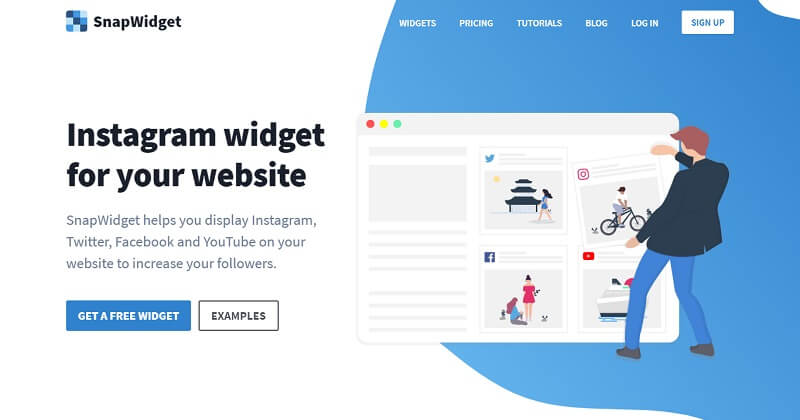 SnapWidget is one of the most popular Instagram widgets. More than 200,000 websites trust this widget and have provided great reviews about it.
It provides the following options:
Instagram Feed: It consists of scrollable feeds from your Instagram account. They feed all media types and display photos and videos without any hassle.
Instagram Grid: It is the most popular way to display Instagram feeds on the website as it makes the website well organized, and visitors can look at various contents at the same time.
Create Instagram Popup: It is an amazing way to display feeds as it displays the most recent Instagram posts on the website.
Instagram Slideshow: You can display Instagram photos on your website; it makes the website interactive and engaging. You can use this widget to show your brand's story and encourage the user to stay on the website and look through the posts.
Instagram Board: It allows you to display Instagram photos on your website and include the description of each photo.
4. ProPhoto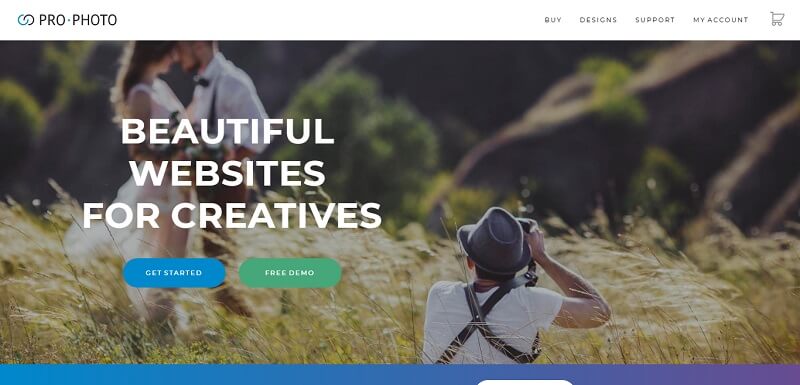 ProPhoto Instagram widget offers a flexible tool that allows you to display Instagram posts on any area of your website. The customizable options, user-friendly interface, and great results make it one of the best widgets in the market.
Conclusion
Above mentioned best Tools to embed Instagram widget on the website is a smart strategy that helps businesses attract people to the website and increase brand awareness.
Moreover, these widgets make the website more engaging and interactive by displaying various Instagram posts. The tools mentioned above eases your embedding task and provide great features that help you to add charm to your website and grab visitors' attention.