Hey guys, in this article, I have listed the 8 best HTML5 templates: comparing free and premium choices that are worth your attention. So keep reading.
When someone joins an online community, it is possible to reflect on the question. What is the distinction between premium and free templates? How it is possible to choose the most appropriate options among the best HTML5 Website templates.
Since there are so many free options, some individuals find it weird to pick a premium alternative. Why would you pick premium themes if something works properly and does not demand payment? Especially when it is critical to maintaining your expenditures as low as possible.
To be honest, many consumers are willing to spend money on premium options. Without a doubt, a massive market of ready-made solutions would not exist if it were not for individuals eager to buy them.
So is a paid theme a guarantee of a well-designed and effective site? What drawbacks may you encounter if you choose free ready-made templates? How do you select the appropriate theme based on the project type?
Today, we will compare the best HTML5 templates, including both free and premium options.
| | |
| --- | --- |
| Free HTML5 Templates | Premium HTML5 Templates |
| They are completely free. | You must put your money in them. |
| A number of free templates are relatively big. | A large selection of depositories with premium alternatives for any taste (both universal and niche-based templates) |
| Functions with the fewest possible options. | A diverse range of alternative functions for any objective. |
| They frequently lack documentation and assistance. | Ideal documentation and skilled assistance from the support staff. |
| Customization options are limited. | Improved customization possibilities, such as website builders and third-party plugins. |
| They may never receive any updates. | Updates on a regular basis with new design options and a higher degree of security. |
| Appropriate for beginners and small websites. | Ideal for large corporations and web developers. |
The Best HTML5 Templates: Free vs. Premium Choices For The Most Popular Niches
1. Victoria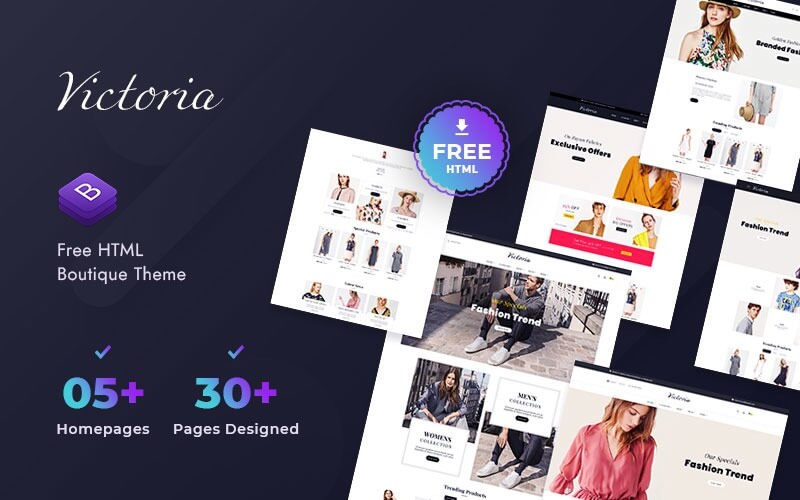 Have you been looking for a fashion-related choice from the best HTML5 templates? In this case, you might be happy to save your budget by turning to this creative and effective option.
It comes together with 5+ homepages. Each of them has a well-structured layout that will showcase your info in the best possible light.
In addition to this, there are 30+ pre-made pages that enable sharing extra content and attracting more visitors. Do not forget about the availability of a fully-responsive design.
It is a very critical characteristic because people will be ready to use both desktop and mobile devices to view the site.
Main Features:
Mega-menu;
Accordions and buttons;
Shop pages.
2. PathSoft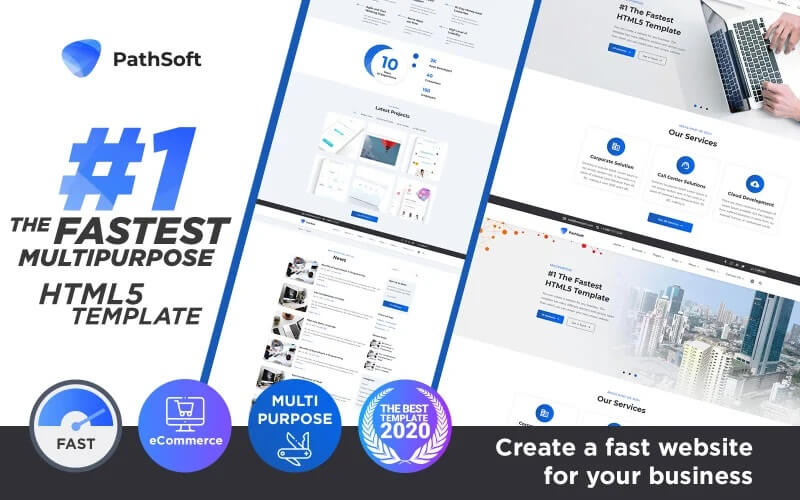 We also propose that you become acquainted with this all-embracing, which is one of the best HTML5 themes accessible.
The package includes five distinct homepage designs. You may also select from a variety of pre-made pages and header variations.
It also has a mobile-friendly layout. In other words, your content will be seen on any device. In addition to this, you have the freedom to take control of the color scheme and typography.
People may always speak about their concerns or ideas using a straightforward contact form.
Main Features:
Easy-to-customize nature;
Google Maps;
Gallery functionality;
Social media integration;
Drop-down menu.
3. PathSoft Business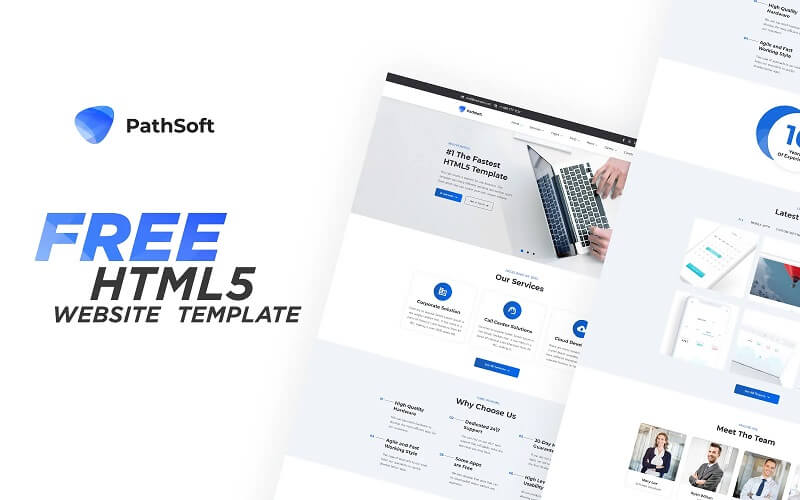 It is time to look through a free version of the previous template. A set of topics is the same, so you will be ready to speak about IT services, different business types, consulting, and others.
It will gladden you with an easy-to-use and customizable nature. Do you think that your programming knowledge is not enough for creating a professional and remarkable site?
There is no need to worry because it is also suitable for those who start their journey in the field. It is also impossible to forget about a cross-browser design.
Thanks to this characteristic, people will be ready to look through your content using all the modern browsers.
Main Features:
Lazy load images;
Blog functionality;
Team members.
4. Techno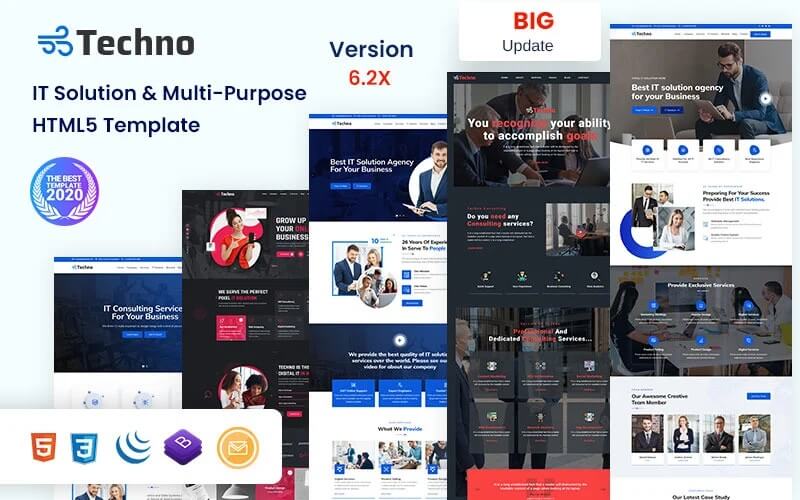 A flexible and powerful theme that may grab the interest of IT professionals. It contains over 30 demo options, allowing you to focus on the most important aspects of your business.
It is possible to make your site stand out from the crowd by using one of the 15+ header types available. To capture your target audience, incorporate a contact form, an eye-catching carousel, and effective video.
Furthermore, you can leave such options as sliders, pricing tables, and testimonials out of your consideration.
Main Features:
10+ footer styles;
Ajax shopping cart;
Background options;
Google Fonts;
Unlimited color options.
5. FREE Construct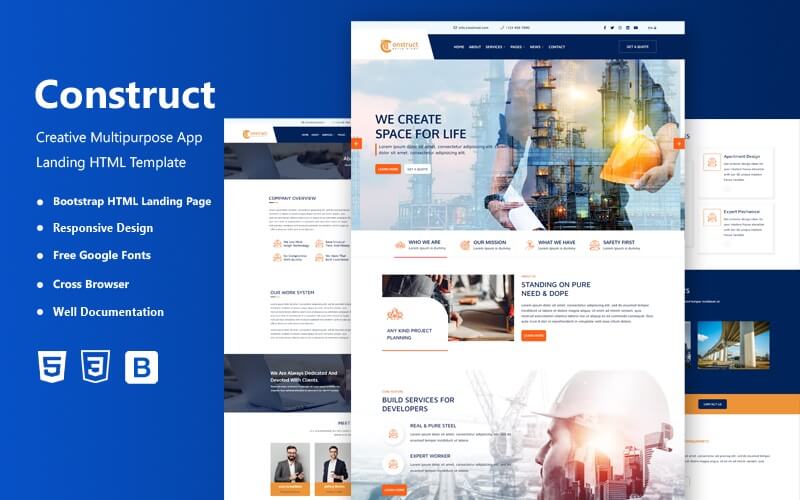 If you need to create a robust and impressive site for your construction company, there are multiple best HTML5 templates.
As an example, you might want to get familiar with this free ready-made variant. To start with, it is crucial to mention that you will get a fully customizable design.
There are different customization options that allow adjusting the website appearance according to your preferences.
Without a doubt, it has a fully-responsive design. It means that every visitor can learn more about the construction company, no matter what device they use.
Main Features:
Drop-down menu;
Google Maps;
Google Fonts.
6. Cali Constructions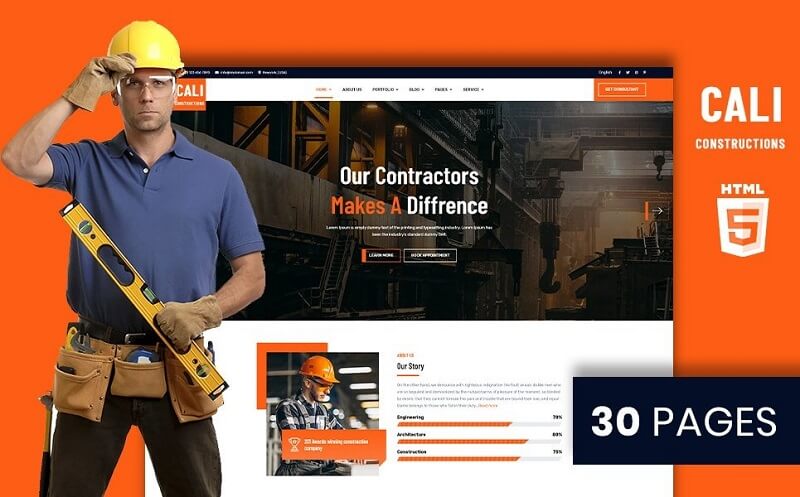 Another high-quality choice that we have found among the best HTML5 templates. Its black-and-orange color scheme will draw the attention of different users who have an interest in the construction industry.
There is no need to apply efforts to get an impressive site. Thanks to a massive number of pre-made pages for various types of info, you can get an ideal online project in a flash.
Speak about your services, create an eye-catching portfolio, and add an engaging gallery. Moreover, it is possible to take advantage of the contact form.
Your audience will get a chance to communicate with you, and your team will turn out to be more trustworthy. Download for Free in MonsterONE.
Main Features:
Fully-responsive design;
Ajax functionality;
Blog functionality;
Google Maps;
Drop-down menu.
7. Solutech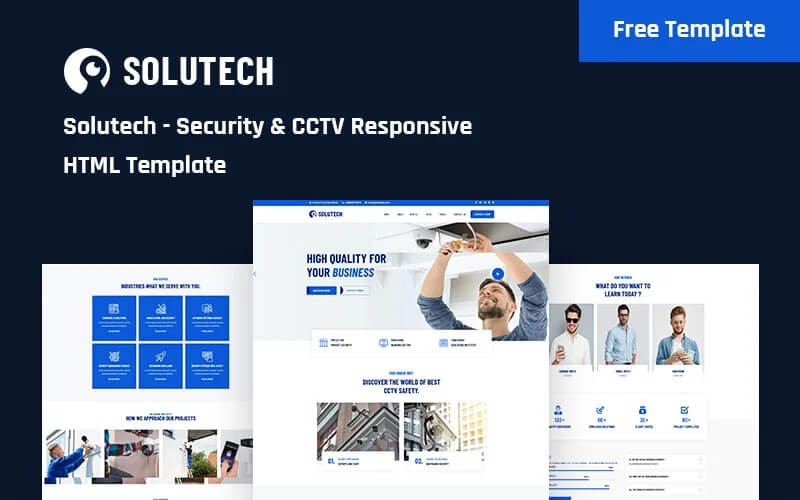 Do you think that the best HTML5 templates that you can get for free are over? Fortunately, you are wrong, because we have prepared another incredible choice.
It will be a perfect match for those who need to promote such topics as CCTV and security. It is enough to have basic programming skills to get a marvelous site that attracts the biggest number of clients.
Multiple pre-made pages make sure you can speak about your services in detail. In addition to this, the package includes a great Ajax contact form.
It means that everyone has an opportunity to contact your team to ask some questions.
Main Features:
Fully-responsive design;
Drop-down menu;
Gallery functionality.
8. Glorified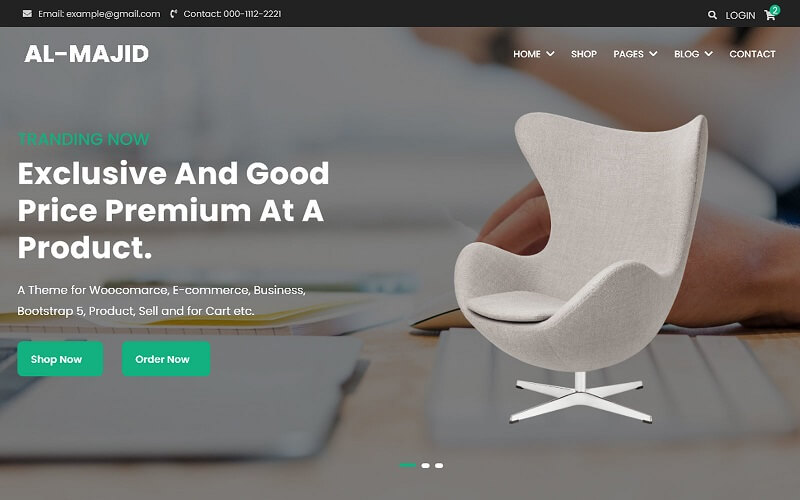 We offer you to look through another free eCommerce HTML website template that deserves your attention. It is very easy to customize, so those people who are not good at coding can also prepare an impressive site.
To decorate your site, you can take advantage of different animation effects. Perhaps, it will be more exciting for the audience to browse your online project.
There is also gallery functionality that makes sure your visual content gets enough recognition.
Main Features:
Slider;
Fully-responsive design;
Contact page.
A Few Words In Conclusion
When selecting the appropriate ready-made item, keep your budget, demands, and design preferences in mind. It is not bad to start with free options and gradually update your site with the best HTML5 templates.
Furthermore, all the free HTML5 templates in this selection are worth checking out. Without a doubt, we could not leave you without a small bonus.
Those who have read the post till these words can grab a 7% discount on every HTML5 template. If you are looking for a high-quality option for your needs, it is your to realize all the ideas. Thanks for reading!
7% OFF on ALL HTML5 Templates: Your Discount Is Waiting Here!