Are you looking for professional PowerPoint designs that can make your next presentation stand out? Today, in this article, I have listed the 7 top-rated professional PowerPoint presentation templates that you easily use in 2023. So keep reading.
Inspiring speakers know that a big part of their craft is having a clean professional PowerPoint template. A professional design benefits your confidence in the content you present. You certainly don't want your audience to be either half asleep or trying to find a way to sneak out the door unnoticed while you're presenting. To prevent such a turn of events, you need to be extra creative as no lousy template is going to keep the audience entertained. So, here are some tips on how to create a powerful presentation design as well as some professional PowerPoint templates that will keep your audience engaged during your next presentation.
How To Create An Outstanding PowerPoint Presentation
To create the best professional PowerPoint templates in Microsoft Office, you'll need to follow these steps that will guide the process:
Open Microsoft PowerPoint.
On the opening, screen click "BankPresentation." You can edit it to your liking. There is also an option of creating a "New" presentation, which will give you the option of choosing a blank presentation, a template, or searching for a template.
On the "Home" tab, by clicking the "New Slide" button in the Slides group you can create as many slides as needed for your presentation.
Change the layout for subsequent slides by clicking the "Layout" button in the "Home" tab. This will display a gallery of slide layouts and let you select between the layouts.
Using the toolbar, add text, images, and graphics to the layouts for each slide.
How To Use A PowerPoint Template
If you are not an expert at creating templates and don't have the inspiration for creating them, you can go to MasterBundles for ready-to-use clean professional PowerPoint templates. The templates are unique and interesting and yet, can still be customized to your liking. Here's a mini-tutorial and information about the templates.
Select Slides. Professional temples include many slide options. So many that you won't need to use every one of them. Using PowerPoint, go to the "View" tab and click on "Slide Sorter." Here, you can rearrange their sequence by clicking and dragging or choosing "Delete Slide" to remove unwanted layouts. When finished, on the View tab click "Normal" to start editing.
Custom Text. Professional presentations include plenty of text. Templates include placeholders for text. To start, click inside any text box and start typing your own content. Besides this, the placeholder text will disappear, and the words you typed in will appear.
Illustrations. The process is nearly the same as for text. Ready templates include special placeholders for images. All you need to do is drag over an image from your computer into the placeholder and PowerPoint will import it, already sized and scaled to fit the space on the slide.
Infographics. Infographics are a great way to illustrate and impress the audience. Templates allow you to easily add infographics to your professional presentation in seconds. They work as another slide in the presentation, all you do is replace the text with words and numbers.
Color Palette. A pre-made template will include its own default colors. However, this can be easily changed. Select a shape, on the "Shape Format" tab. Next, click on "Shape Fill." This will bring up a color chooser menu, with gradients and more. Click on any color or design to apply it to the shape you have chosen.
How To Structure Information In A Presentation
Just like writing academic papers, a presentation should include an introduction detailing the purpose and structure of the talk. Besides this, the main body is used to cover the main points. At last, add a conclusion summarizing and highlighting the points you want to be most significant.
Should You Include Illustrations & Videos?
If you're looking to win over your audience with a presentation, visual aids are the most effective. They serve an emotional impact during a presentation and can easily clear up misunderstood information. The number one rule when serving visual information is for it to serve a purpose. It should convey scientific information, art, and other info that is difficult to explain without a picture or video.
How To Help Your Audience Perceive Information Better
Before presenting information to an audience, perform a quick analysis of their personality and adjust the style of your presentation regarding them. Use the four basic personality types: drivers (need a lot of facts fast), analytics (need facts delivered in an organized and detailed way), expressive (needs to be entertained, flashy and fun), and amiable (loves hearing stories, compassionate and caring).
Tips On Creating Professional PowerPoint Templates
You can create your own template in PowerPoint to use for future projects and presentations. So, here are a few quick tips to do that:
Be strategic with colors and fonts. Whilst the information you include in the presentation is important, the visual factor is something you should pay extra attention to. Also, make sure your colors complement each other and don't crash. PowerPoint offers ready color schemes, but you can also create your own color scheme that will match your business colors.
Use presenter view. A feature that's often forgotten about is the Presenter's View. In a single-screen view, you will have a view of your speaker notes, a preview of the next slide, and a timer that helps you stay on track.
Use unifying backgrounds. Finding the right information for your presentation can be tough and it's a big responsibility. A perfect background is a simple but effective way to make any presentation professional. Textured dark backgrounds convey elegance and sleekness while making the elements pop.
Reuse slides. When it seems like making individual slides for each page shows how much time and effort you spent, it also works as a distraction. Save time and make your presentation more cohesive and professional by reusing slides. Besides this, use this trick throughout company presentations for a memorable and unique design that will be associated with only your brand.
7 Premium PowerPoint Presentation Templates From MasterBundles
Moreover, if you want a PowerPoint to look professional, finding prepared templates with the best elements is a surefire solution. So, let's check out seven of the best modern professional PowerPoint templates from MasterBundles below:
1. Windez Simple Professional PowerPoint Template
The content of this template is modern, elegant, clean, and also simple. Besides this, a consistent design style that the audience will notice.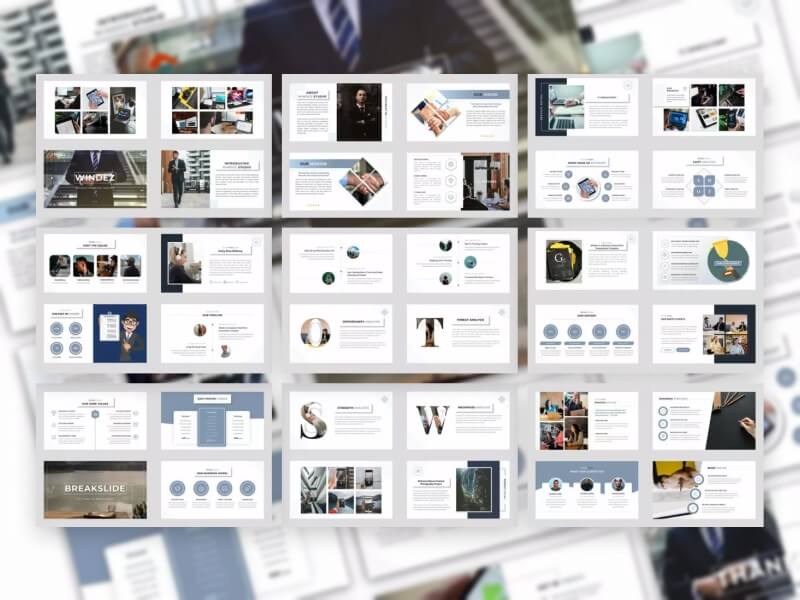 3. Professional Company Presentation
The simple design of this template gives focus to your explanation and description. Also, it has an elegant vibe which makes the presentation quite stunning and eye-catching.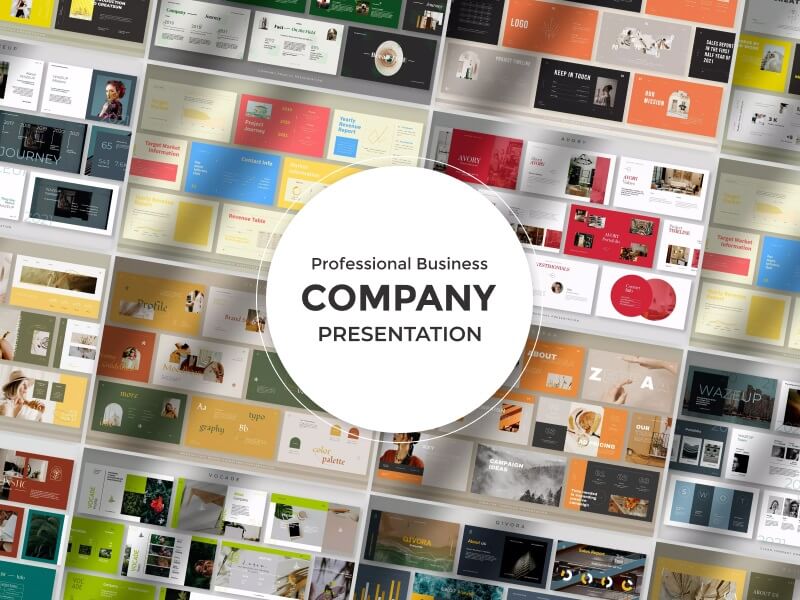 3. Professional Business Presentation PowerPoint Template
This business template offers a simple contemporary but powerful design that shows your work and company profile on another level.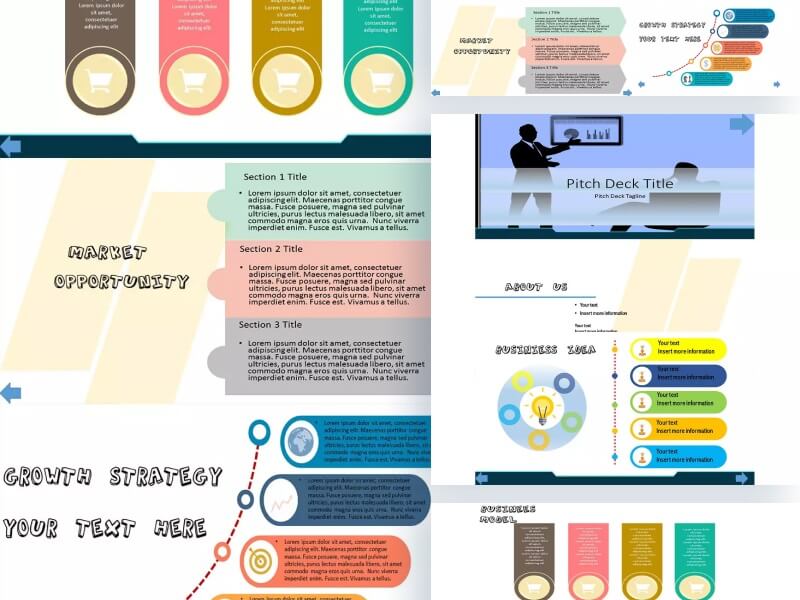 4. Author PowerPoint Presentation Template
A modern template with an attractive design to showcase your business idea in the best possible way.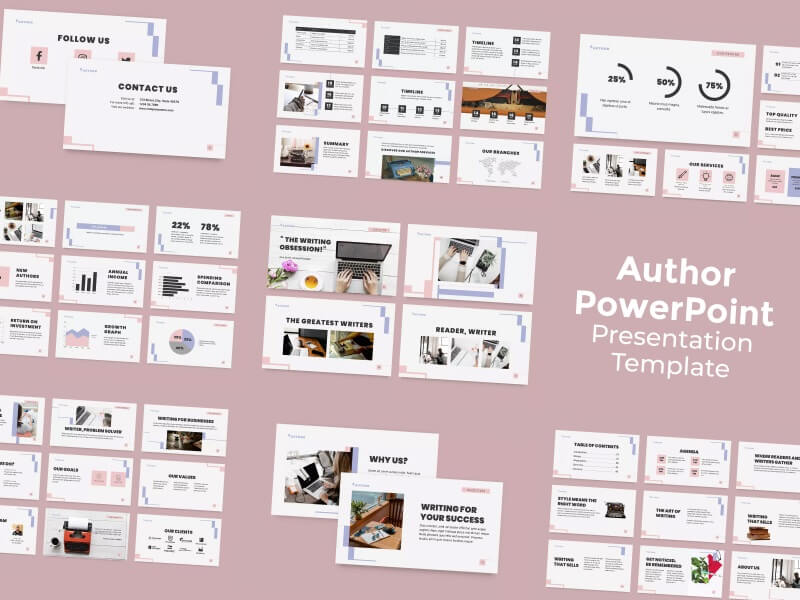 5. Military PowerPoint Template
A professional PowerPoint Template featuring a military design, which includes army items, shapes, and also elements to better cover the topic of defense.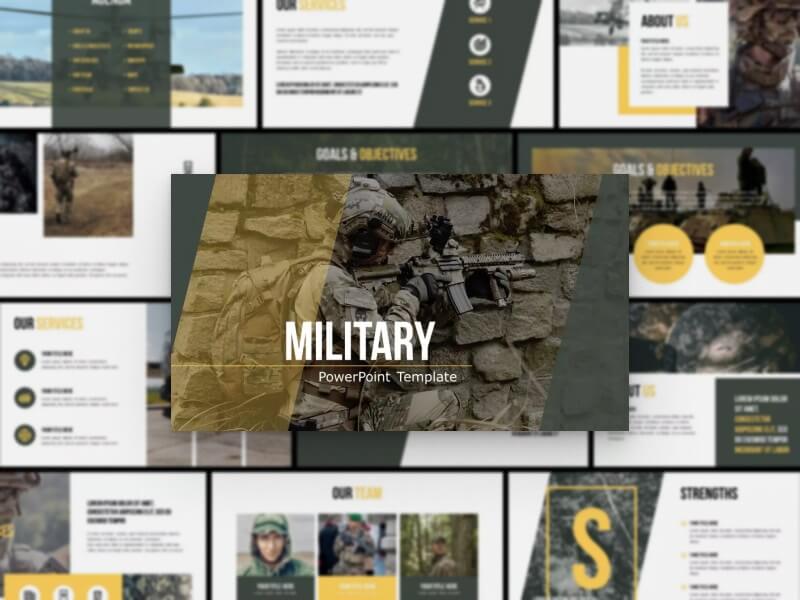 6. 50 Slides Music Presentation Template
This template offers a dark blue background that presents wavy shapes in different colors, resembling sound waves, with a modern look.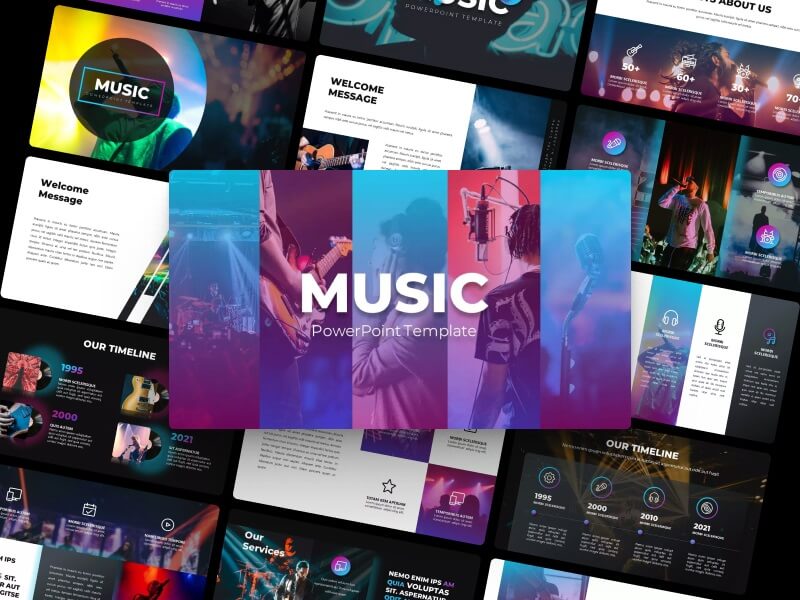 7. Professional Business PowerPoint Template
Another clean yet professional template, fully customizable with eye-catching slides. An attention-grabbing design for your presentation is the key to success. If you feel like designing a presentation takes too much time and effort, then it's better to use ready-made PowerPoint templates that will help you quickly create your killer presentation and stand out from other presenters.