We live in an era when time is considered to be the most valuable resource. On the one hand, technology and the Internet have made our life much easier and comfortable. On the other hand, the amount of work to be done has greatly increased. It's almost impossible to come to a meeting without an effective presentation. Even social networks are not just a means of entertainment anymore. People use them for advertising and doing business. Thus, before posting something on the page, it's worth thinking not only about the content but also about the form.
Of course, it's rather time-consuming. However, there are some graphic tools, using which you may save your time preparing a presentation. Moreover, if you apply some of them while writing a post for some social media, you may get new clients.
What do these graphic tools look like?
First of all, these are PowerPoint presentation templates that offer you a variety of pre-made slides for your presentation. They have been developed with perfect layouts, taking into account different business purposes that can be used for. Just find the most appropriate ones that will draw proper attention to your product or service.
Resume templates represent the next part of the helpful assistants. These are multipurpose templates that will facilitate the process of preparing your CV to show yourself in a favorable light. The templates come either with a cover letter template or a business card template. Moreover, they are supported by diverse formats and have different useful features.
Besides the mentioned tools, there are other ones, such as social media pack bundles and certificate templates. It's difficult to overestimate the range of their application, taking into consideration the modern trends in business development.
Let's have a look at some samples of the mentioned graphic tools more closely.
Infographic Pack – Presentation Asset v2.2 PowerPoint Template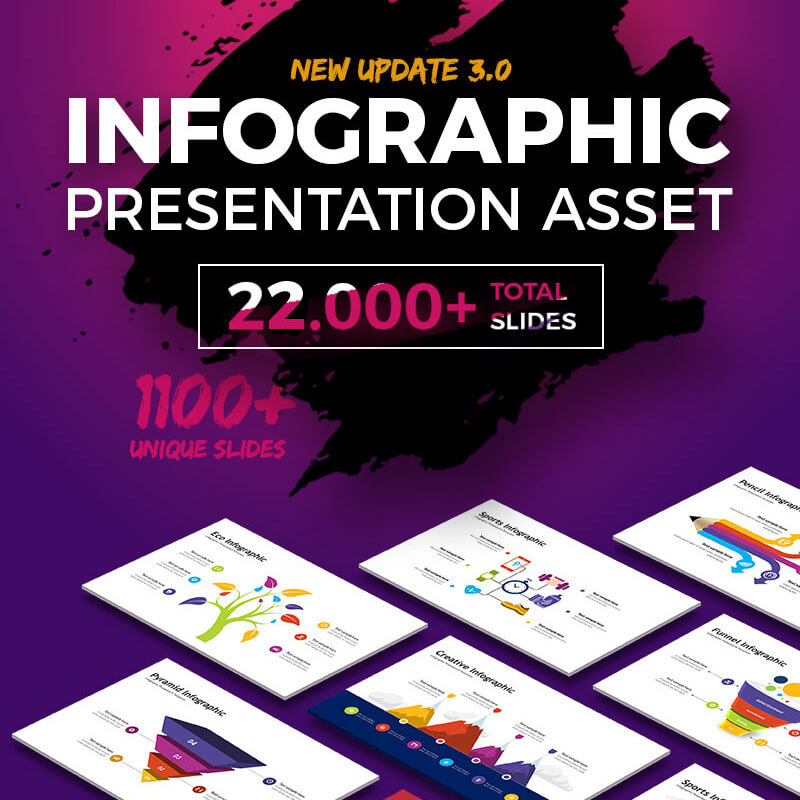 If you want to boost your efficiency while getting ready for your presentation, Infographic Pack is an awesome option. It is a modern and clean presentation template with a variety of creative elements, such as items of graphics, mockups. It comes with more than 1100 unique slides to make your presentation really impressive. There is also a color scheme template, using which you may choose the necessary color for the appropriate occasion. Moreover, there is an opportunity to add animation to the presentation to make it more lively.
Power Edge – PowerPoint Template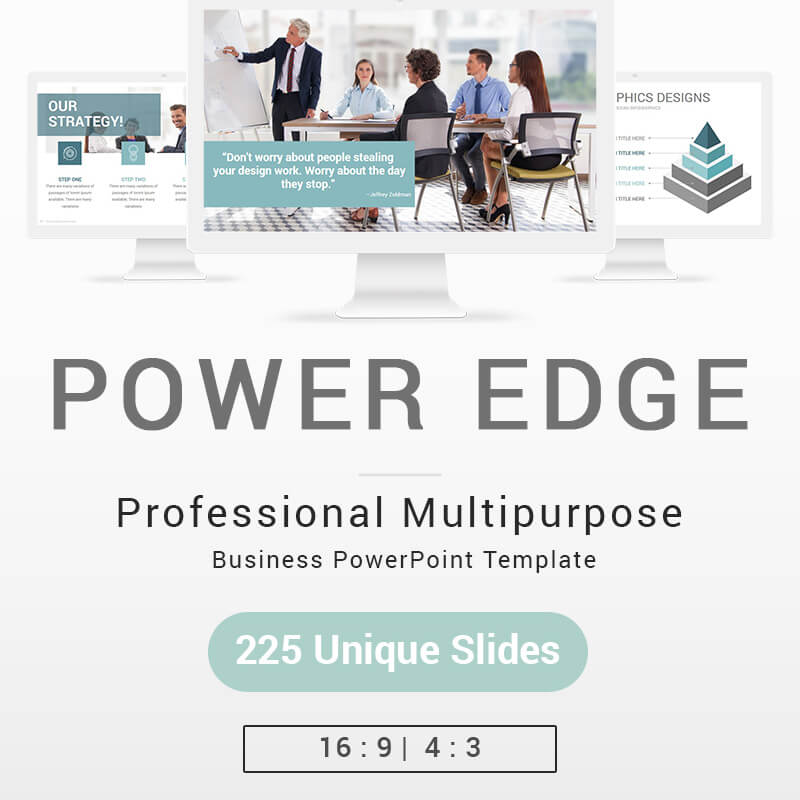 Power Edge is a superb PowerPoint Template that will help you prepare an amazing presentation. It comprises more than 220 exclusive slides to tell people about your company profile, mission, etc. Moreover, there is a vector icons library where you may find 6500 fabulous items to make your text more readable. You can change their color or size, depending on the topic and purpose of the presentation. There are also 90 fascinating color themes to help you pick up the appropriate one to make the necessary impression.
Entorum PowerPoint Template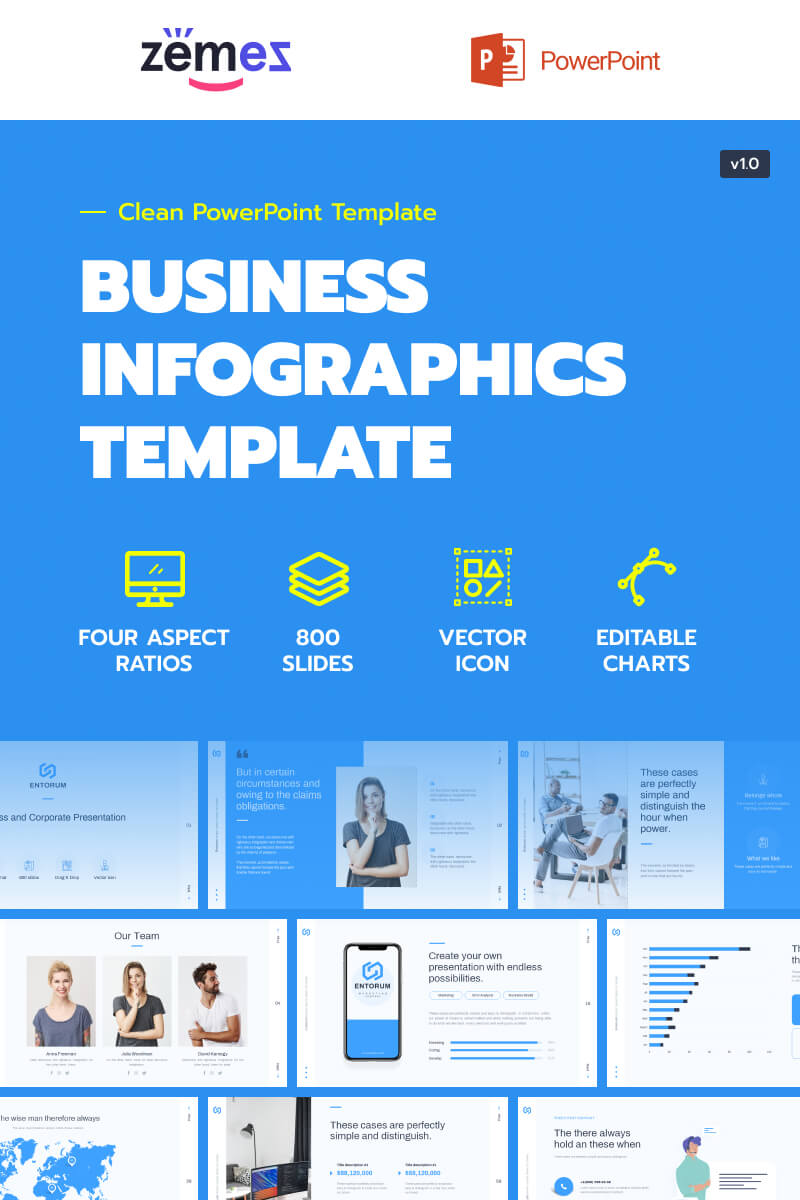 Do you regularly work on a detailed presentation of your business services and have to create timelines and progress charts? Entorum may speed up this process to a great extent. This Business PowerPoint template comes with various types of editable slides. As for charts and diagrams, you simply add the necessary data and the charts are ready to be displayed. Moreover, you will find more than 17 map slides. Thus, you will be able to demonstrate the location of your business. What is more, it's possible to present the development strategies in other countries.
Pitch Deck PowerPoint Template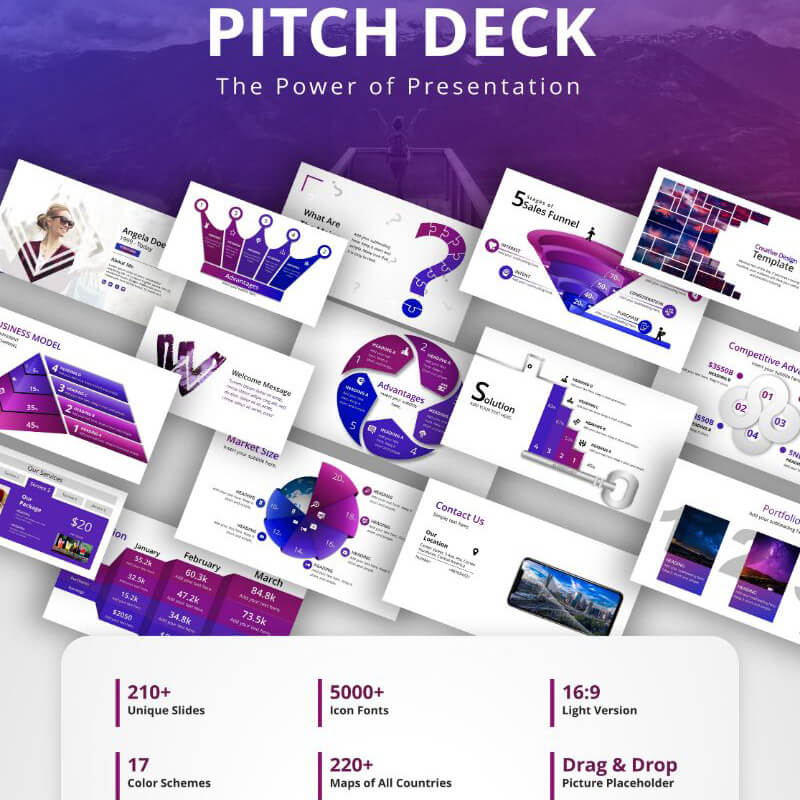 Pitch Deck PowerPoint Template is a powerful assistant that takes over the bulk of the work on preparing the presentation. More than 210 magnificent slides and 5000 icons are at your disposal. Moreover, there are 17 pre-made color templates to opt for the best one for each specific field. All image layouts are designed with picture placeholders. You will also find extra picture placeholders for alphabet and numbers.
SINBAD Social Media Pack Social Media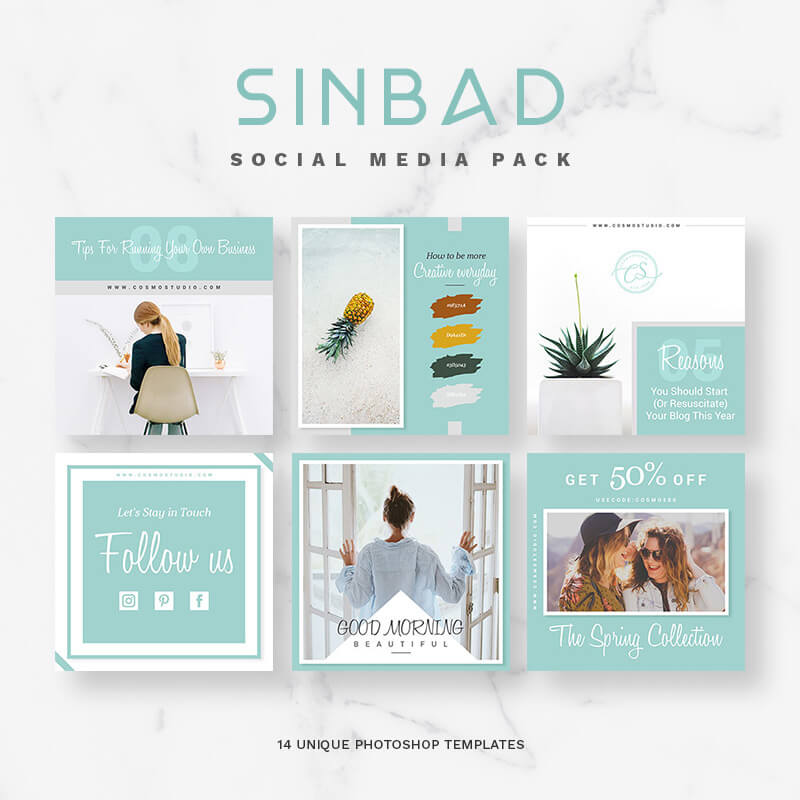 Take advantage of SINBAD Social Media Pack Bundle to create fantastic posts for our social media accounts. The package includes 14 square templates for Instagram, 14 horizontal templates for Facebook and 14 vertical templates for Pinterest. All the templates are provided in 2 colors to select the proper one for each post. Moreover, they are well-structured and labeled. All you have to do is to add the necessary information and customize the templates according to your needs.
Colorful Instagram Banner Pack Social Media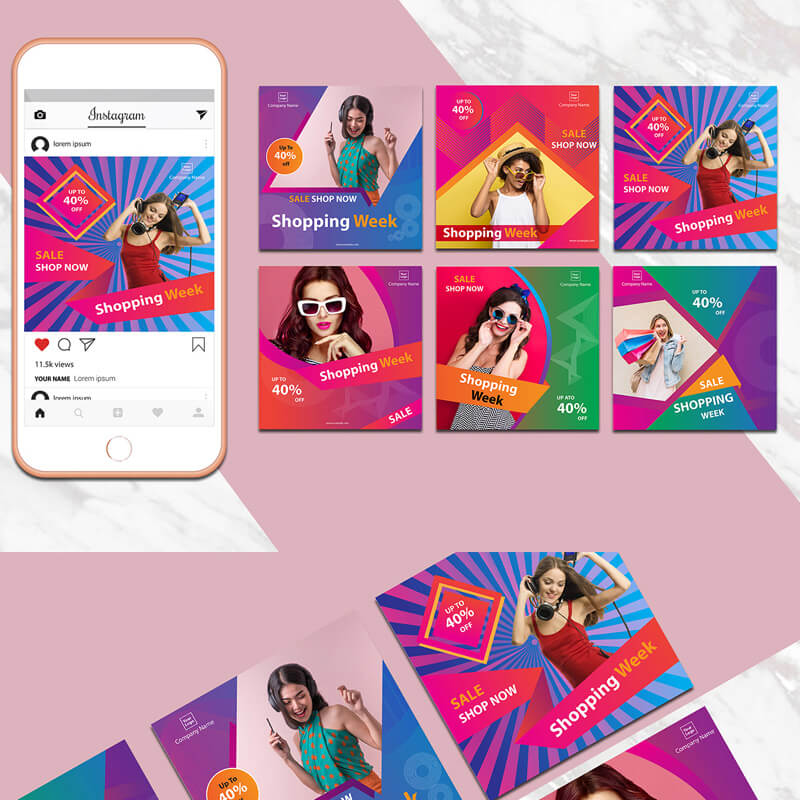 Make your Instagram account bright with Colorful Instagram Banner Pack Social Media. It is an Illustrator template where you may change the text and images into your own ones. The picture is not included in the pack. However, there is a free font used in the package. The download link is provided in the help file.
Hello Pack Social Media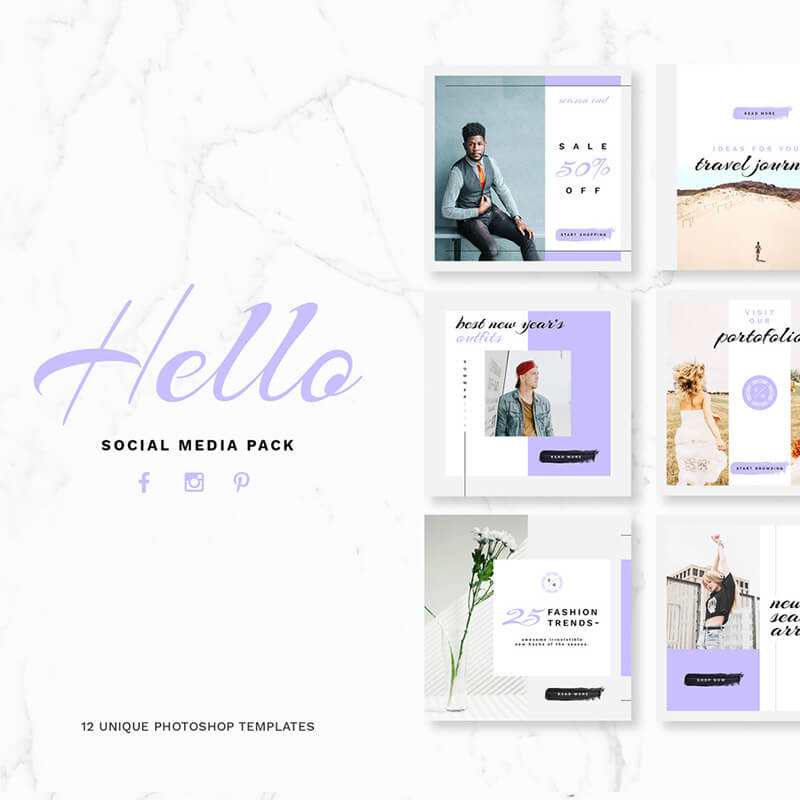 Hello Social Media Pack is a set of multipurpose banners optimized for Facebook, Instagram, and Pinterest. However, you may use them for a blog, any business or other purposes. All the templates can be modified to meet your requirements; this can be done with the help of Photoshop. The package includes free images that can be downloaded, using the link in the help file. Moreover, there are free fonts to try and make the banners more appealing to the audience.
Liza Brown – Human Resources Manager Resume Template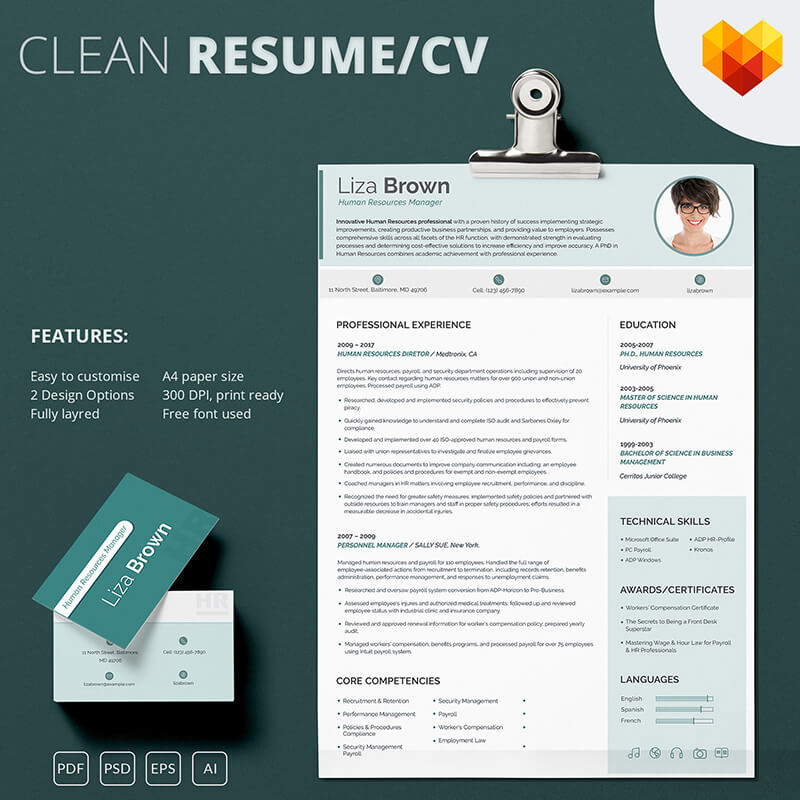 If you want to prepare an effective CV fast and effortless, Liza Brown can be a perfect assistant. This unique Human Resources Manager Resume Template has 2 design options. You may create your resume either with a photo or a generated dynamic QR code. Moreover, it comes with a business card template; thus, your CV and business card will have the same style. The template is fully layered that gives you an opportunity to arrange information in the best possible way.
Johnson Graphic Designer Resume Template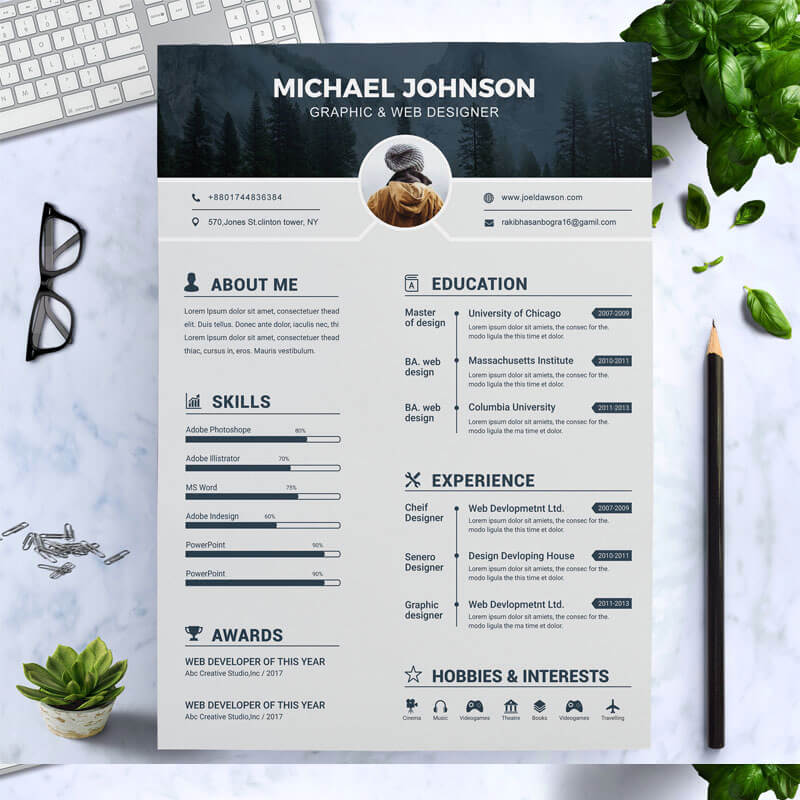 Johnson Graphic Designer Resume Template is a professional resume template that can be used for various purposes. You will find two pages for CV to arrange all the necessary information. Moreover, there is a one-page cover letter template to convince the employer that you are the best candidate. The template is fully layered and has such feature as paragraph and character style which is rather helpful. You may edit and customize the files as you want. As a result, you will get the files that are ready to print.
Corporate & Modern Word Multipurpose Certificate Template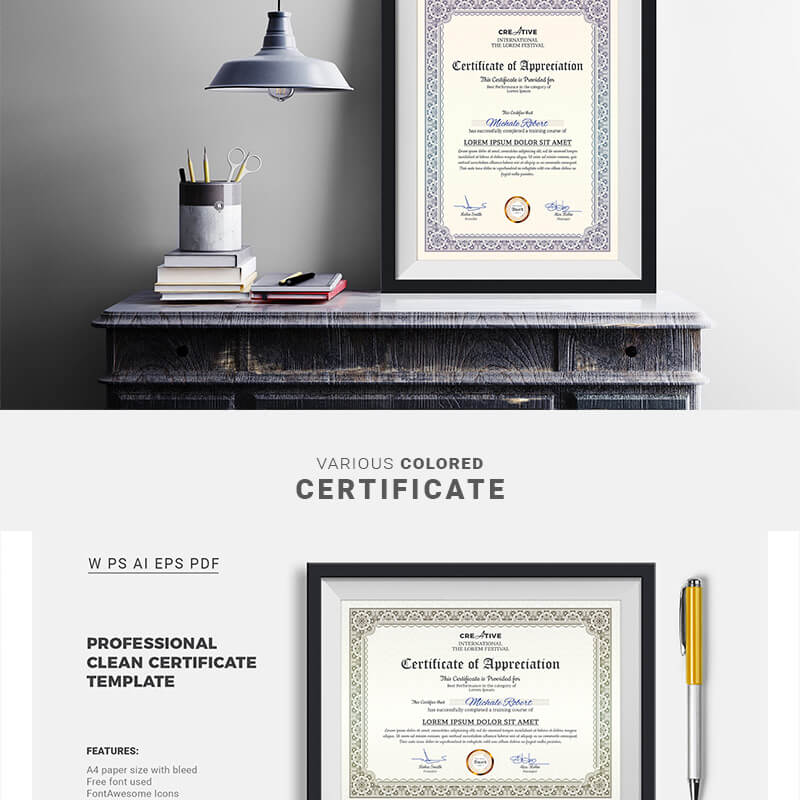 If you have to prepare certificates, use Corporate & Modern Certificate Template to save you time and efforts. It has landscape and portrait orientation, as well as 2 design layouts and 3 color variations to choose from. The template consists of well-thought-out layers and layer groups. If you want to change something, you can do it fast and easily. Having customized the templates and added the required information, you will get clean and structured files.
Press Certificate Template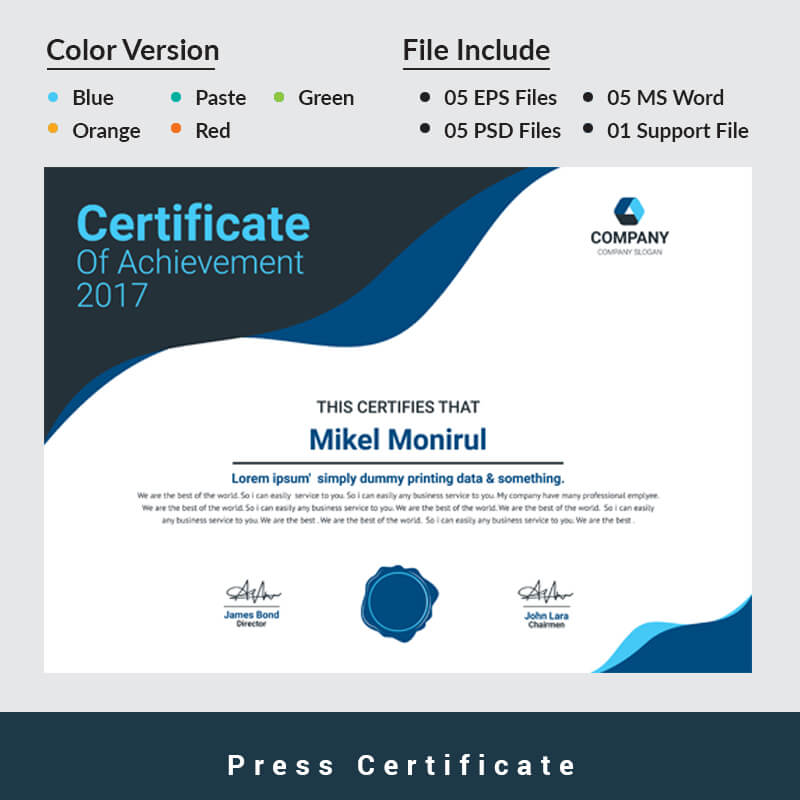 Enjoy the benefits of the Press Certificate Template that has been designed to issue certificates for various occasions and institutions. There are 5 color versions of the certificate to opt for the proper one, depending on the event. The free font is included in the package. The file formats are rather convenient to work with, as there are 5 EPS, PSD and MS Word files. After all the modifications you get the files of A4 paper size that are totally print ready.
Wrapping Up
As you can see, there are a lot of various graphic tools that may help you work more effectively. Using these ready-made templates, you won't have to do routine work connected with formatting, choosing the appropriate layout, etc. You just opt for the proper template, add your content and get an awesome result. If you have any questions while working with the templates, you may rely on the experienced professionals from technical support. They are available 24 hours 7 days a week and ready to solve any issues you may come across. Make the right decision to be proactive and successful!