In today's digital age, a website serves as the face of a business, for businesses in the automotive industry, having a well-designed website is important. Vehicle PSD website templates offer a convenient and efficient way to create stunning websites tailored to the needs.
In this article, we will explore the world of vehicle PSD website templates.
List of the Best Vehicle PSD Website Templates:
1. AutoMarket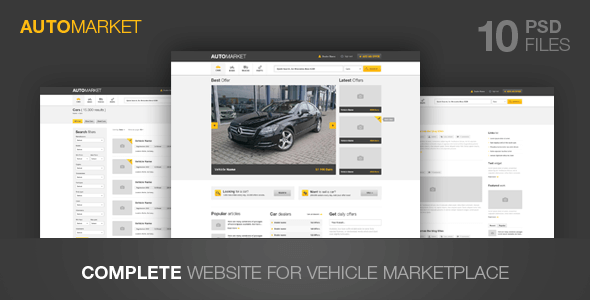 AutoMarket PSD Template is the best solution to buy/selling cars online. This template is best suited for dealers, who need to do their business online via websites.
2. Automotive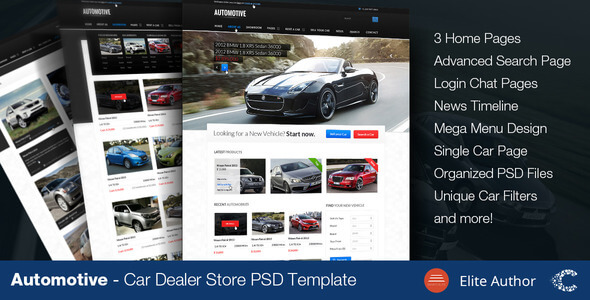 Automotive is one of the most powerful car dealership themes purpose-built to showcase your listings, loaded with more features than you can shake a stick at! It has everything you need to list and catalog vehicles.
3. Motor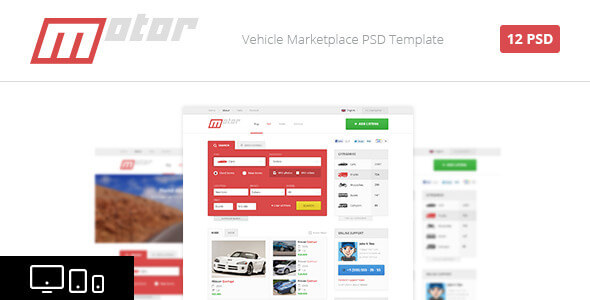 A motor is a vehicle marketplace PSD template for commercial purposes. Comprehensive widgets and tools, photo galleries, videos, and different content views are all you need to create a great interface for your future system.
4. AUTOZONE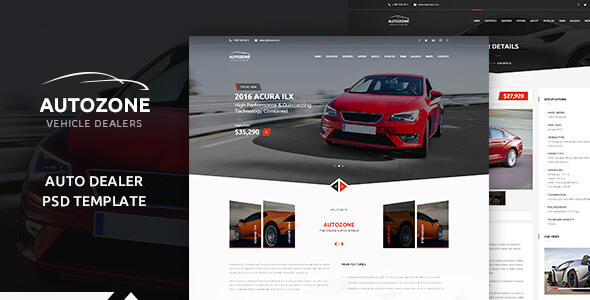 AUTOZONE is a creative, modern, and multipurpose One-Page auto dealer PSD template suitable for car dealership websites and businesses or any corporate websites in this field. This PSD template also provides solutions to buy or sell cars online.
5. Motor Vehikal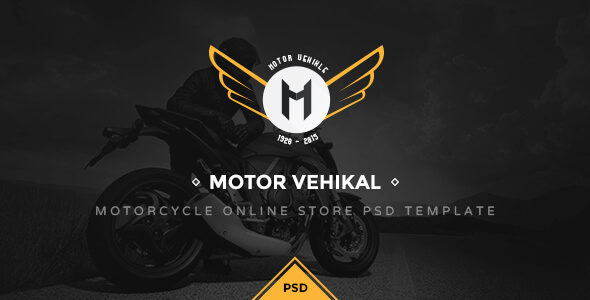 Motor Vehikal – Motorcycle online store PSD template is a premium template design, especially for Motorcycle stores, but you also can use it for different kinds of transportation stores such as bicycles, cars, boats, etc.
6. Motorius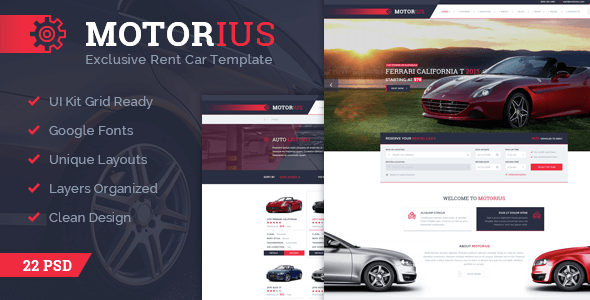 Motorius – modern and catchy PSD template for Auto Centres, Dealers, and other vehicle-related services. This Template is the best solution to buy, sell, or rent cars online, loaded with more features.
7. CARRE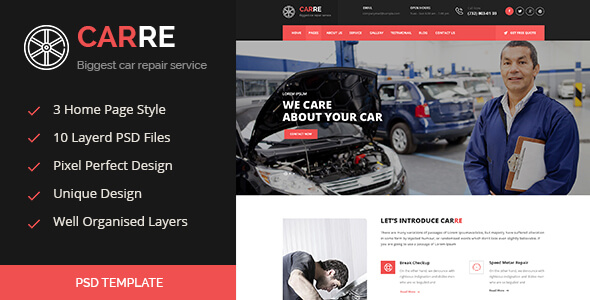 The template is built for Auto mechanics, Car Repair Shops, Car Wash, Garages, Automobile Mechanicals, Mechanic Workshops, Auto Painting, Auto Centres, and other Auto and Car related services.
8. AutoDeal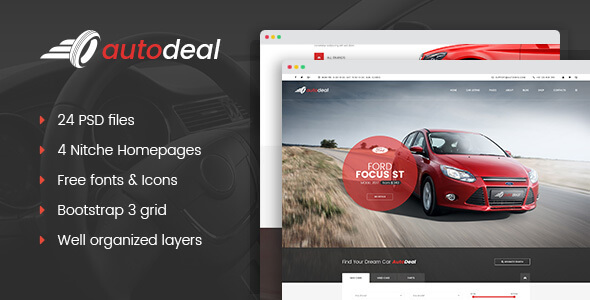 AutoDeal is our latest ultra-modern and super cool multipage PSD template for car and bike dealer companies, car repair stations, car rentals, Classfields and services, and other business enterprises related to autos.
9. Motor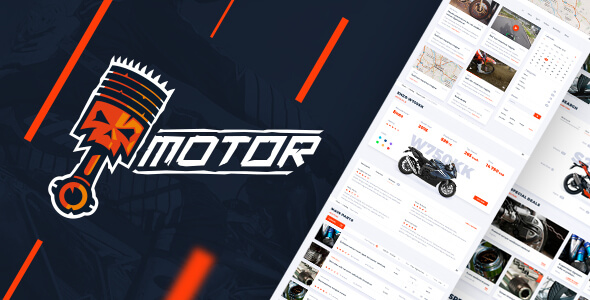 Motor – Motorcycle Parts Store PSD Template included 20 editable PSD files, well-organized, fully customizable, and easy to use.
10. Mechanic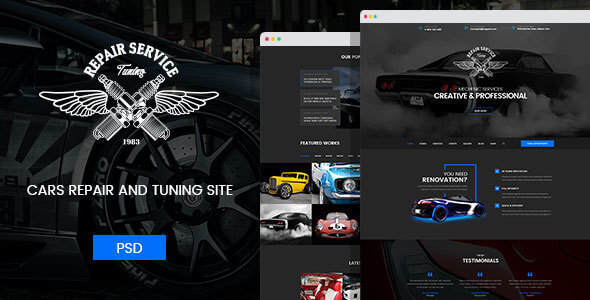 A mechanic is a modern and stylish PSD template for a car repair service or tuning shop. This template has a dark color scheme and thought through the layout. The template will match a wide range of vehicle-related business spheres.
11. ATStore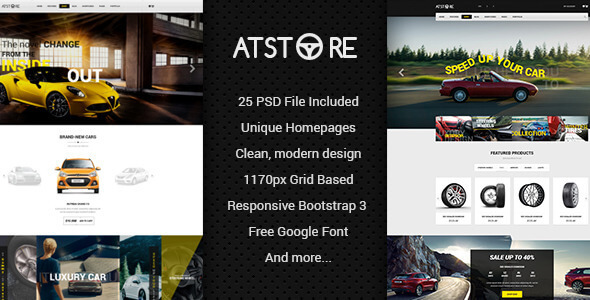 ATStore – Masterpiece PSD Template for Auto Centres and other Auto and Car related services. In addition, this is an easy-to-use theme for all kinds of businesses and sells any items you wish. The beautiful theme is designed with a modern style trend, and a clear layout, and supports lots of Bonus pages.
12. MotorCars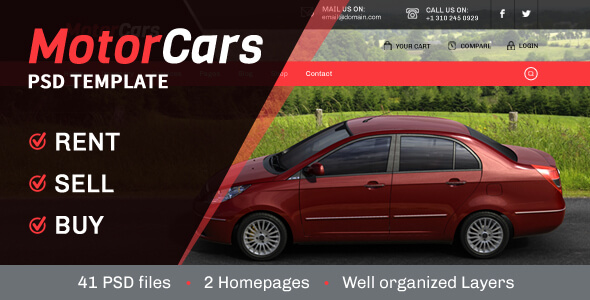 MotorCars is a modern and unique PSD template designed especially for car sellers, dealers, and real estate companies. This template is awesome and very useful for online vehicle marketplace or automobile management.
13. Vehicle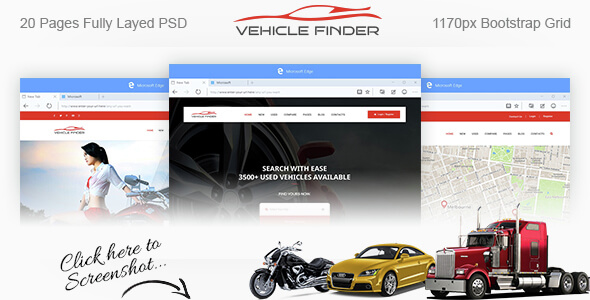 Vehicle Finder and Booking PSD Template were built specifically for All Vehicles (Cars, Motorbikes, bicycles, trucks) Finder and booking system. You can use this template for creating a website based on Twitter Bootstrap and any language.
14. GreatVehicle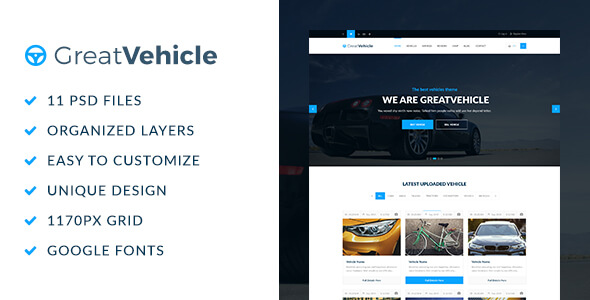 GreatVehicle PSD Template is a great template for a car and other vehicle dealers, car mechanics and other vehicle-related services providers, vehicle-related shops, vehicle reviewers and everything other vehicle-related.
15. CarWorld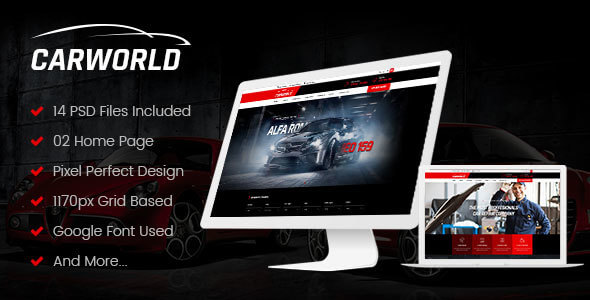 CarWorld – Car Dealer and Auto Repair PSD Template is a creative, modern, and multipurpose auto dealer and auto shop-related design suitable for car dealership websites and businesses or any corporate websites in this field.
16. Tinker
Tinker – Car Repair and eCommerce PSD Template is an awesome design idea for your online website. Easy and intuitive shopping experience. PSD files are well organized and named accordingly so it's straightforward to customize and update.
17. Collision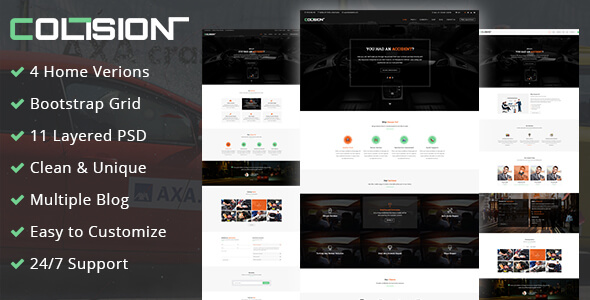 Collision- Car Repair PSD Template – is a simple, clean, and modern PSD Template for Car Repair, Auto Mechanic, Car Wash, Garages, Automobile Mechanicals, Mechanic Workshops, Auto Painting, Auto Centres, and other Auto and Car related services.
18. MOTORLAND
MOTORLAND is a Clean, Modern, and Multipurpose Car Dealer, Car Renting, Car Workshop, and Auto Accessories Shop Template Design suitable for any type of Vehicle Dealership website and business or any corporate website in this field.
19. ClearView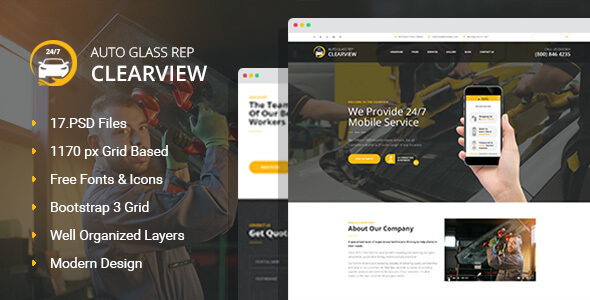 ClearView is our newest PSD Template for auto glass tinting, car window repair, and replacement services, and would make a suitable website for car detailing, windshield replacement services, and vehicle wraps services.
20. Dealership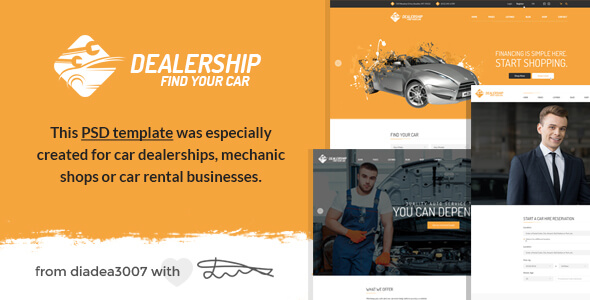 A dealership has an integrated bootstrap grid, which makes the development process faster. This is a PSD Template specially designed for all types of car dealerships, mechanic shops, or car rental businesses. It includes 33 PSD files fully-layered and easy to customize.
21. MotorNic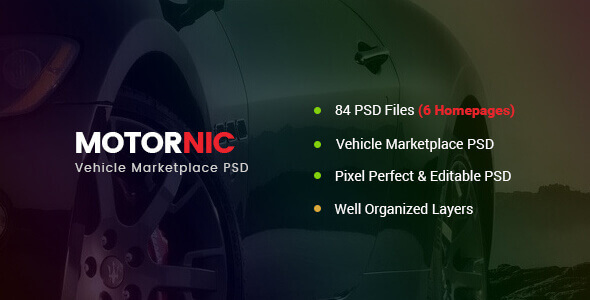 MotorNic Vehicle Marketplace PSD Template is a beautiful pack of PSD files that will help you to create a unique and modern car rental website. All layers are properly organized, so it takes you a moment to find the necessary layer and edit it.
22. IMPEL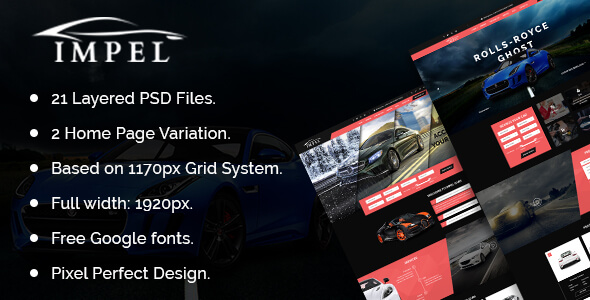 IMPEL PSD Template, Is A Very Attractive And Modern Designed PSD Template For Car Dealer Purposes. It Is Built On 12 Column Grid (1170px) And Grouped 21 Psd Files Included, And Much More!