If you run a travel agency or you start writing a traveling blog, these best travel HTML website templates help you in promoting your business. You can share your experience with the online world, it will help other people. These templates come with great features that will make your traveling website stunning.
In this collection, some travel HTML website templates have a modern design layout with modern fonts and bright colors to wow everyone. Most of these templates are responsive compatibility with all devices and browsers. Some of the templates you can use in the online store for selling traveling-related equipment.
List of the Best Travel HTML Website Templates:
1. Sun Travel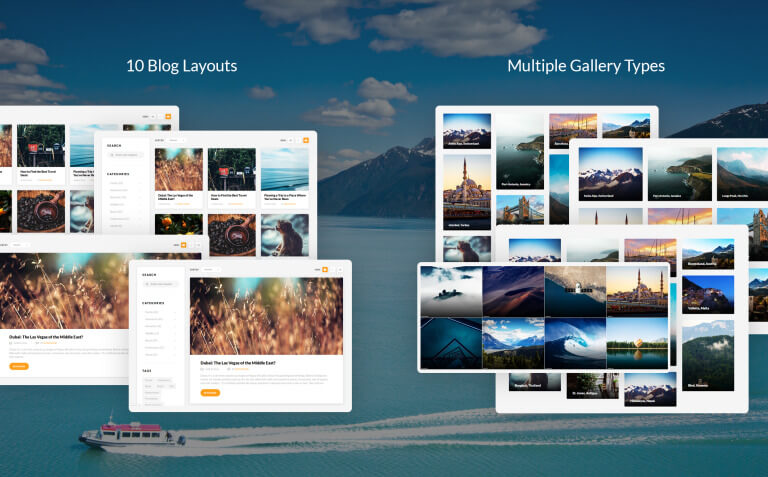 Sun Travel is a fully responsive and fully editable Travel Agency Online Web Template, created for travel agency websites. This well-documented vacation travel theme will be a perfect match for your business if you adore high-quality and fluent productivity.
2. Travel Booking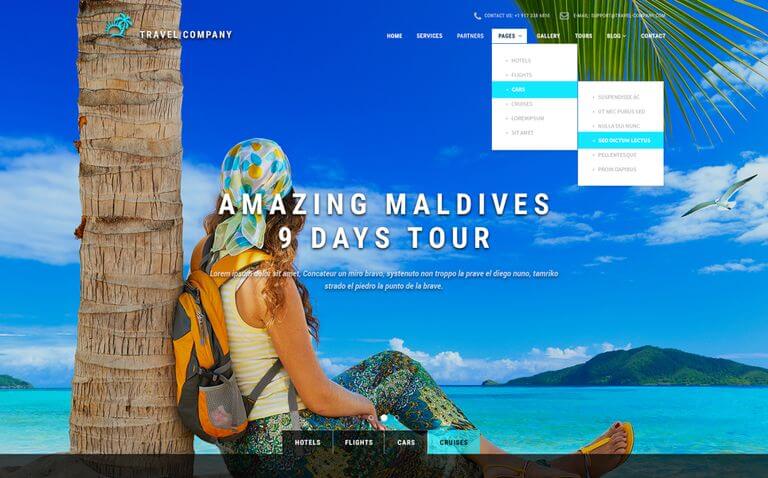 This Travel Booking HTML template is made with Bootstrap, CSS, HTML5, and JS frameworks. It is fully responsive with an amazing text slideshow! It includes 17 .html pages and most importantly tours, cruises, hotel, and rental car pages as they are functioning perfectly!
3. Travel Agency HTML Template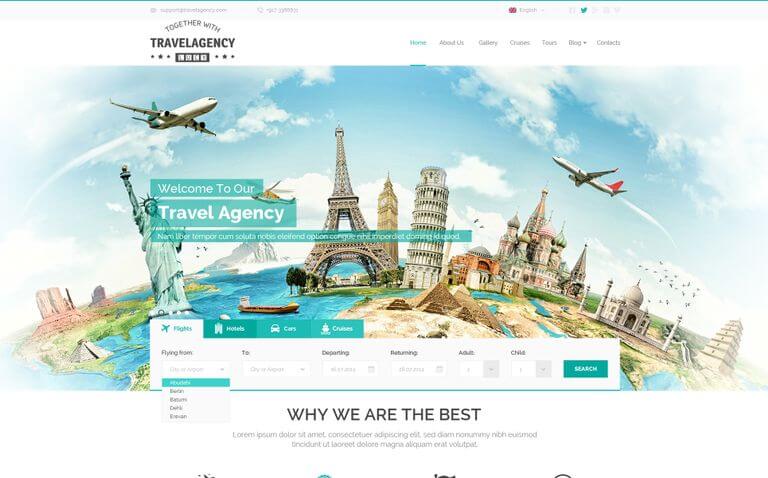 This travel HTML site template is made with Bootstrap, CSS, HTML5, and JS frameworks. It is fully responsive with an amazing text slideshow! It includes 26 .html pages and most importantly flight, cruises, hotel, and rental car pages as they are functioning perfectly!
4. Cruise Travel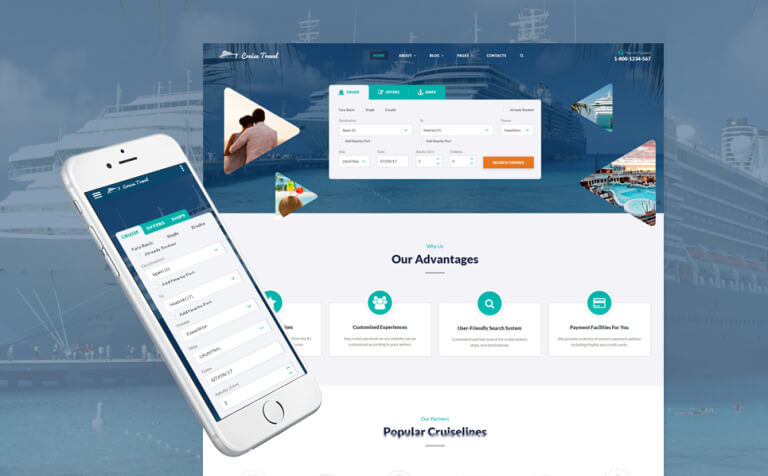 Travel your way to a lucrative website and worldwide popularity with SEO-friendly, well-documented, and fully responsive Tour Operator Web Template. It has a moderate design, fitted for your niche, and an array of customization opportunities.
5. Sky Booking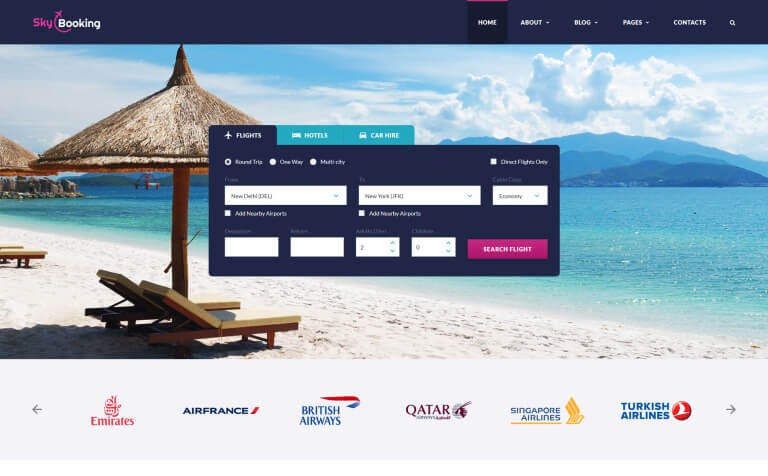 SkyBooking is a carefully crafted Bootstrap template for travel agencies, tour management firms, tour booking companies, and other businesses that deal with arranging trips, tours, vacations, and various tourism activities online. The template includes a ready-made booking form, that can be used for booking flights, hotel rooms, and renting cars.
6. Wonder Tour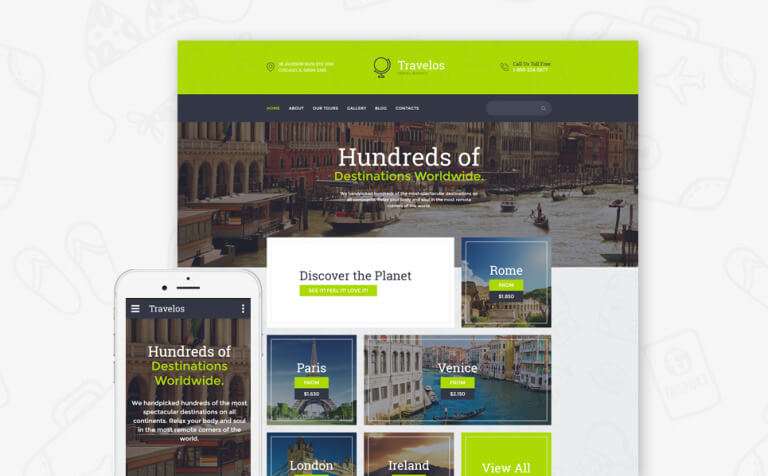 This Travel Company Website Template will make visitors get their long-anticipated leaves and go to some random island in the Pacific Ocean right away. A dedicated map section and contact phone on the top of the page will help your clients contact your services the very second they need them.
7. Travel Template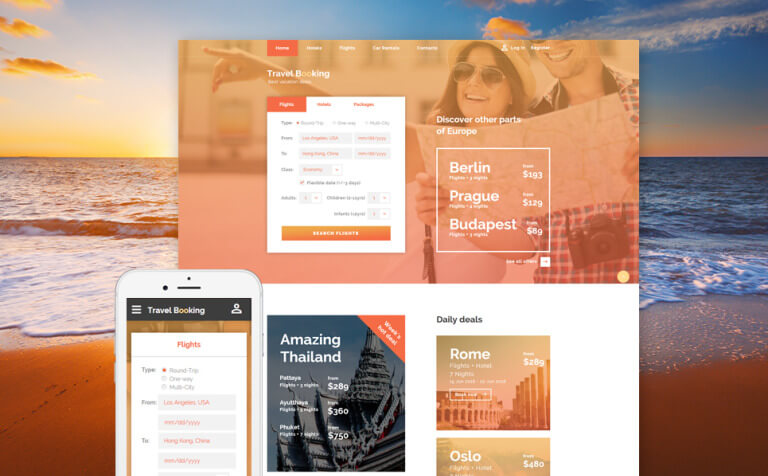 Travel Booking is a responsive website template built with the latest version of Bootstrap. It is supplied with an amazing choice of multipurpose forms that are necessary for any professional travel website.
8. Travel HTML Template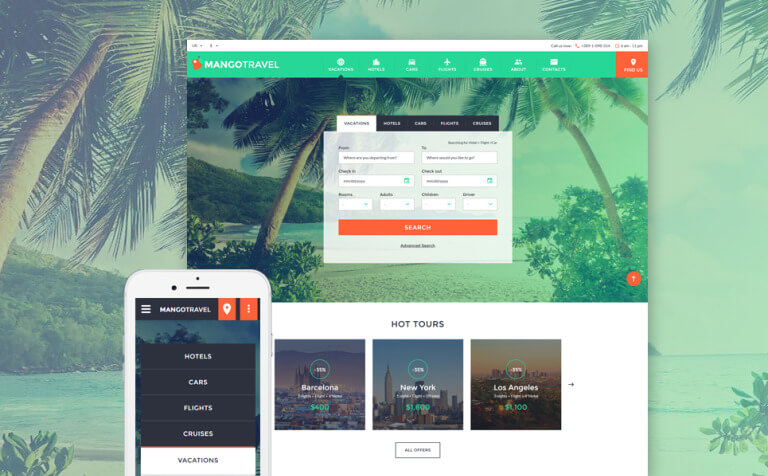 This cheerful animated theme in greenish tones with the amazing most popular destinations gallery will meet all requirements of travel agencies and tour operators. Travel Agency Site Template has W3C valid, well commented, and SEO friendly code.
9. HTML Travel Template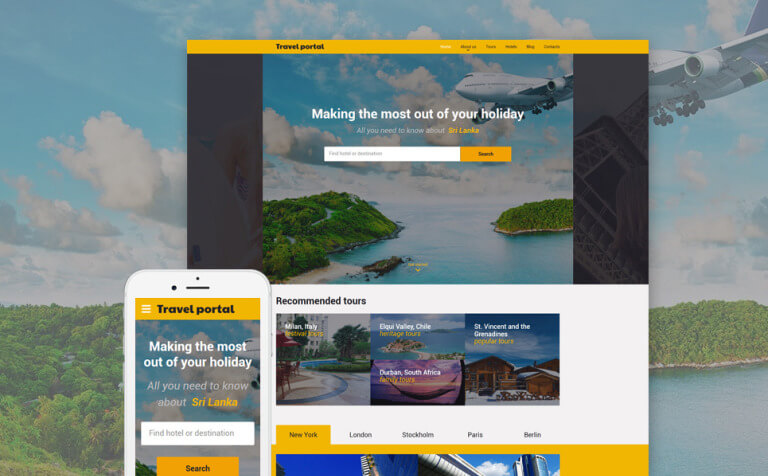 A travel agency HTML template needs to have a very distinctive design and arise a will to travel. The combination of yellow and green looks welcoming enough to make the visitor get involved in the process of choosing a tour right away.
10. Travel Agency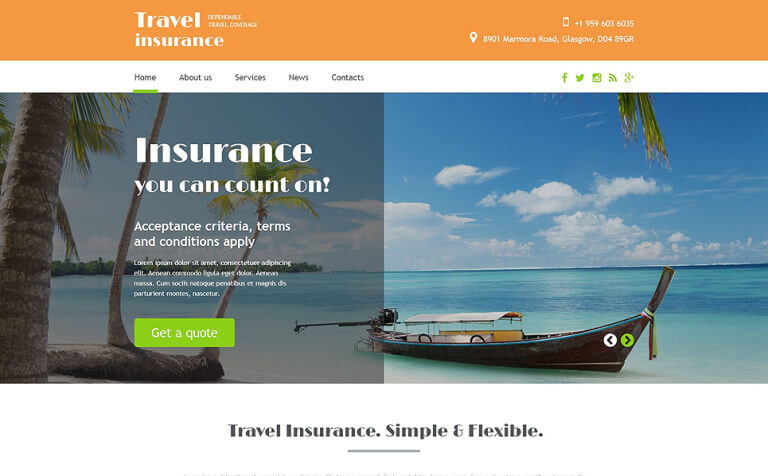 This theme offers a number of effective solutions for building a beautiful and powerful site for travel agencies, business companies, etc. Fully responsive design is another great thing about the template, it ensures the unmatched performance of the site on both desktops and mobile devices.
11. Tour Operator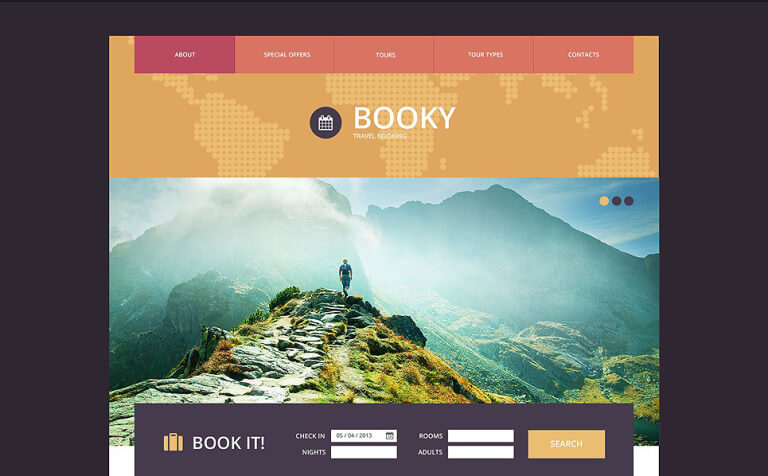 Booky is a multipurpose, fully responsive theme that boasts plenty of features and customization options designed for a travel agency, tour operator, or any other travel-related website.
12. Travel Operator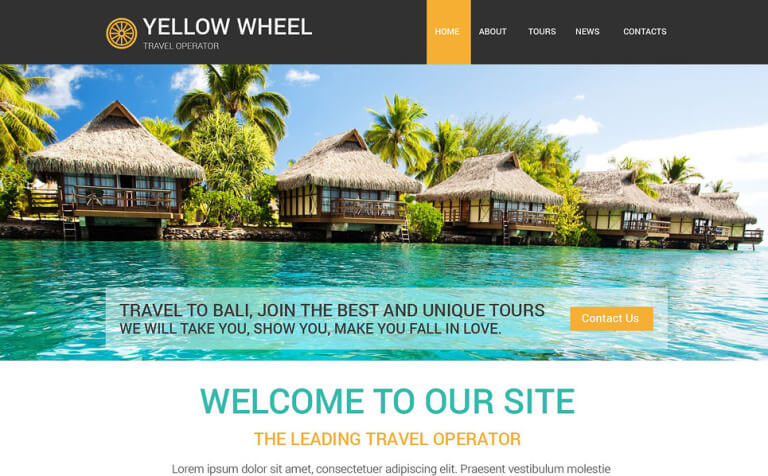 A website for tour operators should look so teasing to convert a visitor into a customer. From our viewpoint, the author of this template excellently coped with the task. Beautiful photos of different exotic places look very alluring. The company logo can be seen many times on the page.
13. GoExplore!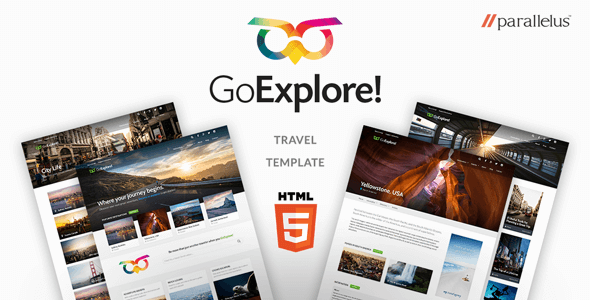 Create your travel agency, lodge, club, blog, or destination website in a quick and easy way. The GoExplore! travel HTML templates can manage any travel website, from a personal travel blog to a world travel guidebook.
14. Sparrow
Sparrow Travel Booking- a clean and complete online Travel Booking HTML5 Responsive Template suitable for companies/travel agencies that provide services for tourists: can be used to provide general city attractions information, buy tickets, tours, tour guides, and hotels.
15. aTourist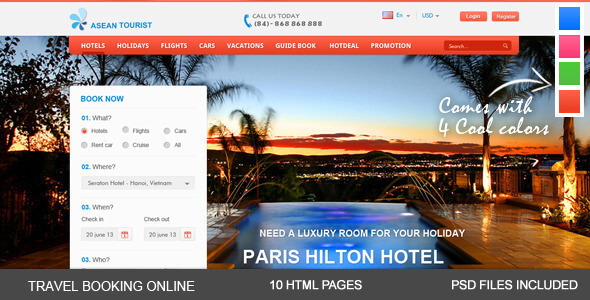 aTourist 10-page site template designed keeping usability in focus. This HTML template is simply looking and yet it makes your website look unique in its own way.
16. Trips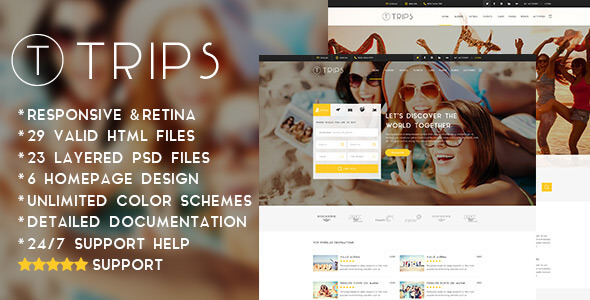 The Trips HTML website template is suitable for travel sites, hotel sites, booking systems, and similar websites on the web. Trips is a beautiful travel/hotel website HTML template coded with Bootstrap, HTML5, and CSS3.
17. SunTour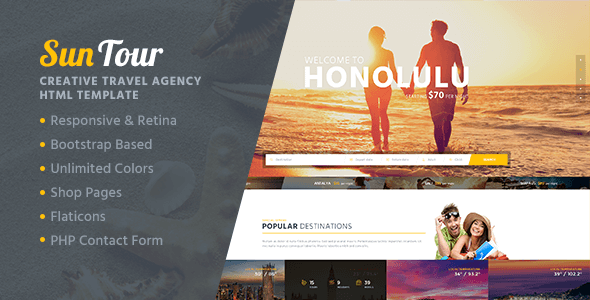 SunTour – Creative Travel Agency HTML Template!
With the help of "SunTour", you can easily create a beautiful and stunning website for your business.
18. Travel HTML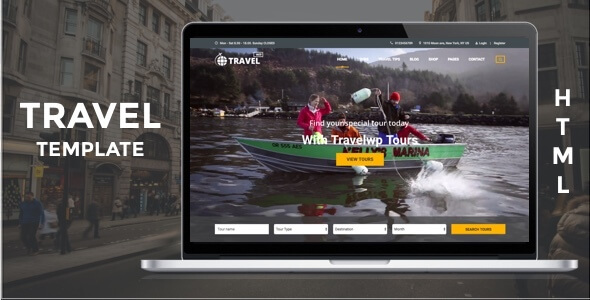 Travel HTML is a Travel HTML Template | Tour HTML Template developed for travel agencies and tour operators to build your Website.
19. Blue Bird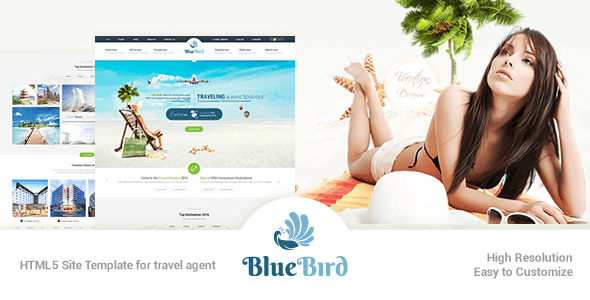 First thank you interest in our work. The Blue Bird is a custom design Travel, Hotel, and Tour website template coded with Bootstrap's latest version, HTML5, CSS3, and jQuery. Besides this, the template is suitable for tour sites, hotel listing sites, travel, and local travel sites.
20. Stillidea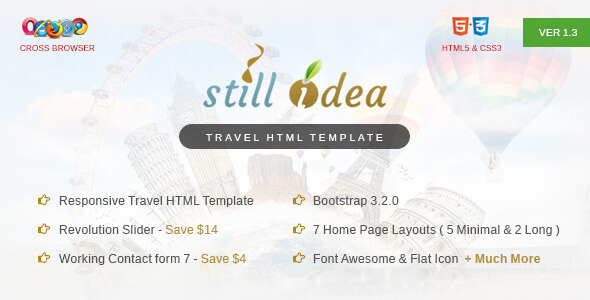 Here comes the best Travel HTML Template with dozens of awesome features and designs you would have never seen in any other Travel HTML template. Each of the 7 innovatively designed Homepage styles is perfect in itself.
21. Travela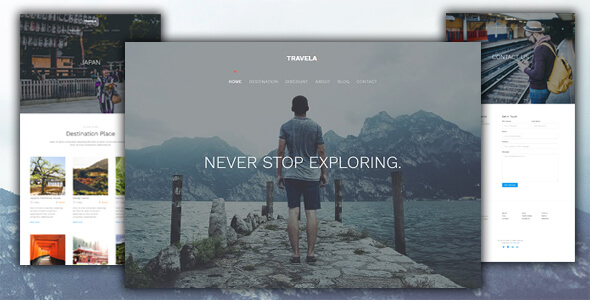 Travela – is a responsive HTML template with a clean and elegant design, it has a nice color combination. Suitable for the travel agency, display your blog, portfolio, photo gallery and etc.
22. Iqoniq Travel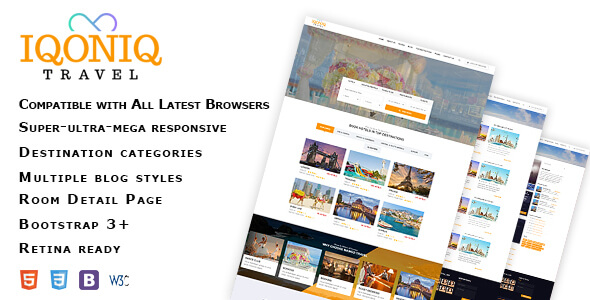 Iqoniq Travel – Hotel and Resort Template, Iqoniq Travel is a template designed for hotels, resorts, room reservations, travel agencies, clubs, blogs, or destination websites in a quick and easy way.
23. Travel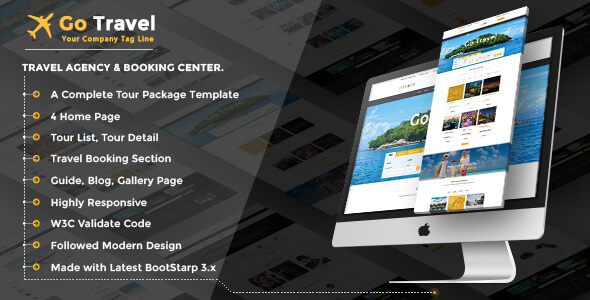 Travel Html Template gives you all the features to convert your visitor into customers and increase your sales. Also, it is included with the Tour list and Tour Booking. The theme consists of a search and powerful filter for the tour so that users can search for their desired tour and can buy right from your website.
24. Artio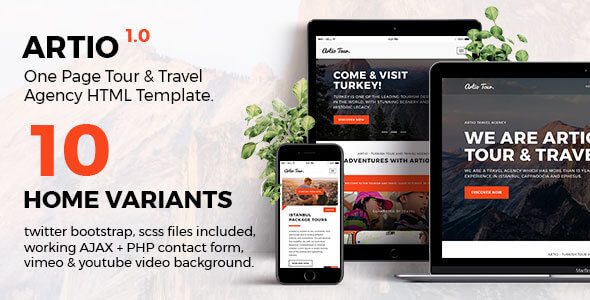 Artio – Tour and Travel Agency HTML Template, a dedicated HTML template for travel agencies, adventure parks, tourism, and tour companies. Moreover, the page is designed eye-catching and fully responsive for any device and resolution.
25. Travel Website Template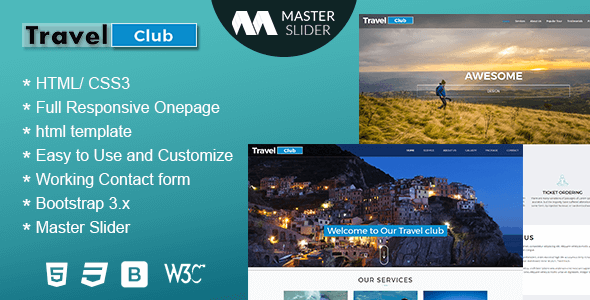 Travel Responsive Multipurpose Agency is a personal HTML template with responsive code that you can easily use for a Creative Agency website or for a personal website. Besides this, the template is designed and coded in form considering user-friendly features for all sections.