Are you looking for top WordPress Development Companies In the USA? Look no further! We've compiled a list of the 5 best WordPress development teams in the United States for 2023. So keep reading.
If you have a business website, you may have heard about WordPress. This widely used content management system (CMS) empowers countless websites across the globe and for a good cause. It's user-friendly, features a comprehensive selection of plug-ins and themes, and is regularly updated for top-notch security and performance.
However, like any other technology, there might come a moment when you require additional assistance to make the most of your WordPress site. It is where employing a WordPress developer becomes useful. These specialists possess extensive knowledge of all things about WordPress.
But with so many firms offering WordPress website development services, choosing one can be challenging. So to make your search easier, we've compiled a list of the top 5 WordPress development companies in the USA. These can assist you in personalizing and optimizing your site to meet your unique requirements and objectives.
So, look at the USA's top 5 WordPress development agencies and what they offer.
The 5 Best WordPress Development Companies In The United States:
1. SparxIT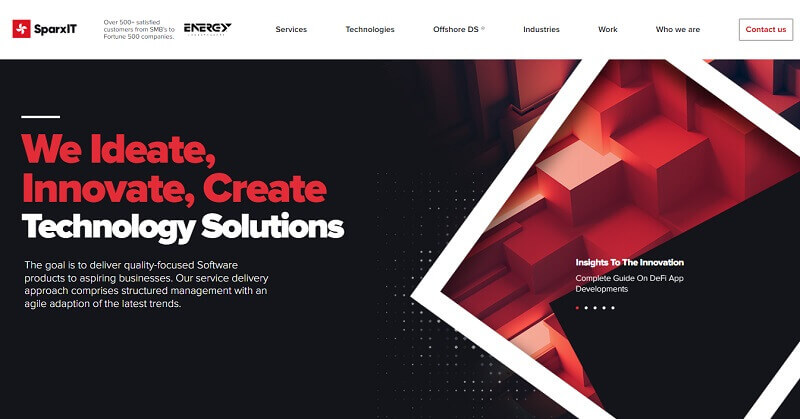 Founded in 2007, SparxIT is a well-renowned WordPress development company with offices in the USA, the UK, and also India. The agency offers services to organizations of different sizes, including small and large firms. Also, the firm deals with industries of various domains like FinTech, EdTech, Healthcare, Logistics, E-Commerce, etc.
Moreover, with an experience of over 15 years, SparxIT has created robust digital solutions for global clients, including HP, Necco, Huawei, D-Link, Suzuki, Hisense, BPL, etc. Along with the WordPress development service, the firm offers various services, like blockchain development, NFT development, DeFi development, etc.
Besides this, the team works on cutting-edge technologies like:
2. P2H Inc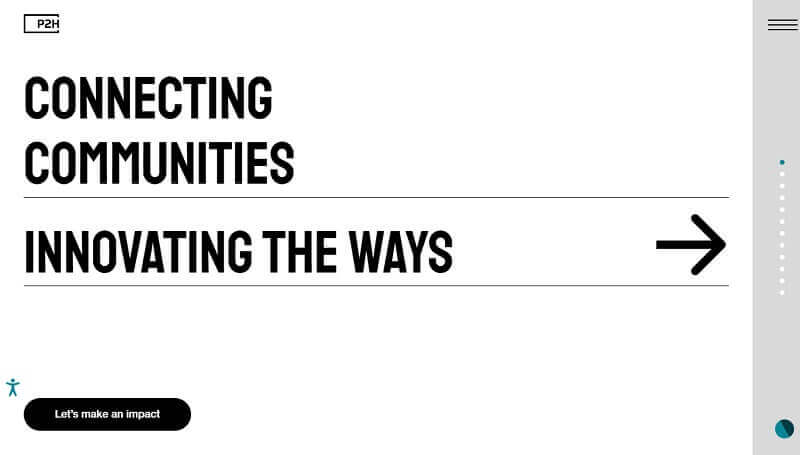 P2H Inc (Now known as Getdevdone) is one of the top WordPress development companies. Also, the company works with various agencies, providing them with white label WordPress development services and helping them grow their businesses. The firm offers a wide range of services, from web and app development to WordPress development. The agency has built innovative solutions for industries like Arts, Sports, Restaurants, Healthcare, etc.
With over 10 years in the market, the agency has a team of more than 470 skilled professionals who strive to build immersive web solutions. Also, the company has provided its services to leading clients across 164 countries.
The firm works on the latest libraries and content management platforms:
jQuery
WordPress
Angular
Shopify
3. Multidots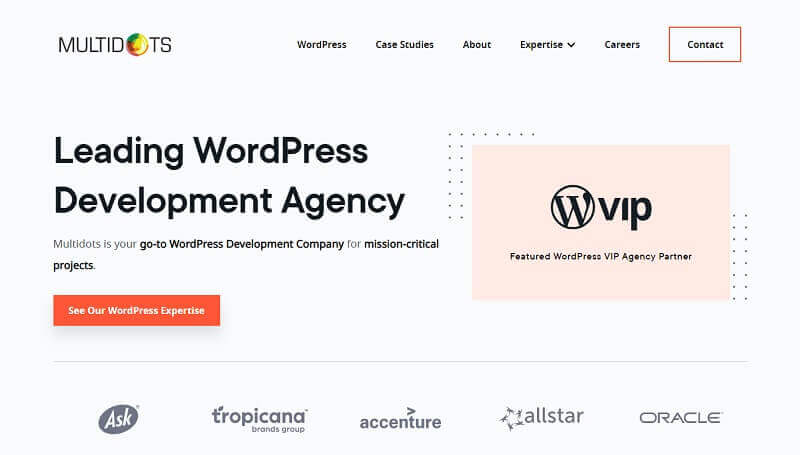 Established in 2009, Multidots is a leading WordPress development company with offices in the USA, Canada, and India. The firm has collaborated with global brands like Ask Media, Tropicana (PepsiCo Venture), the Association of American Publishers, and Storyful (Newscorp Venture).
The agency provides multiple services, including website development, WordPress migration, digital marketing, etc. The firm deals with different industries like Automotive, E-Commerce, Publishing, Media, and also others.
The agency works on the leading frameworks and content management platforms:
Django
Drupal
WordPress
Others
4. Site Nine Studios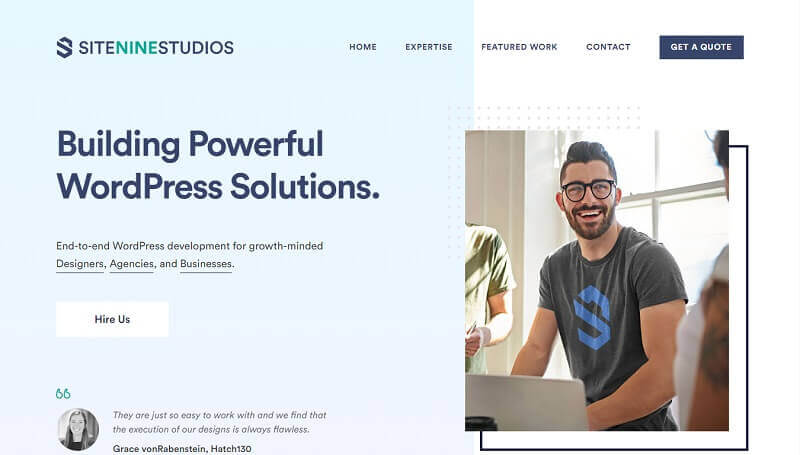 Site Nine Studios is a prominent WordPress development company that collaborates with clients from all over the United States. The firm offers services like custom WordPress development, UI/UX design, WooCommerce development, etc.
Moreover, the agency deals with industries of different domains, including Sports, E-Commerce, Education, Healthcare, Transport, and many more. The company has provided services to leading brands across the globe, including Northern University, LCC, Bex Brands, and also many more.
Besides this, the firm works on top-notch CRM platforms:
Salesforce
Zoho
HubSpot
Others
5. Seota Digital Marketing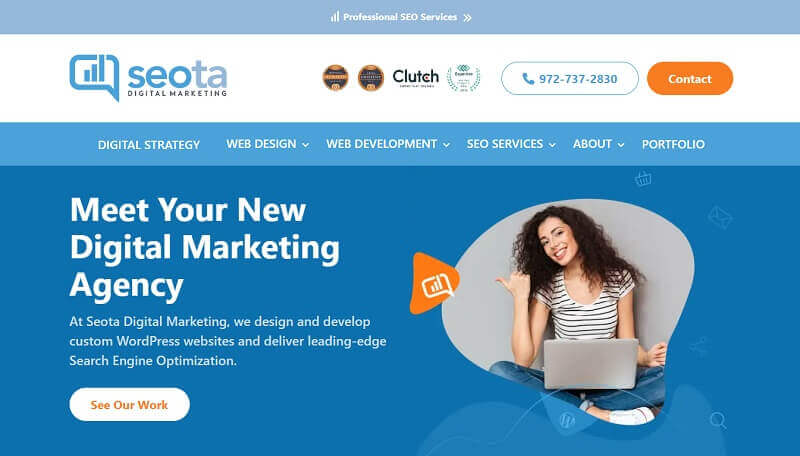 Established in 2009, Seota digital marketing is one of the top WordPress development companies. Also, the agency offers various services, including WordPress website design, development, digital marketing, etc.
Moreover, the firm has a team of talented and professional individuals who strive to offer high-quality digital products to clients. The team has collaborated with top global brands like Xerox, Viracon, Derrico, Savour Sous Vide, and also many others.
Besides this, the agency works on the latest content management platforms:
WordPress
Joomla
Drupal
And others
Conclusion: Top WordPress Development Companies In USA
As a business owner looking to hire a WordPress developer, it is essential to partner with a company that understands your business needs and provides customized solutions.
So, after extensive research, we have listed above the USA's top 5 WordPress development companies. Also, these agencies have a proven track record of delivering high-quality WordPress development services and have earned a reputation for being reliable.
Moreover, you can select the best one according to your project requirements and budget. Besides this, the team will help you achieve your business goals and reach the target audience with an immersive website.
Author Bio:
Tom Hardy has 10+ years of experience as a website developer in SparxIT. He often writes blogs and journals to share his expertise for a reputed website development company.