Hello there, today in this article, we will discuss the top four apps to boost your productivity. At the same time, they will help you stay organized, focused, and efficient. So keep reading.
Being productive at all times can be a difficult task. The world that we are living in sometimes becomes so stressful that concentrating on even minor tasks becomes super hard. We are normal human beings at the end of the day.
We crave attention and also sometimes wish for some time off. During these breaks, our productivity decreases and we start to question our worth. What we need to understand is that one cannot feel happy 24/7. There will be moments that will force us to hide away. And even run away from our problems.
Feeling sad and helpless during such times is not the solution. Give yourself breaks from time to time and keep in mind that your mental health greatly affects your productivity levels. If you are happy and satisfied with your current situation, you will without any doubt, feel energetic. You would also want to work wholeheartedly with a happy mind and soul. However, if you are feeling low or are under a lot of stress, then your productivity will witness a sharp decline.
Boost Your Productivity
So focus on your mental health and try to stay positive and grateful at all times. However, we do understand that some of us still look for other ways to supercharge our productivity. We believe that keeping ourselves sane every day is a huge task and we cannot take breaks every other day.
We understand what you are going through and keeping all of these things in mind, we have done a little research of our own and have come up with the simplest and most efficient ways to increase your productivity. All you need is a solid internet connection like the one offered by Spectrum en Español (for Spanish speakers only) and you will witness a huge increase in your productivity by using the applications that we have in store for you here.
Once you have access to a great internet connection, just download the top four apps that we have enlisted below and see how quickly your productivity improves.
4 Best Apps to Boost Your Productivity:
1. ProofHub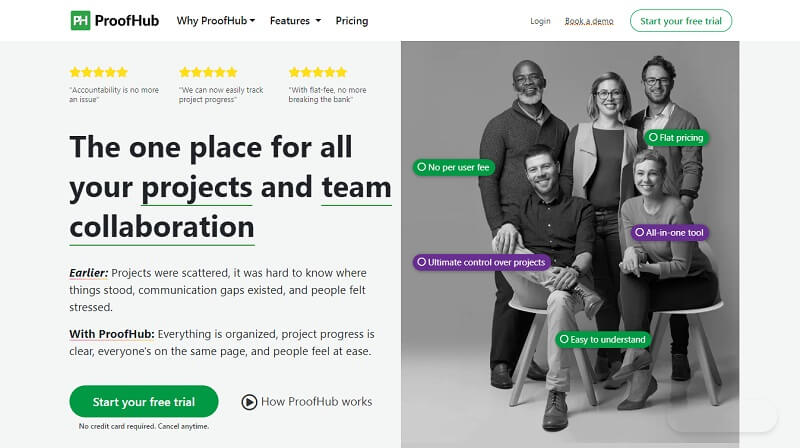 ProofHub is an all-rounder app that serves multiple purposes. It is a one-stop solution for all freelancers, remote workers, and startup owners who find it quite hard to plan, collaborate, organize, and deliver results in the best possible manner. The main features of this platform that make it stand out include custom roles, files, timesheets, notes, etc.
Overview
It includes all the relevant features and resources that greatly help in the growth of a business.
It improves the quality of your work and helps in lowering the project delivery time.
The best feature of this app is its free trial, which includes all advanced features.
It does not have a very complicated pricing structure.
2. Slack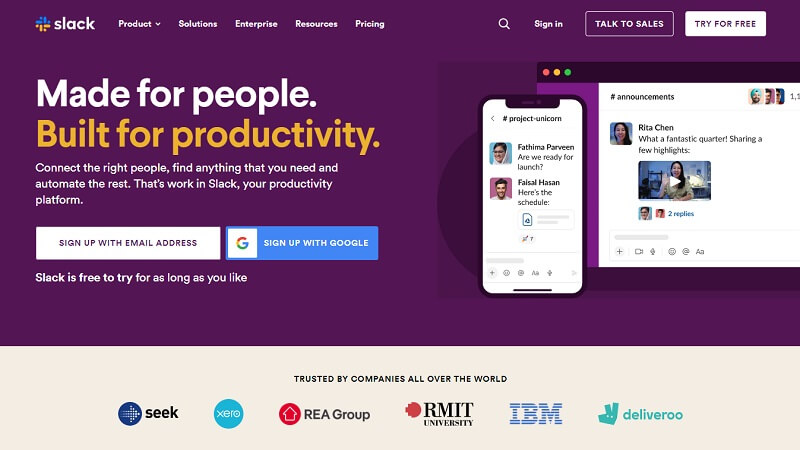 Slack is a very effective collaboration software that is being used to improve the productivity of groups and teams. Using this software, data, and individuals come together to produce effectual results. The most important features of this famous platform are document sharing, strong research, time messaging, etc.
Overview
It helps in streamlining all your group and project interactions.
Also, it essentially integrates with almost all the applications that you already use.
It helps you in completing all your projects on time and within a certain budget.
3. Evernote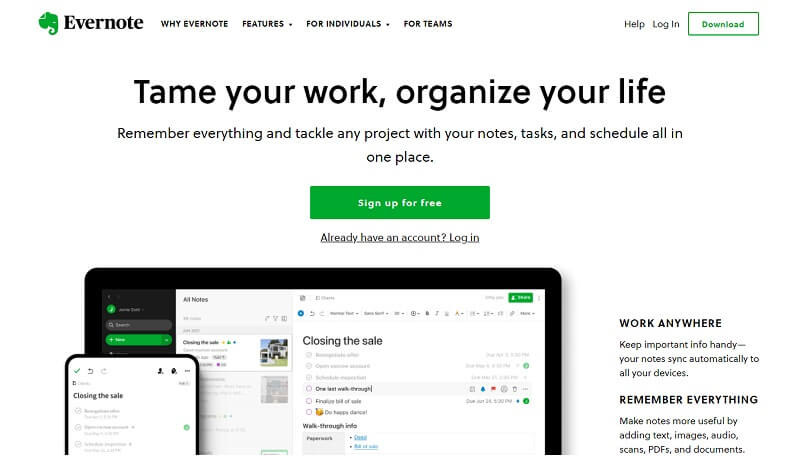 Evernote is one of the finest apps created for organizing, managing, and note-taking. Using this incredible app, you can effortlessly capture and organize ideas, meeting minutes, daily tasks, and everyday lists in one single place.
Overview
You can easily share notes and entire notebooks with your colleagues.
The app also lets you take pictures. You can later attach these pictures with your notes easily within the app.
It also enables you to properly scan words in a picture using the famous OCR technique (Optical Character Recognition).
4. Rescue Time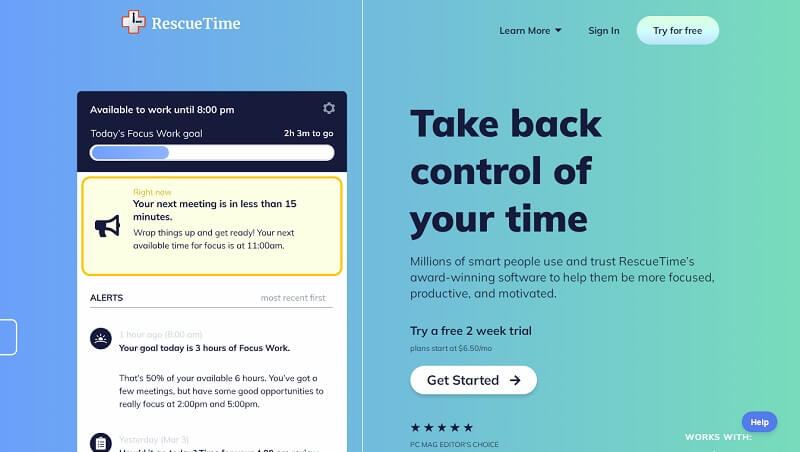 Rescue Time is a highly automated time monitoring software that is designed specifically to assist people in tracking their time and managing it efficiently. It encourages them to divide their time equally across all tasks and activities.
Overview
It enables you to track all your computer activities both online as well as offline.
It allows you to monitor the total time spent on interruptions and other activities. Examples include meetings, calls, lunch breaks, etc.
The best part about this app is the comparative analysis that it does between productive and unproductive days.
In addition to this, it enables you to focus entirely on work by obstructing unauthorized, distracting, useless websites.
Final Words: Apps to Boost Your Productivity
We hope the four useful productivity-boosting apps that we have mentioned in this article will help you enhance your organization and management skills which will in turn improve your productivity. Download the apps that we have mentioned in this article and thank us later. Good luck!
Also, you can check: Using Custom Mobile Apps to Increase Work Place Productivity.