Have you ever been stuck in the summer without an air conditioner? Or been without heat in the dead of winter? Who do you call when your heating and cooling are on the fritz? You call an HVAC company! While these unsung heroes are always quick to service, there are a growing number of companies that are making the industry more competitive. The one thing that is proving to cut through the competition is HVAC SEO for contractors and local businesses.
Local SEO Guarantees Growth
People used to rely on word of mouth, a well-known brand or company name to generate a lot of new clients and dominate the market. Now, when an HVAC company can effectively apply HVAC SEO tactics, they can swoop to the first page of Google for searches in their area.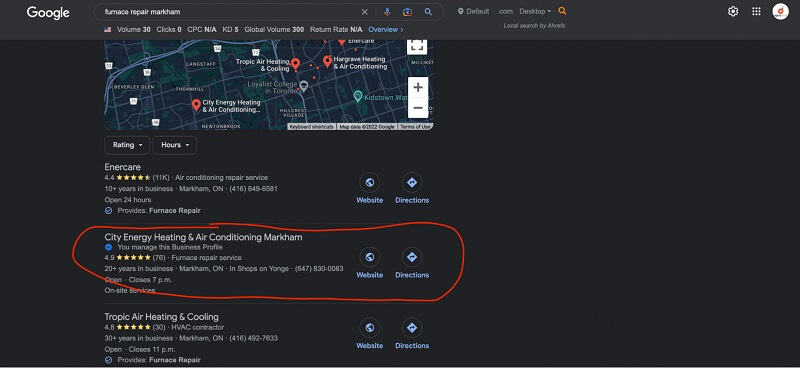 Austin Bryant Consulting, which specializes in local SEO in Plano, has helped this HVAC company appear in both Google maps and organic search results.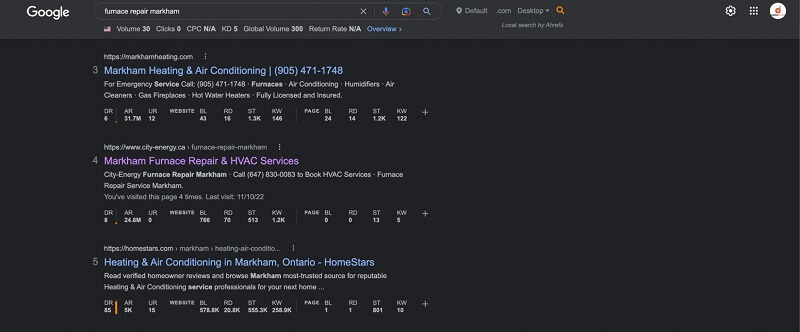 The result from appearing in these sections of a search result is astronomical growth and a nice spike in the leads and new clients a business receives.
What Are Local SEO Tactics You Can Use Immediately?
Now that you can see the results, how can you do this yourself? Here are a few local SEO tactics that will get your website moving in the right direction.
Find Out What Keywords Are Most Searched In Your Area
While it may be super obvious what you're best keywords are in your service area, it's always necessary to run keywords through a keyword tool. You can use a free version of Ahrefs (you get one week free) or SEMrush to get an abbreviated report.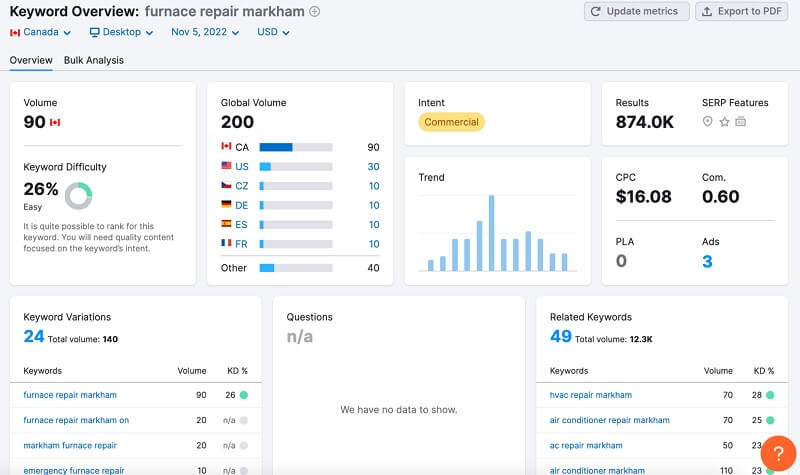 The biggest HVAC keywords are going to be [furnace repair (your city)] when you're in cities that have a long winter season. For the southern cities with warmer climates, your biggest money-making keywords will be [ac repair (your city)].
Of course, there are many other services that you can apply this to with your city to make sure you're targeting the correct service area as opposed to national search terms.
Use Location Pages To Target Specific Service Areas
When you service multiple cities, you need to build a page for each city you service. It's much easier to get a page to rank in the organic search results that are optimized for a specific city. Here, City Energy Heating & Air Conditioning ranks in Richmond Hill using a location page optimized for Richmond Hill.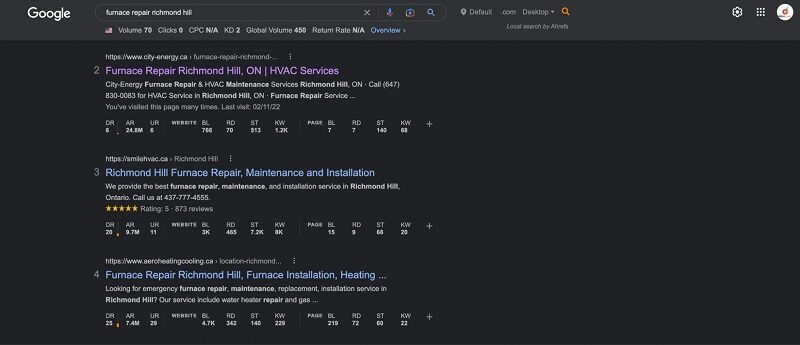 Optimize Your Page Titles And URLs
Search engines get major clues to what your page is about by reading the H1 tags. If you place your keyword in your title you can immediately enhance the optimization of your page. That means your location pages should always include the city and exact service keyword you're targeting.
Aim For Fast Page Speed
The number one culprit that slows down page speed is big bulky image files. Be sure to use a compression tool to shrink the file size so your images load quickly. Squoosh.io is one of the best tools that are easily accessible because it's free and online. You don't need to download it, just simply go to the URL and drag and drop your image into the tool.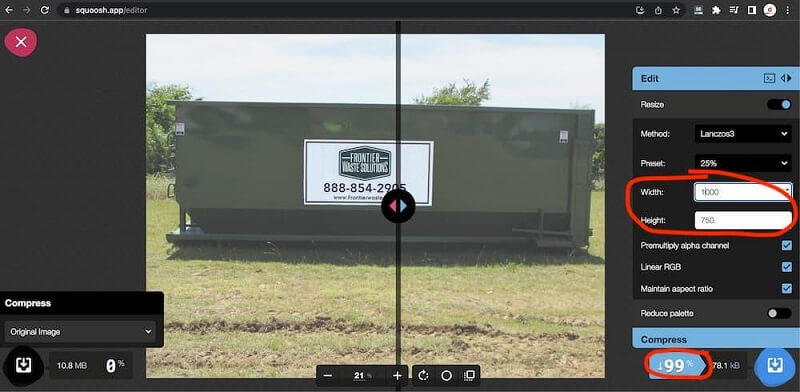 Build Local Links: SEO For HVAC Contractors
Link building is one of the most important aspects of gaining a competitive edge. The tricky part is if you do it wrong you could mess up your website's ranking. One of the most important factors of an effective link-building strategy is to make them appear as natural as possible. Use local directories and citations predominantly.
If you want to create a local presence in your city, use city directories to achieve that relationship. You can mix in well-known directories and niche-specific directories as well to strengthen your profile.
The holy grail of local links will come from unstructured citations. This is basically any link that a local website gives you as a mention or comes from a place that is not structured as a citation.
For example, directories are structured to receive your information and website URLs. Therefore, they are not high-value links. However, if a local business mentions you on their blog, has a much higher value than a directory because a link like that is not easily acquired.
Even The Playing Field With Local SEO For HVAC Contractors
HVAC SEO is a game changer for companies who want to experience more phone calls, quality leads, and new clients. Whether you're new to the HVAC industry or have been around for years, you can improve the quality of leads your website generates with HVAC SEO. Apply the tips above and watch your website climb higher in the search results for important keywords to your business.