Having a website is crucial for an educational institution to be visible online, you can create is easily with free school WordPress themes.
Students often spend a significant amount of time online researching the universities they wish to attend. You can build a polished and interesting website for your school using one of the many free school WordPress themes. There are many free themes of education available.
WordPress is a well-liked platform for creating websites, and educational institutions like schools, colleges, and universities can benefit greatly from using educational themes for schools. University websites are by far the most significant of the available online research outlets. In fact, 50% of freshmen college students base their decision solely on a university's website.
The best free school WordPress themes are listed below:
1. Education Hub
2. Academica
3. Preschool and Kindergarten
4. Rara Academic
5. Educator Education
6. Play School
7. Study Circle
8. Study Education Lite
9. Kids School
10. UnSchool
11. Iqra Education
12. Online Education
13. Education Minimal
14. Educate
15. Literacy
16. Preschool Nursery
17. Galaxy Preschool
18. VW School Education
19. Play School Kindergarten
20. Advance Training Academy
1. Education Hub Primary School WordPress Theme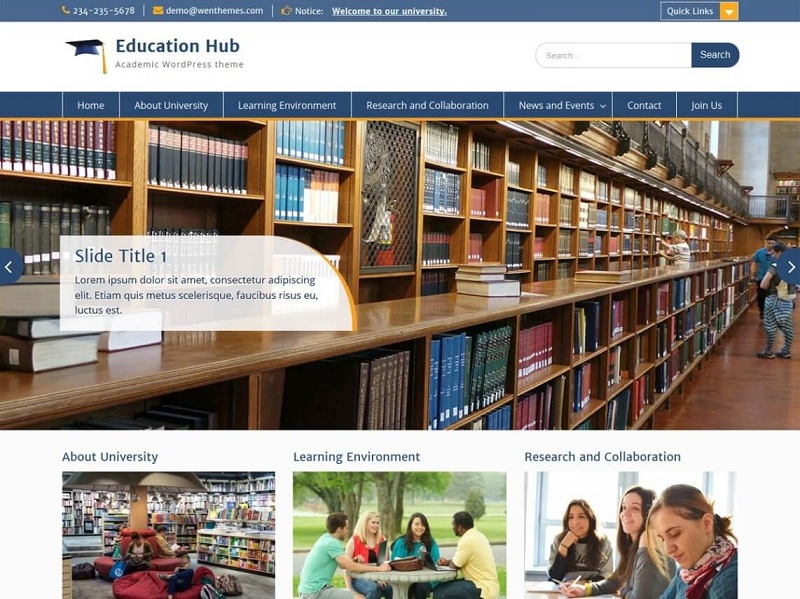 The WordPress education theme Education Hub has a simple, yet distinctive, appearance. This theme works best for educational websites like those for colleges, schools, and also universities. A testimonial area, customization options, and translation capabilities are among these features. The theme also has a lovely look and is responsive.
Because of a number of factors, the Education Hub WordPress theme is the finest theme for professional educators. For instance, the theme has several appealing features that will make the website appealing. As a result, your website will appear fantastic on all platforms, even Retina displays with high resolution.
2. Academica High School WordPress Theme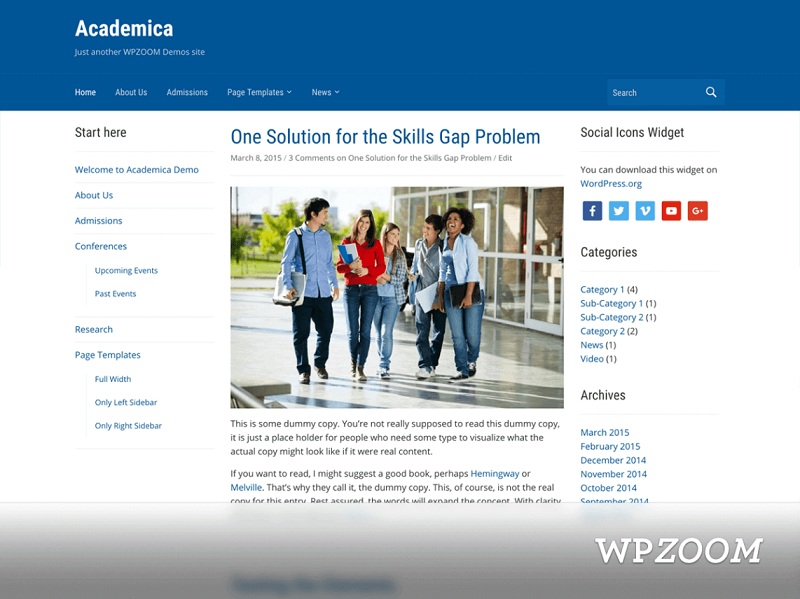 The three-column layout and contemporary design of the CMS theme Academica are focused on education and schools.  It is also retina and HD ready, compatible with WooCommerce for e-commerce, and compatible with a variety of gallery plugins, like the NextGen Gallery and others.
It may be used to create a range of websites, including those for events, businesses, charities, food, recipes, travel, and photography. Besides this, the theme has several features and personalization options, making it highly configurable. A user-friendly, dynamic, and aesthetically attractive website is made possible by Preschool and Kindergarten's many features.
3. Preschool and Kindergarten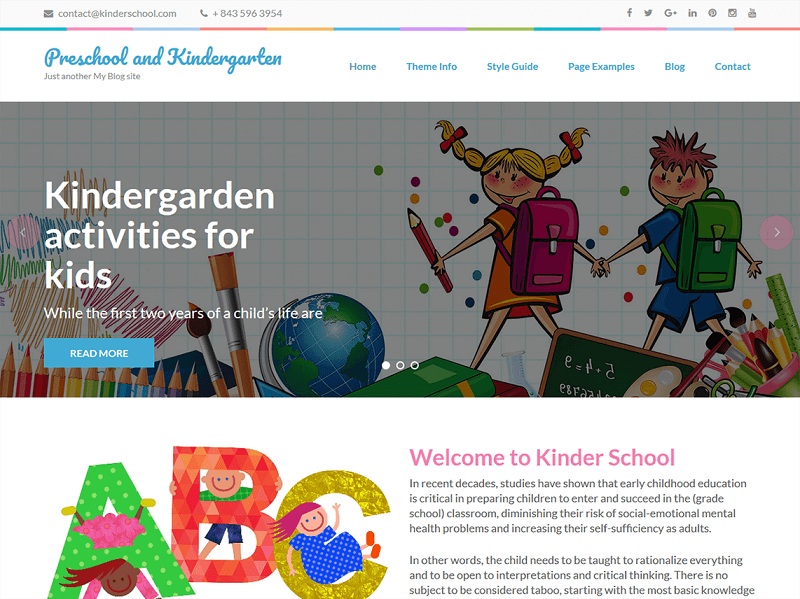 Suitable for kindergarten, schools, elementary, primary, universities, academies, secondary schools, LMS, training centers, and educational institutions, Preschool and Kindergarten is a lovely educational WordPress theme. Furthermore ideal for schooling and kid activities are preschool and kindergarten.
Custom menus, eye-catching sliders, about sections, course sections, testimonial sections, highlighted programs, banners with call-to-action buttons (CTAs), and social media platforms are a few examples of these elements. The theme's optimized coding and SEO friendliness make it simple for your website to rank on Google and other search engines.
4. Rara Academic free elementor education theme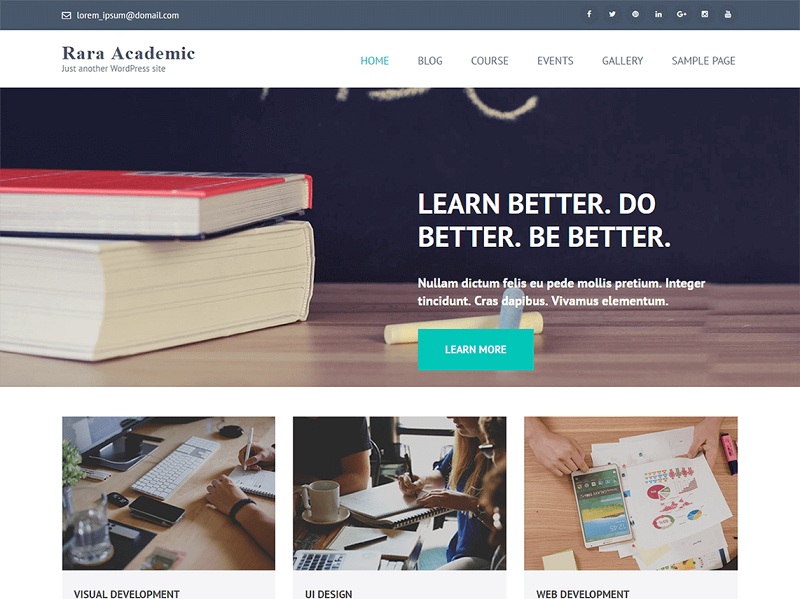 The WordPress theme Rara Academic was expertly created and is ideal for educational institutions, schools, and universities, this theme was not only created with educational websites in mind but also with institutes of higher learning. Besides this, the powerful theme options panel allows for extensive customization of the theme's layout settings and other theme options.
Moreover, the theme's optimized coding and SEO friendliness make it simple for your website to rank on Google and other search engines. So, we have ensured that the theme has a secure and clean code, and we have thoroughly tested and optimized it for speed and quicker page load time. Besides this, Rara Academic makes it simple and easy for you to develop expert-quality websites that are engaging to visitors.
5. Educator Education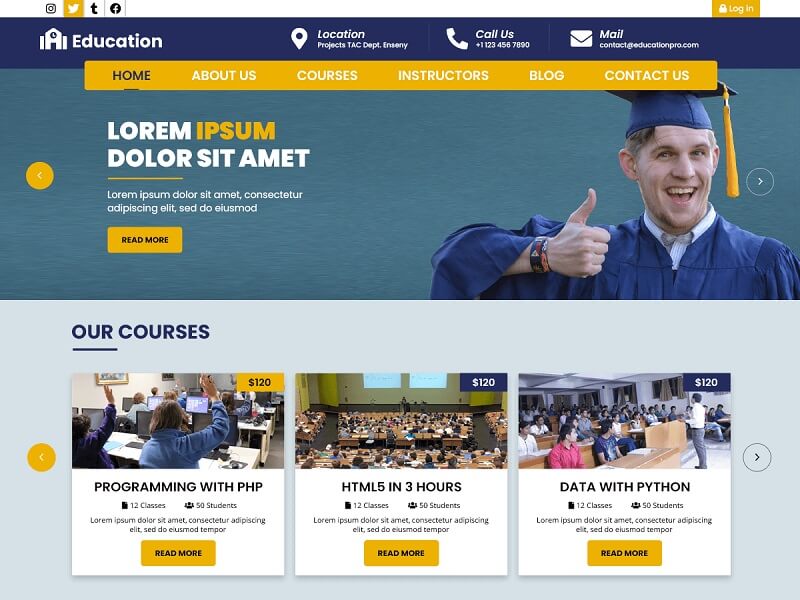 The universities, kindergartens, schools, learning management systems (LMS), language schools, business schools, arts schools, academies, educational institutions, personality development, recruitment trainers, teachers, and tutors were all taken into consideration when developing the Educator Education WordPress theme. It is also suitable for e-learning portals. Besides this, the layout of the design is highly flexible and adaptive.
With SEO-friendly HTML codes built into the design, there isn't much you need to do to improve SEO rankings—using the right term will do the trick. Since your web page will load more quickly, the performance of your website will benefit from your secure and clean coding as well. With the many social networking icons included with the theme, you can do a lot. This theme is very strong because it uses the Bootstrap framework.
6. Play School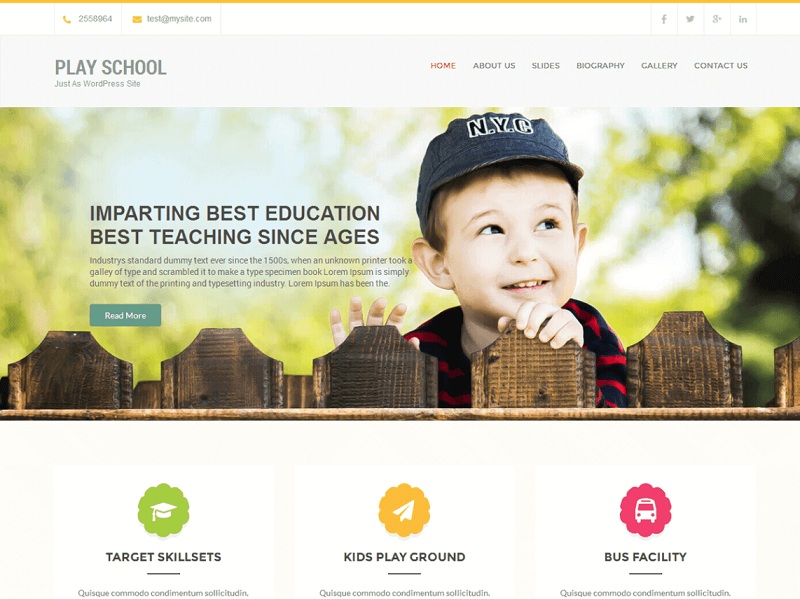 SKT Play School is an educational WordPress theme that can be used for kindergartens, nurseries, play schools, pre-schools, universities, colleges, online courses, e-courses, online learning, e-learning, and other types of business, portfolio, and photographer websites. It also has a multipurpose appeal. Besides this, it is the lightest and fastest template, responsive, colourful, and compatible with all devices.
The playschool theme makes it simple and straightforward to build appealing and expert websites because it was created with visitor engagement in mind. Besides this, the Play School theme is a wonderful place to start if your preschool, kindergarten, school, college, or university requires an online home that is dynamic and multi-functional.
7. Study Circle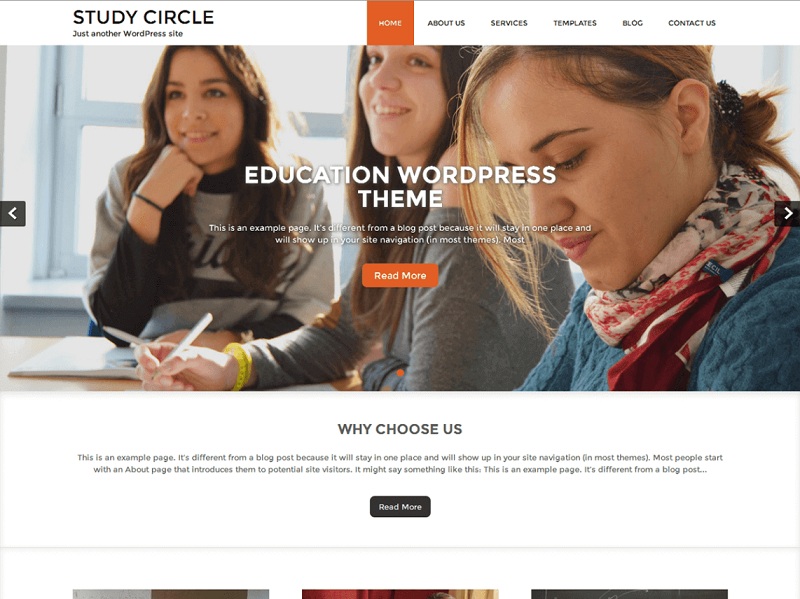 A free school WordPress theme, Study Circle. It is ideal for academic purposes, college coursework, coaching classes, personal blogs, and small commercial endeavours. Also, it has user-friendly customization options and is compatible with the newest version of WordPress. Besides this, compatible with several major WordPress plugins, including Contact Form 7, NextGen Gallery, WooCommerce, and many others.
Study Circle has a number of features that help create a website that is easy to use, engaging, and visually attractive. Custom menus, call-to-action buttons, full-width banners, testimonial sections, course sections, and social media are a few examples of such features. It also contains a right sidebar, four footer regions, and three custom widgets for social networking, recent posts, and popular posts.
8. Study Education Lite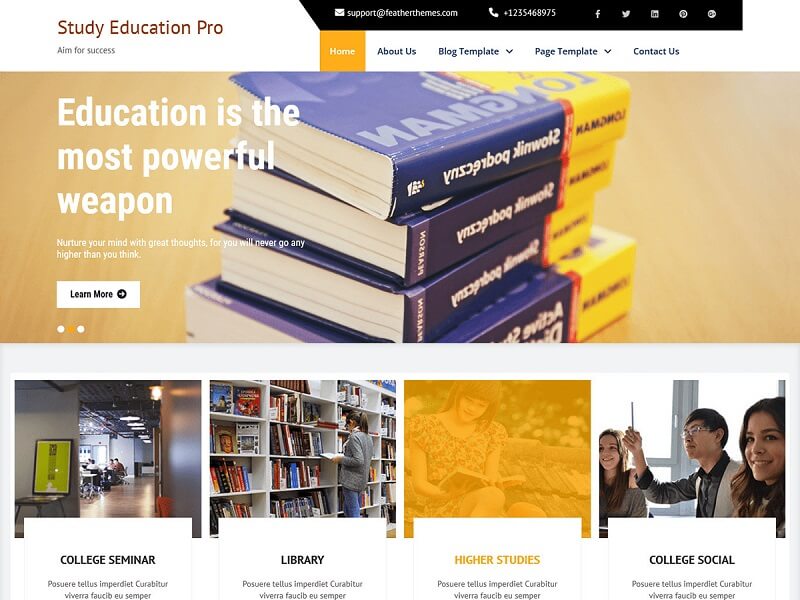 One of the greatest themes for elementary schools is Study Education Lite. You can use it to give your website the precise look and feel you want. Also, it is completely responsive and works great on all platforms, including desktops, mobile, and tablets. Explore Study Education Lite by downloading it right now.
It is perfect for all education-related websites, including book clubs, bookstores, book summary apps like Blinkist or Blinkist alternatives, publishing houses, authors, writers, training centers, research institutions, universities, schools, colleges, tuition, kindergartens, elementary schools, daycares, primary and secondary schools, corporations, business, life coaches, health coaches, wellness coaches, tutors, and learning management systems.
9. Kids School Free WordPress Theme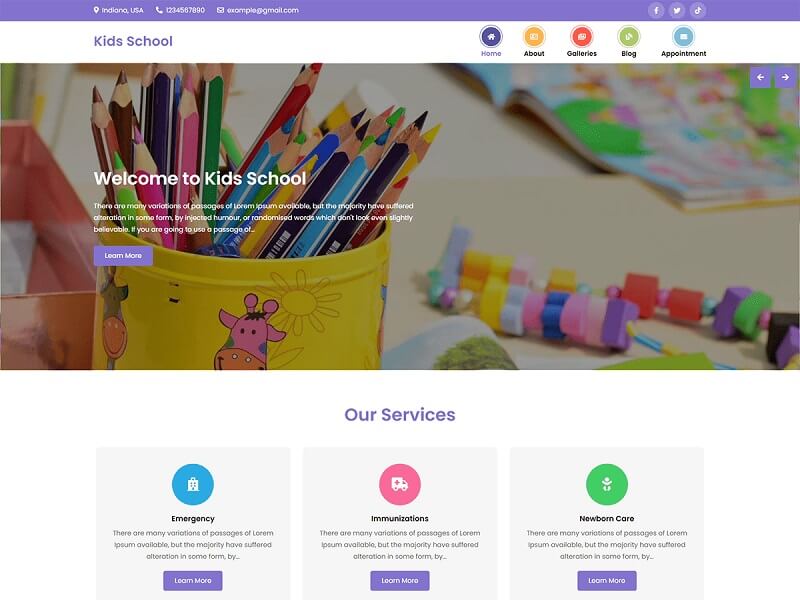 Kids School is one of the best free education WordPress themes that is specially created with the ideal color scheme for a children's website. Also, the theme is retina ready and fully responsive, so it will look great on all types of screen resolutions.
Moreover, the theme works well with popular WordPress plugins like Jetpack, nextgen gallery, etc. The theme has a lot of helpful features, like a customizable homepage, with that you can show information about your school in a professional way.
10. UnSchool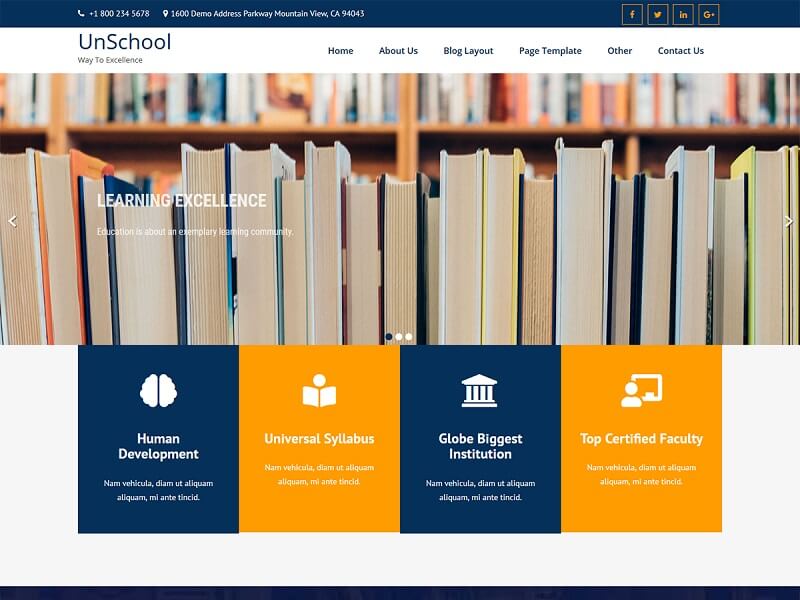 UnSchool is one of the best free wordpress theme for education websites. Its a stunning, modern, and minimalist education WordPress theme made for educational institutions. You don't need to customize the theme heavily for creating a modern and professional website for your school.
Moreover, The theme has a fully responsive design to guarantee that both your desktop computer and mobile device will display your website properly. Also, the theme includes custom widgets for a quick view of testimonials, image galleries, etc.
11. Iqra Education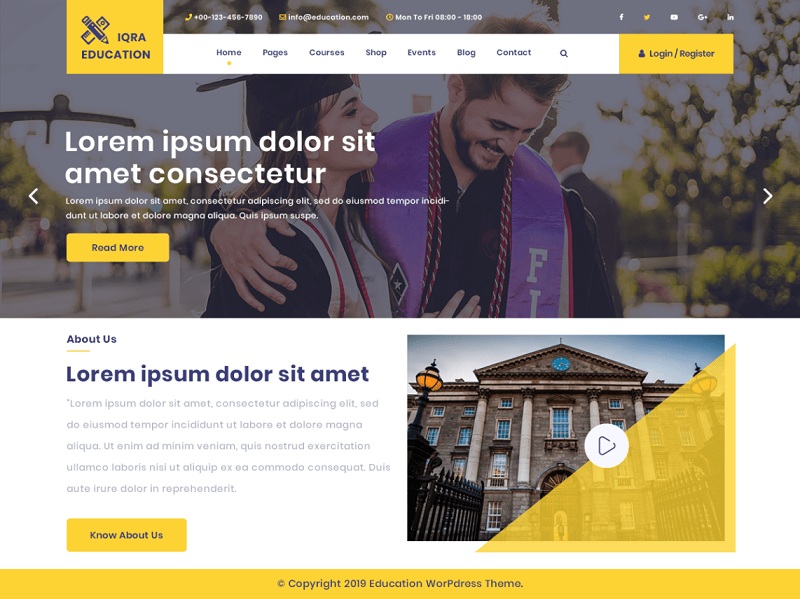 Iqra Education is the ideal theme for a school, college, or university. It also works well for training facilities and LMS learning modules. This WordPress theme is a great choice if you want to launch educational websites or make changes to high schools or kindergartens because it includes a lot of features like a two-column layout, AMP compatibility, a custom logo, and much more.
Its versatility and creativity make it ideal for showcasing the accomplishments of educators and mentors who work in primary schools, universities, online classes, kindergartens, daycares, academies, online courses, pediatric departments, minimal kids schools, language schools, ballet schools, e-learning, Academies, nurseries, colleges, institutes, etc.
12. Online Education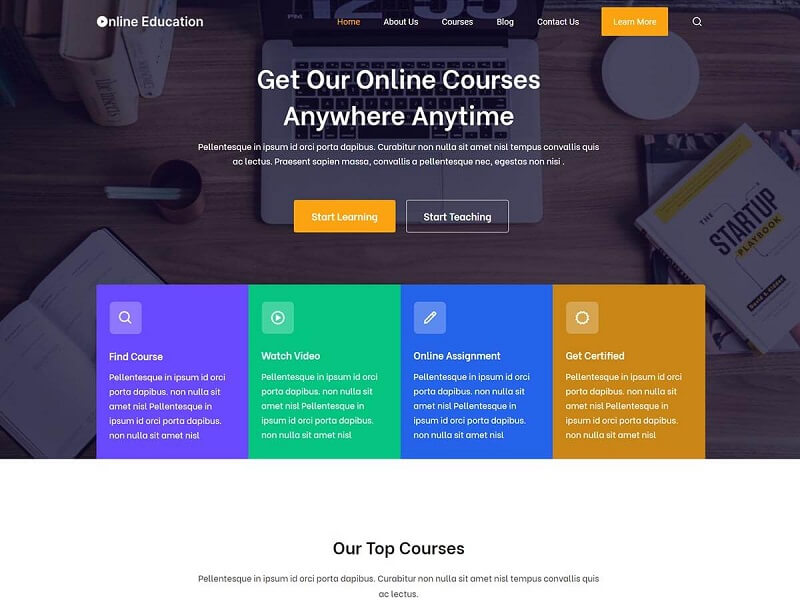 Using the Masteriyo Learning Management System plugin, this theme is completely compatible. You may quickly build online courses and sell them when using the Online Education theme and Masteriyo together.
With a tonne of features and free support, Online Education is compact but incredibly strong. This theme is compatible with Divi, Elementor, Beaver Builder, Visual Composer, and other popular page builders in addition to being ready for Gutenberg.
13. Education Minimal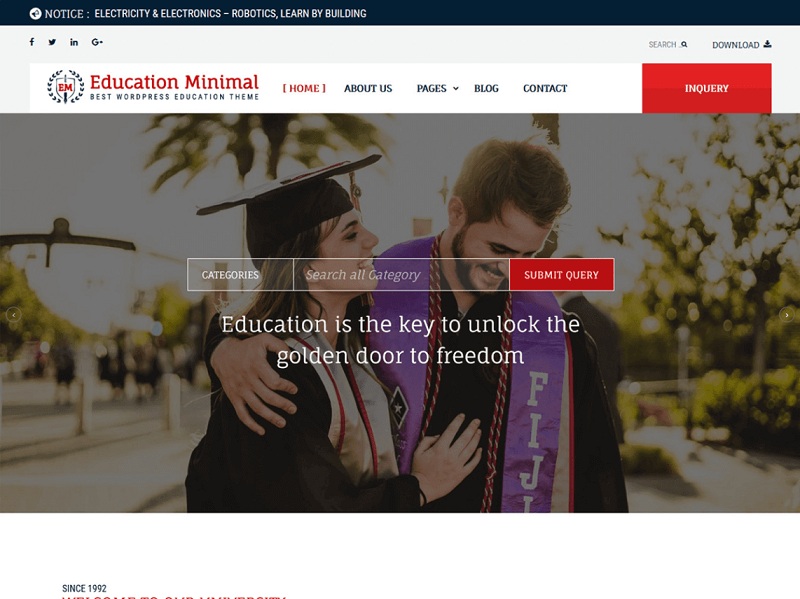 Clean and simplistic, the Education Minimal WordPress theme is free. It is primarily designed for the educational sector, including institutions like schools, colleges, universities, and schools. yet, it can also be put to use for other things. Moreover, this theme provides you with an awesome-looking website that is ready to use as soon as you add your content.
This is well-known for both being responsive and having strong features, making it relatively simple to construct a website for coaching sessions or personal blogging. Besides this, the Education Minimal is a great choice, even if you are just getting started in the educational sector like a university or institute.
14. Educate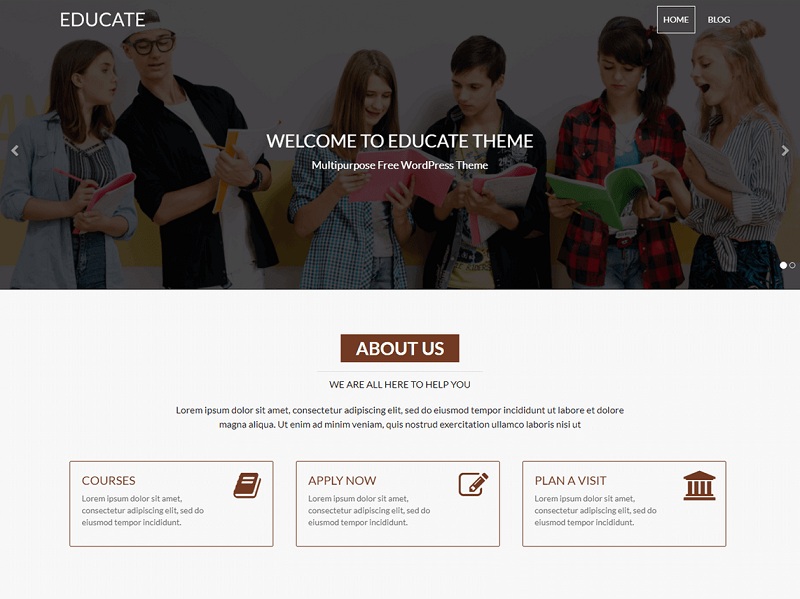 The Educate WordPress theme is simple, clean, and fully responsive for colleges, universities, training facilities, academies, elementary, middle, and high schools, as well as other types of educational websites. Even websites providing tutoring services, coaching services, personal webpages, etc. can use the word educate.
Moreover, the Educate theme has blogs, different home page sections, and other features that are easily customizable through the customizer portion of the WordPress admin panel. Because the Educate WordPress Theme is designed on top of Twitter Bootstrap, your site will look great without the need for horizontal scrolling on any device.
15. Literacy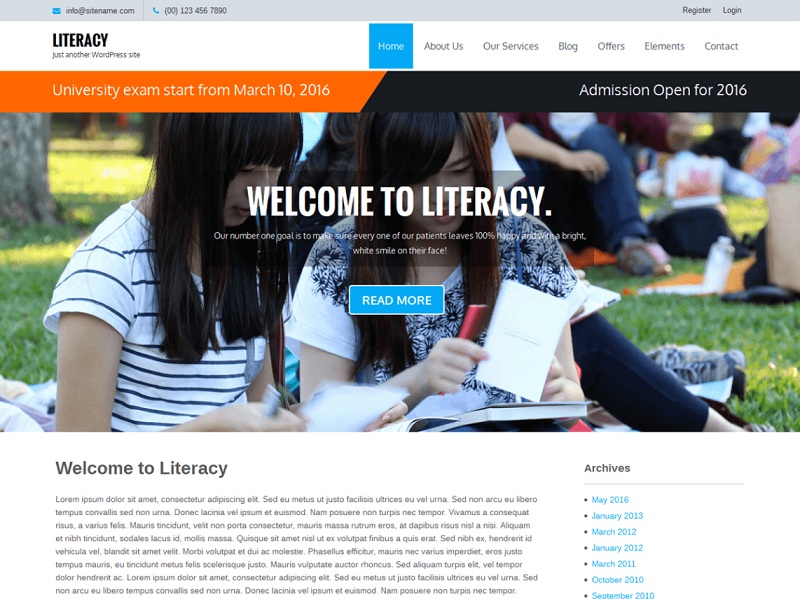 It is a good idea to have a backup plan in case something goes wrong. This theme works with the most recent WordPress version and is fully responsive. This theme has a customizer and nice features. Also, with plugins like woocommerce, jetpack, and contact form 7, this theme functions wonderfully.
Moreover, the theme has a secure and clean code and has been properly tested and optimized for speed and quicker page load time, the theme is also prepared for translation. It also supports sliders. WordPress theme for education and schools that is ready for translation.
16. Preschool Nursery Kindergarten WordPress Theme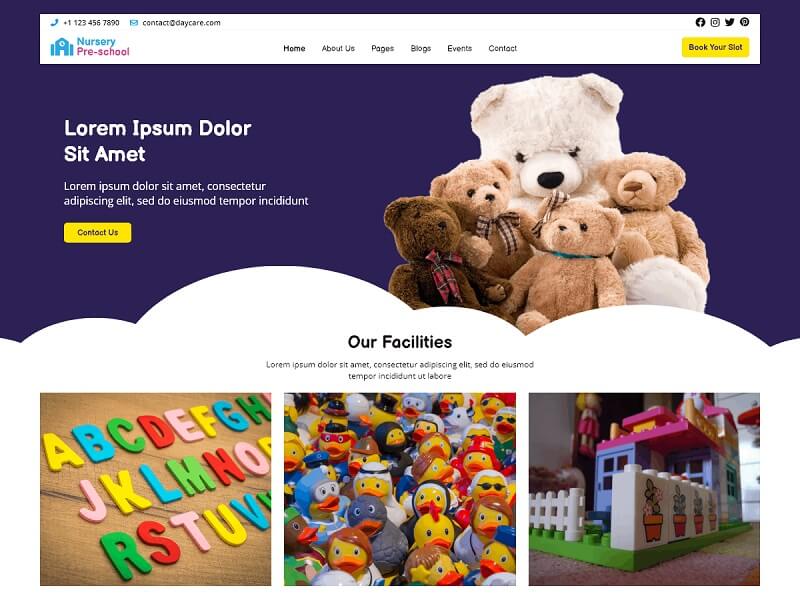 Preschool Nursery is a free WordPress theme with a beautiful design, also the theme is highly functional making it easy to use and user-friendly. This theme will give your school website a professional and remarkable online presence.
Moreover, with so many customization options available, you can try out different things to see what works best for your website. The theme is built on clean and optimized codes, which will make your website load quicker and lag-free.
17. Galaxy Preschool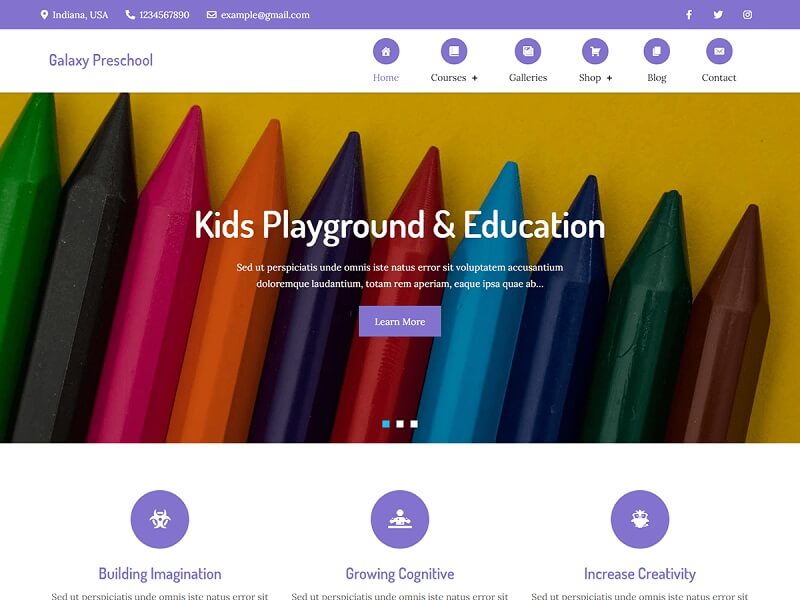 Galaxy Preschool is a free WordPress theme best suitable for schools, colleges, etc, but you can also use this theme to create any website. Also, the theme is flexible and adaptable, so you can easily customize the theme as per your requirements.
The theme is fully responsive and mobile-friendly, so your website will look fantastic on all platforms, including desktop computers, tablets, and smartphones. Also, the theme support popular WordPress plugins like Contact Form 7 and WooCommerce.
18. VW School Education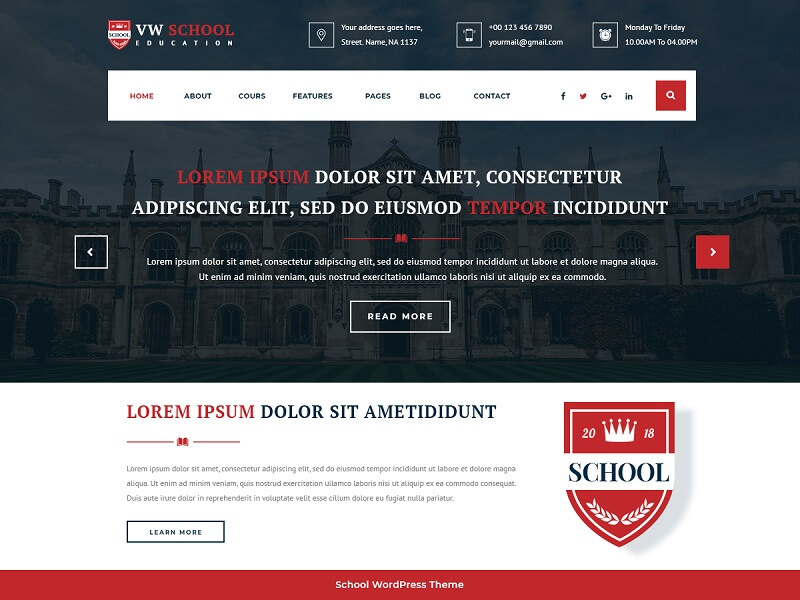 The flexible and feature-rich VW School Education free WordPress theme was created specifically for educational institutions like schools, colleges, etc. It is a visually appealing and modern theme with a clean, polished layout that works well for educational websites.
Additionally, you can customize the theme in a variety of ways to suit your needs and create a unique look for your website. Also, the theme includes a drag-and-drop page builder that enables page creation and customization without the need for coding knowledge.
19. Play School Kindergarten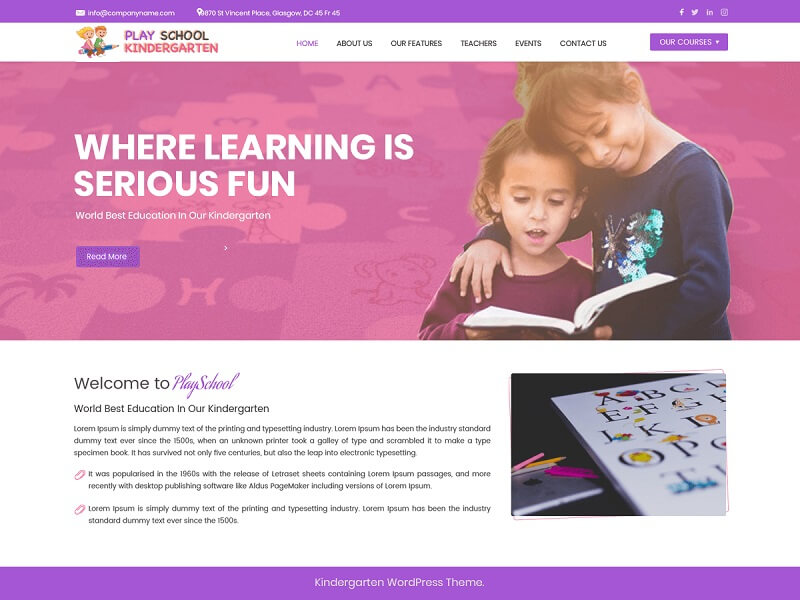 The playful and vibrant Playschool Kindergarten free WordPress theme was created especially for websites about pre-schools and kindergartens. It has an engaging design and a clear, responsive layout that will appeal to both kids and parents.
The theme is fully responsive so, your website will look fantastic on all devices. Also, the theme has plenty of features, including support for multiple languages, social media integration, etc. It will increase the functionality of the website.
20. Advance Training Academy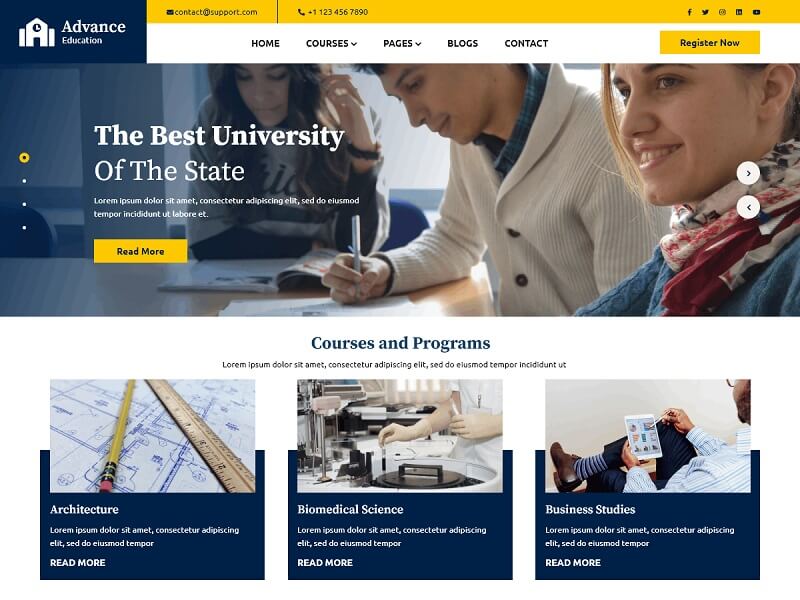 Advance Training Academy is a modern and professional free WordPress theme. Any educational website can use it because of its sleek and clean design. You can also redirect your visitors to your social media handles for some extra info by integrating social media buttons into your website.
The theme offers a variety of customization options including numerous color schemes, font choices, etc. So you can easily match the look and feel of your website to your branding. Also, the theme is fully responsive making your website work flawlessly on every device.
Frequently Asked Questions:
Why a website is needed for a school?
You can add various features related to teachers and students, so it will be easier for everyone to access data like notes, exams, etc. This will help in growing your school business faster.
How to create a website for a school?
You can create a website for your school using WordPress and you can any of the free school WordPress themes from our listing.
Conclusion:
Finally, there are many free WordPress themes for school websites, each with its own special features and functionalities. Besides this, the optimal theme selection will be based on the school's unique requirements, including the audience; it is intended for, the sort of content to be shown, and the degree of customization needed. So, you can try any of these free school WordPress themes.