Having an Amazon downloader by your side saves you in situations when you need a travel buddy in a no-internet access zone. So let us find one now. How to download amazon prime videos: learn the convenient ways.
Introduction
Amazon Prime Video app is one of the leading OTT giants. From providing exclusive original content to third-party movies, TV shows, and dramas, Amazon has proved its mettle in the digital entertainment industry.
However, you might often fail to watch the live streams of your newly released episodes or premiere movies owing to your busy schedules. In this case, you can download your treasured video titles to watch offline and keep yourself updated in your comfort.
You can even try an Amazon downloader to indulge in a fail-proof downloading process to have uncompromised streaming entertainment with your family and friends. If you are fascinated by our idea already, then you must read ahead to know more about it and download your chosen Amazon titles for unlimited fun.
How To Download Amazon Prime Videos: Android, iPhone, and PC
Bring your best-loved TV shows and movies to your device by downloading them to watch offline anytime at your convenience.
1. For Android and iPhone Devices:
Now download the titles of all your best-loved movies and TV shows on your Android and iPhone devices. Simply follow the straightforward steps as both processes are similar, check them below:
Steps To Download:
1 Step: First, download and install the Prime Video app on Android through Google Play Store and iPhone from the Apple App Store. Then, run the application on your device.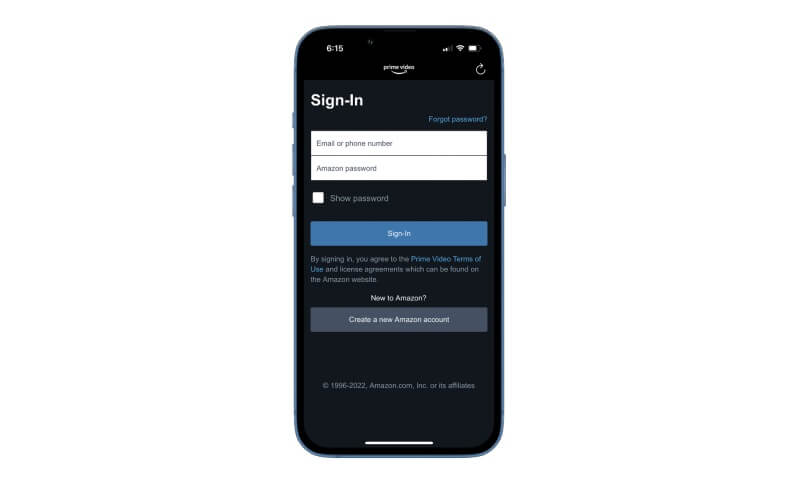 2 Step: Next, sign up or log in to your Prime Video account using your username and password. Choose the right subscription plan, pay, and move forward.
3 Step: Now browse and select the video title of the movie/TV show or episode you want to download and watch offline.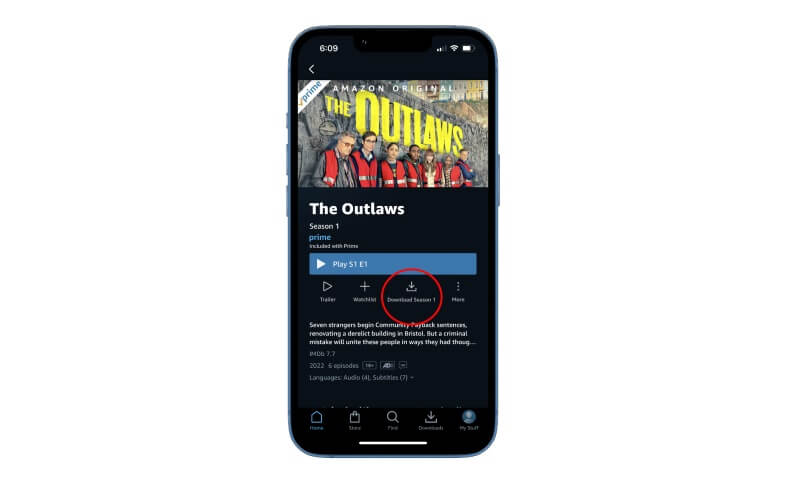 4 Step: Open the Detail page of your video.
5 Step: Now set your preferences for video download quality to Good, Better, or Best depending on your device's storage capacity.
6 Step: Now click the Download button to go ahead with the downloading process. You can also choose to download individual episodes of TV shows.
That's it. Now watch your downloaded video files on the Prime Video app itself. Simply tap the Downloads button at the bottom and browse through all your downloaded titles. Tap on any file to play and watch it.
2. For Desktops and Laptops:
Downloading videos from Amazon on Windows PC is not as easy as on Android, iPhone, or other devices. The Amazon Prime Video app is not readily available to download on a PC. Instead, you must install the Prime Video app from the Microsoft Store if you are a Windows 10 user. So you can consider downloading your treasured videos from Prime Video using a video downloader.
What Are the Loopholes of the Amazon Prime Video App
Amazon Prime Video is a host of exclusive and compelling content. However, there are some loopholes that call the users to initiate the downloads of their chosen movies and episodes on an Amazon Video downloader. Some of the significant downsides are:
Due to the license agreement, your favorite video titles can leave the Prime Video app anytime without any prior notice.
Suppose you travel to some other nation or continent. In this case, apart from Amazon Originals, the third-party titles do not play in a restricted region even if you connect to the internet.
Not all video titles are available to download.
You cannot transfer or share the downloaded videos to other devices.
Your downloaded files remain available in the Prime Video app for only 30 days.
Once you start playing a video, it expires within a time window of 48 hours.
However, a video downloader can always come to your rescue. Talking about it, a third-party tool like StreamFab Amazon Downloader can be your best option to cover these drawbacks of the Prime Video app. StreamFab is the sub-brand of DVDFab.
Instead, StreamFab Amazon Downloader lets you engage in its steaming goodness, providing you with an unmatchable downloading experience. If you are already mesmerized by its charm, stay hooked to read and learn more about this enjoyable Amazon Prime downloader.
StreamFab Amazon Downloader: Best Amazon Prime Video Downloader

If you are a subscriber to the Prime Video app and a traveler at heart or by profession, then having an Amazon downloader is the need for you. StreamFab Amazon downloader is one of the excellent options to save Amazon shows offline.
It downloads and saves your favorite Amazon originals, movies, TV shows, and other videos in a high-quality video resolution of 1080p. Moreover, it lets you save audio tracks in EAC 3 5.1 and AAC 2.0. But the streaming goodness does not end here. Instead, have a look at its other prime features to make your downloading experience a better one.
Features
Downloads videos from all Amazon Prime-supported regional sites
Saves video titles in H.264 (AVC) and H.265 (HEVC) Video codecs (to compress files and save your device's storage)
Removes ads while downloading videos for commercial-free smooth entertainment
It lets you select languages for subtitles and audio in advance
It enables you to save subtitles as an SRT file. You can also remux them directly into the downloaded videos
Downloads newly-released episodes automatically at the scheduled time
Supports saving video files in MP4/MKV format
Downloads meta information to manage a video library
Downloads multiple videos simultaneously at flash speed
Pricing Plans
Enjoy all your Amazon video downloads offline with StreamFab Amazon Downloader at $39.99/month, $69.99/yearly, and $89.99 for a lifetime with a 30-day money-back guarantee in case of dissatisfaction.
Steps To Download
Follow the simple and quick steps given below to download your treasured videos from the best Amazon video downloader:
Step 1: Launch StreamFab downloader: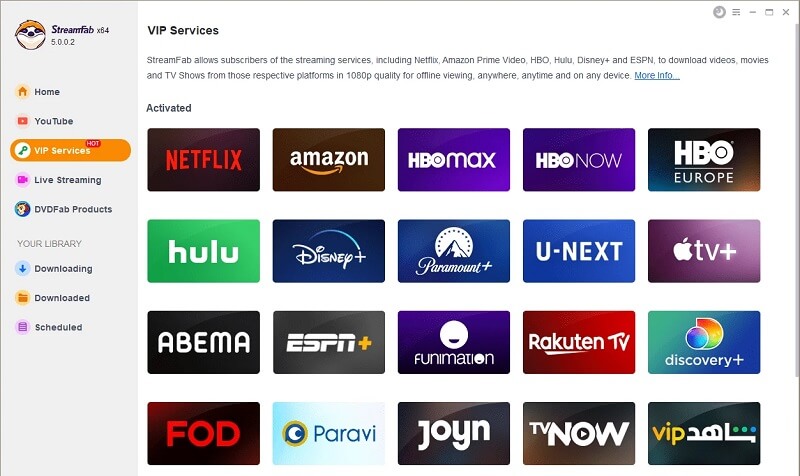 Firstly, launch the StreamFab downloader on your device.
Step 2: Select the Amazon Downloader:
Now, select VIP services and choose Amazon.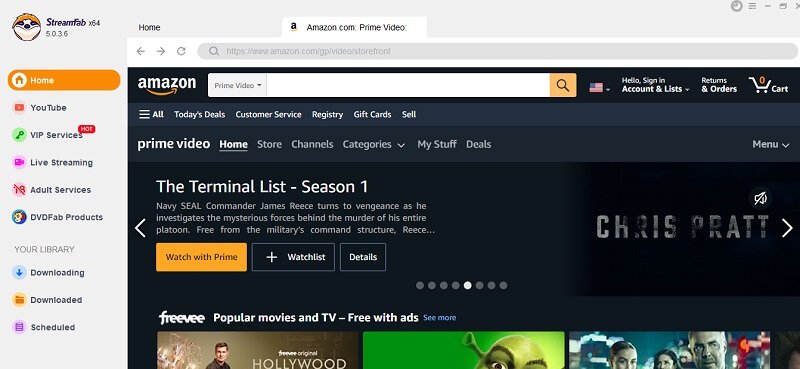 Step 3: Sign in and play your video:
Sign in to your Amazon Prime account using your username and password. Search and play the movie/TV show/episode you desire to download and watch offline.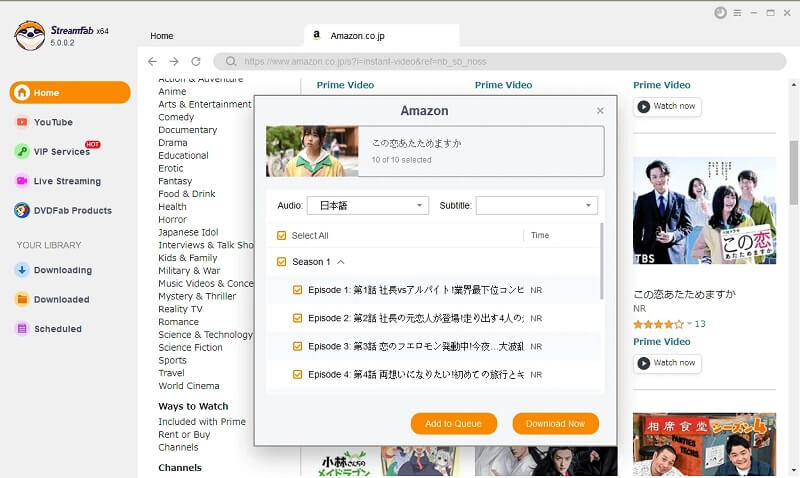 Step 4: Customize your video preferences:
Now, set your preferences for audio and subtitle languages.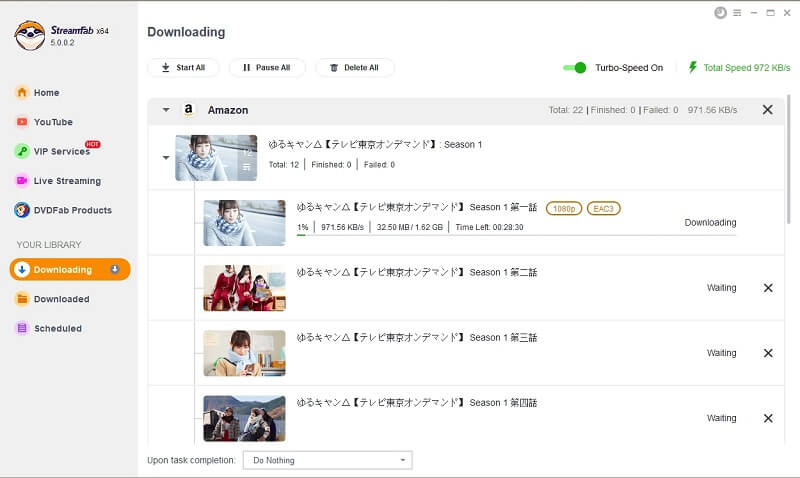 Step 5: Start downloading:
After the video begins playing, a popup window will open. Tap Download Now to save your video to your local storage.
Frequently Asked Questions: Download Amazon Prime Videos
What is the limit to downloading video titles from Amazon?
Typically, you cannot download all the streaming videos on Amazon. Additionally, you can download the available videos to only two devices at a time. However, suppose you have already downloaded a video to two devices and need to download it again to some other device. Then in such a case, you must first delete it from either of the two devices.
Is it safe to use an Amazon MP3 downloader?
Unfortunately, Amazon Music Prime and Amazon Music Unlimited titles are unavailable to download to PCs. However, you can use an Amazon MP3 downloader like StreamFab Amazon Downloader to save your music files from Amazon.
What are the compatible devices to download videos from the Prime Video app?
Generally, device compatibility varies by location. However, you can temporarily download and watch offline all the downloaded content from Amazon on:
Android devices
Apple (iOS) devices
Fire Tablets
Final Verdict: Download Amazon Prime Videos
Amazon Prime Video provides you with compelling content to shrug off your work blues. However, having an Amazon Prime Video downloader by your side ensures you never miss your favorite video titles and watch them in your comfort.
StreamFab Amazon downloader lets you download your treasured video titles to watch offline. Instead, you can also set the preferences of a resolution for your audio, video, and subtitle streams. What's more? There are no downloading restrictions. Instead, your downloaded files are safe for an indefinite period.
Keep watching your favorite video titles with StreamFab Amazon downloader!
Also, you can check: Best Free Video Chat Apps.