Looking to develop a high-quality video streaming platform that stands out from the crowd? This guide will walk you through the key steps to creating a platform that meets your viewers' needs.
The demand for video streaming websites like Hulu, Prime Video, and Disney+ has skyrocketed in recent years. Such solutions deliver the audience a broad spectrum of films, TV shows, and other video content to enjoy from the convenience of their home.
In case you are considering implementing a video streaming website of your own, this utter roadmap will disclose all the essential details you need to be aware of to begin your project.
What Is a Video Streaming Website?
A video streaming solution stands for an online platform that delivers users an opportunity to watch a great variety of sorts of video content on demand. Users can typically access these websites from their web browser or through dedicated mobile apps. The content is delivered over the internet, and users can watch it in real-time or download it for later viewing.
Video streaming has become an increasingly popular way for people to consume entertainment and educational content online. Here are some of the benefits of video streaming solutions for both clients and product owners:
How to Develop a High-Quality Video Streaming Platform:
Convenience:
One of the primary benefits of video streaming is its convenience. From the user side, such digital products enable to access a broad spectrum of video content from any location, regardless of the time, utilizing a range of devices, covering phones, tablets, laptops, and of course, smart TVs. This optimizes it for the audience to consume content comfortably and handily, from any gadget they possess.
Cost-Effectiveness:
Video streaming has become the maximally convenient approach to consuming content at a good value for money compared to conventional cable or satellite TV. Individuals can make a choice among a range of subscription variants, such as with no fee at all, ad-supported, or paid subscription-based models. Lots of streaming solutions procure a great range of content, such as original series and films, as well as content from major studios and networks.
Personalization:
Video streaming software often uses algorithms to deliver individual recommendations for users based on their viewing history and preferences. Thus, your customers discover new content that they might not have otherwise found, and this can lead to increased engagement and loyalty.
Access To Niche Content:
Video streaming platforms can provide access to a wide range of niche content that might not be available on traditional TV or cable. This may incorporate international content, independent films, documentaries, and also educational content.
Social Sharing:
Many video streaming solutions enable content sharing with friends and family through social media, email, or messaging apps. By doing this, you can increase awareness of new content and drive engagement and word-of-mouth marketing.
Offline Viewing:
Some products ensure the opportunity to download content for offline viewing. It is particularly useful for users who want to watch content while traveling or in areas with limited internet access.
Video Streaming Website: MVP Features
When building a video streaming website, it's important to start with a minimum viable product (MVP) that includes the essential features users will need to enjoy your platform. These MVP features include:
User authentication. The primary function to implement is to enable your future audience to create an account, log in, and access their viewing history, preferences, and other user-specific information.
Search and browse. This feature provides the capability to search for content by title, genre, actor, or other relevant keywords, and browse the library of available content.
Video playback. With this element of functionality, customers can watch videos on your website or app, with options for adjusting playback speed, quality, and other settings.
Content management. You may require to build a content management system (CMS) to structurize and operate the material on your website.
Payment gateway. When building a strategy to monetize your video streaming website, you'll need a payment gateway to process payments from users.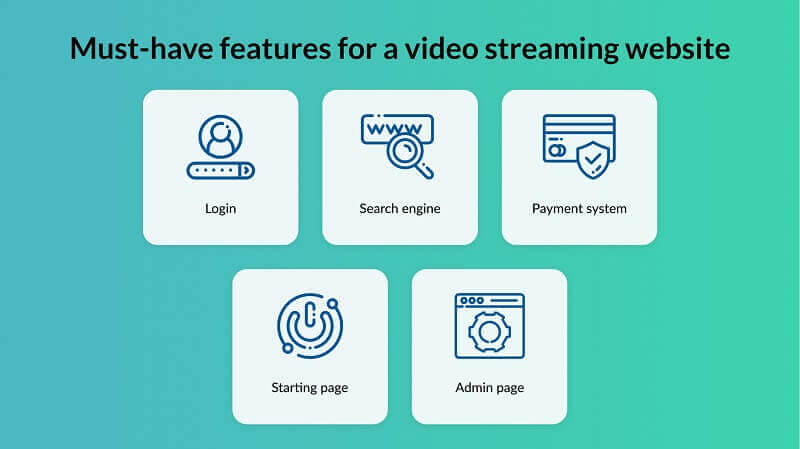 Advanced Features
Once you've launched your MVP, you can begin adding advanced features to your video streaming website to improve the user experience and differentiate your platform from competitors. These advanced features include:
Personalized recommendations. Use algorithms to suggest content that users are likely to enjoy based on their viewing history, ratings, and also other preferences.
Multiple viewing profiles. Allow users to create multiple profiles, so each member of a household can have their own viewing history, preferences, and recommendations.
Social integration. Allow users to share content on social media, create watch parties with friends, and also interact with other users on your platform.
Offline viewing. Allow users to download content for offline viewing, so they can watch without an internet connection.
Live streaming. Consider offering live streaming of events, such as sports, concerts, or news broadcasts.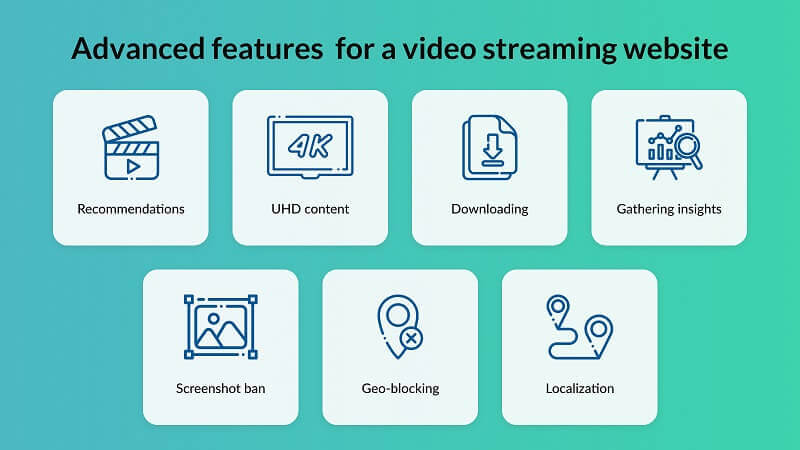 Video Streaming Website Development
When it comes to developing your video streaming website, you have several options. You can opt for designing the tailor-made software solution leveraging a programming language like Python or Ruby on Rails, or you may apply a content management system like WordPress or Drupal to design a product from a template. There's also another way to leverage the already created video streaming platform like Vimeo or Brightcove. They provide a span of functionality instruments and tools to build and deploy your platform decreasing the time to market. Still, answering how to create a live streaming website, the best way to implement a qualitative product is to apply to a reliable tech vendor that will design a qualitative solution keeping in mind all of your requirements.
Monetization Options
There are several ways to monetize your video streaming website, including:
Subscription-based model. A monthly or annual fee to access your content library.
Pay-per-view model. A one-time charge to watch specific videos or events.
Ad-based model. Showing ads before, during, or after videos, and generating revenue from advertisers.
Hybrid model. Combining subscription, pay-per-view, and ad-based models to create a more flexible monetization strategy.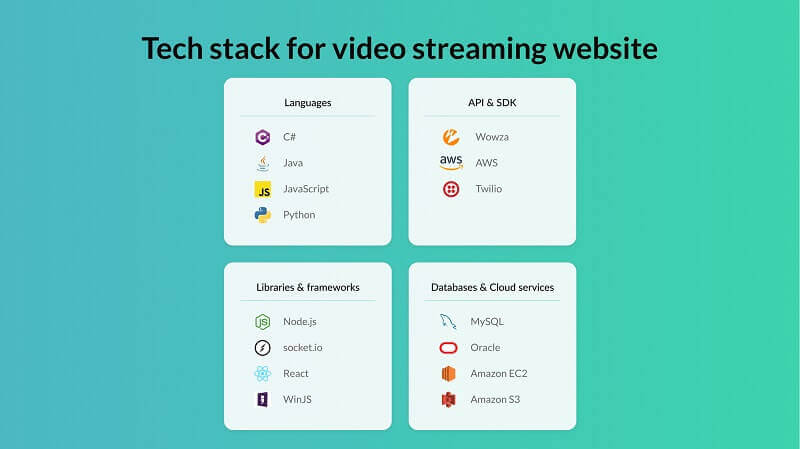 Pitfalls of Video Streaming Websites
While video streaming websites can be a lucrative business, there are also several pitfalls to be aware of. These include:
Content licensing. Acquiring the rights to distribute video content can be expensive and complex, especially for newer or smaller platforms. You may need to negotiate with content owners, which can be time-consuming and require legal expertise.
Bandwidth costs. Streaming video content requires a considerable amount of bandwidth, increasing its operating costs, in particular, if you have a huge audience using software. There may arise a need to invest in a content delivery network (CDN) or other solutions to control and guide your bandwidth costs.
Competition. The video streaming market is highly competitive, with many established players like Netflix and Amazon Prime. It can be challenging to attract and retain users in such a crowded market, especially if you don't offer unique features or content.
Piracy. Video streaming websites are vulnerable to piracy, with users able to easily download and share copyrighted content without permission. Also, you'll need to implement measures to prevent piracy, such as digital rights management (DRM) or watermarking.
Technical challenges. Streaming video content can be technically challenging, requiring a reliable CDN, video encoding, and video player technology. Also, you'll need a team of experienced developers to manage the technical aspects of your platform.
Conclusion: Develop a High-Quality Video Streaming Platform
Overall, video streaming software development represents an exciting and dynamic field with enormous potential for growth, innovation, and impact. With the right strategy, execution, and ongoing maintenance, developers can create video streaming software that delivers value to users, supports their business goals and contributes to the broader cultural and social landscape of the digital age.