From marketing to entertainment, businesses, and creators are constantly seeking innovative ways to produce engaging videos efficiently. Vidnoz AI, a cutting-edge AI video generator, has been making waves in the industry. So, in this comprehensive review, we will delve into Vidnoz AI Review, exploring its features, benefits, and how it can revolutionize video creation in 2023.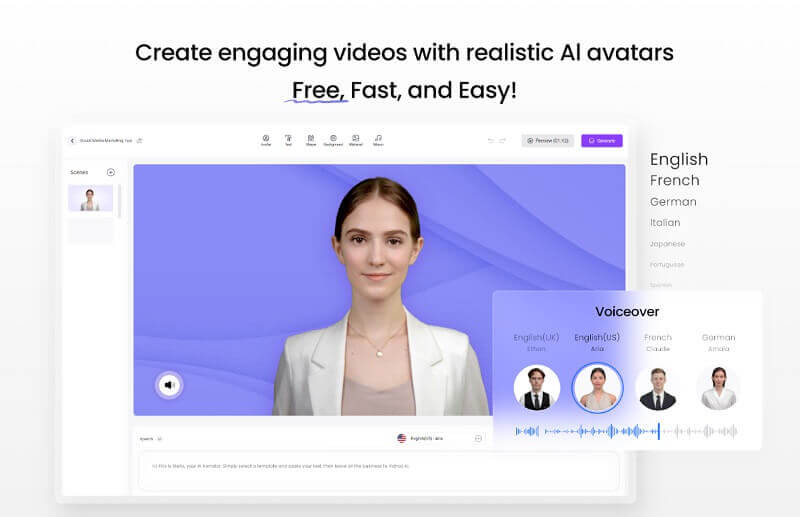 Vidnoz AI Review:
What is Vidnoz AI?
Vidnoz AI is an advanced artificial intelligence-powered platform designed to simplify and enhance the video creation process. Also, it utilizes state-of-the-art algorithms to generate high-quality videos with minimal human intervention.
Key Features of Vidnoz AI:
Auto-Scripting: Vidnoz AI can automatically generate scripts for your videos based on your input or selected templates.
Video Editing: It offers a user-friendly video editing interface to fine-tune the generated content.
Voiceovers: Choose from a variety of natural-sounding AI-generated voices to narrate your videos.
Customization: Customize video styles, transitions, and graphics to match your brand or content theme.
How to use Vidnoz AI
Step 1. Go to the Vidnoz AI Video Editor website
Create an account or log in to your existing account.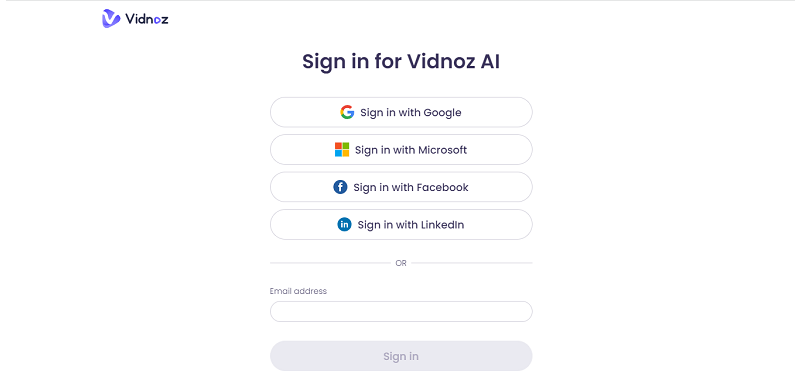 Step 2. Click the "Create Free Video" button
Select the type of video you want to create. You can choose from a variety of templates, or you can create your own video from scratch.
Step 3. Select an AI avatar
Vidnoz AI has a variety of AI avatars to choose from. You can customize the appearance and movements of the AI avatar as needed.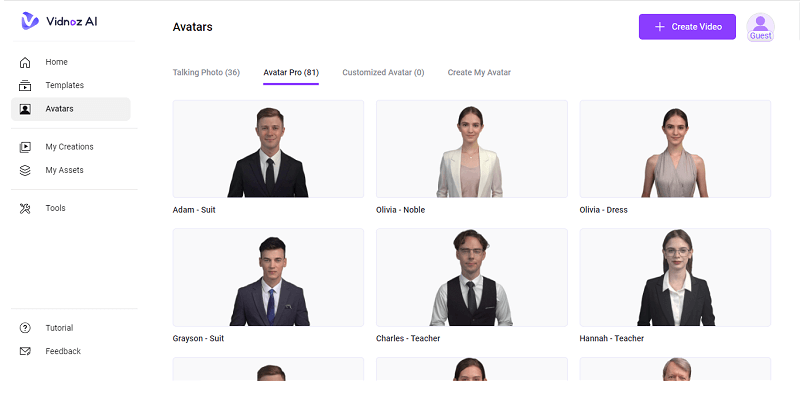 Step 4. Generate a voiceover and edit your video
Vidnoz AI can generate a voiceover for your video using a variety of different voices and accents. You can add text, images, and other elements to your video. You can also trim and crop your video footage.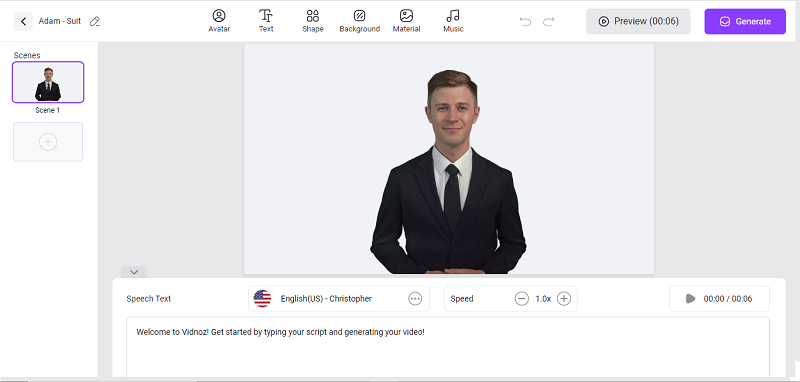 Step 5. Export your video
You can export your video in a variety of formats, including MP4, MOV, and WEBM. You can also share the video directly on social media platforms such as YouTube, Facebook, and Twitter.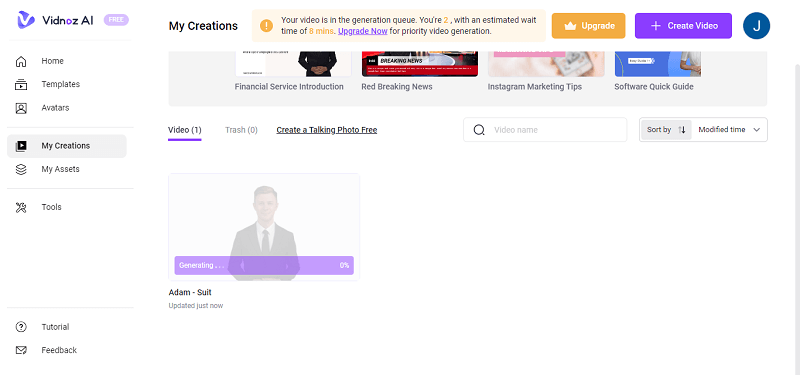 How Vidnoz AI Works
Data Analysis
Vidnoz AI begins by analyzing the data you input, including text, images, and video clips. So, it then uses this data to create a script and storyboard for your video.
AI-Driven Content Generation
The platform employs cutting-edge AI algorithms to generate video content that seamlessly integrates with the script and storyboard.
Editing and Fine-Tuning
In addition, users can easily edit and fine-tune the generated video, adding personal touches and ensuring the video aligns with their vision.
Voiceover Integration
Vidnoz AI offers a selection of AI-generated voices, allowing users to choose the perfect voice for their video narration.
Benefits of Vidnoz AI
Time and Cost Efficiency
Vidnoz AI significantly reduces the time and cost associated with video production, making it accessible to businesses and creators of all sizes.
High-Quality Output
The AI-driven platform consistently produces high-quality videos. So, the created videos engage viewers and leave a lasting impression.
Customization
Vidnoz AI's extensive customization options ensure that every video is unique and tailored to the user's needs.
Accessibility
Moreover, no prior video editing or production experience is required to use Vidnoz AI, making it accessible to beginners and experts alike.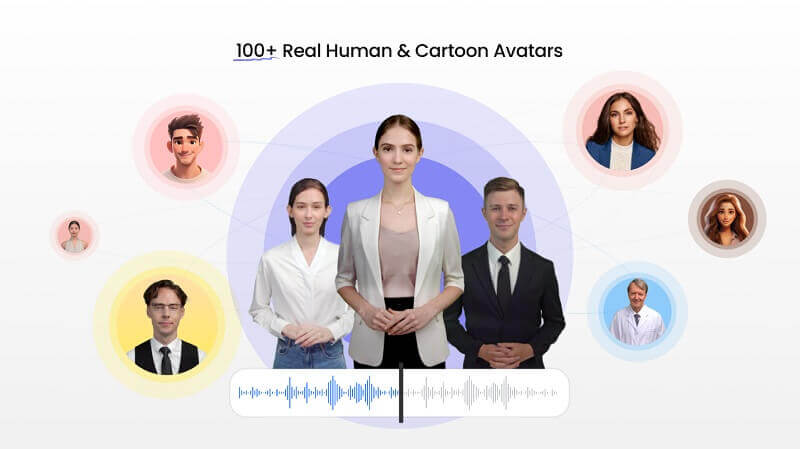 Why Choose Vidnoz AI in 2023?
Ultra-Fast Video Generation for free
Vidnoz is a free video generation platform that lets users try out all its features and download their videos right away. Besides this, Vidnoz AI stands out from other video generators because it's incredibly fast, generating videos in seconds.
Lifelike AI Avatars
Vidnoz AI's 70+ lifelike avatars from different industries and roles, along with its ability to create talking avatars from user photos, make it a versatile tool for creating videos for a variety of purposes.
Industry-Leading Technology
Vidnoz AI incorporates the latest advancements in artificial intelligence, ensuring top-notch video quality and innovation.
Streamlined Workflow
Moreover, the platform's user-friendly interface and automated features streamline the video creation process, saving time and effort.
Competitive Pricing
Vidnoz AI offers competitive pricing plans, making it a cost-effective solution for video content creation.
Continuous Updates
The Vidnoz AI team is committed to ongoing updates and improvements, ensuring users have access to the latest AI capabilities.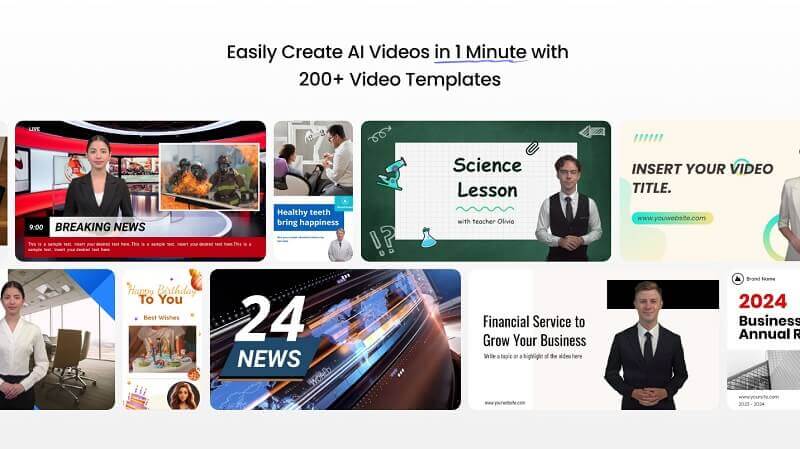 Here are some of the pros and cons of Vidnoz AI:
Pros:
Free to use with basic features
Easy to use, even for beginners
Wide range of features, including text-to-video, headshot generation, talking avatar generation, video templates, and also AI voices
Cons:
The free plan has some limitations, such as a limit on the number of videos that can be created per month.
FAQs of Vidnoz AI
What makes Vidnoz AI stand out from the competitors?
Vidnoz AI is free to use every day. Also, you can start the high-quality creation process of AI-powered videos with ease and free of charge.
Can Vidnoz AI make videos from texts?
Yes. Vidnoz AI will convert text to speech and generate an engaging video.
How many voices does Vidnoz provide?
Currently, 100+ voices are available with a variety of accents and emotions. Voice Cloning is also coming soon, providing the opportunity to speak with your own voice.
Does Vidnoz AI have an affiliate program?
The Vidnoz affiliate program is coming soon! Fill in the waiting list form to get the chance to win a special commission.
https://www.vidnoz.com/affiliate-program-waitlist.html
Conclusion: Vidnoz AI Review
Overall, in 2023, Vidnoz AI stands out as the best AI video generator, empowering businesses and content creators to produce captivating videos effortlessly. Moreover, its AI-driven technology, customization options, and affordability make it a must-have tool for anyone looking to make an impact in the world of online video content.
Also, you can check the interesting related article: How Artificial Intelligence Impacts The Future Of Digital Marketing?