Presenting the best collection of Free School Html Website Templates to satisfy your search and acceptance templates available here were collected with choose from the best School Educational templates over on the web all templates are 100% responsive in nature that will the and support any browser. All the templates over here are free to use for any personal and commercial purpose and easy to customize for all of you to enjoy in making your school website by taking the help of a collection of Free School Html Website Templates also via Cisco Certification Questions here you can get trained also.
List of Best Free School HTML Website Templates
Kids Primary School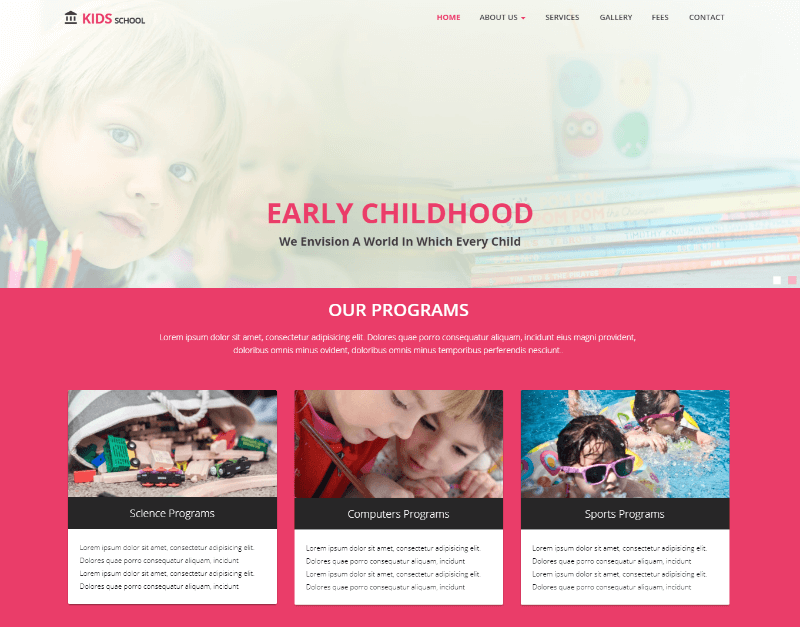 Kids Primary School HTML Website Template is a clean modern Bootstrap template. This template is built using the Material design framework. It is a Multipurpose template designed to the requirement of the modern world it has all features that will meet the need of every user, and it is completely responsive and compatible with all modern devices and any different browser, Try it To Showcase Your Work.
Smart Kids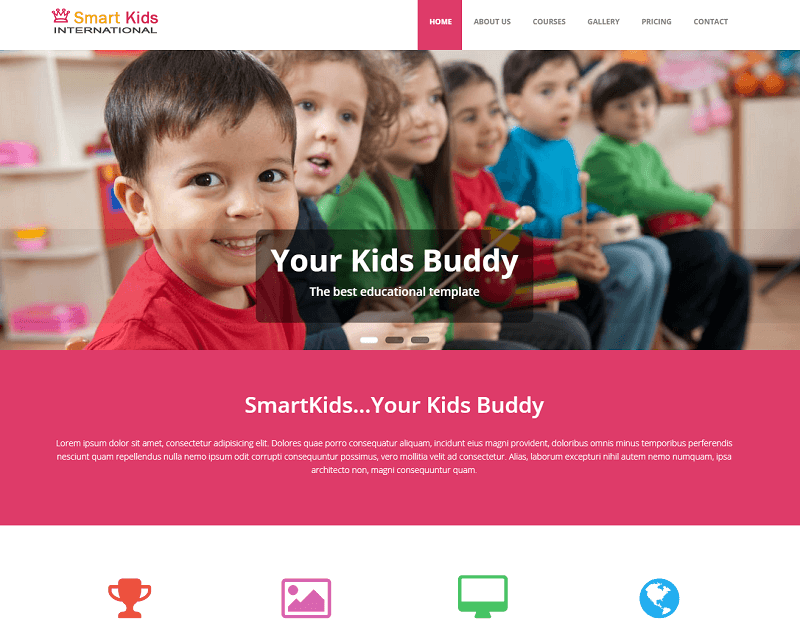 It is a modern multi-purpose html5 template perfectly designed, a template developed for a kid's school to make your school design unique from many designs available in the market, It is built with valid HTML5 & CSS3. awesome fon icon used in the template design which suits it perfectly. It builds on top of the latest Bootstrap framework 3.3.1, a design that is 100% responsive work smoothly with any device and is compatible with many different browsers.
Slate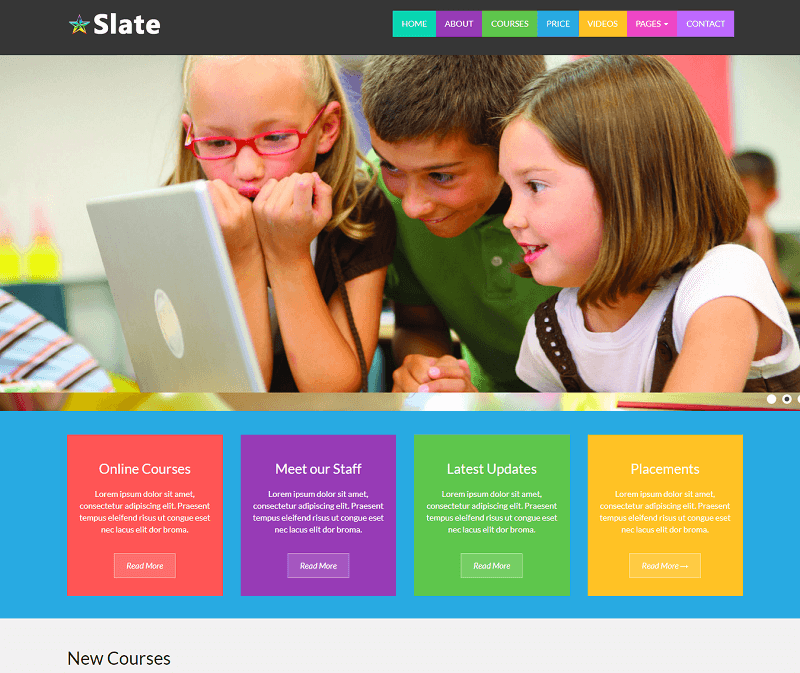 Slate is a perfectly Single Page Template, it is a Multipurpose template. It's provided with a nice responsive layer slider. This can be easy to customize according to user requirement, the automatic slider has used in the banner image design that gives it awesome look, the services section have 4 column layout, an the application section with 4 column layout used to help you to beautifully showcase your work.
School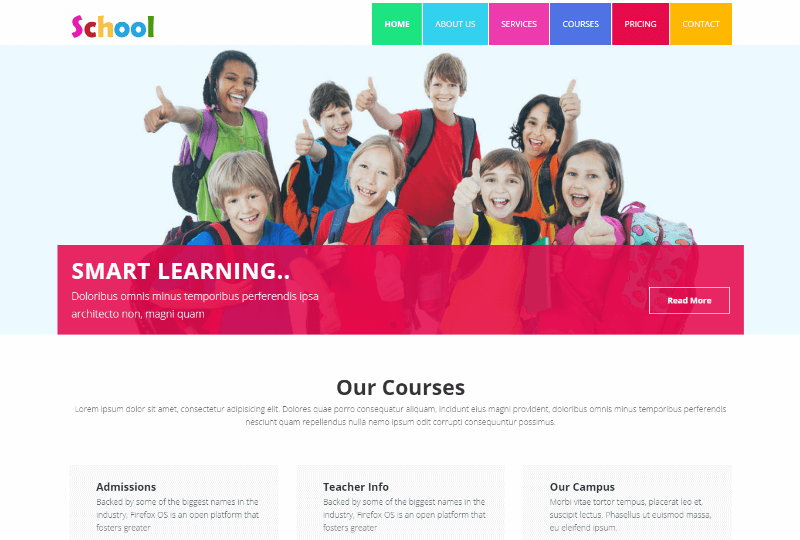 It is a multipage Html website template with a clean and multipurpose design that will satisfy the need of every school owner, It is built with valid HTML5 & CSS3. It builds on top of the latest Bootstrap framework 3.3.1, It is totally responsive web template that will have all the desired features needed in the design of today's modern world. Smooth Scrolling and working contact form provided in the template.
Kiddo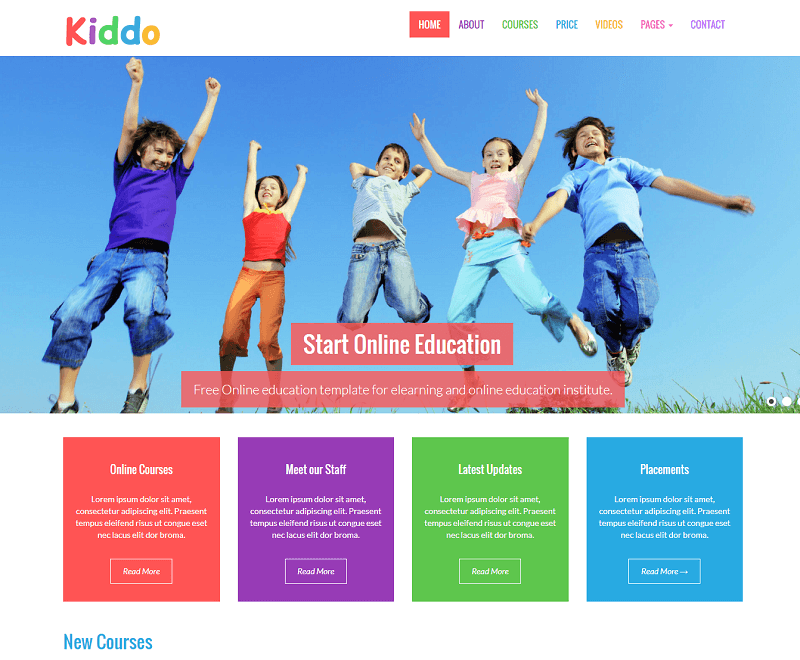 Kiddo looks perfect on any device due to its responsive design. Perfect template for Educational Institutes, Schools, Courses, workshops, e-Learning, lessons, and learning sites. It is easy to customize by anyone no coding knowledge is required for that awesome use of font icon, made by use of a beautifully apply color scheme that suits it a lot and gives it an eye-catching effect, image slider is used at the banner section of the design.
B-School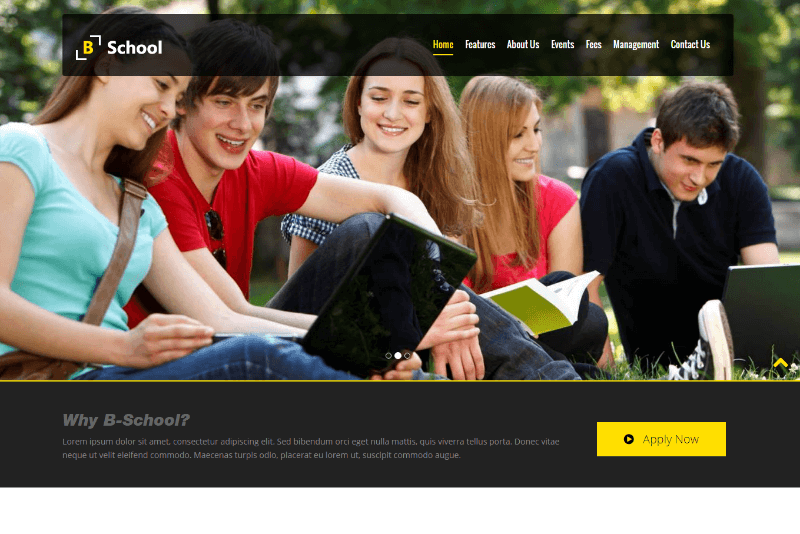 B-School is a single-page template, it is a Multipurpose theme with awesome use of font icons, It has a Clean, flat & crisp design with a build with a perfect use color scheme, this is a fully responsive Website Templates that will be the main need in the design of today's world it can easy to customize according to the user needs to give it a personal look without any knowledge of coding required for that, Try it.
Above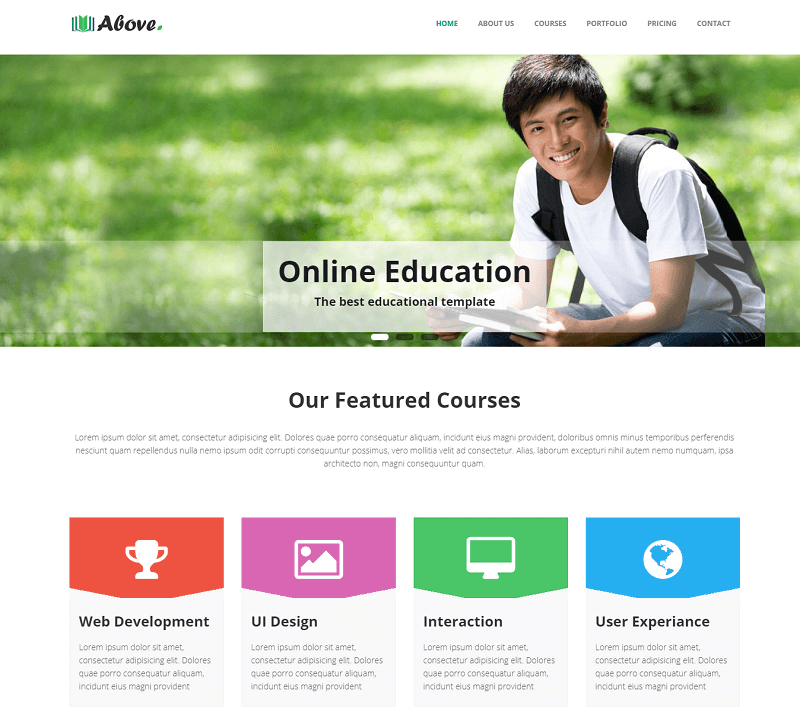 As of know Browsing, the internet finds a great template for any education-related website to express its work professionally all over around the internet, It is a modern design template used of various page types, and beautiful layouts, includes Awesome color schemes, and perfect use of fonts, icons which make it a best template for any education institution website, to grow its business worldwide with this classy Template.
Victory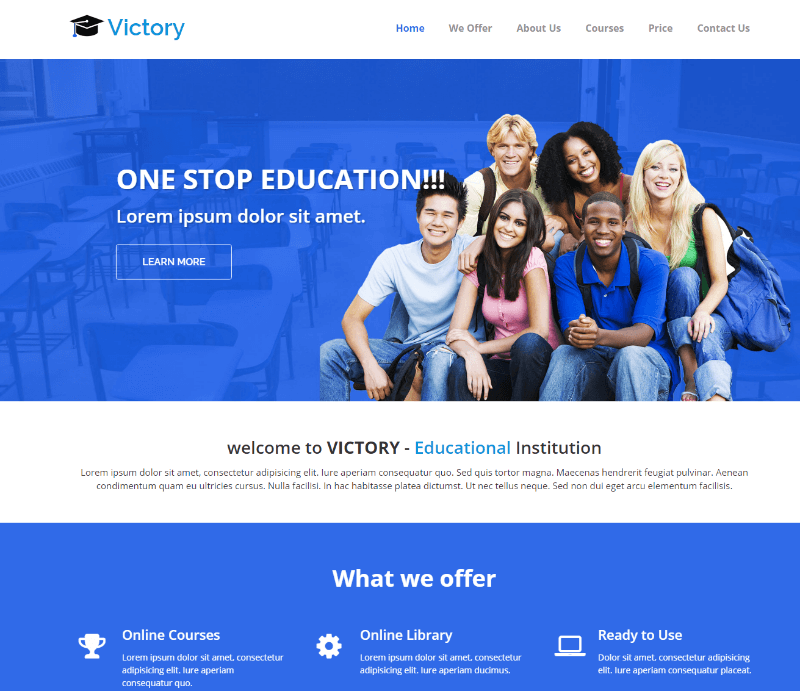 Victory – Education Html template, easy modern, and completely responsive design that can be directly used by any education-related website to fulfill its growth desires and make an online presence all over the internet, It is a multipurpose theme that can be easily used on many different websites to promote and showcase it business over the internet. It is a beautiful one-page template contact form placed at the bottom in a footer section of a design.
Learn Kids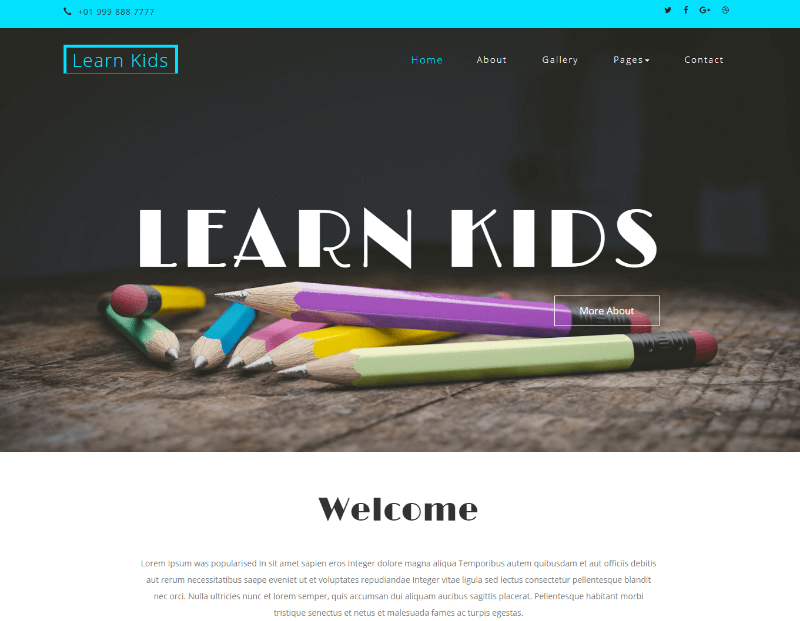 Learn Kids is a creatively designed template that can be a perfect choice for your education-related websites, by which you can showcase your work and services provided by your institution in an efficient style that will attract visitors and provide growth to your institution. it has a beautiful design homepage that will give a nice look at the template, It crafted design made for an educational institution.
Driving School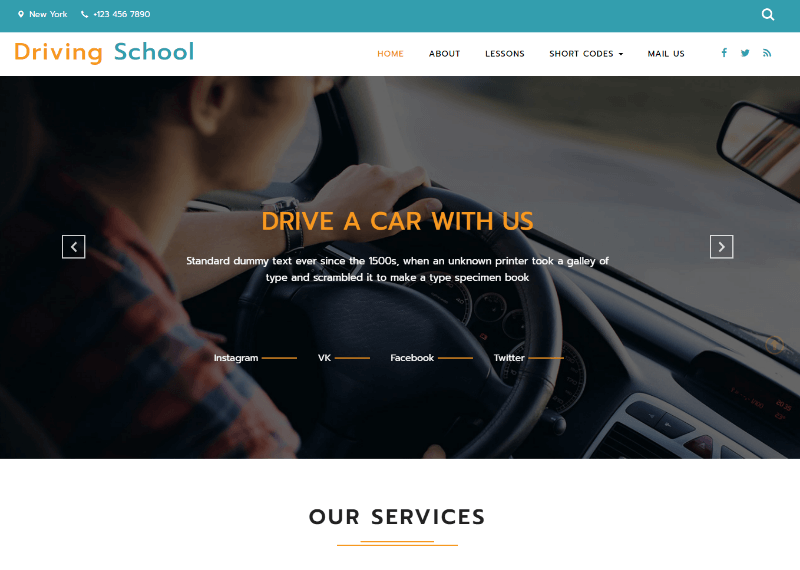 Driving School is a Bootstrap Responsive Web Template, It is a smartly designed template that will perfect choice for any This elegantly designed template is also a perfect choice for all your websites like training academies, training institutes, advanced driving courses, car resources, private driving instructor many more. It has a banner text slider, stylish hover effects, a booking form, a stylish tab, and awesome font icons used in the design.
Teaching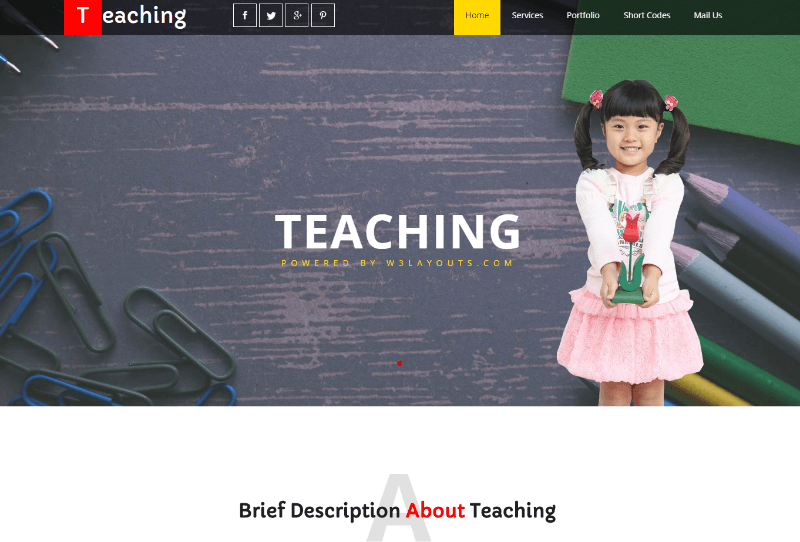 TEACHING – An School Category Flat Bootstrap Website Template, It is a modern and 100% responsive template compatible with different screen sizes of devices and different browsers, Best design is fully loaded with all useful functions it has beautiful usage of Flat icons and fantastic Hover animations in the design and enhances appearance. well-documented design to showcase your institutions all around the internet in a professional style.
Schooling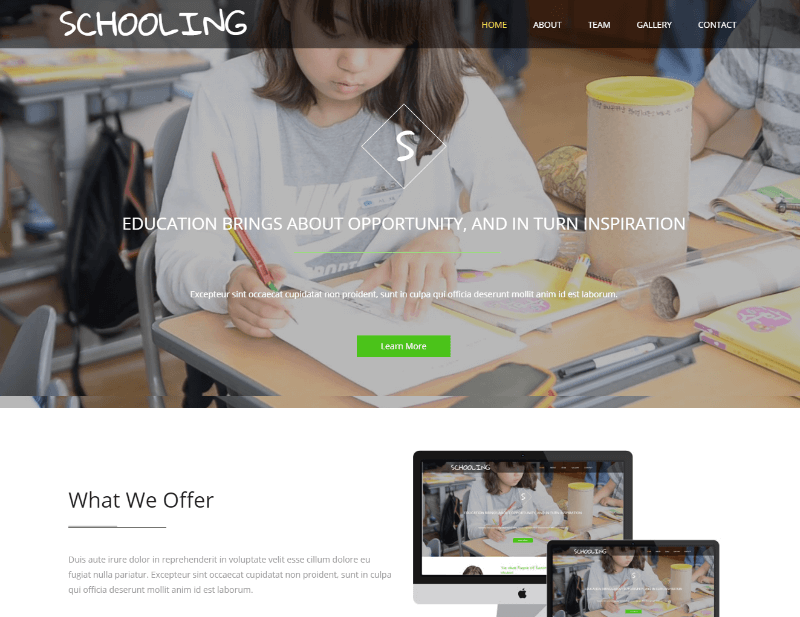 Schooling- An schooling school class Flat Bootstrap Responsive internet Template designed elegantly with cute colors and impressive responsivity.
It is an elegant design that will attract every user to itself, The Colors, Hover Animations, and Fonts are perfectly used in the design which will provide it Awesome look to it, social media have given at the footer section of the design. The template design is well crafted that will satisfy everyone, It's a Perfect Template.
Kids School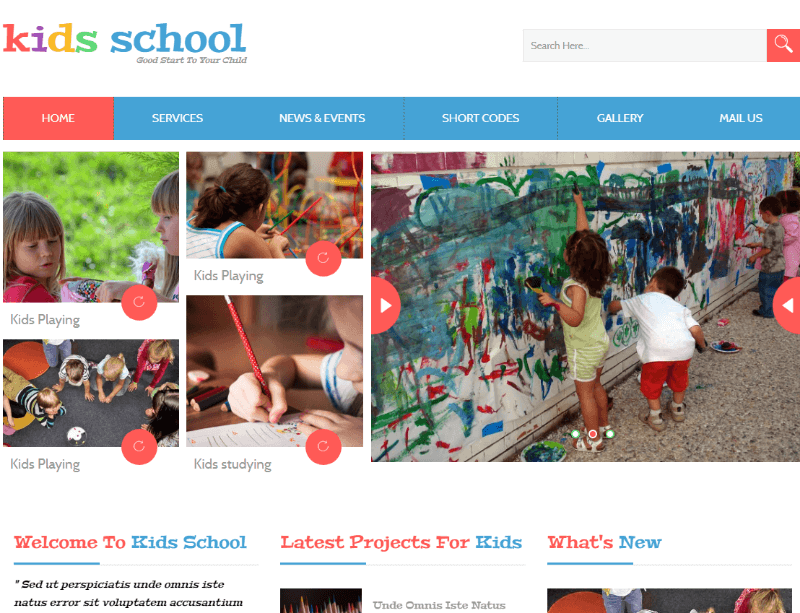 Presenting to you all Kids School, A Multipurpose template for Schools. It is a completely responsive template that is compatible with all devices and works smoothly in all different browsers. that will be perfect for the modern world, It is a single-page template that will describe its qualities itself A Fancy style design that can be customized as per the user's requirements. it will easily suit many different websites to showcase their work.
Arts School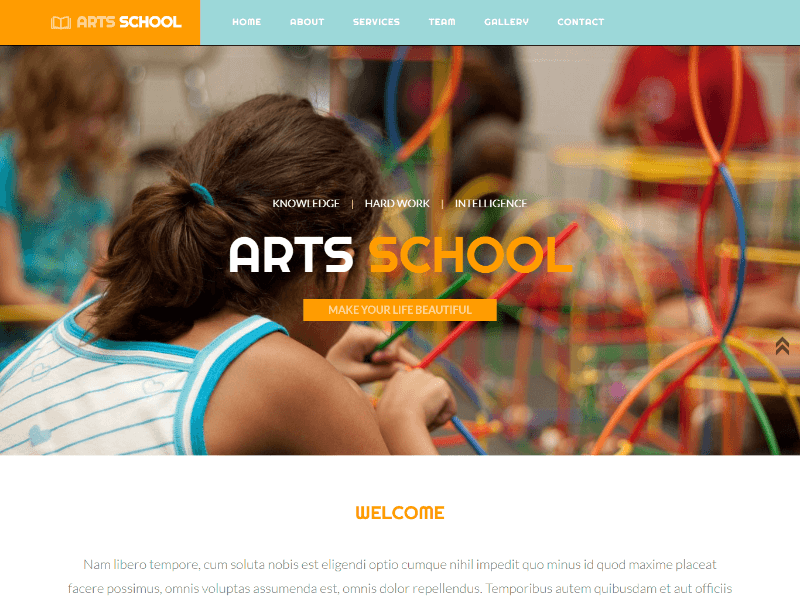 Arts School A template looks fabulous on Pc and any other device because the design is completely responsive will works smoothly on any device in a perfect way and is compatible with a different browsers. it has an awesome color scheme used to design these templates, animations used in this design make it look great and provide it eye-catching effect design. services section is made with a beautiful black background color and has 2 column layout.
Online School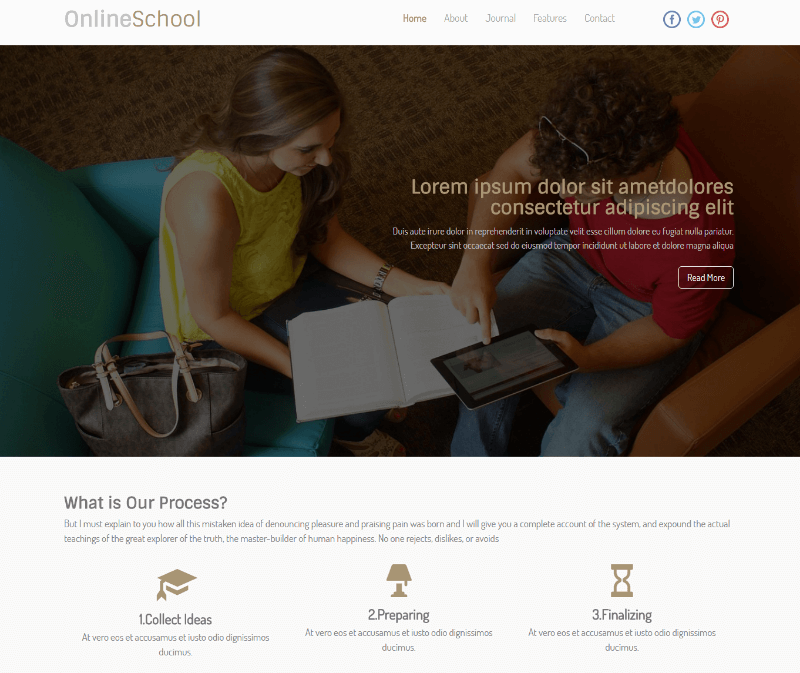 Online School – Is schooling HTML Templates having all modern features to satisfy your wishes, Totally Responsive that will best according to today's Trends. It is also compatible with all modern devices like laptop, tablets, and mobile template and works easily on all screen sizes, it comes with cross-browser compatibility that helps the user a lot, and the design also has SEO friendly features the top of it to provide sharing platform.
Elucidation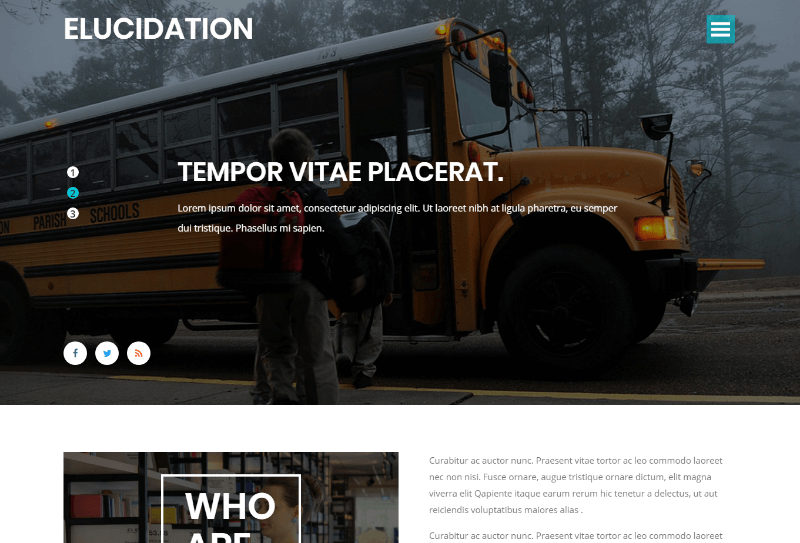 Wishes come to the end in search of an education template with an Elucidation template, It has a responsive design which will main need of today's time, is compatible with all devices, and work easily in a different browser, It is having a social icon at the image banner part of design look perfect over there containing modern features like text slider in the image banner section and hamburger menu with beautiful image background change according to your choice.
Scholar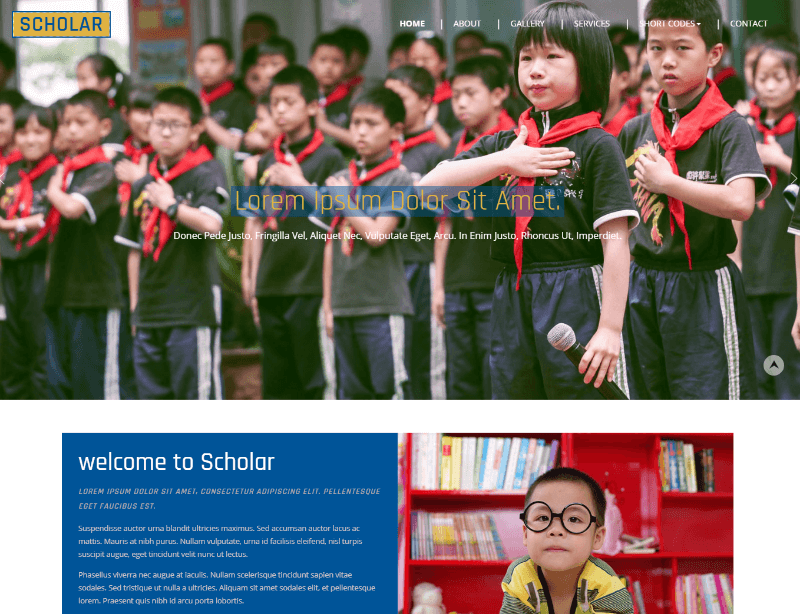 The scholar is a trendy multipurpose HTML template, that will have all modern features and a well-documented design to showcase your services in a professional style. It is a 100% responsive cross-browser template, which will boost your online presence of a website, in front of users around the world, and give you perfect growth in your aim of coming online. It has all the required features having a slider, Hover effect, and Numscroller.
Education Portal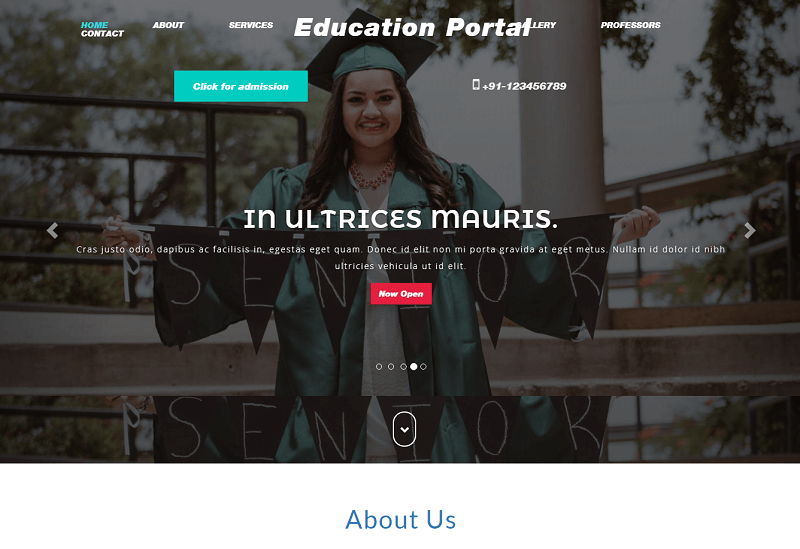 Welcome to Education Portal, it is a Fully Responsive multipurpose template beautifully designed homepage using an awesome color scheme to give the perfect look to the design and suit design a lot. This elegantly designed template Best choice for Education Portals, Courses Hubs, Colleges, Academies, Universities, schools, Kindergartens, and much more. It has a Gallery lightbox, and Datepicker Plugins used in the design.
Wpf Degree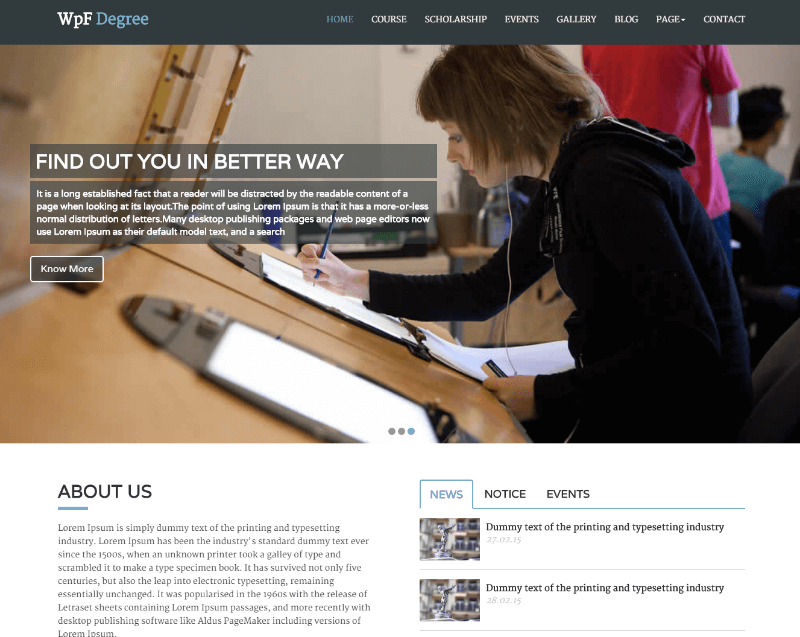 WPF DEGREE – It is a completely responsive, design template that has 3 column layout to suit the design of the template and provides you with perfect space to showcase your work. it is an awesome template made by FREE CSS, for any educational institute that thinks to go online to spread its services and approach to the world. animation and hover effect used over the text and icon enhance its beauty, image slider in the service section look great.
Bs Education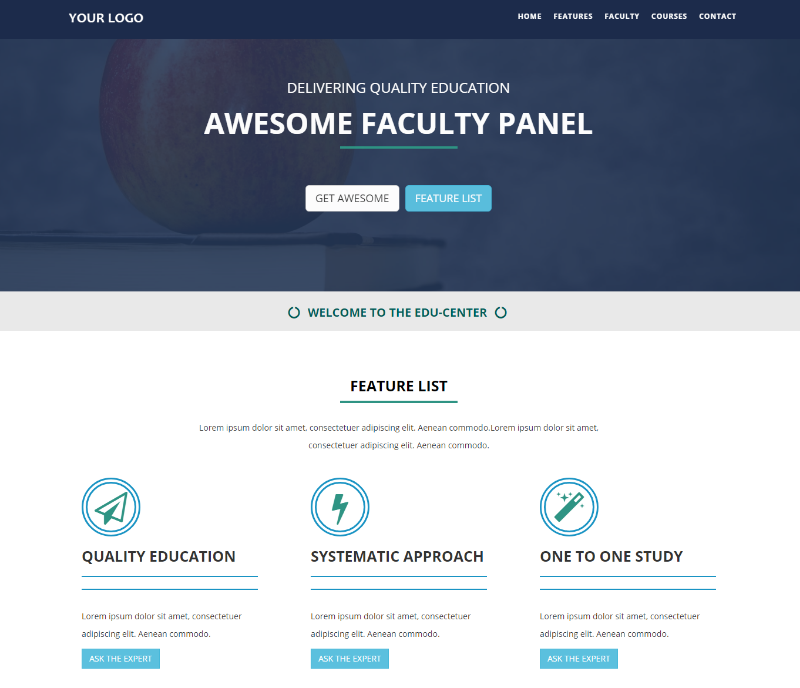 Bs Education is a trendy template, It is a responsive and mixed columns layout that will be perfect for this design, It is a one-page template that will be mainly used in today's market. It has a text slider placed on top of the design and has an image banner background that looks best over there, the button used at the image banner uses awesome color, social media icon is placed at the bottom, and the contact form is provided at the lower section of the design, and fabulous use of animation.