Think getting your marketing business off the ground is almost next to impossible? Think again. The following are the best marketing agency website templates that won't let your business get lost in the online shuffle. Indeed, marketing couldn't be more crowded that's why making the very first impression is crucial. Especially the impression your target audience sees when first visit your website. And what is the first thing he/she does there? The user compares it to your direct competitors. So, if you want to break through the online noise and get your target audience to notice you, be different.
You can search here Best Web Design Services
Have checked tons of website templates and didn't find anything you like? Chances are you haven't looked at the collection below. Clean-cut, responsive, and built-in line with the latest web design standards, the list of marketing agency website templates just sticks out a mile. Your marketing agency can offer the best service or product possible in your niche, but if your website design is lousy, your business is doomed. Don't let that happen to you. Help your marketing agency website become a go-to home for your target audience with one of the design concepts below.
So, enough beating around the bush. Take time to enjoy the list of Bootstrap website templates below and make an informed decision later on. Once your website is up and running, one thing you've likely missed is your blog. Of course, as long as your website can solve your target market's pain points, your website is bound to impress. And your own blog is a good place to prove your authority on topics. Moreover, it's a great opportunity not only to promote your business but also to build trust with your target audience. At the end of the day, you can easily transform your marketing or advertising agency into a universal go-to home resource for information.
List of the Best Marketing Agency Website Templates:
1. Starbis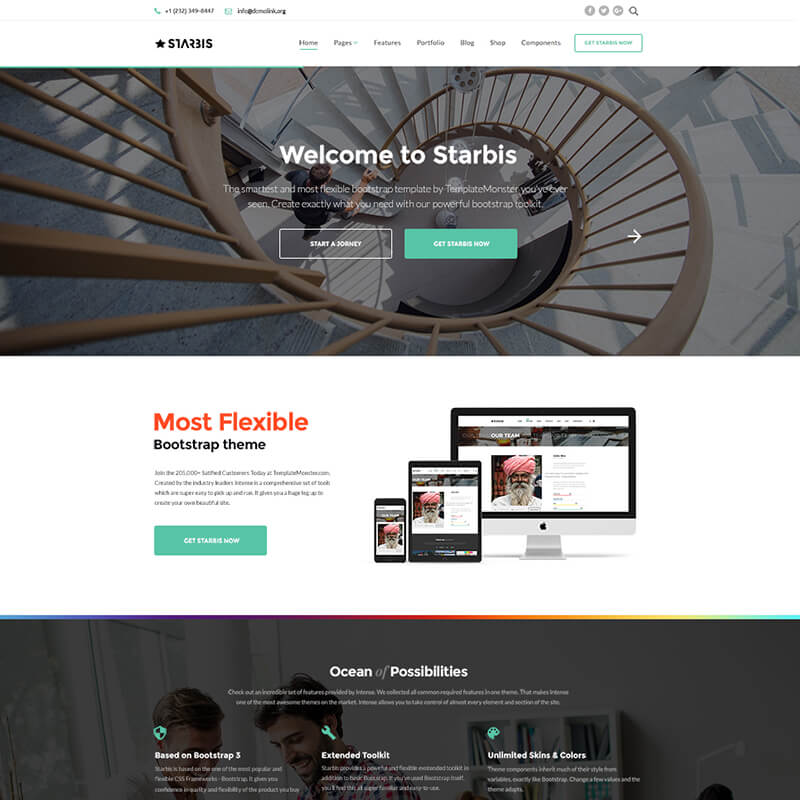 Position yourself as a specialist in creativity. Then it's just necessary that your website is creative and beautiful. A website built with the help of Starbis is sure to be effective and impressive. Being one of the best marketing agency website templates, Starbis is a true bounty that never misses its aim. Besides, no matter your niche, this multipurpose HTML template can help get your business off the ground. Built on the Bootstrap framework, it ensures your website will look correct across all modern devices, platforms, and browsers. Thanks to a set of beautiful niche templates it's easier to get started even with a skill gap. So, forget about any coding issues, building a website with Starbis is nothing but enjoyment.
2. Brave Theme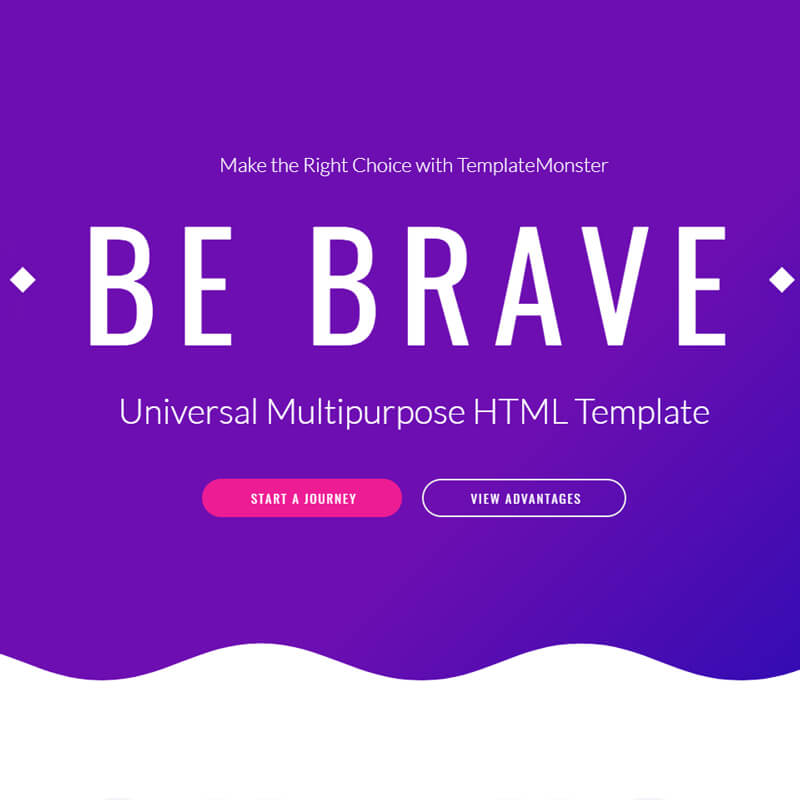 That's no surprise that clients expect marketing agency websites to be creative. No matter your niche, your website should look impressive to match your services and expertise. Brave Theme is one of the best Bootstrap templates, so it can drastically accelerate the entire site-building process. Thus, it comes with over 100+ pre-made HTML pages to help you get creative with them from day one. Go and experiment with them to make sure that your site's interface represents who you are and what you do. On top of that, built with Novi Builder saves you a ton of effort and time while getting creative with your designs. Want to make your users go Wow? Then it's time to doctor up your website with Brave Theme.
3. Mservice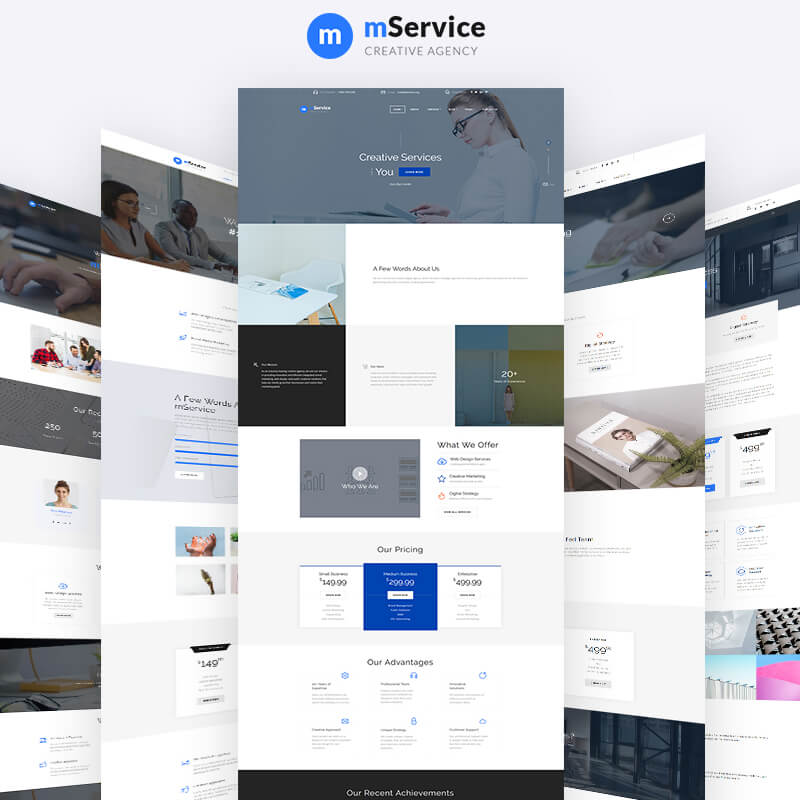 Stylish, clean, and eye-catching, Mservice sticks out a mile from the rest of the marketing agency website templates on the list. Help your marketing business cut through the online noise with Mservice. Its high-end look makes every user feel comfortable. Jam-packed with the Parallax effect, it lends a stylish and impressive feel to the overall look of your website. Apart from a set of pre-designed pages, it comes with numerous header & footer styles, background videos, and various web forms. Has your marketing agency won awards? Show them on your homepage. Want to prove your authority and build trust with your target audience? Explore the options you have.
4. Median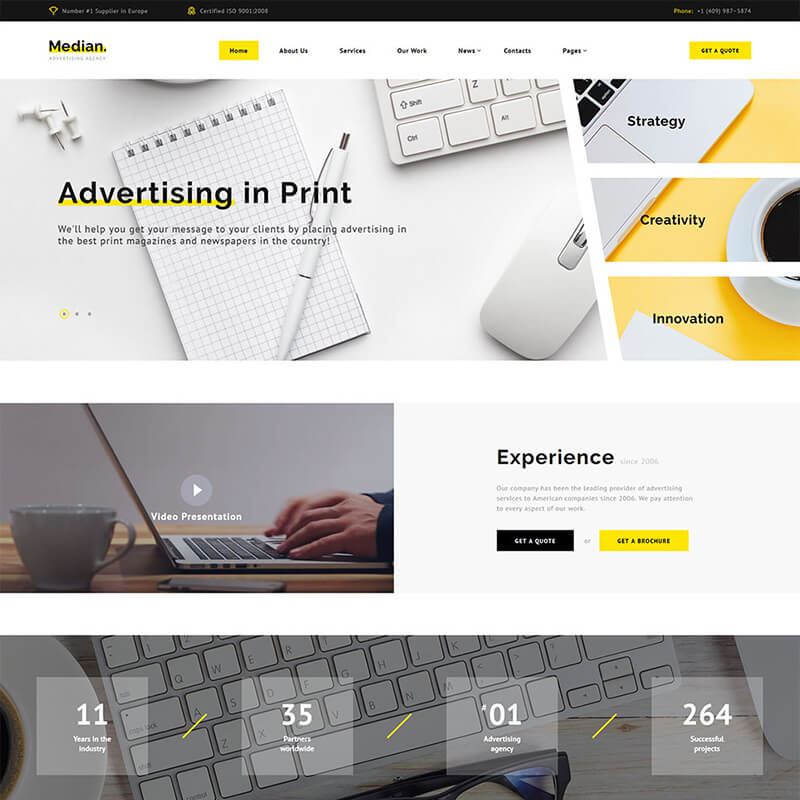 Let's face it, if your advertising agency can't impress your site's visitors, someone else is taking their attention. Don't take that risk and build a modern website with Median. Comfortable, inviting, and refreshing, it stands out from the other bootstrap templates out there. Think of the content on your website as a story that triggers emotions and convinces visitors to stay with you, even if your price or rate is higher. If you're a newbie and need literally everything to get started, Median is the solution. Clean, easy-to-edit, and manage, it gives you a set of advanced features that go above and beyond. Need to make sure your website looks unique and more personalized? Wait no longer and take the high road.
5. Management Company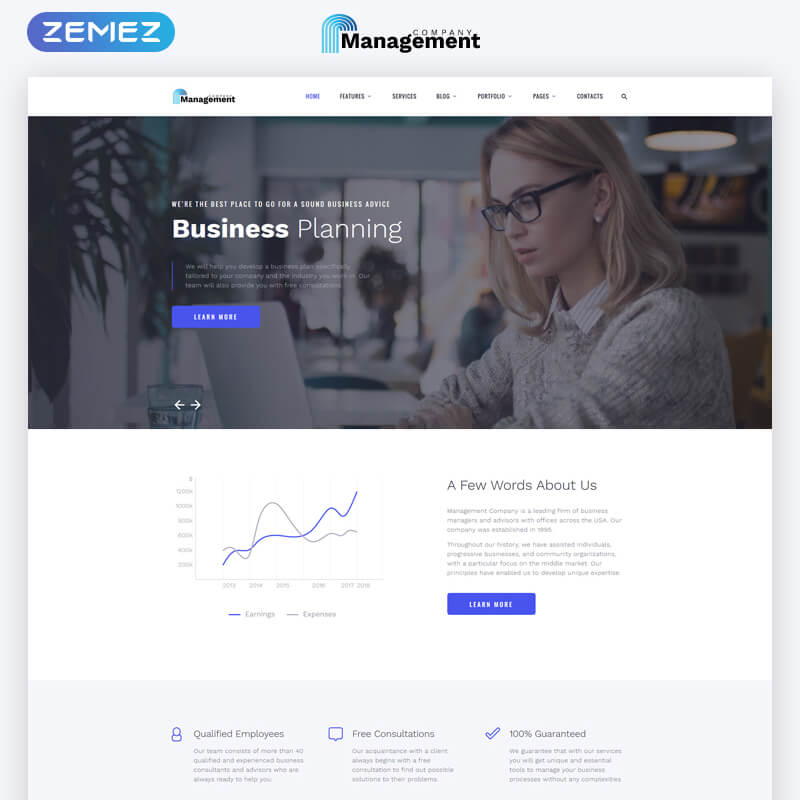 If you want to learn how to create high quality, yet, simple business website, give Management Company a check. Clean, elegant, and responsive, it fits a marketing agency, business consultant, or management company best. Remember that your website is not static anymore. Instead, it's your dynamic pitch that represents a strategy that guides and ideas that matter. Thus, it comes with over 30+ pre-made pages that save you tons of time right from the start. Besides, it's in your own interest to create a stunning portfolio to show your expertise in a most appealing manner. Well, breaking through the online noise can be a pain, yet, the right website template can help take some weight off your shoulders.
6. Cost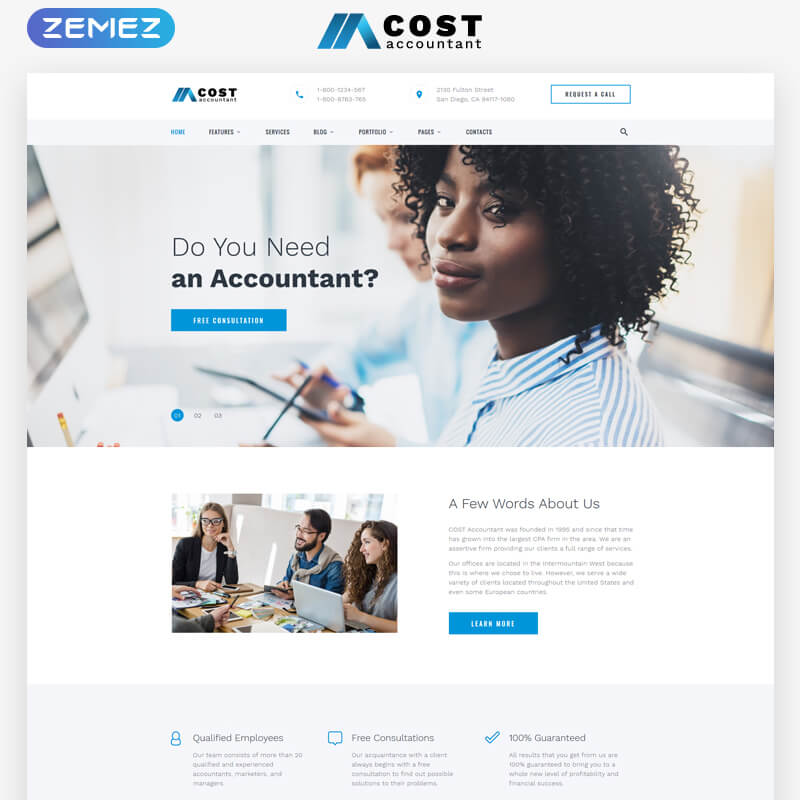 Looking for ways how to differentiate yourself from the crowded online market? Go just beyond creating a modern website. Your goal is to create an effective website that impresses and converts. Responsive, clean, and attractive, Cost does its job better than any other bootstrap template on the list. Jump straight to its live demo and take a look for yourself. Coded in line with the best SEO practices, your website is more likely to appear top of the search engine results. Find a reason to convince users to stay on your site and put it in front of your website. Let Cost help you achieve your goal in an easy way.
7. Upscale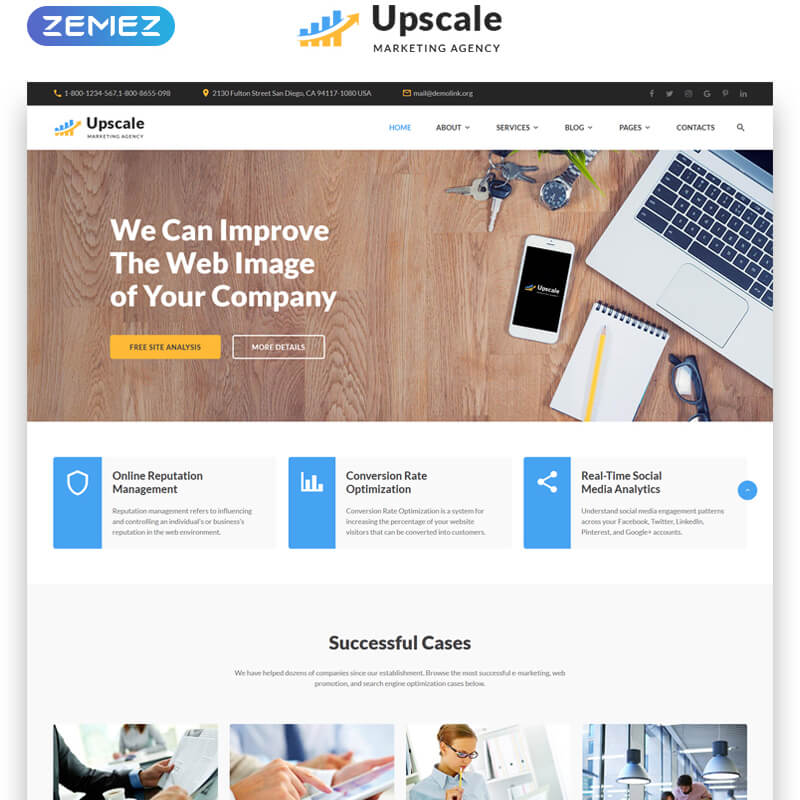 Ready to build something great and compelling? Then Upscale is your safe bet. Simple, light, and attractive, it's one of the most alluring marketing agency website templates in the compilation. Designed with a focus on functionality, Upscale comes with a bunch of premium features that can save you a bundle. Indeed, it includes a set of beautiful pre-designed pages to help get you started quicker. Sure, you can go creative with them as much as you may need. Don't shy away from starting your own blog. This way you can increase the value of your marketing brand and build trust with your target audience.
8. Marketic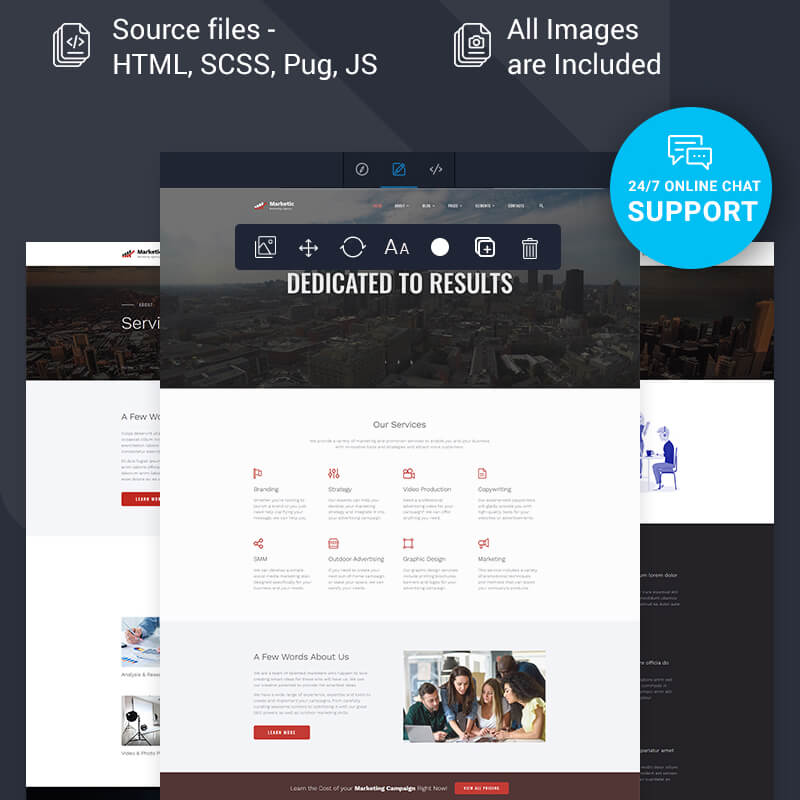 Liven up your website with Marketic to break the monotony and cut through the already aging stuff. Well, is your team the most caring team in the metro area? Head it off by showing your caring side. Take advantage of a set of pre-designed pages to present your services and products in a smart way. Built with Novi page builder, it makes it easier to create and edit almost every design element of your site. Indeed, responsive and SEO-optimized, your website's ranking is sure to be safe & sound. All in all, the more valuable your contents are, the more likely your advertising brand will be a go-to home authority.
9. Rise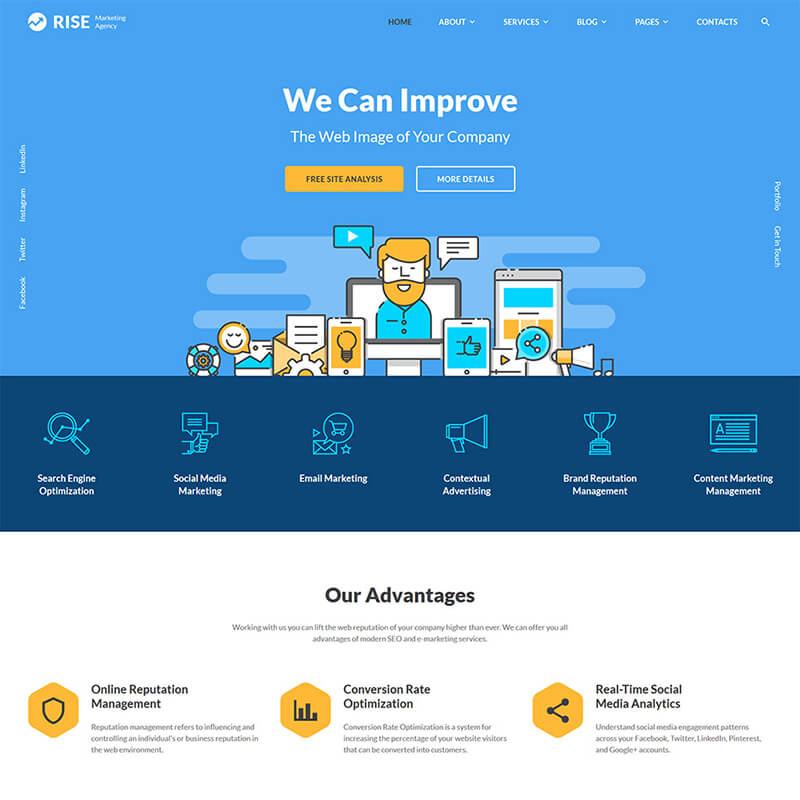 Creating brand awareness and lead generation should be at the top of the list of any marketing agency. A modern website that can effectively communicate your goals smoothes your path to your goal. Responsive, SEO-friendly and fresh, Rise is second to none for marketing websites of all kinds. Besides, being versatile and fully editable, it allows you to cut corners big time. It goes without saying that Rise is responsive, so its browsing experience is nothing but a pleasure.
10. SEOMarket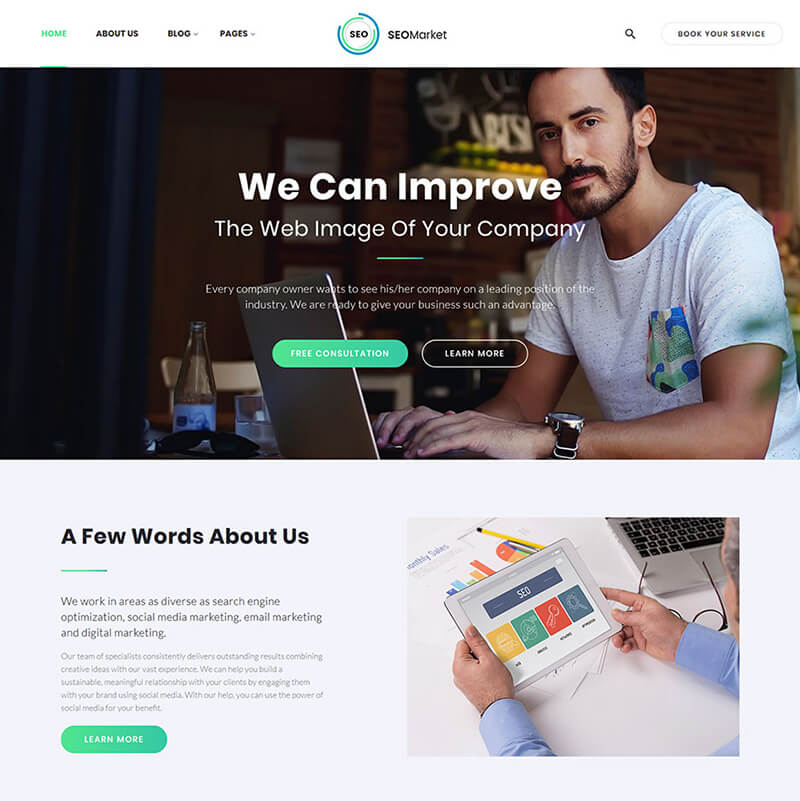 Doctor up your website with SEOMarket and attract a potential audience. Jam-packed with a set of pre-made pages, SEOMarket gives you everything you need at your fingertips. You don't have to bother with any coding to make your website shine. Besides, whatever kind of gadget your visitors use, keep peace in mind their browsing experience is nothing but comfort. On top of that, create a stunning gallery to showcase your best projects.
11. C/H Glitch
No matter what product or service you plan to corner the market on, C/H Glitch can make your dreams a reality. Responsive, modern, and attractive, it fits all types of business websites providing marketing, advertising, or consulting services. Whether you have the most caring team or a staggering amount of rave reviews, C/H Glitch can help you lead a ton of leads. Just take time to explore its bells & whistles before taking the plunge.
12. Generic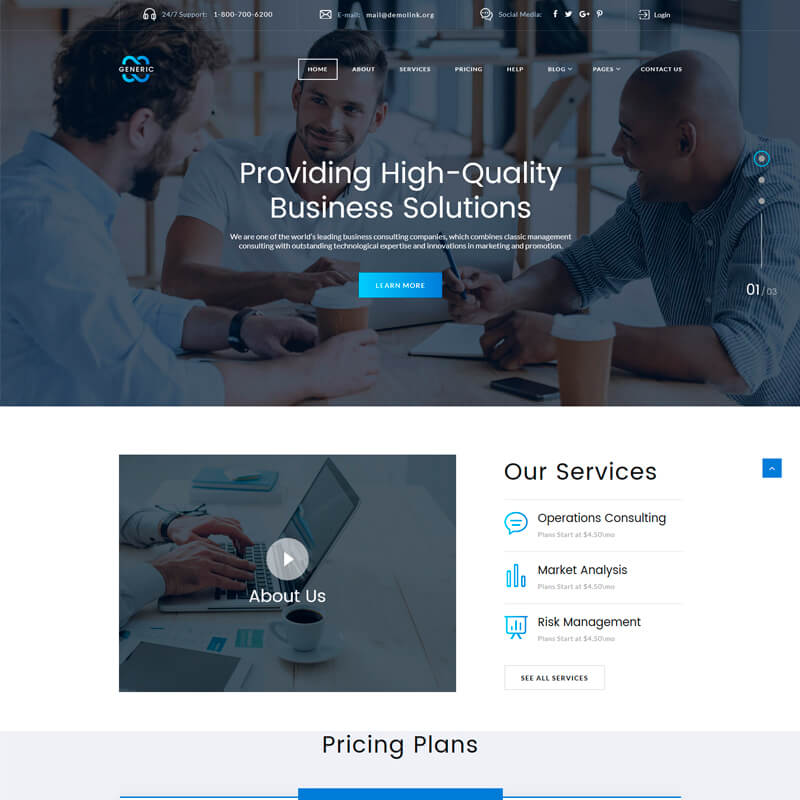 With Generic, it's easy to go a smarter way in terms of creativity. Clean, fresh, and powerful, Generic is one of the best marketing agency website templates worth exploring. The best thing is that it's jam-packed with everything you might need to create an impressive and effective design that drives traffic. Now go on… Treat yourself.
13. PR Agency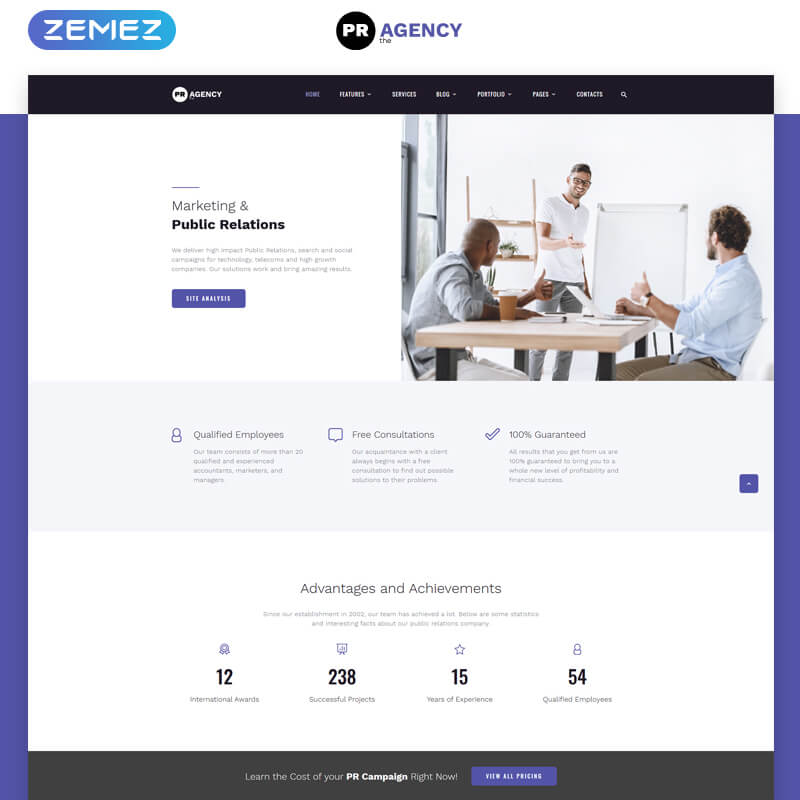 Looking for a solution to speed up the site-building process? Let PR Agency take care of all that coding issues and save you a ton of time right from the start. Designed in a clean & modern manner, it has contrasting black-and-white spots that spark attention. It's in your own interest to take advantage of the homepage slider and promote your best-selling products or services. Got a compliment from a client? Don't shy away and promote it. No time to lose, give PR Agency a shot.
14. Investex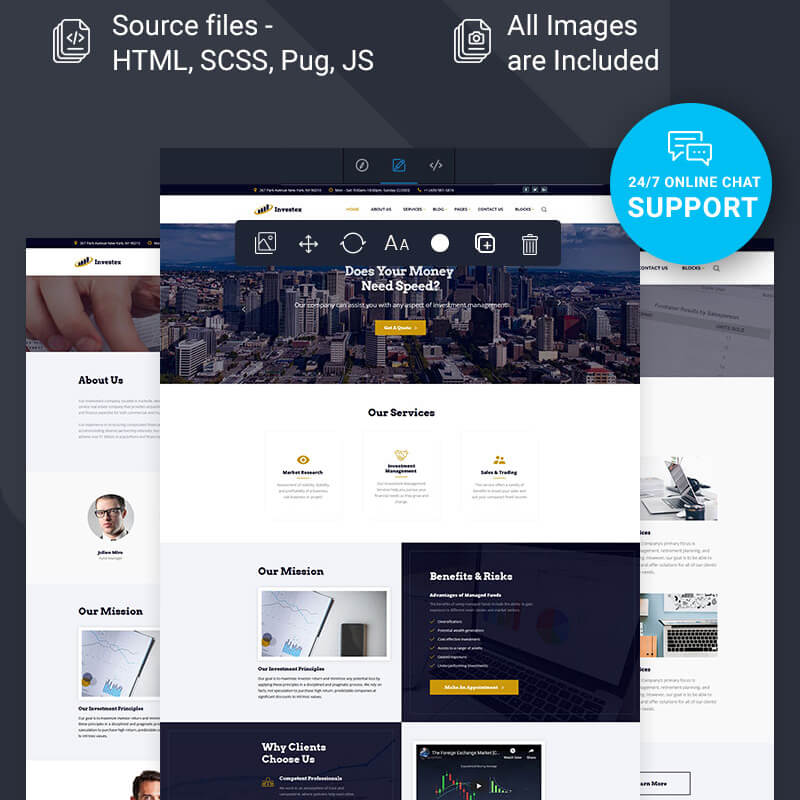 Are you in the investment business? Then Investex is your surefire way to build an efficient website even with a skill gap. Clean, attractive, and responsive, it fits all kinds of websites related to investment, marketing, and business. To help your website be a cut above the rest, a bunch of advanced features can help your website compete effectively online. Besides, being one of the best bootstrap templates out there, it provides an excellent browsing experience no matter what type of device the user is on. Don't let competitors step on your toes.
15. CallLogic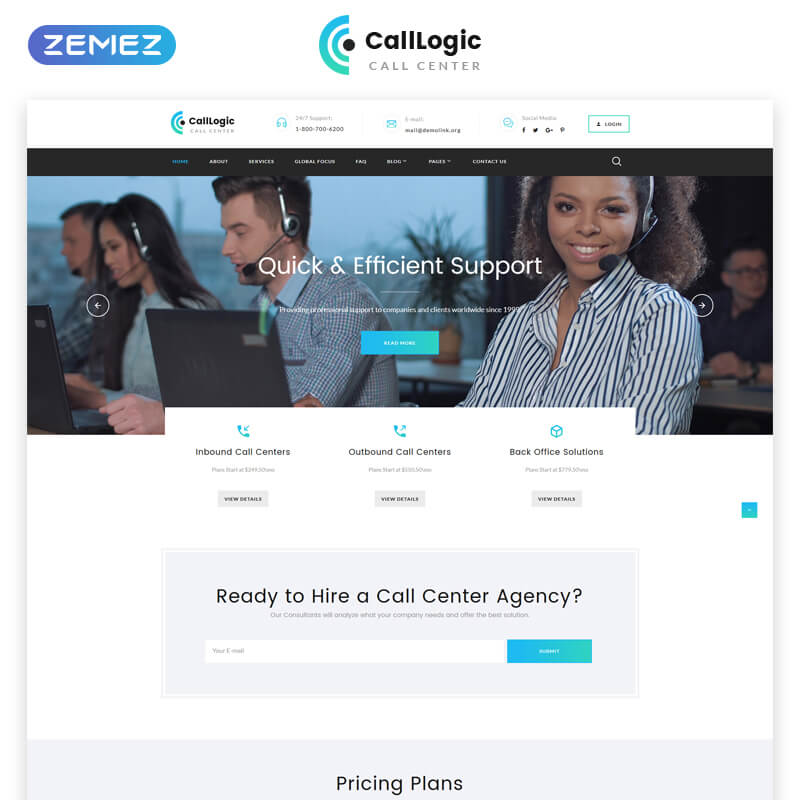 Need a modern solution to represent your services online? Go for CallLogic. It's another specimen of bootstrap templates that can help improve the image of your business. Thus, it includes all the necessary features that can prove your authority and build trust with your audience. Get creative with its beautiful pre-designed pages to develop a strategy that guides your visitors to where you need them to go. Indeed, responsive and SEO optimized, your website has a better chance to stay on top of the search engine results. Take time to explore its key features, I bet you'll be surprised.
Final Note about 15 Marketing Agency Website Templates
Don't miss out on the opportunity to make the best use of one of these marketing agency website templates above. At least one solution from this list can be the right fit for you, no doubt. You just need time to explore the key features each of the solutions offer. Once you decide to go for any of these bootstrap templates, you'll be able to break through the online noise effectively. Now, enough sitting on the fence and giving your ideas a chance to be consumed.