Whenever you are starting an online business, you might need to put in a little effort in the marketing of your business as well, when you have a small business Finding out the best email marketing services matters a lot.
Whether you are choosing the best email marketing services, you still need to look for the best tools and analytics options. Make sure it is cost-effective and provides you with the best opportunities for services and features as well. Only then this email marketing option can be the perfect one for you.
Now we have compiled a list of a few best email marketing tools and services that you must check. Whenever you are planning to start a small business, you must put in a little effort for email marketing as well.
If you are a web designer and looking for clients, you can use the Linked Helper software to send automated bulk messages to people who are most likely interested in your services.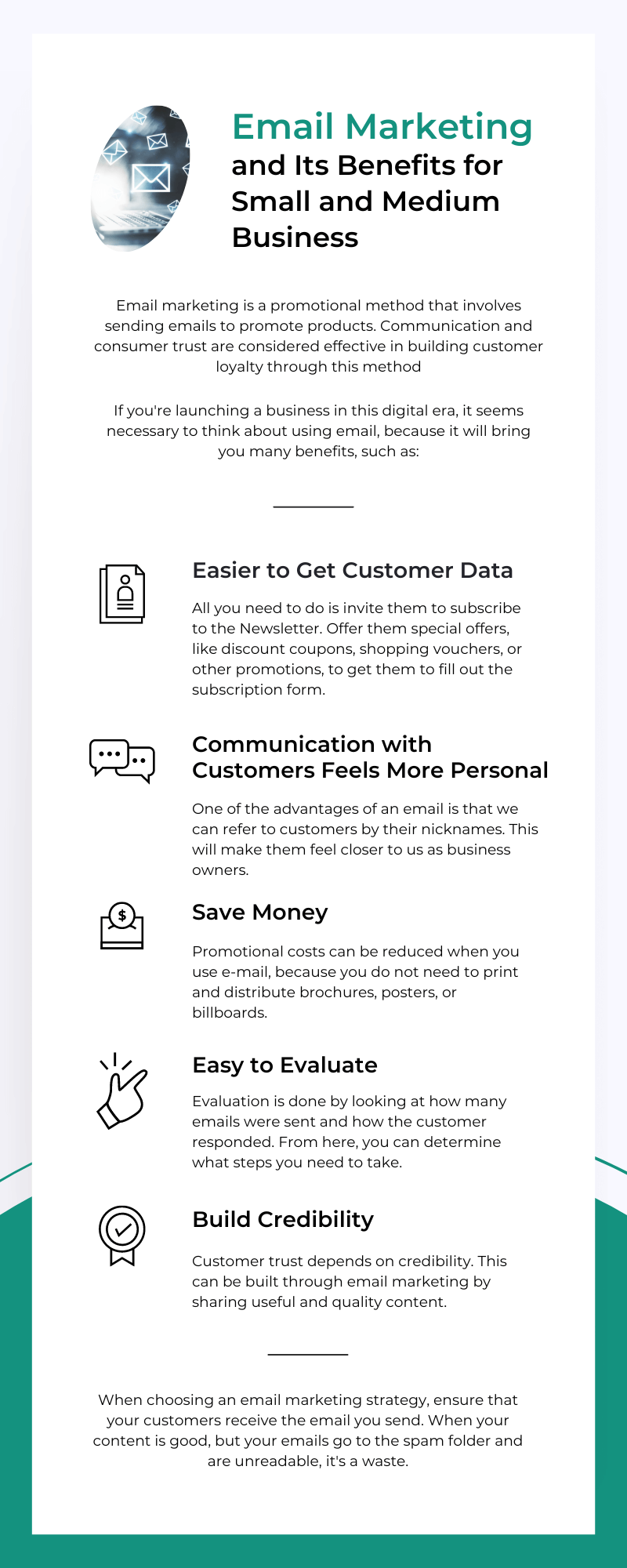 Check out the best email marketing services below.
Also, you can check the 5 Best Free Email Template Generate Websites.
1. Omnisend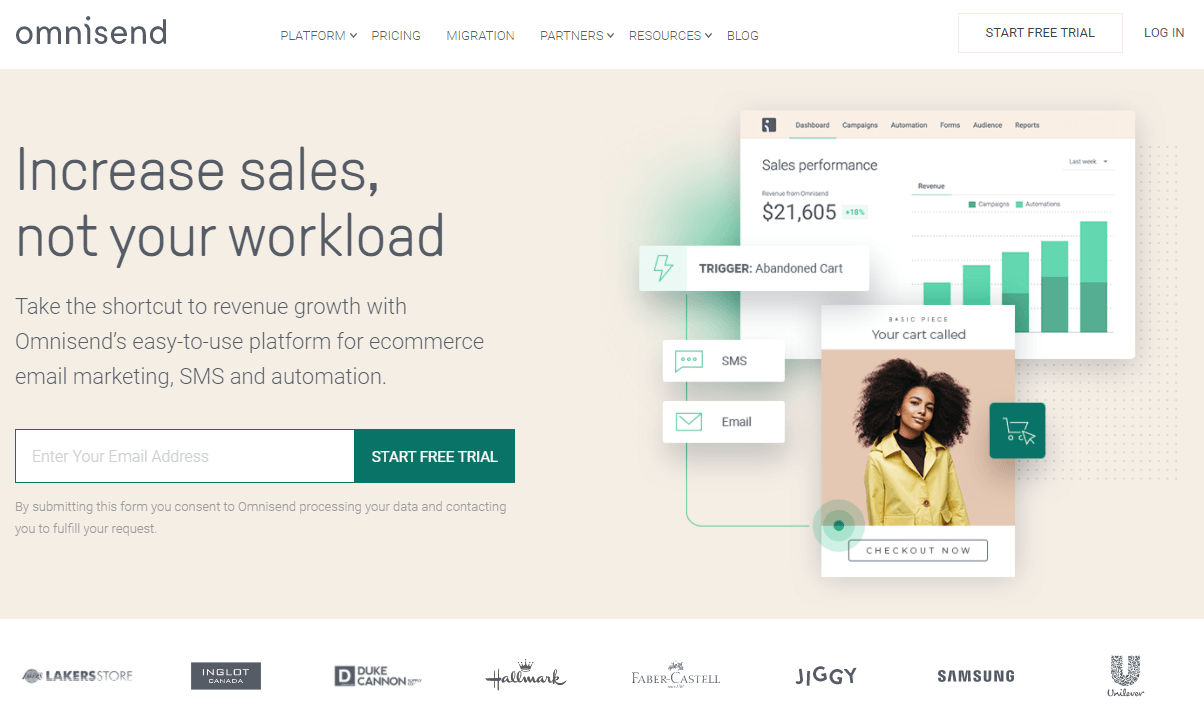 We can't make a list of the best email and marketing automation software without Omnisend. Omnisend is a platform that makes marketing automation simple for eCommerce merchants. From a user-friendly, visual interface, to a quick-start template for automation workflows, emails, forms, landing pages, and more, Omnisend has everything you need to increase the revenue you earn from email, without increasing your workload.
Features offered by Omnisend include email, SMS, and push notification automated workflows, smart segmentation for hyper-targeted messaging, forms for email and customer information capture, and much more.
If you just need basic email marketing to get started, Omnisend provides a free plan that allows you to send up to 15,000 emails per month (with no contact limit). For those who need powerful marketing automation, their Standard plan starts off at just $16 per month. For more channels, including free SMS credits to get started sending text messages alongside your emails, the Pro plan starts at $99 per month. All paid plans come with award-winning 24/7 support, so you'll always be taken care of.
2. SendinBLue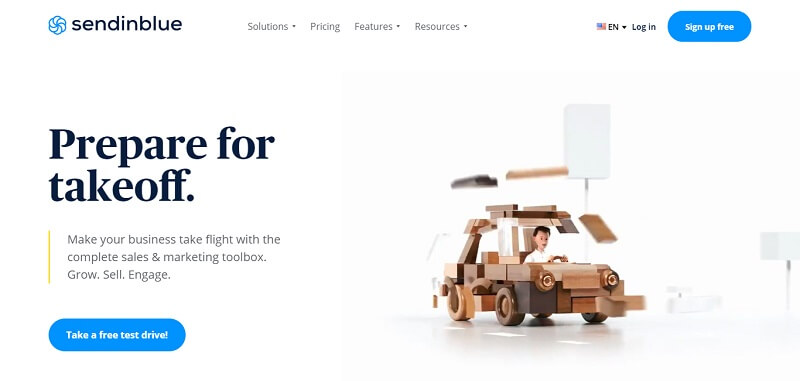 SendinBlue is a top-notch email marketing service that is free to use. For small businesses who are planning to look for an email marketing service that is not only free but also provides excellent features, then this email marketing service is the best option. It offers customer support through email or live chat. There is a phone call option also available. This email Marketing software is perfect for mobile use, and you can also use it on the browser. It is super simple and easy to use, and you can also create the template by using the simple title and logo, and also you can also use the mobile alter option available.
Some of the features include enabling the latest trends and campaigns. There are various design tools also available. You can also access these marketing tools through your Facebook, and you can again try the default email template available. The pricing and the plan are perfect, as well. There is a free plan initially that can be used, and it offers up to 300 emails every day with unlimited contacts. There is a popular package that is the premium package for the companies that have a more significant influx. This plan offers up to 1,000,000 every day along with Facebook ads and landing pages, and some other features are available, including telephone support and marketing automation services as well.
3. Constant Contact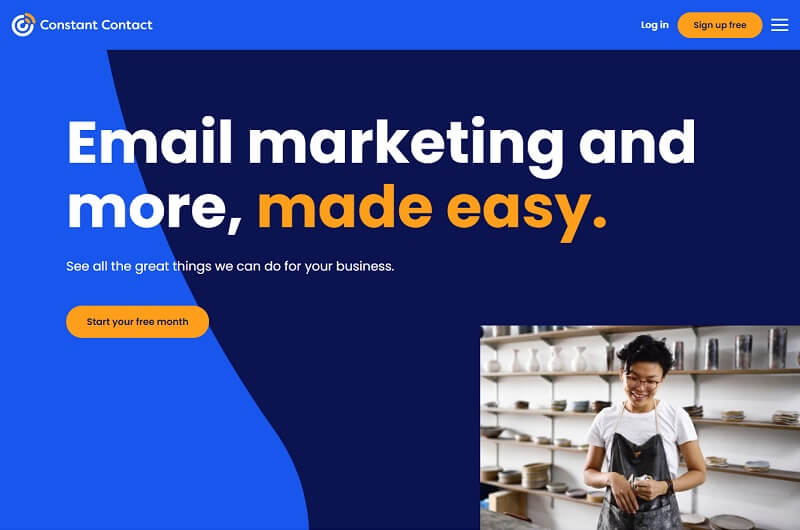 The next automation and email marketing software is the constant contact that offers the best and the most extended free trial for its users. It is effortless to use, but there is no free version available. However, you can enjoy an extended free trial as well.
There are various plans for this email marketing software that allows you simple and easy email marketing and template building. There is a mobile editor also available, and the main options include an effective email campaign. Constant Contact is some other features include in the drag and drop design tools and the life support over the phone and the life that as well. Some lands offer website hosting services and website building reviews as well. There are two primary plans one for $20 and the other one for 45 dollars a month.
4. Get Response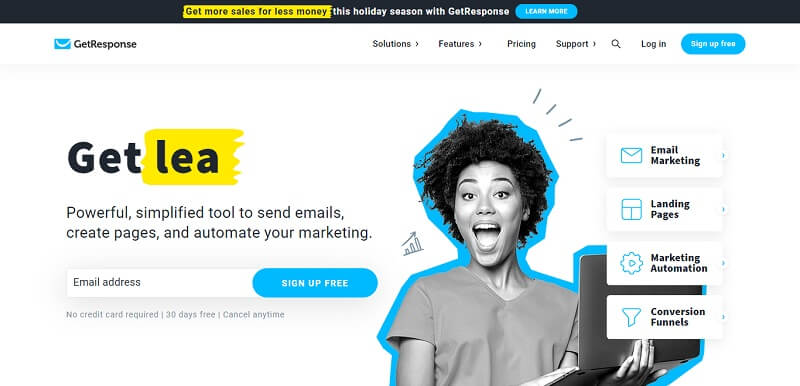 The next email builder software is the get response software which is known to be the most user-friendly and straightforward to use software for newcomers and small businesses. There are drag-and-drop editing options available, and it is also mobile-friendly. It is simple, and it is also not very expensive. There are various payment plans that you can choose based on the number of contacts that you want to send emails to. There are multiple features available, including the help that can be provided to The E-Commerce sites. Their features are available for live chat and support through email as well. It is also great for having a dynamic email template and customer segmentation. The Get response email builder software is also great for helping you with an automated email. There are various plans that you can choose based on the number of contacts that you have.
5. Mailchimp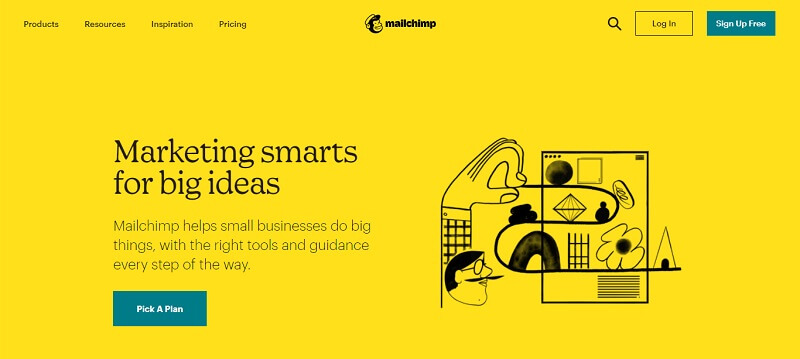 For beginners who are looking for comfortable and straightforward email builder software and email marketing software that can help them in a long run then this Mailchimp software is the best one that you can find. It is perfect for newcomers and small businesses, and it is very easy to navigate and use.
There are various drag-and-drop options available for quick and fast uses. There is an application also available so you do not have to use it on the browser and you can have your email templates on your mobile very quickly and in no time. This email builder software is perfect for easy use, and for pricing, it is also great. There is a live chat available for support, and there is an email service also available that will provide you with quick responses to your queries in no time.
6. Drip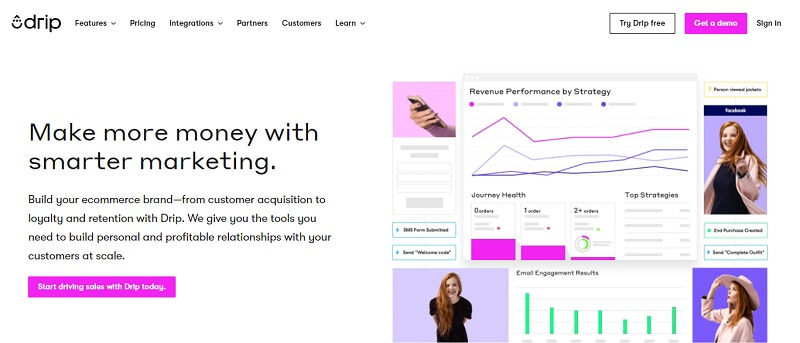 Drip is another excellent email builder software that might not be the easiest, but it is still a great software to use. It is a perfect choice for people who have small businesses, and it does not offer free options. There are drop-in drag tools available for the quick and easy template of your email, and there are also some other features available. Moreover, it is mobile-friendly, and you can use it on the browser. There is no application available. Based on the feature there is email support available, but there is no live chat.
These are some of the best options that you can look for. Whenever you are planning to start your business, and you need email marketing or email builder software, then the software that we have mentioned above can come in handy. This makes sure that you are ok with the price plan and that you know the features that this email builder software is offering. Once you decide which one of these is the perfect match for you, it will be a lot easier for you to decide on the best options. Once you choose which one of these is the ideal match for you, it will be a lot easier for you to decide the best options.