Everyone knows the more extensive the payment will be, the greater the facilities you will be provided with. There are expensive hosting plans available in the market that are offering access to more firepower or features. However, if you decide to go for cheap WordPress hosting services, they can serve you and any expensive WordPress hosting plan.
If you go for the right side, it can offer you quality performance with a good track record. Most of the cheap WordPress plans can only cost you under $5 per month for hosting.
In this blog, we have listed a few best budget-friendly WordPress hosting Services. We will also mention the few best cheap hosting providers and add a brief description of what these sites can provide you with.
Also, you can check What Is Web Hosting?
Top Budget-Friendly WordPress Hosting Services
Here is a list of a few best cheap WordPress hosting providers.
Cloudways
BlueHost
Hostinger
DreamHost
Things To Expect From Cheap WordPress Hosting Providers
The word Sheep can bring negative thoughts about the product; however, it has a lot to offer in a few bucks when it comes to cheap WordPress hosting. You can avail the benefit of having great starter plans in just dollar 5 for a month.
However, you must remember that this small price won't offer you a lot of extra things. Cheap WordPress hosting means that you have a shared plan with a typical bandwidth and a decent amount of storage space. Having a low budget means you are going for a plan that only supports one website. These low-priced plans do not include automated backups as well.
However, the providers have a plan to deal with the customers who want to go at a cheap price. Since most people do not require anything above Shared hosting, web hosts will have their prices set according to this. They have made packages like monthly and yearly, so if you want to go for a cheap hosting plan, you will have to prepay for years. However, if you decide to pay monthly, then you will have to pay a higher price.
The Top Three Budget-Friendly Hosting Services
We have mentioned the three best hosts, and we will mention the cheapest program they are offering in this blog. In the descriptions below, we will also help you decide which one of the plans is having the best value for money and the user reviews about those plans.
Cloudways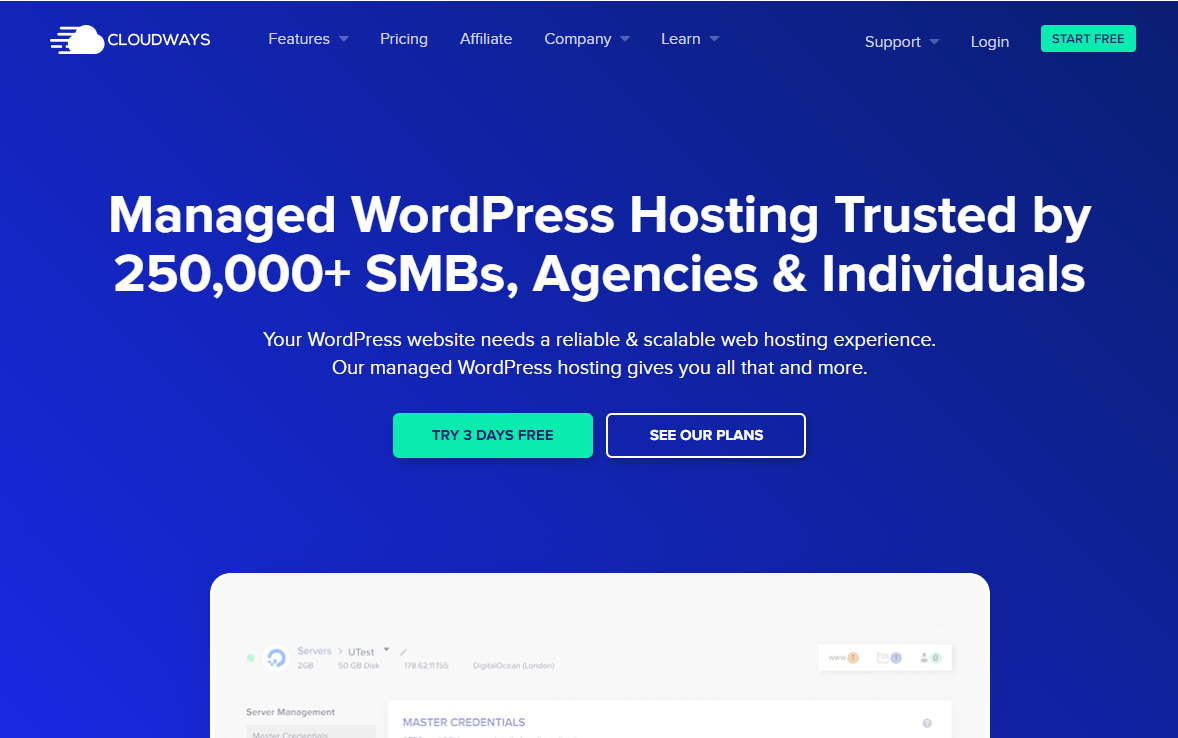 Cloudways is a managed cloud hosting platform that allows users to deploy WordPress, WooCommerce, Magento, and custom PHP applications on 5 best in class cloud providers. These cloud providers are; DigitalOcean, Linode, Vultr, AWS, and Google Cloud.
Before you become a full customer, you are given a free 3 day trial period where you can test the platform and see if Cloudways is the right fit for you and your websites. The smallest plan starts from just $10/mo which makes Cloudways the most affordable cloud hosting platform in the market.
With Cloudways you have no limitations on the number of applications you can host on a single server or on the number of page views. If you are a WordPress user, you are free to migrate as many WordPress sites as possible using the Cloudways migrator plugin.
The pay-as-you-go model allows for transparent billing where you only pay for the resources you have used and the days you have used them for. You can also easily scale up your resources from the platform whenever you expect a spike in traffic.
BlueHost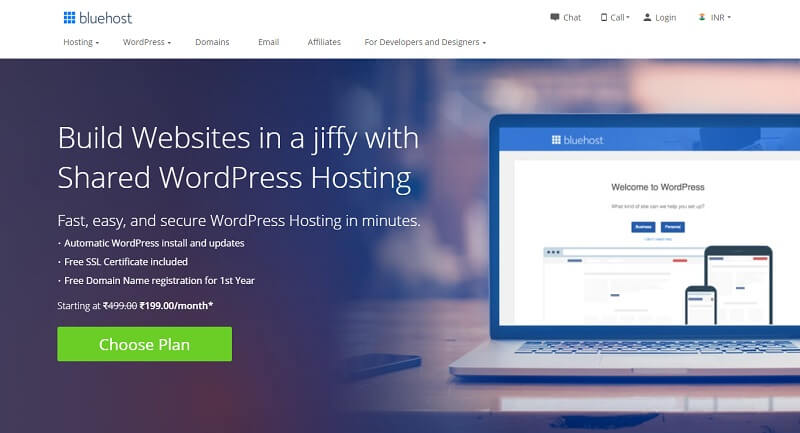 Bluehost is a WordPress host offering different plans, and their basic plans start at 2.95 dollars per month. Just like every other budget-friendly plan, this one also offers one website. It comes with a 15 GB SSD storage along in this package. Not only this, but this budget-friendly package comes with unmetered bandwidth. It offers free domain registration along with a free SSL certificate as well.
Bluehost is a big name, and it is one of the most popular web hosts available in the market. They have high ratings in WordPress hosting surveys, and these surveys are estimated upon user experiences. Just like every other web host, when you look forward to Bluehost for a budget-friendly plan, then you will have to prepay at least three years.
Their smaller plans have an offer in which you have to pay for one or 2-year contracts. However, Bluehost does not offer one month or monthly plans. Playing a lot of amounts for at least three years can be too much for using Bluehost. However, we can recommend you to use their Plus plan instead. This plan has unlimited websites and can provide you with unmetered bandwidth in just 5.45 Dollars per month.
Hostinger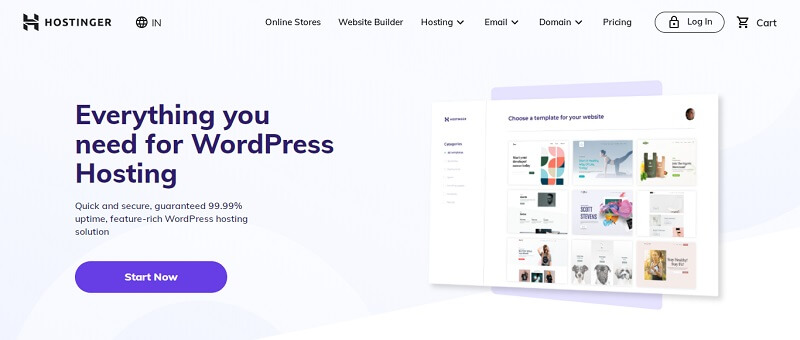 This is one of the cheapest WordPress hosts. They are offering single shared hosting plans starting at 0.99 Dollars per month, which is too low. Just like all the other budget-friendly plans, it also offers one website only. However, unlike Bluehost, it offers 100GB of bandwidth. But it also offers unmetered storage, which is better than Bluehost. In their package, a free SSL certificate is also included.
Hostinger offers the cheapest plans among all the other web hosts if you are ready to pay for more than a year upfront. They also have an excellent user review, which is nearly as satisfactory as Bluehost. To avail of their cheapest plan of 0.9dollar, you will have to prepay for four years upfront.
If you decide to go for a lesser payment at one time, you can go for their 2-year contract, which has a doubled price if you compare it based on monthly payments. Moreover, if you decide to go for a monthly payment, the prices can significantly rise to 10 times.
However, having a 4-year plan of hosting with a single website at this cheap price cannot be a bad deal. Add to it, Hostinger offers exclusive coupon codes which will further, bring down their pricing
DreamHost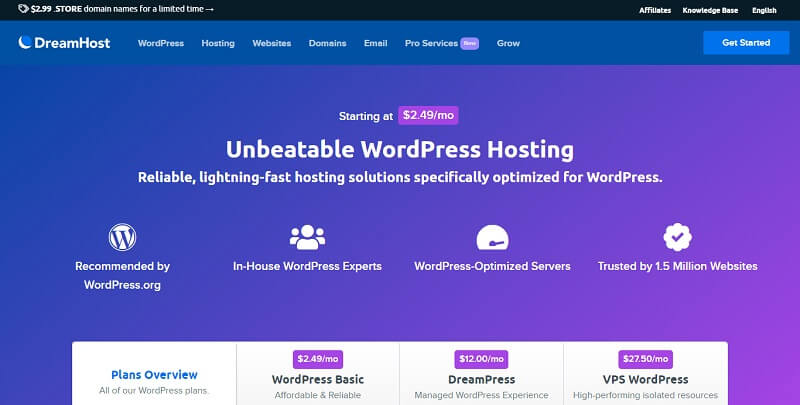 Dreamhost has a shared starter plan that you can avail of at 2.59 dollars per month. You can avail of one website in this plan along with free domain registration. They are offering their customers unlimited SSD storage and bandwidth. The best part is they are offering budget-friendly month-to-month payments, which can let you avoid upfront payment. It also comes with a free SSL certificate along.
Dreamhost has very simple plans and does not offer a bundle of different plans or tiers, unlike most web hosts. They make it very clear for you to choose between the given options for each type of plan they are offering. The best part about Dreamhost is offering modestly priced monthly programs, which are priced at only 4.95 dollars.
However, there is a drawback that if you are going for a shared unlimited plan that is providing multiple websites, then the plan can be very expensive.
Summing Up
All of the above hosting plans are very affordable if you are ready to pay upfront with a payment of less than $5 per month. However, the best one among them is Bluehost, which offers the best feature at the lowest possible prices.