The following collection of website templates incorporates the best web templates with a sheer well polished, highly developed nature. The cream of the crop. Regardless of their field, all businesses strive towards maximizing efficiency. By conserving resources and increasing productivity, profits will rise. Even on a small scale, this golden principle applies.
When it comes to website development, the tools, features, plugins, and add-ons are limitless. A smart financial decision would be not to purchase each feature individually, but to find a package that includes as many essential features as possible. Multipurpose HTML templates can offer that service. Just like their name suggests, they can fill almost any role, and accommodate all market niches.
In addition, when the landscape changes and the need for modification arises, you need to make sure that your site won't be left behind. Basically, a multipurpose theme is a lump of clay, ready to be shaped into something useful. This property of adaptability is priceless, in a time when technology and trends constantly threaten mediocre products with obsolescence. My short reviews will help you decide the themes that best fit you. Each of them has specific features that will be useful for the kind of site you want to run. You will surely find the perfect WordPress theme for your website in this collection.
List of the Top-Class Website Templates:
1. Real Estate Multipurpose HTML Template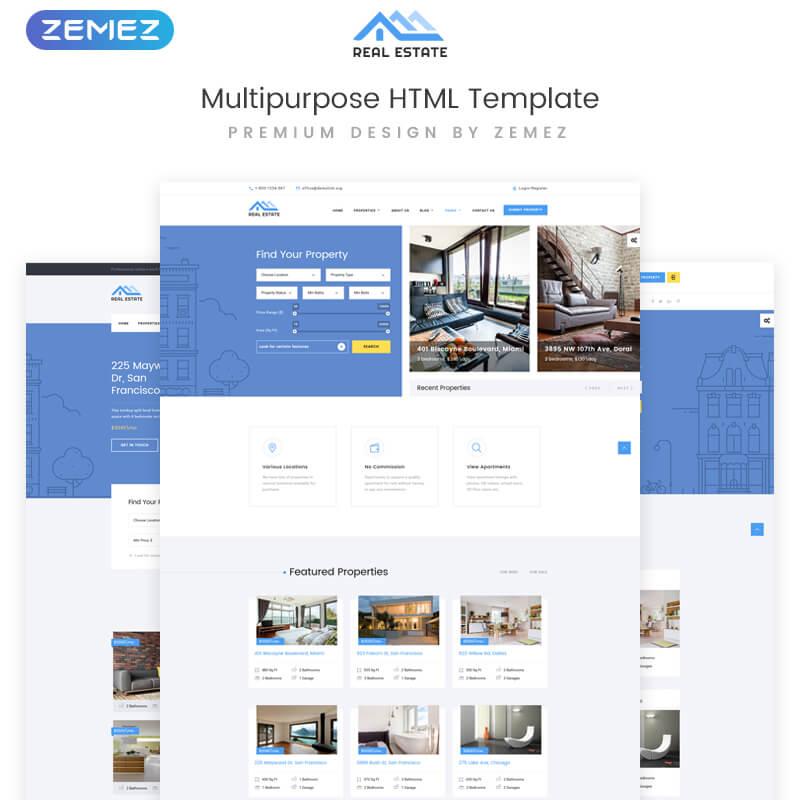 This Real Estate Multipurpose HTML Template boasts plenty of advanced loots and customization options, each implemented to enhance your experience. The theme can be used for a variety of purposes, including vacation rental, real estate listing, apartment rental pages, etc. A pack of pre-designed custom page templates will help you get started in no time. By reaching your web page, customers will feel the ease of coming across the desired content.
Advanced search options allow you to look for homes, apartments, and housing data by city, and ZIP. Social media integration will let your clients keep track of the updates on popular social media platforms. Cross-Browser compatible and fully responsive, the theme ensures seamless browsing from any app and device. What every real estate website needs is solid navigability and рomeзress sorts it out with a dope search function. It offers to autocomplete search option, as well as radius and geolocation search.
2. Industrial Multipage HTML5 Template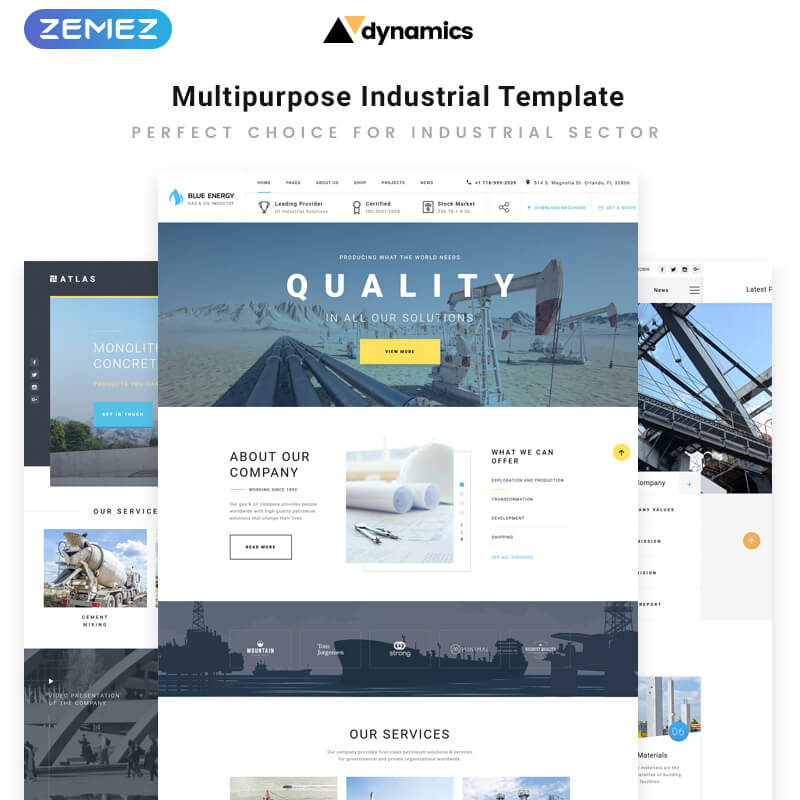 The industry is a business website template with a neat clean design. The full-width layout of this template gives you more than enough space to share all your content and features effectively in one place. Lots of space is reserved for the image contents to help you showcase your works visually.
As it is an HTML5 website template you can add video content easily and as a matter of fact, in the default design itself, you have space for adding video content. Visual effects are kept mild and used only for transition effects and hover effects. On all the pages, just above the footer, you have a testimonial section with a video, to improve your credibility.
Another useful element you get with this template is a request quote form, which is perfectly working from the front end, all you have to do is to integrate it with your support system or tool.
3. Web Development Multipage HTML Template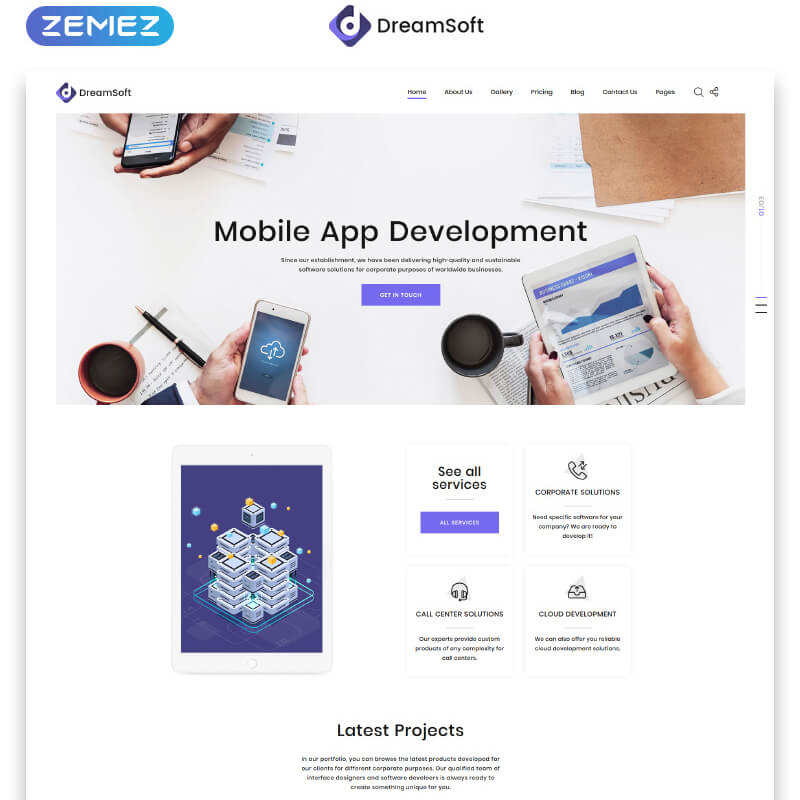 Web Development Multipage HTML Template is an ideal site skin for professionals looking to have expert experience in their online endeavors. This HTML template design addresses the needs of startups and software as a service launch landing page. It is a value-for-money template because of its rich features and content. Web Development Multipage HTML Template follows all the latest regulations to give you a solid foundation for your web space.
Amongst many features, this HTML template includes a layout that is responsive and retina-ready, layered PSD files, three different homes, and a sticky and transparent navbar. The look of this theme is very minimal and tidy, allowing you to push your services right in front of your audience distraction-free. Web Development Multipage HTML Template has a mobile and retina-ready design that acclimatizes all modern web browsers in an instant.
Moreover, it enhances the experience with animations, has integrated pricing tables and contact forms, and features valuable and in-depth help documentation. Web Development Multipage HTML Template even comes with editable PSD mockups, so that's something you do not have to find and implement yourself as well.
4. Brave Responsive Multipurpose Website Template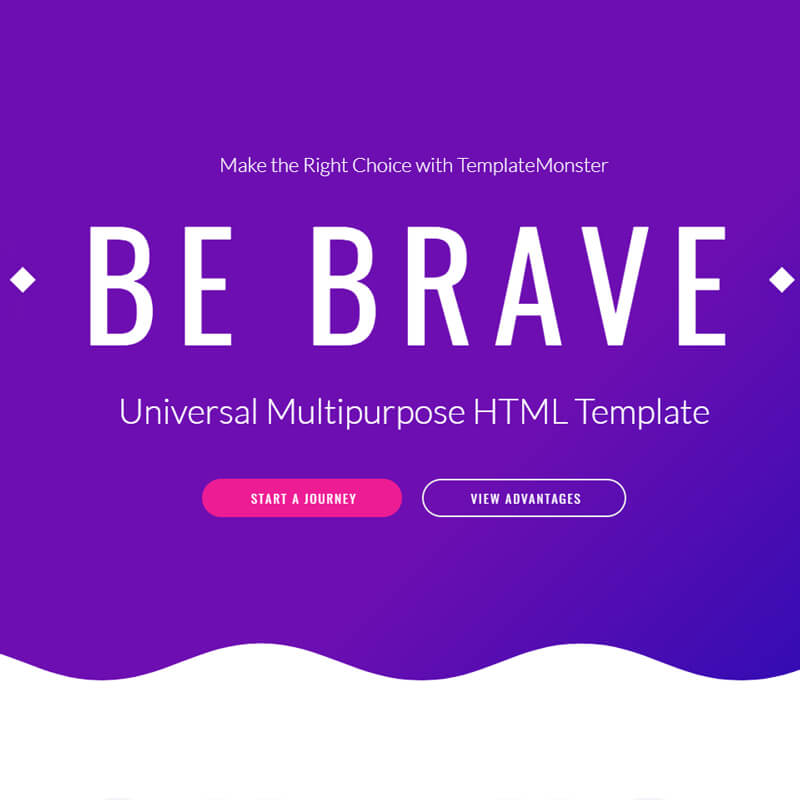 First-class, flexible, and functional, these three words define Brave Responsive Multipurpose Website Template the most. Whether you are starting up a small online store or you wish to go big, this Bootstrap business website template has an impressive collection to help you find the most appropriate setup to fit your taste.
Even if you run a consultancy agency or corporate business or you are a freelancer, Brave will have no problem matching your taste. Share more details about your website by posting blog articles and introducing content marketing. Add colorful images and create an outstanding online portfolio. Also, with Brave's social media tools, you can reach out to visitors more effectively and efficiently.
Made for all devices, you can easily view and edit your site without any problems. In short, Brave Responsive Multipurpose Website Template comes with six homes and additional fifty internal pages, as well as a ton of other elements and components.
5. ALF's – Personal Page Modern Multipage HTML Website Template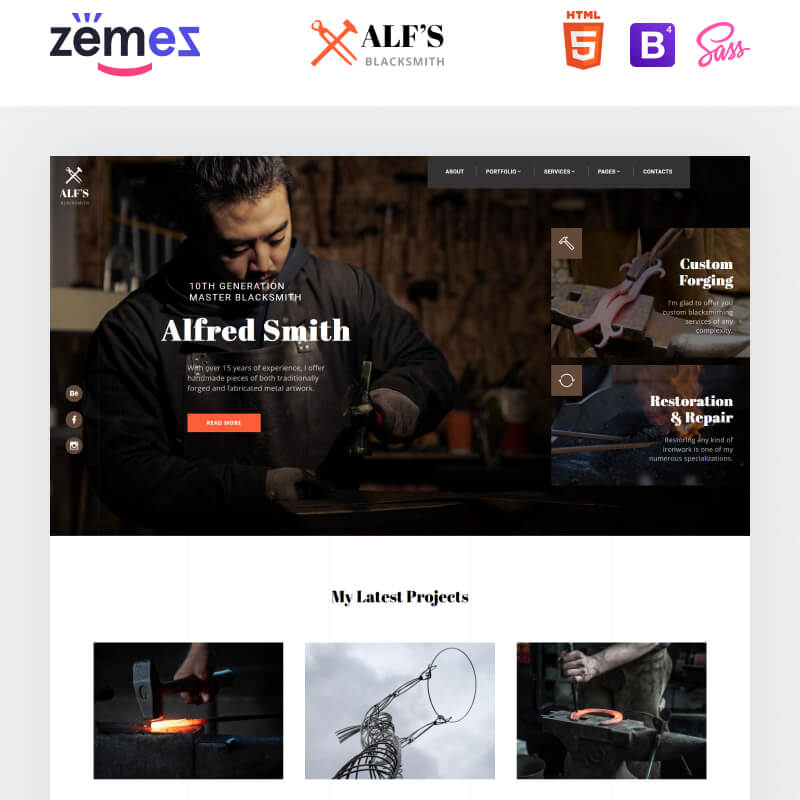 Designed and developed mainly for freelancers and other creative individuals, ALF's is one of the latest personal website templates powered by Bootstrap Framework. This makes it a fully responsive tool, ideal for an online portfolio or resume. It will showcase your work beautifully on all devices, from smartphones and to desktops.
However, Imozar is not applicable to resumes and personal portfolios only. Since ALF's features a clean, smooth, and straightforward look that you can easily adjust to fit your other needs swiftly. With this Personal Page Modern Multipage HTML Website Template, you get a whole bunch of amazing features and assets to add to your online presence.
From smooth scrolling, typewriter effect, and working contact form to video support, filterable portfolio, and testimonials slider. Wait no more and get your internet appearance going strong with ALF's.
6. Metric Multipage HTML Template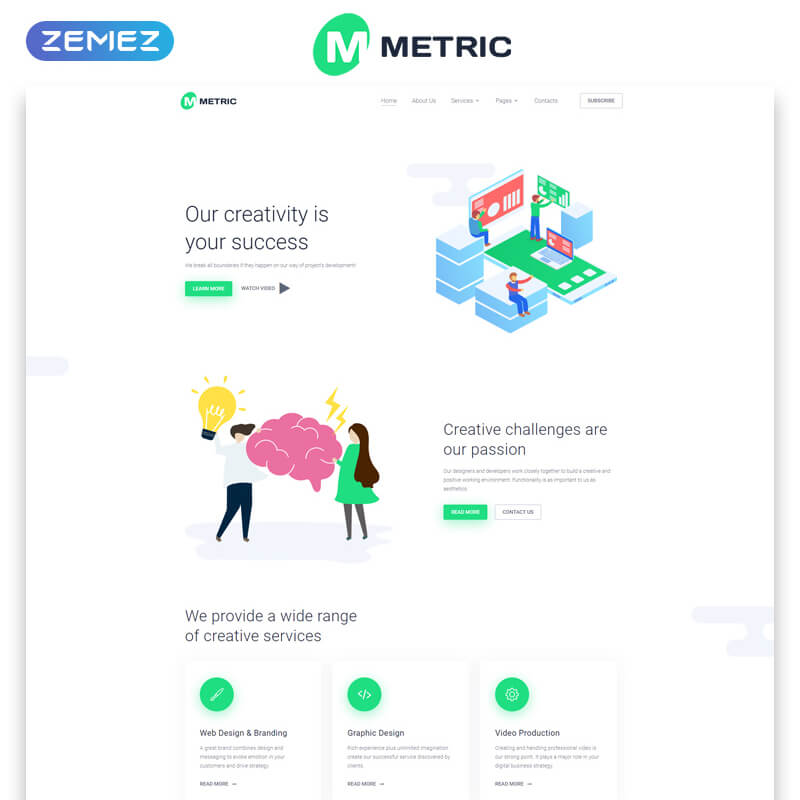 Metric Multipage HTML Template is a user-friendly and flexible, resourceful, and responsive HTML premium multi-purpose website theme. This theme has been packaged with a polished set of tools to help webmasters of any experience level.
Metric helps in efficiently crafting unique, functional websites. Metric works well across a spectrum of applications and website archetypes. It's a very modern and intuitive platform. It features a completely visual customization process through advanced admin panel settings. Within a few clicks, you can utterly alter Metric's entire look and feel to suit your needs.
You are also able to choose from several different demo websites with just one click. Each demo comes fully outfitted with inner pages, sections, and modules. You'll also find sliders, footers, headers, and everything you can think of. They are just waiting for you to make them your own in terms of layout and graphical detailing. You'll find many unique, custom-crafted shortcodes within Metric and you can drop them into the action with ease. They add levels of resourcefulness to any page in an instant. With Metric at your side, nothing can stop you.
7. Flooring Services Multipage HTML5 Template
Whether you are going to offer complex building and renovation solutions, interior and exterior design, wood furniture, and flooring services, Flooring Services Multipage HTML5 Template is the wisest spot to get started. As one of the elegant and modernly designed flooring HTML themes, Flooring Services Multipage HTML5 Template is custom-built to generate more prospects, leads, and opportunities both for the present and for the future, since this template is totally future scalable.
Besides this, its HTML5 and CSS3-based coding with responsive touches and HD readiness will keep your profile highly adaptive in relation to future devices and gadgets which will require a different approach to how your website content is located on them. This template is also wonderfully SEO optimized to give you a headstart in your search engine rankings, as well as shortcodes based for organizing your work more efficiently with 0 coding experience.
8. The Future Multipurpose HTML5 Template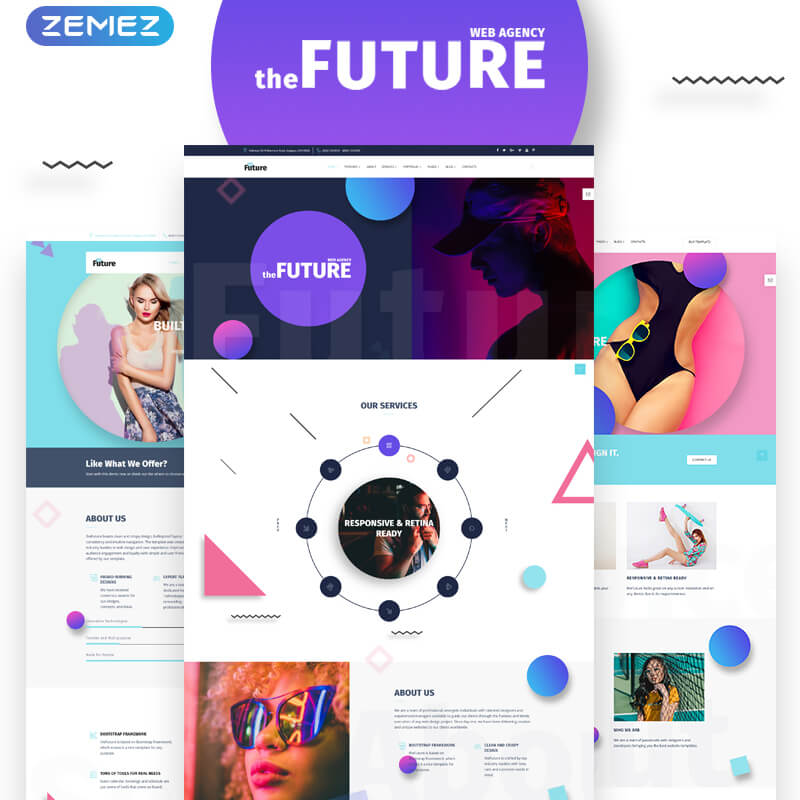 The Future Multipurpose HTML5 Template is a flexible and versatile responsive HTML5 multipurpose website theme. This theme is a flexible framework for creative users to build intriguing new projects. No coding skills are necessary to make the most of this template. Powerful section concepts and over 50 styling modules let you shake things up a bit or a lot.
Servicing a range of clients has never been easier, with dozens of polished demos and page layouts to start things off. Cutting-edge tools and advanced plugins provide all the functionality your clients may need. Asynchronous and On-Demand loading of javascript combined with HTML5/CSS3 technology ensures top performance and speed. Beautiful Parallax animation, conceptual sections, and gorgeous portfolios bring your content alive. Dazzle entire new audiences with The Future Multipurpose HTML5 Template, today!
9. Sport Event Multipurpose HTML5 Template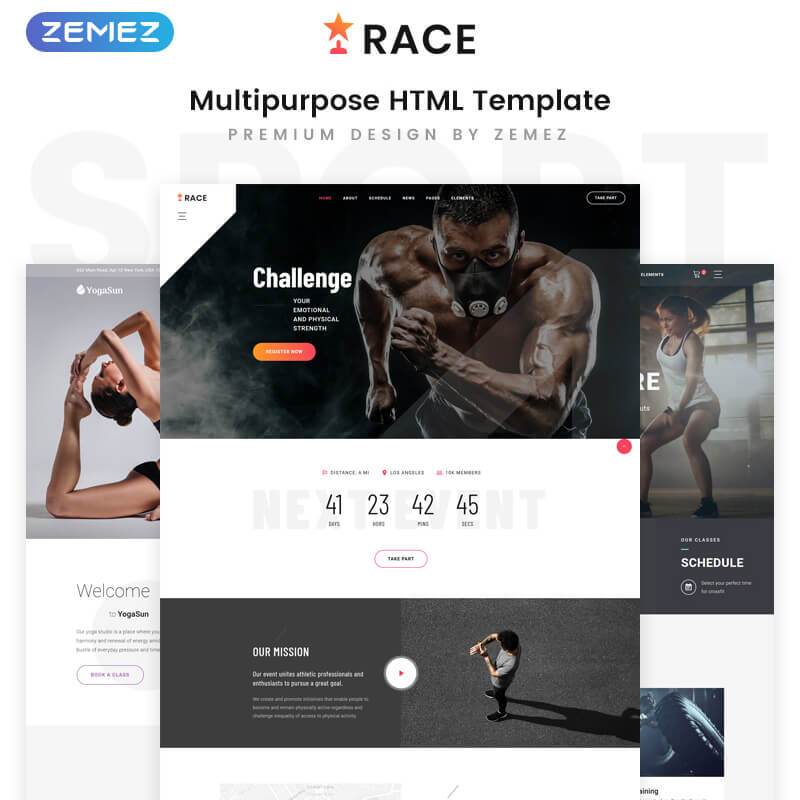 When you're building a sports website, you'll want to get visitors pumped about your club or team by injecting your design with as much excitement and branding as possible. The best way to accomplish this is to go with a sports theme that offers lots of customization options – such as Sports Event Multipurpose HTML5 Template.
This theme makes it a breeze to create custom event pages to keep visitors updated on all your team's latest games, as well as player lists to feature your key talent. Also, you can even create dedicated pages for individual players, games, and teams – a process made simple through the wide variety of demo content at your disposal. Sports Event Multipurpose HTML5 Template also makes use of a few key plugins to expand its functionality.
There are a wide variety of customization options to take advantage of during the design process, such as various headers, navigation styles, sidebars, and skin colors. If you want near-total control over your design, along with a suite of handy features specifically designed for sports websites, Sport Event Multipurpose HTML5 Template is a theme worth trying out.
10. Mingo Multipage HTML Template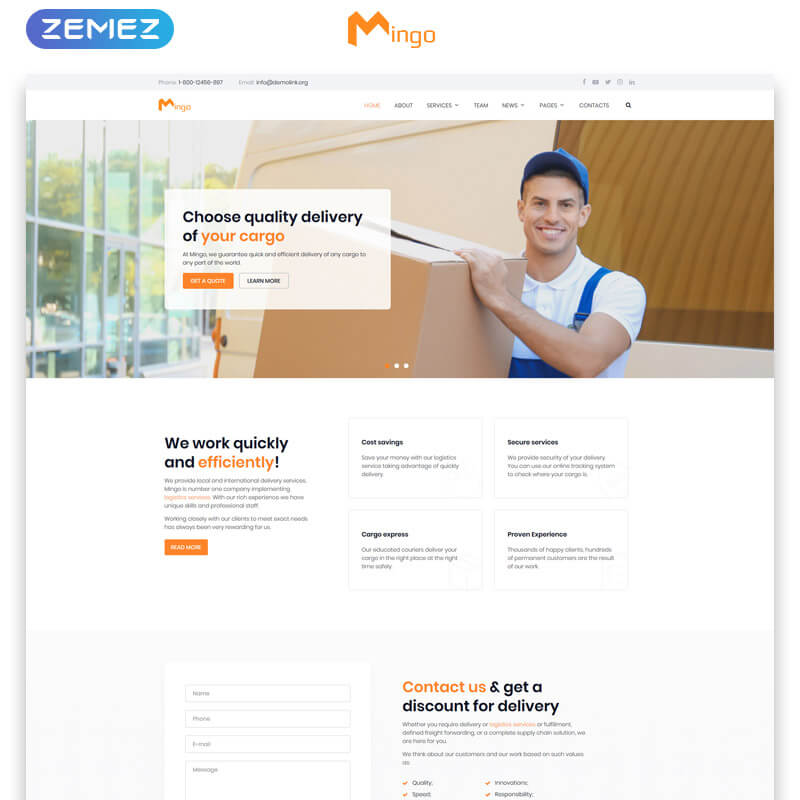 To me, Mingo is another glowing HTML template worth putting here in the best listing blog. You can use this template for food delivery purposes. Another reason to extract this item from this list is food delivery service is a potentially growing industry all over the world.
However, Mingo is designed with all modern attributes as well as smart design ideas. Also, it has HTML5, Bootstrap, and CSS3 codes. It brings many unique homepages, dropdown menus, Google web fonts, favicon, and tooltips. Furthermore, Quickfood has Ajax Cart, Working PHP, Google Map, Magnific Popup, and coming soon templates. So, if you are looking for the best responsive HTML website templates, Bootstrap web templates, and CSS web templates in 2019, just open any of the website templates above and download them for the fast building of your own website.
Moreover, these are some of the best ways to save time and effort. Simply download a built-in website template like the examples mentioned above. Besides, you can download more best template websites. Just open this link and start designing by importing pictures and other components. Your HTML5 website prototype design will be completed easily.