Shopify has evolved into one of the fastest-growing eCommerce development platforms offering loads of customizations for its users. Most of the traffic on Shopify sites comes from mobiles. That is why Shopify also offers over 1600 mobile-friendly themes to its users. However, this becomes a dilemma for online retailers to choose the right theme for their eCommerce websites.
You must consider certain factors before choosing a Shopify theme for your online store to perfectly reflect your brand's image through your eCommerce website. This post offers a list of top Shopify themes that have been widely used by some top-performing eCommerce websites and tested by our expert web designers.
Table of Contents
How to Select the Best Shopify Theme for Your Online Store:
Hand-picked Most Trending Shopify Themes
How to Select the Best Shopify Theme for Your Online Store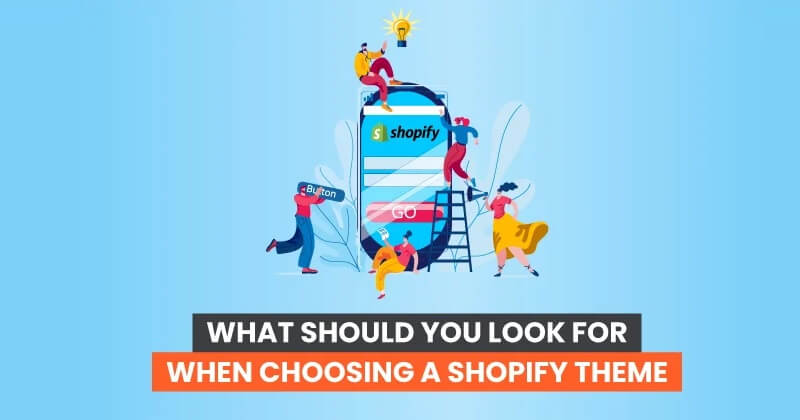 Think of Your Content Strategy:
The way you approach to content has much to do with the kind of theme you can use for your online store. So, you must consider your user-generated content, blog posts, images & videos, and social media campaigns while choosing the best suitable theme.
The Kind of Product You Offer:
Browse through the themes mentioned below and check which template best suits your products and makes them look compelling. Most theme designers instill premium product images in themes; you just need to make sure that they match your styles.
Available Support for the Theme:
You might try to tweak something new with the theme and face trouble doing so; support is what you will look for. Look at whether it's paid or free and how to get direct support from the development team.
Responsiveness:
The ability of a theme to automatically adjust the type of content of a website according to the screen is called responsiveness. Hence, you should also check out this aspect considering your requirements regarding the visual appeal of your site.
Options for Customization:
Ensure that the theme offers user-friendly features, especially regarding customization. This will help you to keep modifying your site's charisma and keep pace with the changing trends.
Hand-picked Most Trending Shopify Themes
Here is a list of some most popular Shopify themes that have been widely used by worldwide online store owners to grab the instant attention of shoppers. Web designers have tested these themes on various parameters, including SEO-friendliness, ease of use, customization options, performance, and speed.
Dawn
This is a perfect, clean, and simple theme for beginners looking to develop a professional online store without investing much time and money. It loads 35% faster than other debut themes and removes all unwanted scripts and codes from templates to be lighter and faster. The theme offers complete control over what you want to display on your site and how. Add hero banners for CTAs, add product features to your home page, and play creatively with customized templates.
Ella
This theme is widely popular because of its all-in-one functionality. It offers an Ajax-layered navigation module facilitating users with a link to the next page with the "Slideshow with Lookbook" feature. The theme also offers advanced cart optimization options to improve conversions. You can add images discreetly on both desktop and mobile versions for specific content sections that are mostly visited by users. Display your featured products and collections on the homepage along with "quick view & quick shop" features, making shopping effortless for your customers.
Flow
The theme is available in three different styles and works perfectly with all the advanced features of Shopify. You can easily feature a YouTube video on your store's homepage and display products in a masonry-style grid with highlighted product information on the page sidebar. Besides this, you get a promotional banner and various in-depth intuitive features for marketing and SEO. Background options, font choices, customer support, customization options, and seamless social media integration are major reasons why Flow theme is mostly preferred by start-up online stores.
Empire
With an Amazon-like design, Empire comes in very handy in dealing with high-volume traffic and huge product catalogs. Create custom pages for your store with drag-and-drop sections and blocks, and find various flexible options to play creatively with images, products, videos, and content to make your online store look appealing to shoppers. Its mobile responsiveness further adds to the optimized performance; making it much more convenient to customize according to your growing requirements. Additionally, a wide range of built-in features and seamless integrations make it a versatile theme for modern eCommerce functionalities.
Minion
This is another next-gen Shopify theme with added customizability and optimized speed. You can easily configure unique layouts for your different eCommerce pages and choose among three different navigation styles that best fit your brand. The Mega Menu option allows users to directly view your products from a single page; along with some custom filters to reach the products that they are looking for. Minion offers ample design settings to tweak the magnetism of your site and take advantage of scarcity with the stock countdowns. Display your product options with color and image swatches, and the slide-out cart enhances your order value.
Impulse
This theme is a great option for stores selling visually appealing products like fashion apparel, electronics, and jewelry. The theme is heavily loaded with features like in-stock and low-stock notices and integrated product reviews to boost conversions. Apart from its mobile-friendly responsive design, you also get 6 custom promotion templates, 4 product templates, and 4-page templates to beautify your store as per your brand's persona. Get access to over 250+ fonts along with advanced search options and filters. The theme has worked wonders for most emerging online stores enabling them to sell their products effectively and in a personalized way.
Symmetry
A theme for premium Shopify users fully equipped with high-quality visuals to display your products with customized pre-set designs. The theme is extremely capable of handling huge product catalogs with responsive customer support. You will find over 20 sections to implement on your store's pages and a comprehensive video marketing section to keep your visitors engaged. Besides this, store administration, a multi-level menu, and rearrangeable rows on the homepage section allow immense convenience for store owners to offer a fully personalized and professional online store. The theme has over 90% positive reviews by its current users, and thus, you can rely on its performance.
Envy
As the name suggests, let your competitors be jealous of the kind of visual appeal that you create for your online store. The theme is the best fit for stores with time-based promotions and flash sales. No matter what product you offer; the theme offers amazing features to portray your forte and take promotion to the next level. You get an age verifier to target specific customers for a particular product and ample product badges to sell your products. Envy is well equipped with smart cart options like cart notes, in-store pickups, quick buy, and slide-out carts. There are various exciting features to enhance marketing and conversions, and overall merchandising.
Endnote
Shopify development allows seamless options to express your creativity and intuitiveness with best-in-class tools, extensions, and themes. The visual appeal of an eCommerce site is a dominant aspect that you must focus on, and choosing among these proven & amazing Shopify themes will help you leverage the most out of your project.