Hey guys, In this article, I have listed the 8 best presentation tools for 2023: free and paid alternatives. So keep reading.
Do you have some out-of-the-box ideas for your marketing campaign and are looking forward to convincing top management to support your ideas?
Are you trying to communicate the information about your product/service with prospects to close the deal? Are you putting your best efforts into pitching to the investors and persuading them to invest in your venture?
Well, whatever your objective is, a creatively designed presentation can help you achieve it right. However, creating a compelling presentation that keeps the audience hooked to their seats with excitement throughout the slideshow is not as easy as pie. Here, the apt presentation tool can make your work a lot easier.
With tons of presentation tools available out there, choosing one is indeed baffling. If you also don't know which tool to pick for creating your next presentation, look no further!
We have provided a well-curated list of tools that allow you to craft visually engaging, high-quality, and elegant presentations. Give them a try!
Table of Contents:
4. VEED
5. Prezi
6. Visme
7. Canva
8. Haiku Deck
1. Microsoft PowerPoint

MS PowerPoint has ruled the world of presentations since its launch in 1987. Also, this platform provides several animations, pre-designed templates for crafting professional-looking and sleek presentations and bringing your ideas to life.
Further, Microsoft PowerPoint templates offer the widest range of design choices to users, which can be easily customized to suit their needs.
Pricing: PowerPoint comes with the Microsoft 365 Suite; therefore, you need a license for Microsoft Office to use it. The price starts from $5/user/month.
2. Apple Keynote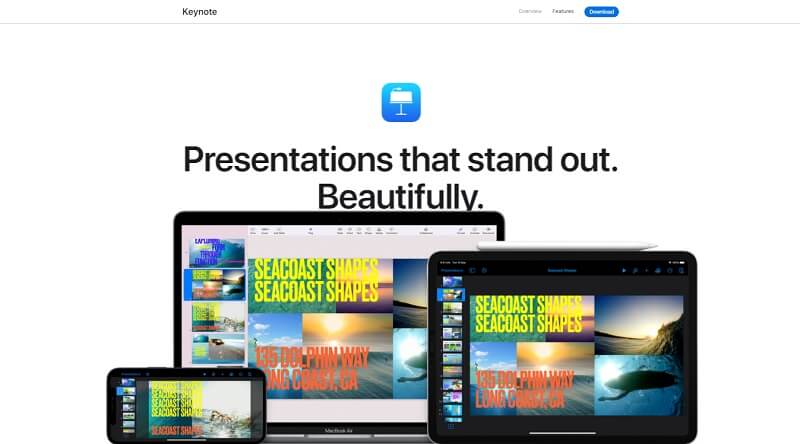 With its simple yet intuitive interface, over 30 cinematic effects and transitions, and gorgeous themes, Keynote lets you prepare impressive and groundbreaking presentations.
You can add drama to your presentation and wow your audience with the incredible features offered by this tool.
Also, you can edit and import PowerPoint documents in Keynote. You can also save Keynote documents as PowerPoint files.
Pricing: This tool is available free of cost for iOS and macOS). You can also access it through a web browser (through iCloud.com).
3. Google Slides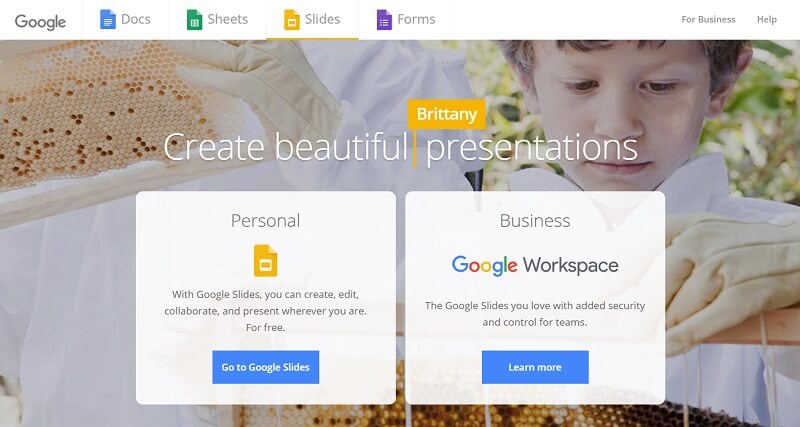 Google Slides is available as a mobile app for iOS, Android, Windows, BlackBerry, and as a web application. It is also available as a desktop application on Google's Chrome OS.
This cloud-based tool supports both online and offline access, seamless collaboration, automatic saving on Google Drive. Moreover, you can link images and text to URLs or other slides in the presentation.
Pricing: Google Slides is absolutely free for individuals. However, for business entities, it comes as a part of the G Suite package.
4. VEED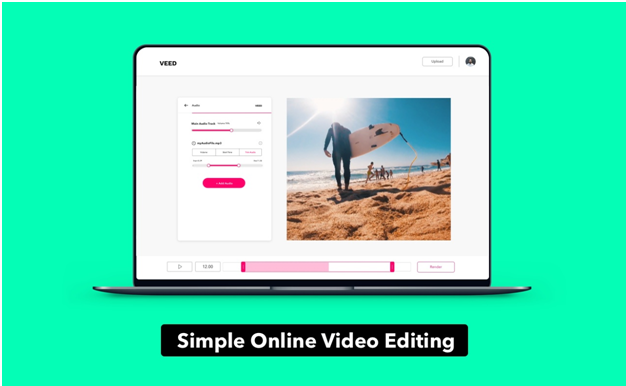 It is time to say goodbye to complex video editing software and hello to one-click online video editing. VEED is used by educators, nonprofit organizations, content creators, influencers, small business owners, and just about anyone from around the world in producing amazing video content for visual and through remote learning. You no longer need to download any software to create video content. With VEED's ecosystem, any video creator can help tie content and creativity together and build a coherent, consistent online engagement. You can also increase your reach with VEED's subtitling tool. This means that your content will be understood and accessible to thousands of viewers.
Pricing:
Free – Quick projects under 10 minutes
Basic – $12/month, billed yearly
Pro – $24/month, billed yearly
5. Prezi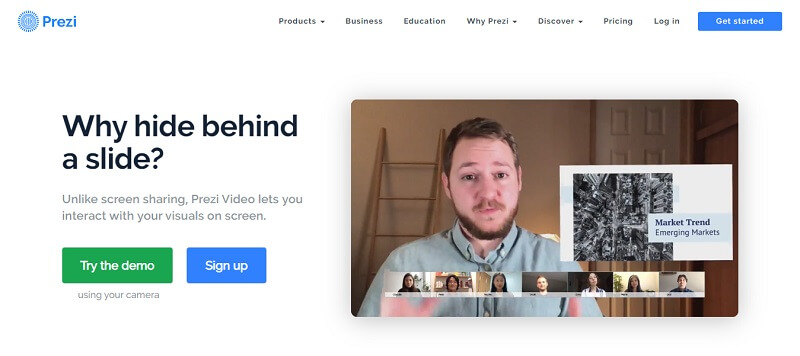 This tool lets you illustrate your visual story through compelling designs. You can choose from a huge library of templates, track the presentation's performance via analytics, and export your presentation to PDF.
It also allows you to search high-quality videos and images Giphy, Unsplash, etc., add visual effects and filters, upload your own content, and use image masking.
Pricing:
Standard (For personal use) – Starting at $3/month
Plus (For expert visual communicators) – Starting at $7/month
Premium (For business professionals) – Starting at $9/month
6. Visme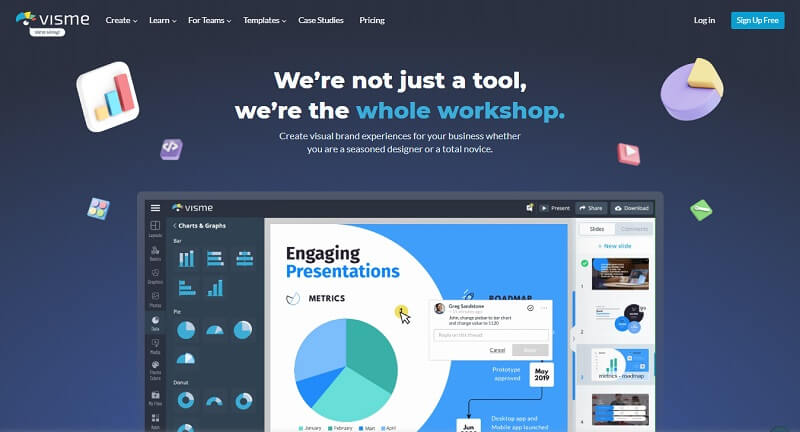 Whether you are a novice or a seasoned designer, you can use this web-based tool to craft engaging presentations and express your thoughts in an interactive manner.
It offers you over 1000 layouts and themes, social media graphics, charts and maps, infographics, GIFs,  and videos to make a lasting impression. If you'd like, however, to create dynamic presentations on your website so you can have tables and charts, you're better with a WordPress tables plugin that can do that for you.
With the in-built analytics system of Visme, you can monitor who has viewed your presentation.
Pricing:
Free – Up to 5 projects
Standard – $15/month, billed yearly
Business – $29/user/month, billed yearly
Enterprise – Custom pricing
7. Canva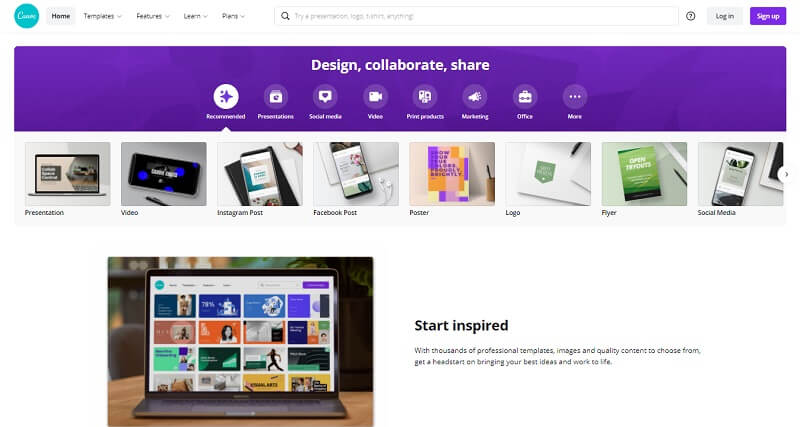 Canva offers hundreds of templates and design layouts to get a headstart on creating an amazing presentation and bringing your best ideas to life. You can either upload your own images or choose from over 1 million of Canva's stock images.
Moreover, you can adjust fonts and text, drag and drop different design elements, and add filters to images while designing the presentation.
Pricing:
Basic plan – Free
Pro – $12.99/user/month
8. Haiku Deck

An array of stylish fonts and a huge library of images (it has more than 40 million stock images on various subjects) set Haiku Deck apart from traditional presentation tools.
This tool focuses on clarity and simplicity so that you can present your message with emotional impact. It stores presentations in the cloud so that you can access them on any device.
Pricing:
Pro – ₹9.99/month
Premium – ₹29.99/month
If you're looking to connect and engage with your audience in an appealing way, you must choose the right presentation tool. Hope this list of free and premium tools will help you narrow your choice and get rid of the dilemma of choosing from among tons of tools.
Do you have some other presentation tools in mind? Do share with us in the "Comments" section below. And if you like the blog post, do share it on your social media handles.