In this article, I have listed the 5 best free Shopify themes for your online business. So keep reading.
You may get wonder to know, but according to the research conducted by Adobe, more than 38% of people leave a website if its layout is not appealing. And for online businesses, those are not just random customers, but they are losing sales opportunities. Your store's design is very much important as it is the very first thing customers notice when they browse your store. If your store does not look eye-catchy and elegant, customers don't feel willing to spend time and shop from you. Eventually, it hurts your business.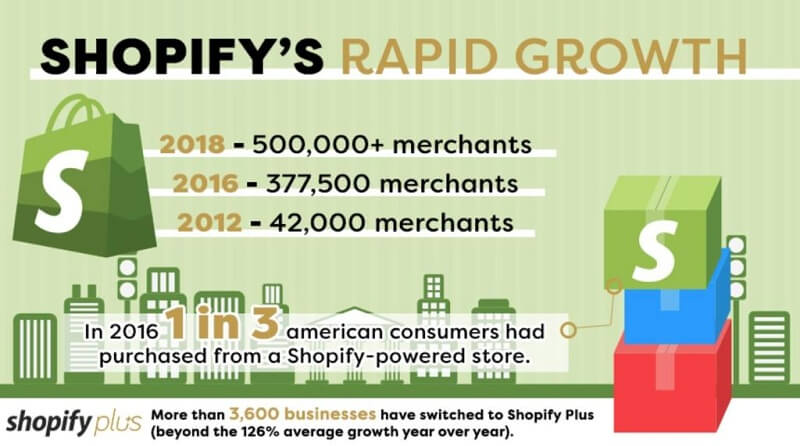 There are plenty of CMS, but right now, Shopify holds the number one position and is great for retail and small businesses that are new to online business. Moreover, you don't require that much technical knowledge to get started with this platform. You can set up and launch the store within minutes, and you will also have lots of amazing themes to choose from that come with unlimited customization options.
Shopify's popularity is increasing rapidly, which means lots of people are using various themes to achieve business goals. However, finding the best professional Shopify theme for your store is not a cakewalk as each theme has its own perks and loopholes. Before choosing any theme, you need to ask three questions to yourself,
Is it free?
Does it contain all modern features?
Is it perfect for blogs and be able to drive traffic?
Before picking any theme, work on these three questions, and you will be able to make a wise decision.
How To Select The Best Free Shopify Themes
The best Shopify theme helps you create an amazing online store and drive maximum traffic. It will also convert prospects into customers and increase the customer retention ratio in the long run. There are plenty of themes available on Shopify, but don't install theme randomly; consider some important questions before you choose any theme,
What kind of your experience do you want to deliver to your customers
What features do you want to include?
How many products do you need to add
Which kind of payment gateway do you want to offer?
How many pages do you want to add?
Once you have a clear idea of the above questions, you can easily pick a Shopify theme that helps you stand out from the crowd and deliver an amazing user experience.
Moreover, you need to choose a theme based on your business; if you are engaged with an eCommerce business, pick a theme accordingly. In addition, whatever theme you choose should be responsive and able to deliver a clutter-free experience to users. If you are stepping into a hyperlocal delivery business and clueless about the theme selection, you can also consult a white label delivery app development company that helps you accomplish business goals.
Here we have outlined the 5 best free Shopify themes in this post that help you launch an amazing store for your business. Here we go.
1. Brooklyn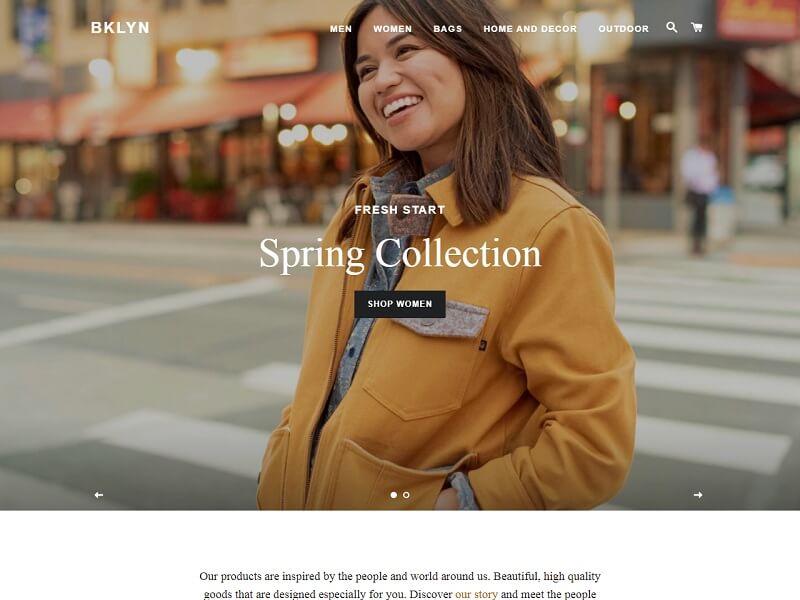 Our list starts from Brooklyn as it is one of the best free themes that are perfect for your online store. Brooklyn offers two styles, classic and dynamic; you can choose anyone based on your business requirement. If you have limited products to sell and follow a minimalistic approach, you can go with a classic; if you want your store to look colorful and vibrant, you should focus on dynamic.
It comes with unlimited customization options, from fonts to layout to footer to general settings; you can customize everything. You can easily make modifications to this theme according to your needs and requirements.
Features
Fully responsive
Comes with slideshow
Perfect for fashion stores
Social media icon integration
Able to customize the home page
2. Minimal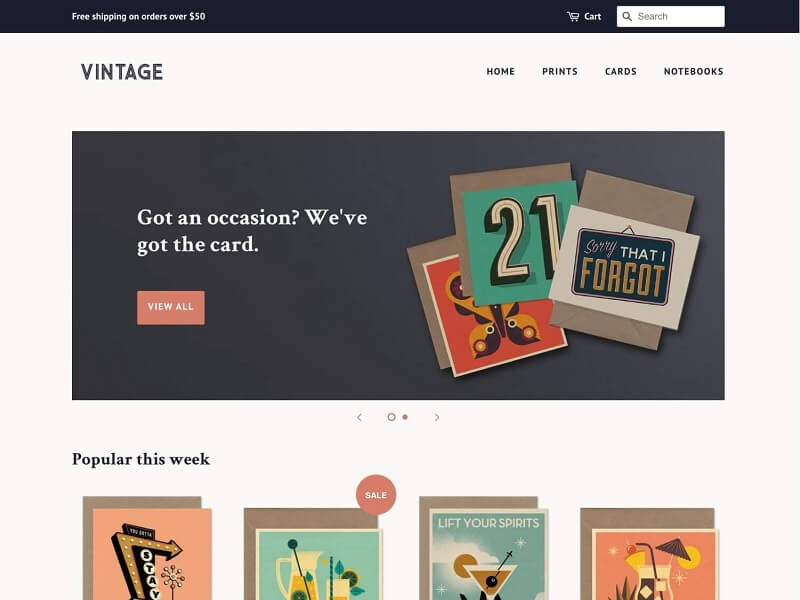 The name itself suggests the Minimal theme comes with lots of white space that does not distract users and keep them engaged. It also eliminates visual distractions so you can focus more on content and image quality. This theme is popular as it has 84% positive reviews and a maximum of five-star ratings in its bag.
Minimal theme comes in three styles: Vintage, Fashion, and modern; based on your requirement, you can choose anyone and get started. The simple yet minimalistic approach puts products front and center and displays your products, video, and other important information in a beautiful way that attracts maximum eyeballs and drives conversions.
Features
Perfect for fashion and cultural website
Product image zoom
Product filtering
Handy customizable features
Homepage slider
3. Debut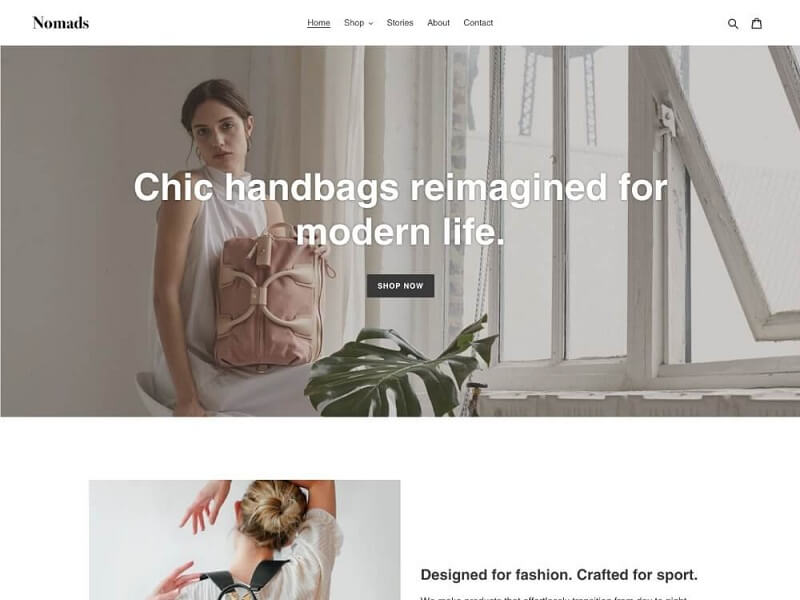 Debut is one of the best light versions of Shopify free themes to rely on if you are a novice in the online business. Debut is the perfect theme if you have limited products to sell. This theme allows you to highlight your products as it comes with advanced product recommendation features. You can also upload your product video on the home page. Extra white space also allows you to add testimonials that improve sales and drive traffic.
The home page has a slideshow feature that helps you showcase your products. However, you can also add more images to the slideshow. An advanced search bar allows your customers to find products with ease.
Features
Perfect for small and medium scale business
Predictive search bar
Product banners
Social media blocks
Featured home page product video
4. Narrative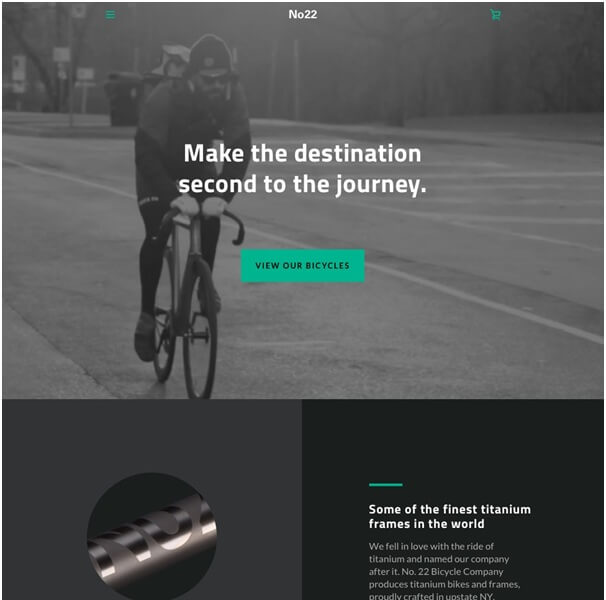 As the name suggests, Shopify's Narrative theme lets you convey a product story to your customers. This theme is ideal for few items or small catalog shops as it allows you to feature a full-screen video on the home page. Moreover, a high resolution and appealing layout let you highlight product details. With its large image blocks, Narrative is the ultimate choice for displaying small products or a single service.
The Narrative is popular among small business owners as it has received 60% positive ratings and reviews.
Features
Three styles
Perfect for small web stores
Free stock photos
Fully customizable
Featured home page video
5. Venture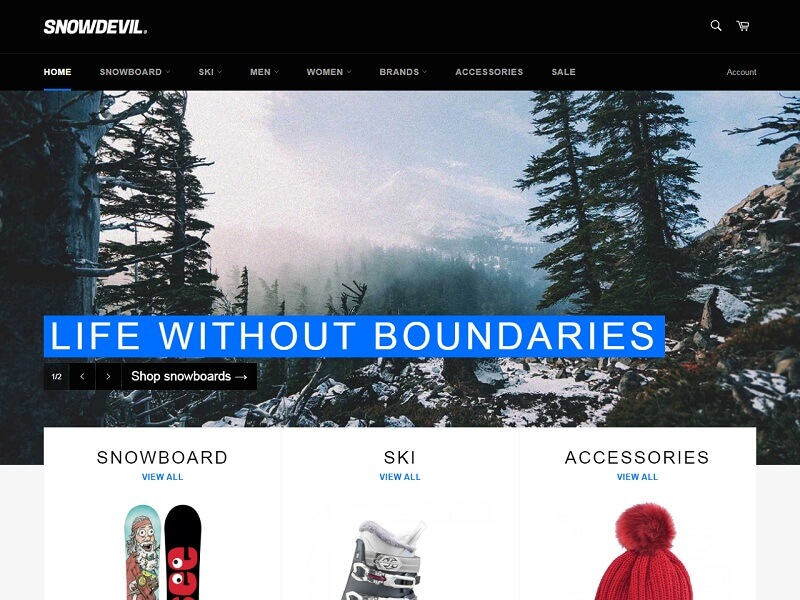 You might get an idea from its name; the Venture theme is ideal for sports retailers. This free Shopify theme is best for sports websites that host events and campaigns frequently. It comes with a promotional bar in which you can highlight products that are on sale and deals you are offering right now. This theme supports a drag-and-drop menu where you can feature product details and its description.
Features
Perfect for sports retailers
Minimalistic design
Full-screen slideshow
Able to put a promotional banner on home page
Supports large product images
Apart from the mentioned above, there are lots of Shopify themes available. Best Free Shopify themes are the best option for brands that are new to online business and lack adequate resources. These five themes are most popular and suitable to every business category. However, if you want further customization and add more features, go with premium as it starts at $100.
Author Bio
Brijesh is the tech activist, blogger, and internet marketing officer of Elluminati Inc for more than three years. My major concern is to educate people who are interested in technology. I am passionate about helping people in all aspects of SaaS solutions, online delivery business, digital marketing, and other related topics that make tomorrow's world better. I am fond of writing useful and informative content that helps brands to grow businesses.