Hey guys, in today's article, we are going to discuss the top 5 WordPress plugins for local SEO and how to use them. So keep reading. If you run a business with a physical storefront, learning how to optimize your WordPress website with local SEO can be the best action to attract more local customers and increase sales. However, learning how to optimize your website to appear on search engine results pages can be tricky, especially since you are targeting the local algorithm.
In this article, we'll go through everything you need to know about local SEO, starting from the definition to some examples and ranking factors. We will also share five WordPress plugins to enhance your WordPress local SEO.
Let's begin.
What Is Local SEO?
Local SEO is the strategy of optimizing your website to appear on local search results. When optimized well, search engines will return your business even when users don't add any geographic modifier in their search query like cities, neighborhoods, or phrases like "near me" and "nearby."
Here is an example of Italian restaurants on local search results in New York: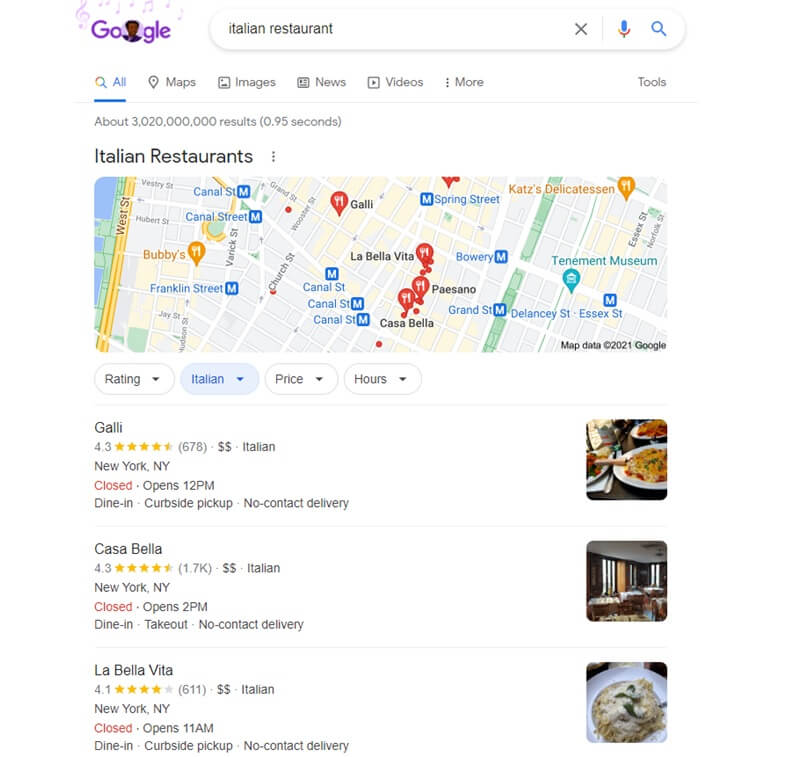 Google makes sure to return Italian restaurants that are closest in proximity to the user's location even when they don't specify it. With that in mind, optimizing your website for local SEO is critical if you:
Have a physical storefront.
Serve customers in a particular geographic area.
Local SEO Ranking Factors
Although people search for local businesses using various search engines, Google is the most popular with the highest market share worldwide. For that reason, this article will be focusing on optimizing your local presence on Google. That said, local SEO depends on a few factors, such as your business industry and location. It's also vital to pay attention to the annual Local Search Ranking Factor survey – a popular guidebook on local search engine optimization consisting of insight from worldwide local SEO experts.
With that in mind, here are several ranking factors that influence your local search results:
Google My Business Listings
Your GMB profile works as a homepage for your website on search results. It showcases important information such as phone numbers, hours of operation, customer reviews, and directions to help potential customers take action. When listing your business name, avoid stuffing extra keywords, as Google can suspend your website if it catches you doing so. Ensure your address is correct and the map pin is in the right location. Additionally, make sure to claim your location on your GMB profile beforehand. Another great practice is to upload high-quality images of your business. If it's a restaurant, consider uploading the menu complete with the pricing.
Inbound Links
Google's algorithm for local SEO is a little different when it comes to inbound links. Instead of focusing on getting links from trusted resources, the important factor is that the link comes from a local business or website. Here are some ideas to build local links to increase visibility on local searches:
Local event sponsorship.
Join local blogger communities and have them review your business.
Network and get involved with organizations and clubs, and keep an eye out for inbound link opportunities.
Google Reviews
Google reviews aren't just important to potential customers, they are also a significant factor in Google's local algorithm. Nowadays, people trust online reviews as much as they trust a review from their peers. To achieve an overall positive review from past customers, make sure to prioritize customer service. That said, a couple of bad reviews can also be great as it makes your business look more authentic. However, if your business receives a negative remark, it's best to immediately resolve the customer's issue.
On-page Content Optimization
In addition to traditional on-page content optimization, such as ensuring site speed and avoiding broken links, Google has a unique algorithm for local SEO. For instance, local SEO focuses on elements like business name, address, and phone number (NAP) to prove your business exists in a specific location. On top of local SEO purposes, precise NAP info on every page of your site can also provide a great user experience. Additionally, include relevant local content such as the landmarks in your direction or events your business is involved with.
User Engagement
User engagement signals that real-world users are interacting with your local business. And the more people engage with your GMB listing, the more likely you rank in local search results. Google looks at signals such as mobile clicks to calls and directions, as well as location check-ins.
5 WordPress Plugins For Local SEO
In addition to optimizing the mentioned factors, adding relevant plugins to further boost your rankings on search results is also detrimental to your business. Here are five WordPress plugins for Local SEO:
1. Yoast SEO

Yoast SEO is the most popular SEO plugin for WordPress with over five million active installations. A lot of its popularity is due to the plugin's vast features. With it, users can optimize on-page content using SEO analysis, which will assist you when writing content with focus key phrases. You also have a Google preview feature, which shows how your business listings show in search results, even on mobile devices. That way, you can make adjustments if you see fit. Internal linking features are also available, so you can optimize your site structure and help search engines understand your type of business better.
Furthermore, the plugin comes with a premium Local SEO add-on to help you target Google's local search results signals. You can create a full-fledged contact page containing essential information, like directions and opening hours, to increase ranking on local search results. If you need help getting started, Yoast SEO provides free online SEO training and paid Local SEO courses.
2. Schema & Structured Data

Schema and structured data are also part of on-page content optimization. They're used to class information on your website. It helps add Google Rich Snippets markup according to schema.org local business guidelines to structure your site for local SEO. Despite a more technical approach, this plugin is intuitive and easy to use. Schema-type blocks are available in WordPress Gutenberg editor. With it, you can create your content with the blocks and JSON-LD schema markup will automatically follow.
Setting it up is a breeze. Simply select your schema type and begin filling in your business name, URL, and contact number. There's also an option to import data from other schema plugins such as WP SEO Schema or SEO Pressor.
3. WP Google Maps

WP Google Maps is an excellent plugin to add a customized Google Map to your WordPress posts and pages using shortcode. It's perfect for showing useful directions such as route alternatives and delivery areas. That way, you can display a store location in an engaging and natural way while optimizing Google's algorithm for local search results. You can create as many map markers as you need by typing in the address. To ensure an accurate location, drag the marker to an exact point.
Once done, you can make edits to your map markers when needed. This lets you change information such as icons, categories, links, and descriptions. Maps are also responsive, which works seamlessly across all devices so visitors can navigate to your store without any trouble. Additionally, full-screen map functionality is also available. It's also possible to let users leave ratings on your markers when using the Gold add-on, so you know whether the map needs improvement.
4. Google My Business Reviews And Rating

If you have a Google My Business listing and would like to show customer reviews and ratings on your website, this plugin can be the best option for the task. You can personalize the display by filtering the reviews based on ratings, length, and language. It's also possible to manage all retrieved reviews and selectively hide them. Additionally, customizing the appearance is possible by changing the theme, alignment, and color scheme. you can also use the general Google icon or replace it with a personalized one.
Furthermore, the design is responsive and created with SVG vector graphics for a crisp appearance across all devices. There are also shortcodes to link and encourage customers to leave their rating and write a review on Google from your website. To help people get an instant idea of your rating, display your total number of reviews and the current rating number.
5. W3 Total Cache

W3 Total Cache is a performance optimization plugin for WordPress, which is essential to increase site speed and improve ranking on local search results. The plugin is lightweight and easy to set up. It doesn't require any modifications to your theme or .htaccess file. Additionally, it's compatible with small and large hosting environments, starting from shared hosting to VPS.
Caching helps boost site performance by storing frequently accessed data so they don't take as much time loading the next time. The caching feature on this plugin is available for a page, database, and browser caching to make sure your site is able to return requests fast. Additionally, code minification for HTML, CSS, and JavaScript is also available. The feature removes white space and extra characters from your files, reducing the file size and using less bandwidth to return the data to visitors.
The plugin also uses Content Delivery Network (CDN) to store media files in remote servers. So if a user is accessing your website from a specific geographic location, their browser will access the nearest server to display the content.
Conclusion
Implementing local SEO practices on your WordPress site is vital if your business has a physical storefront and serves customers in a particular area. When well-optimized, search engines will return your business on local search results even when people aren't adding location modifiers like "near me" or specifying the city name. Several ways to optimize your business for local search results include adding a Google My Business listing, on-page content optimization, and internal links from local websites.
In addition, WordPress SEO plugins can help boost your ranking on local search results using features like site speed optimization and schema. Here's a recap of the plugins we mentioned in this article:
Yoast SEO
Schema and Structured Data
WP Google Maps
Google My Business Review
W3 Total Cache
Hopefully, this article helped you gain more insight into local SEO and ways to use WordPress plugins to further optimize your ranking on local search results. Good luck with growing your business!