In today's digital world, having a strong online presence is crucial for businesses, including those in the vehicle industry. A well-designed website can help showcase your products and services, attract potential customers, and ultimately drive sales. That's why we've compiled a list of the 23 best vehicle HTML website templates for 2023.
These templates are designed with the latest web development trends in mind and offer a range of features that make them perfect for businesses in the vehicle industry. From car dealerships to repair shops to rental agencies, there's a template on this list that will suit your needs.
Whether you're looking for a clean and modern design or something more traditional, these vehicle HTML website templates offer plenty of customization options to help you create a website that reflects your brand and engages your audience.
So without further ado, let's dive into our top picks.
List of the Best Vehicle HTML Website Templates:
1. Limo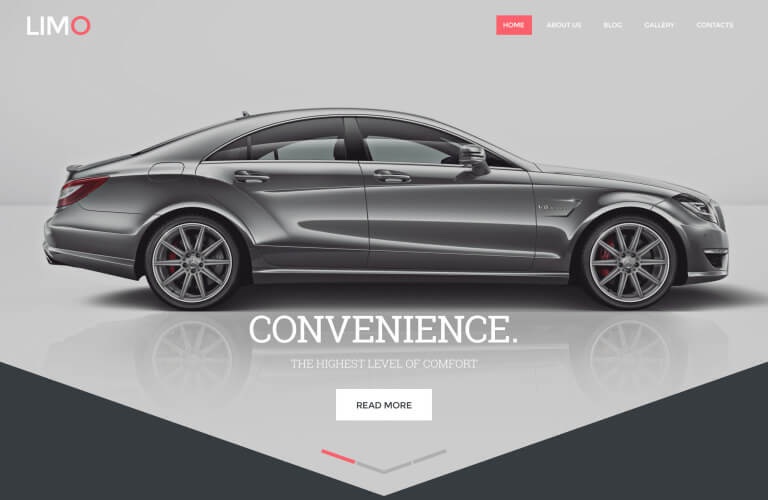 Limo is a fully responsive and well-documented Transportation Site Template. Its unique features provide benefits for both you and your clients. So, thanks to Bootstrap 4, visitors can open your site on any device they have in hand.
2. Car Repair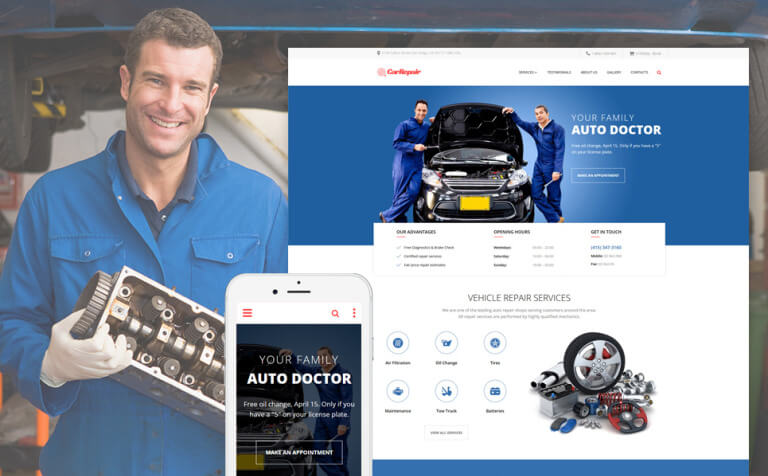 Car Repair is a well-documented and fully responsive Auto Repair Web Template, manufactured for car services websites. Your customers will adore your easy-use auto website with a Stick-To-Top Menu that provides them with comfortable navigation even while scrolling down the page, Ajax Search that allows getting speedy search results by means of a keyword, and a Contact Form that helps your customers to reach you in one click.
3. Car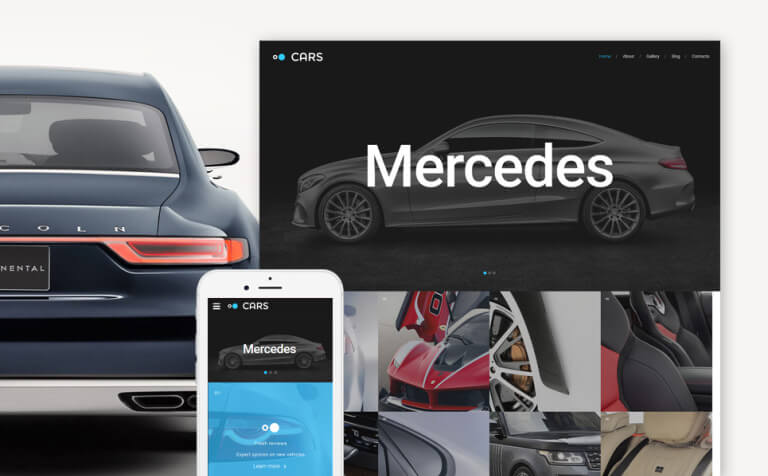 Check out a dynamic and visually rich website template for a car company. Besides this, its intro block is composed of full-screen slides to engage visitors with your content. You can also show off your autos in a gallery with a quick view option.
4. Frenzy Wheels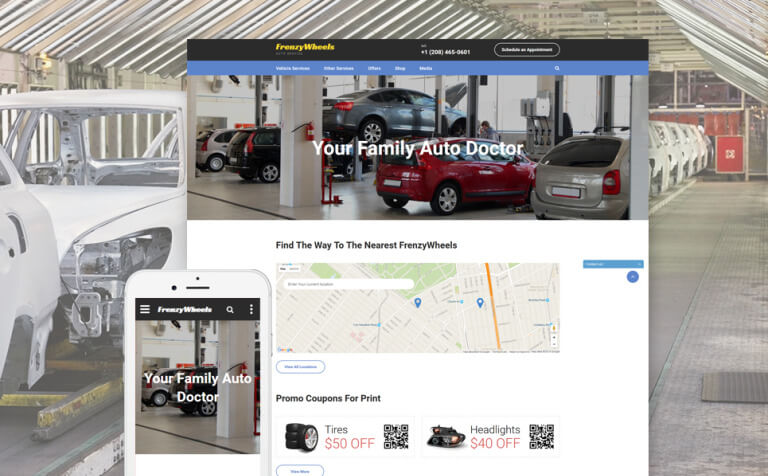 Frenzy Wheels is a responsive Auto Parts Website Template for all kinds of automotive websites. Its layout was optimized for business websites in the first place, but the abundance of additional pages and UI elements makes it possible to build a blog or an online store using this template as well.
5. Your Car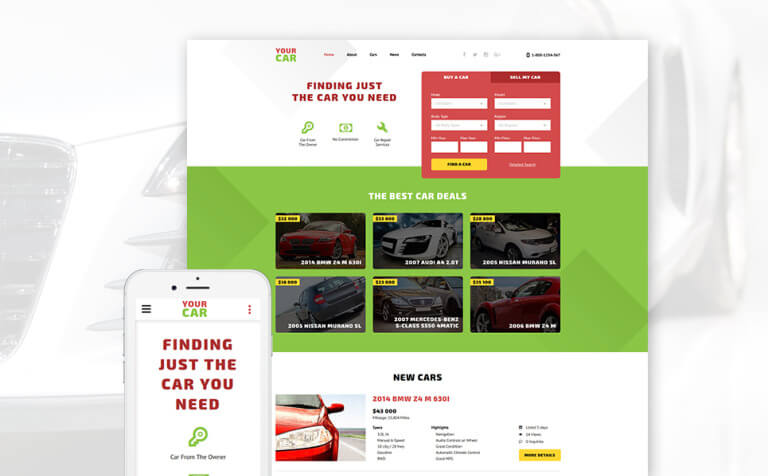 This car dealer web template is a mobile-ready solution compatible with modern-day browsers and built with HTML5, CSS3, SASS, jQuery, and semantic code. By means of a detailed search, customers can find the best auto for their individual requirements.
6. Carpro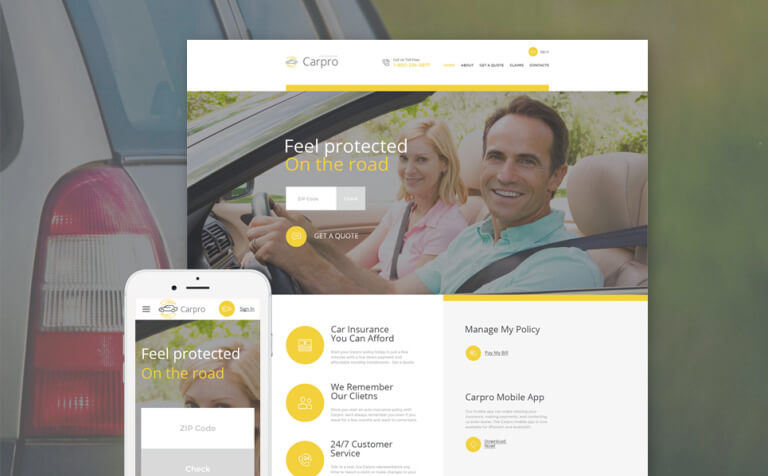 Carpro is a car insurance web template that is easy to install, manage, adapt to any niche, and scale to different screen parameters. With slightly subdued images and negative space, your message will always stay in the spotlight.
7. CarWash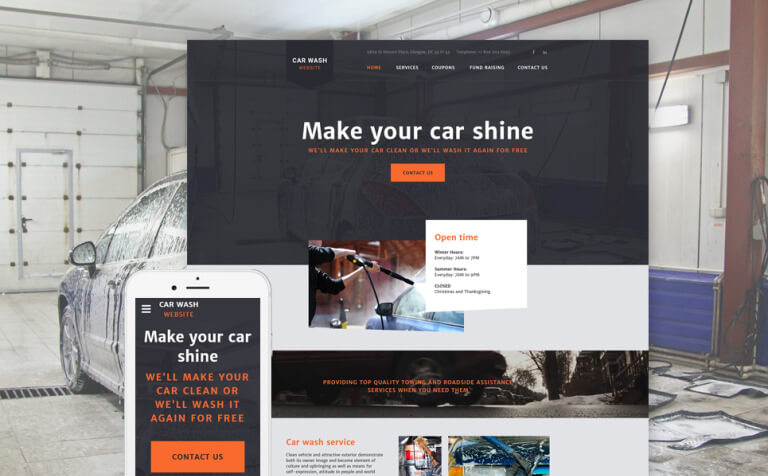 This up-to-date template will be a perfect fit for designing a professional corporate website with user-friendly navigation and an attractive look. A clean code ensures fast loading speed and the splendid performance of the theme at the same time responsive design allows it to adapt to any screen resolution on the fly.
8. Car Rental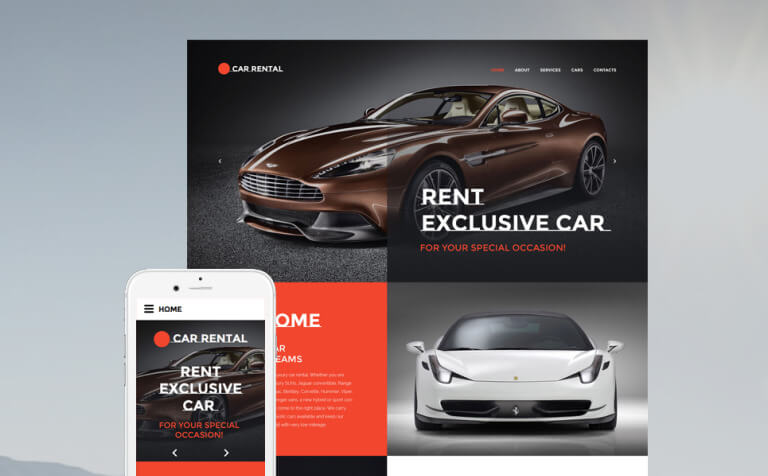 This theme can be used for building a professional blog of any kind. It offers quite an interesting design that will make your project look awesome. The template is also well organized, so the visitors will easily find the required information in the blink of an eye.
9. Motor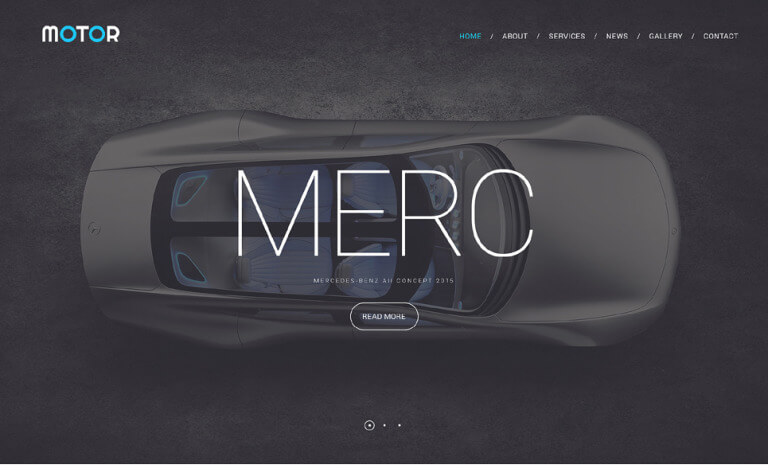 This car company web template provides a dramatic visual impact due to the smart utilization of large images throughout the layout. It starts with a page-wide slideshow followed by a filterable gallery designed in the mosaic style.
10. Car Repair Facility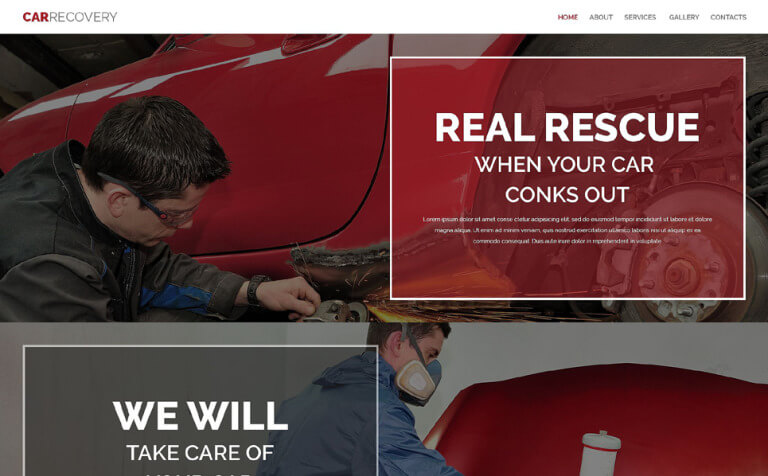 Have a look at this car repair web template. Its palette presents a spectacular contrast of black and red known as colors that radiate authority and strong motivation. Such a powerful visual side of the theme is not inferior to its functionality.
11. Tractor Maintenance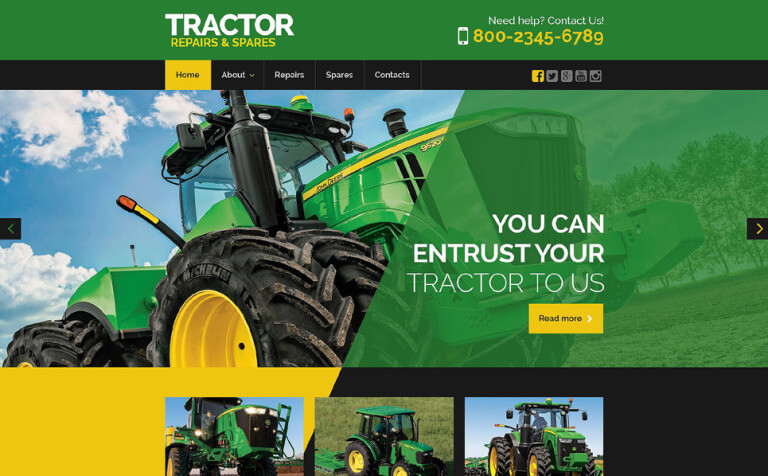 If you provide repair services, here's a template to spread the word about your business on the web. Due to its color-rich design, people who operate farming machinery will definitely pay attention to your company.
12. Motorcycles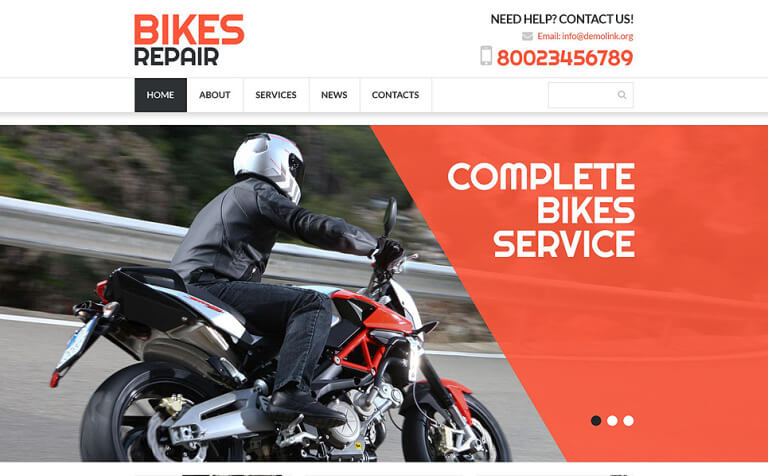 A very impressive bike theme. What makes it so attractive? Of course cool bike images together with coral red elements of unusual shapes and large headlines. The effect is staggering. The website creates a powerful company image, which is not afraid to be different and draw public attention.
13. Car Repair Service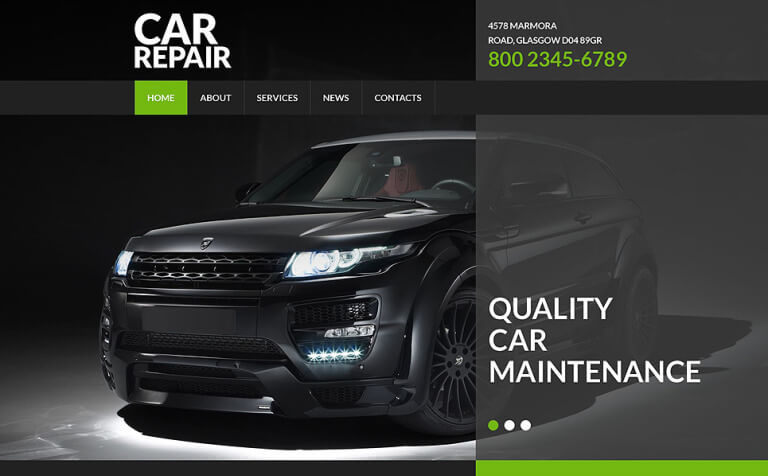 If you want to create a solid image for your car service and repair company, choose this template. Its dark background color and luxury car images in the slider are associated with high quality and professionalism. Transparent text blocks add style to the layout.
14. Automobile Fan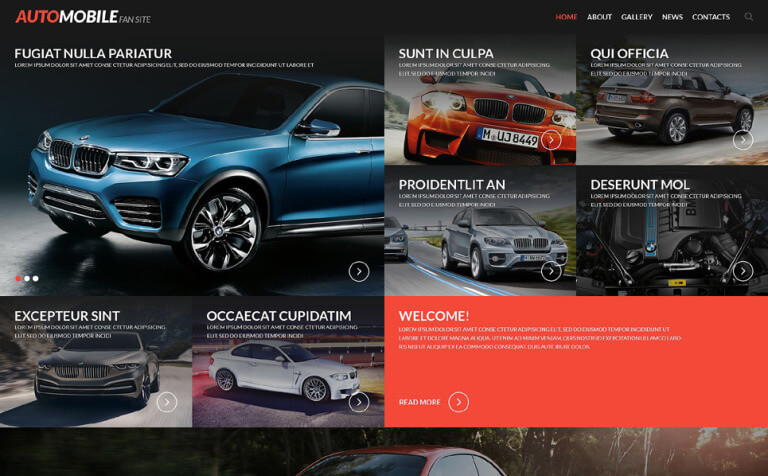 Car images are present in every website section. Besides, car fans will be able to read valuable information on the topics they are interested in. The website is mainly dark with a few bright accents that perfectly draw users' attention.
15. Automotive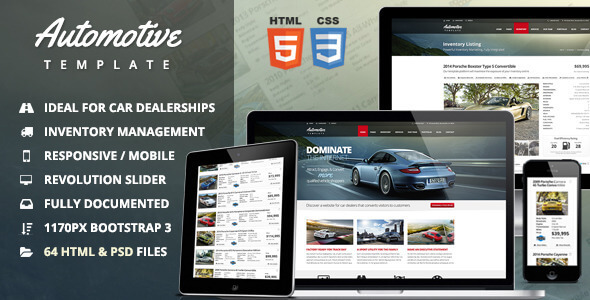 Finally a gorgeous website template for car dealerships that don't just look beautiful, but also includes complete easy-to-use functionality. Whether your business is a small car dealer or a large fully functional car dealership, you are sure to find what you need in this automotive template.
16. Trucking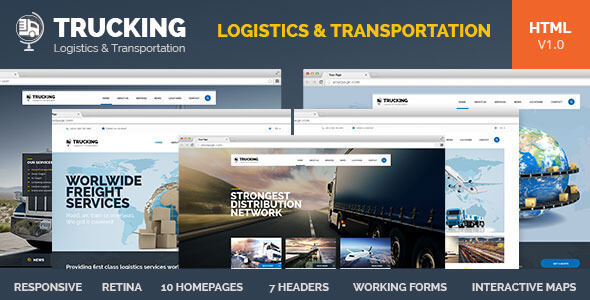 Trucking is an HTML template created for logistics, trucking, transportation companies, and small freight business. Also, it comes with a wide range of homepage layouts that will fit any transportation industry size.
17. AUTOZONE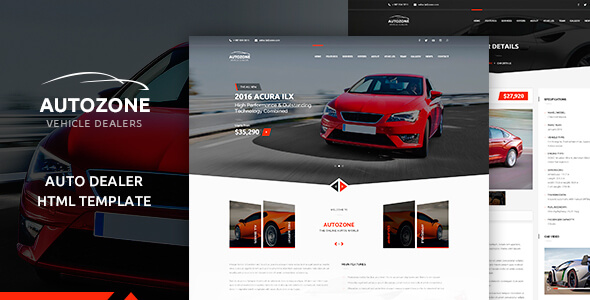 AUTOZONE is a creative, modern, and multipurpose One-Page auto dealer HTML template suitable for car dealership websites and businesses or any corporate websites in this field. This HTML template also provides solutions to buy or sell cars online.
18. Engines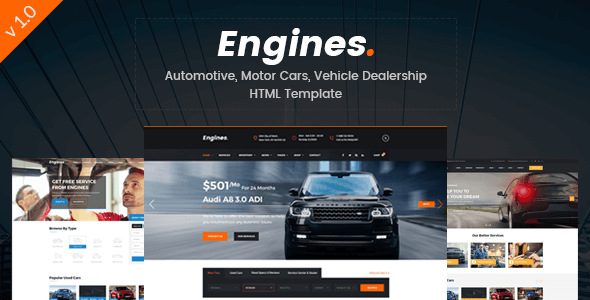 Engines – Automotive, Motor Cars, Vehicle Dealership Responsive Site Templates created especially for Car Dealer, Auto Dealer, Motor Dealers, Automotive websites, and any other automotive dealership business, that sell, buy, loan, or lease vehicles via the website.
19. Let's Drive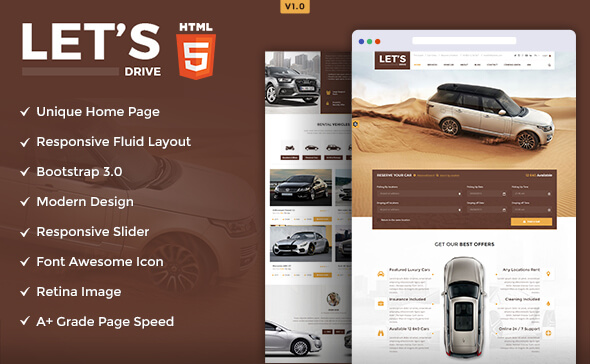 Let's Drive is another clean and modern-designed Car/vehicle Rental HTML5 pure responsive template. This template is handcrafted for automobile/car services owners who give online services to book a vehicle on Rent.
20. Heavico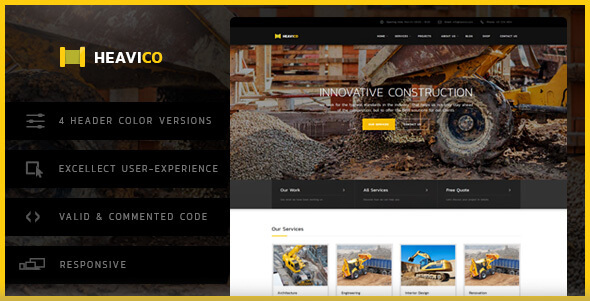 Heavico is a premium HTML template dedicated to Construction, Building and Industrial Businesses, Renovation Services, Architecture, Machinery and Mechanics Business, Handyman Services, and other related businesses.
21. Carros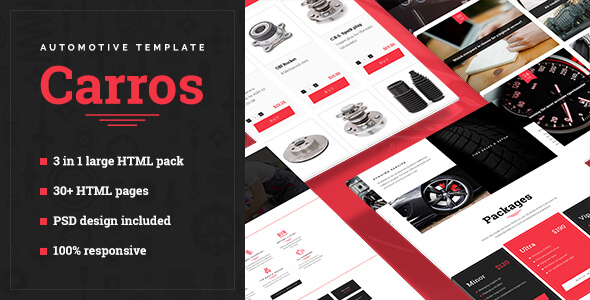 Carros — is a high-quality 3 in 1 HTML5 template that is suitable for building automotive websites. If your business is tied to car servicing, car workshops or you want to open your own online parts store, Carros would be a great solution when you decide to build your brand-new corporate or e-commerce website.
22. MOTORLAND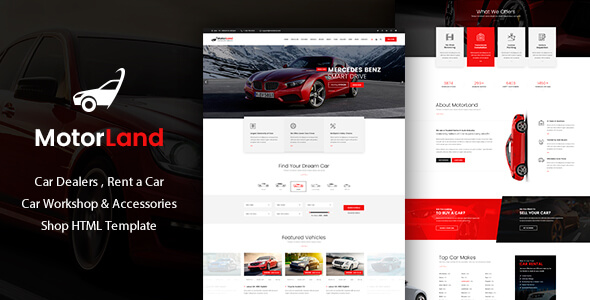 MOTORLAND is a Clean, Modern, and Multipurpose Car Dealer, Car Renting, Car Workshop, and also Auto Accessories Shop Template Design suitable for any type of Vehicle Dealership website and business or any corporate website in this field.
23. Car Dojo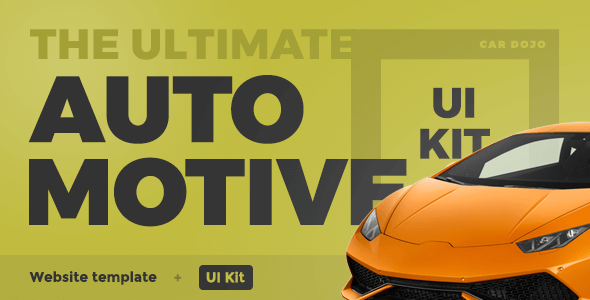 Car Dojo is the another ultimate auto dealers marketplace and vehicles rental parks HTML/CSS UI Kit website template. It's a lot more than just a car dealer website theme.