Are you looking for the best presentation templates for your business? If yes, then this article is very useful for you. So keep reading.
Whether the goal is to sell an idea, inform the company executives, or educate internal or external stakeholders, a presentation is a go-to destination for businesses of all scales. Moreover, brands are going even further and leveraging professional PowerPoint presentations as a medium to reinforce the company's corporate image.
Today, we will explore several out-of-the-box best presentation templates that allow you to captivate your audience & bring out the actual value of your content while reinforcing the brand's image:
List of The Best Presentation Templates We Cover:
1. Professional Business Slide Deck PowerPoint Template
2. Business Case Study PowerPoint Template
3. Open Startup Dashboard PowerPoint Template
4. 30-60-90-120 Day Plan Slides For PowerPoint
5. Corporate Annual Report Template
6. Seven-Step Vertical Journey Diagram
7. SWOT Analysis Template Infographic Quadrants PowerPoint
1. Professional Business Slide Deck PowerPoint Template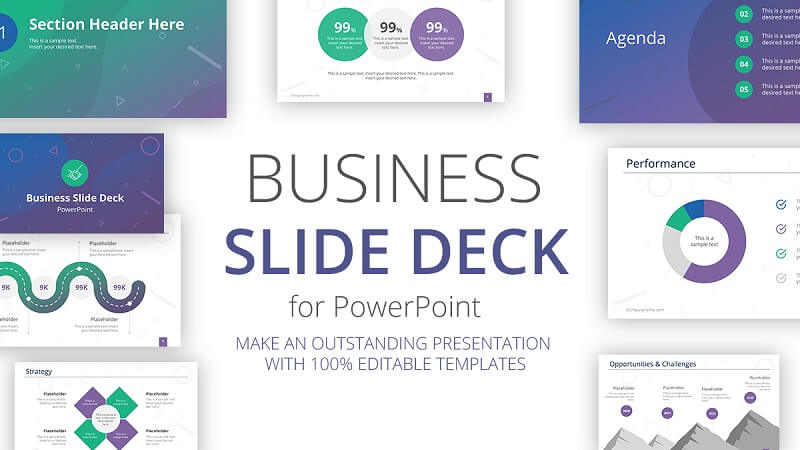 While presenting to a group of seasoned stakeholders, you require a template that is as polished as your business pitch. The 27-slide Professional Business Slide Deck template can be your go-to tool to cast a lasting impact on your audience.
The general-purpose business template covers all aspects of any business meeting. Presenters can use the deck to showcase Agenda, Services, Products, Business Analysis, Timeline, Planning, and much more. The template is further empowered by state-of-the-art typography, diagrams, shapes & aesthetic backgrounds.
2. Business Case Study PowerPoint Template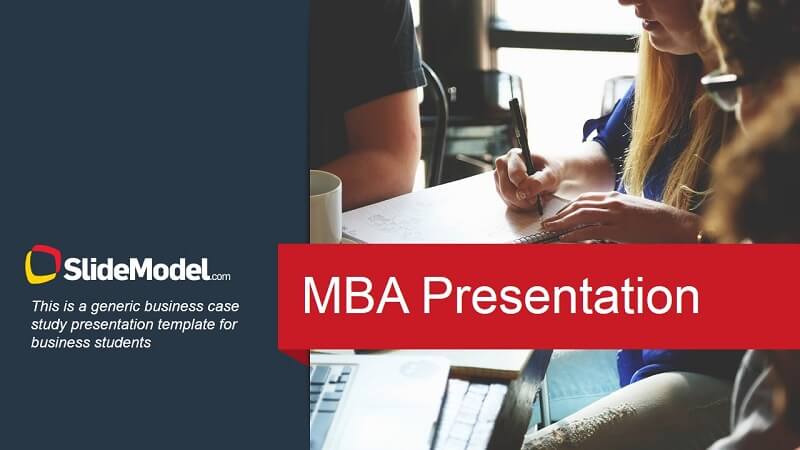 A case study is one of the most imperative parts of any business process. It allows professionals to analyze business issues from a variety of perspectives. Further, it also enables them to apply critical thinking to solve problems. The Business Case Study template allows you to illustrate business theory and project a real-life application of such theory.
The 31-slide slide deck holistically allows you to perform and project a detailed investigation of the subject matter. Presenters can 100% edit the template and plot Problem, Solution, Executive Summary, Key Challenges, Critical Business Points, Business Analysis, Success Factors, Solution Comparison & Analysis & Recommendations on the slides. Hence, the template allows you to empower your audiences' decision-making manifolds.
3. Open Startup Dashboard PowerPoint Template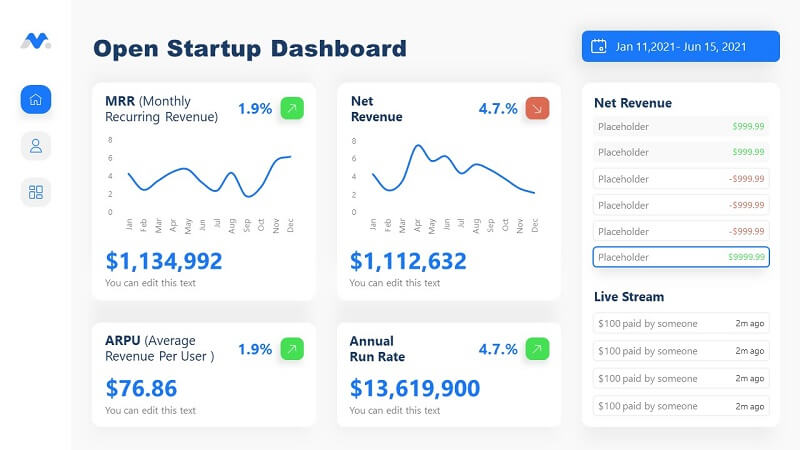 If you're looking to introduce enhanced visibility, better forecasting, inventory control, and real-time analytics, the Open Startup Dashboard template can be of great worth. The intuitive and corporate-grade slide deck features four splendid templates. Presenters can leverage highly customizable dashboards and plot data on the move.
You may include several KPIs or Key Performance Indicators in data-driven charts and make it easy for your audience to make sense of the analytical data. The template allows you to leverage customization to cater to the type of audience and their expectations.
4. 30-60-90-120 Day Plan Slides For PowerPoint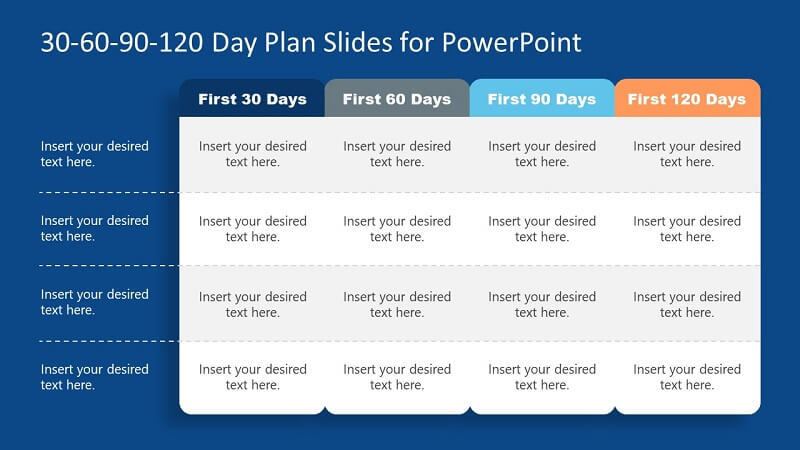 In any project, planning is one of the most critical stages. With effective project planning, managers can identify key goals, avoid missing deadlines, reduce risks, make the team accountable and ensure timely deliverables. The 30-60-90-120 Day Plan template is a great addition to your managerial meetings.
Presenters can seamlessly create project plans, plot milestones, goals, deliverables, and span the plan over 30/60/90/120 days. The deck comes in two captivating themes with blue and gray backgrounds, respectively.
5. Corporate Annual Report Template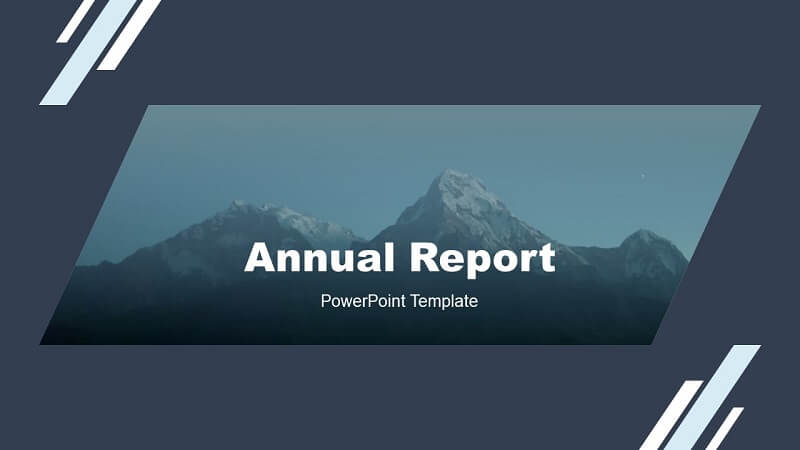 The Corporate Annual Report template allows you to minimalistic present the company's yearly performance, state of projects, revenue, business opportunities, challenges, and other important domains. The 20-slide template encapsulates a memorable presentation experience aided by enterprise-grade slide design, diagrams, infographics, and data-driven charts.
Rather than worrying about the slide design, presenters can leverage this readymade template, enter appropriate content in the placeholders and create an astounding presentation within minutes. On a high level, you can cover areas such as About Us, Mission & Vision, Company Statement, Financials & Statistics, Management, Key Figures, Assets, Liabilities, and more.
6. Seven-Step Vertical Journey Diagram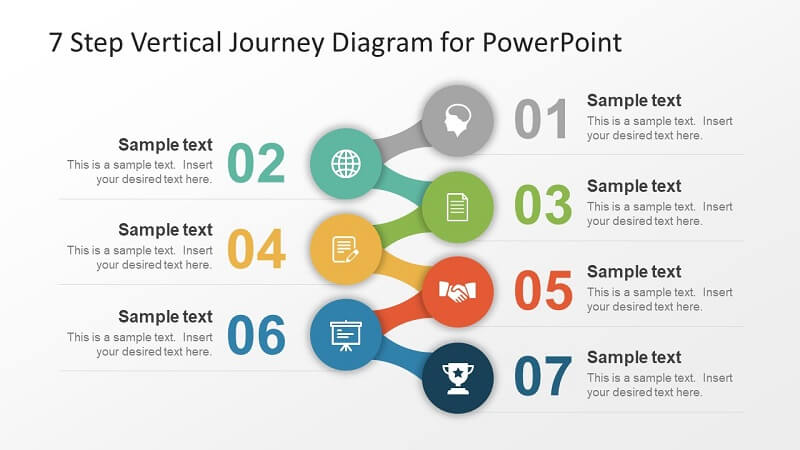 When it comes to ensuring trend identification, easy transfer of knowledge, and aiding the audiences' decision-making process, the Seven-Step Vertical Journey template can be of great help. The template allows you to visualize business processes, workflows, plans & timelines. Presenters can vividly connect dots for their audience and aid their understanding of the process.
The 100% customizable template comes in light and dark themes. You can edit the placeholders, put in relevant content and establish a relationship between process entities. The template is a desirable choice for presentations related to strategy, stages, processes & procedures.
7. SWOT Analysis Template Infographic Quadrants PowerPoint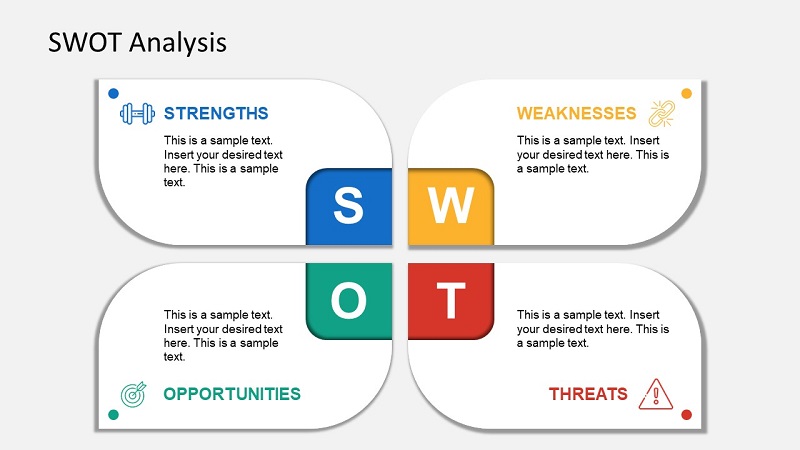 SWOT is one of the most popular frameworks for business analysis. The methodology allows you to identify your organization's strengths, weaknesses, opportunities, and threats. The 9-slide template enables you to plot your SWOT findings and effectively evaluate the company along with your audience.
Presenters can easily customize and alter the slide's colors, themes, shapes, texts, and other elements. Hence, all the stakeholders can collaborate, process the findings, brainstorm the ideas, and take the meeting towards success. Thus, you can provide a realistic, data-driven snapshot of your business's present and future.
The End Line:
A well-crafted and engaging business presentation can help you get your message across the room, entice the audience and take the company towards success. It is an ideal presentation that draws a line separating a fumbled opportunity and a closed deal. The best presentation templates mentioned above allow you to create quick, marvelous presentations and woo your audience like never before!