Having a website for your healthcare or medical business is crucial in the current digital era. A website will help you in showcasing your services and your knowledge in the industry. So, it will help you in reaching a wider audience. You can make a website easily by using Free Health Medical WordPress Themes.
However, choosing the best WordPress theme can be difficult because of the variety of options available. To assist you in getting started with the development of your website, we have compiled a list of the best free health medical WordPress themes.
1. Eightmedi Lite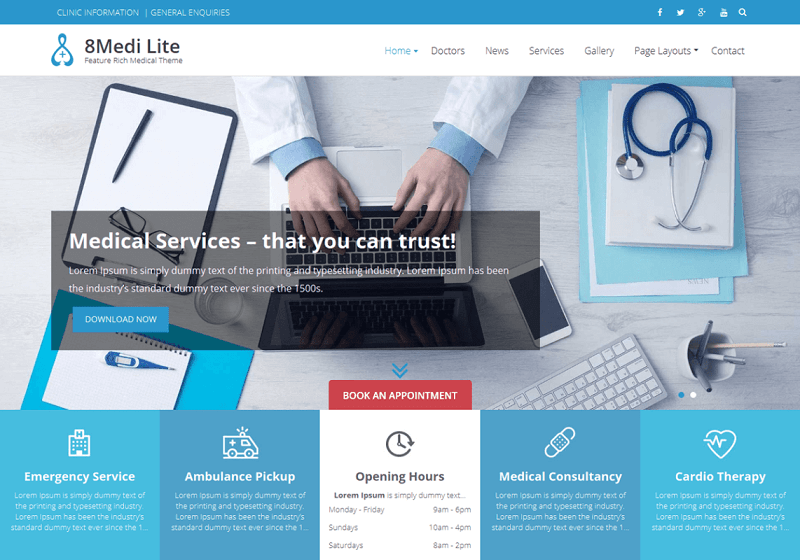 The free responsive medical WordPress theme EightMedi Lite is a good theme for building websites for businesses related to health centers, clinics, pharma, etc. Also, it has many great features, including a simple and clean design, social media icons, etc.
Moreover, the theme is SEO-friendly and has built in SEO related features, so this will increase the reach of your website and draw in more visitors. It is also simple to add e-commerce and contact form 7 related functions because the theme supports famous plugins like WooCommerce, Contact Form 7, etc.
2. Mediclean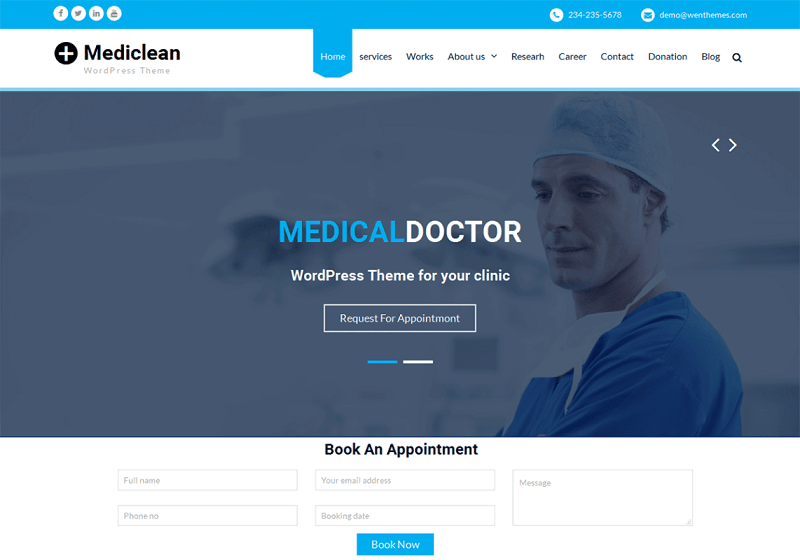 Mediclean is a free WordPress theme aimed at websites related to health care and medical businesses. Also, the theme is fully responsive and has a friendly interface. The homepage has a slider that you can use to highlight your most important content.
Moreover, the theme offers a variety of layout options that are simple to adapt. Additionally, a drag-and-drop page builder is included, which makes it simple to create unique pages without the need for any coding skills.
3. VW Hospital Lite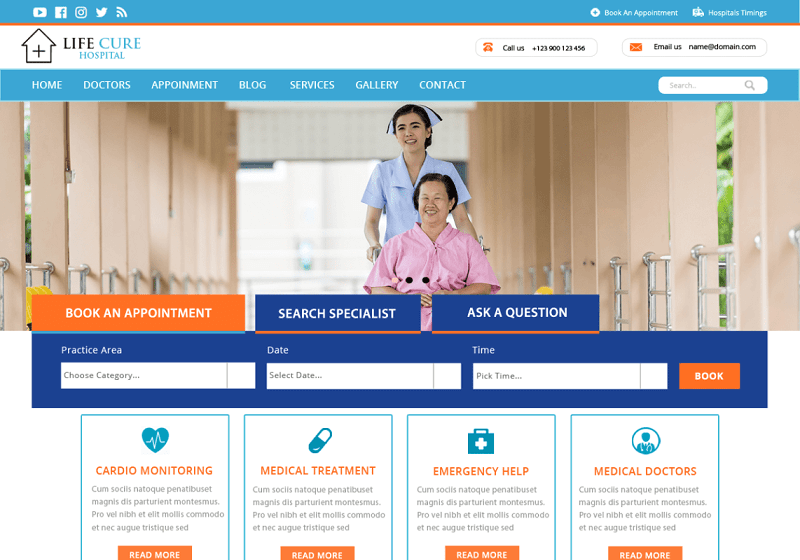 VW Hospital Lite is a fully responsive theme that offers a number of features for businesses related to health service providers. Some features are Call to Action Button (CTA), Appointment form section, and testimonial section.
Moreover, this theme offers a variety of customization options that make it incredibly interactive and user-friendly. The theme is built on bootstrap with optimized codes making your site rank high on google and other search engines.
4. Mediquip Plus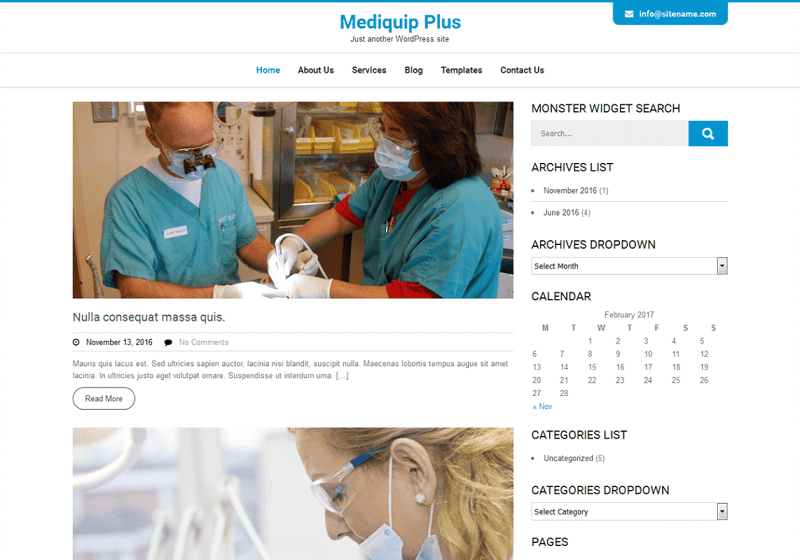 Mediquip Plus is a free WordPress theme that will help you in creating a medical related website, it will help in growing your business. This theme is specially made for businesses like hospitals, clinics, etc. Also, the theme is SEO-friendly.
Besides this, the theme is a combination of some amazing features. You can use this theme for other purposes also. The theme is customizable and you can customize it without touching the codes. Also, it is multilingual and is translation ready too.
5. Medplus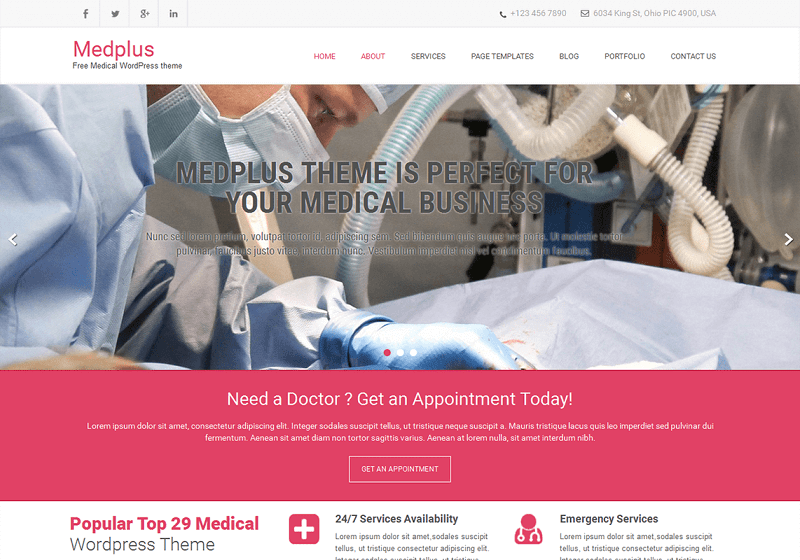 MedPlus is a free medical WordPress theme created especially for websites with a medical or healthcare focus. Also, the theme is simple to use because of its clean and professional design. The theme is fully responsive, which means it will adjust to any screen size or device, making it ideal for people who use their mobile phones to browse the internet.
Moreover, with the MedPlus theme, users can customize their website in a variety of ways to suit their unique requirements. It comes with a number of widgets and plugins that let users add social media buttons, contact forms, reviews, and other elements.
6. fMedicine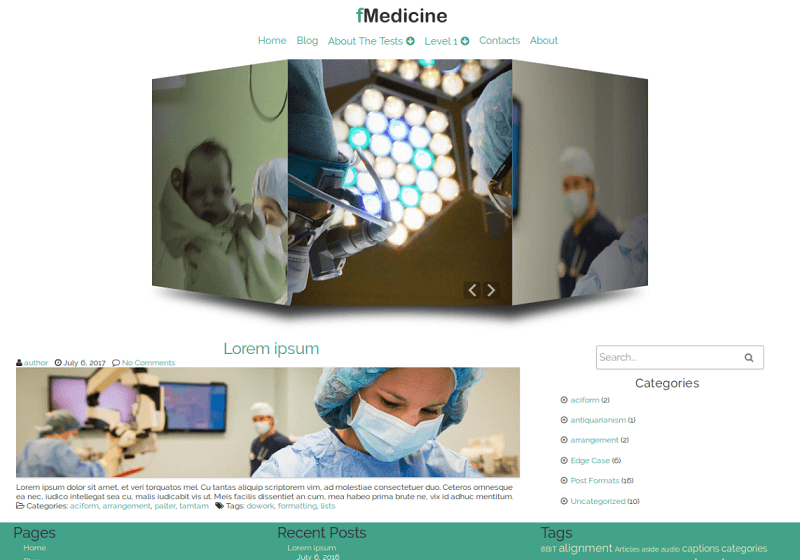 fMedicine is a free WordPress theme with a clean and elegant design. The theme will be beneficial for the blog or websites related to medicine, doctors, etc. The theme includes various features like a sidebar widget, multi level drop-down menu, etc.
Moreover, the theme is fully optimized for SEO, which will make it easier to rank your website on google and other platforms. Some extra features are: the theme is cross browser compatible, translation ready, and much more.
7. Medical Healthcare Elementor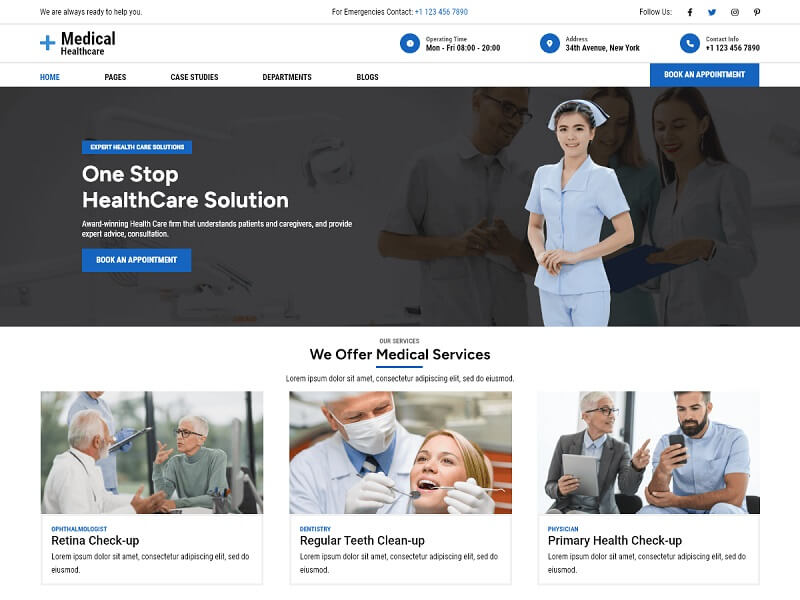 Medical Healthcare Elementor is a pre-designed free theme, designed especially for websites related to medical and healthcare businesses. These businesses can benefit from this theme by creating a professional website for their business.
Moreover, the theme includes features such as service listing, appointment booking, etc. The theme is simple to install on a WordPress website. Also, the theme is user-friendly for a great user experience, and the theme is fully responsive and easily customizable.
8. Gutenify Medical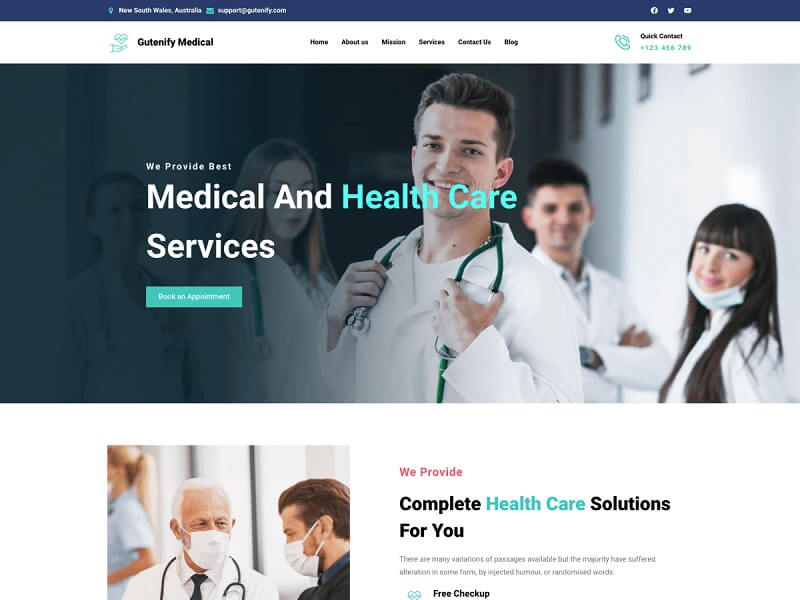 Gutenify Medical is a modernly designed theme. The WordPress blocks editor makes it easy to customize the theme. So, you can create a website with a completely original appearance. You can efficiently use this theme by adding Gutenify Plugin.
You can create various customized templates using the Gutenify plugin. Also, you can use its built-in template kits and then further customize them to according your needs. The theme is multipurpose, so you can use this theme for creating other websites also.
9. Medical Doctor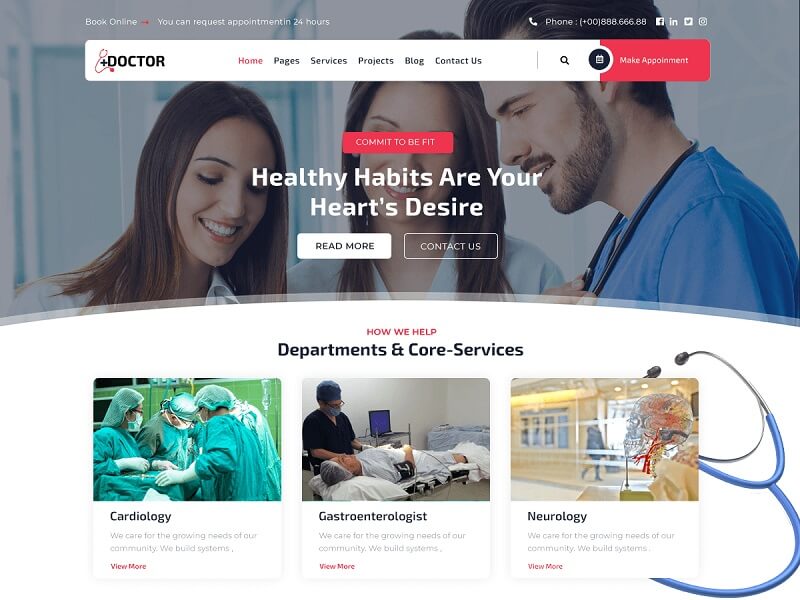 Medical Doctor is a great free WordPress theme for professionals working in the medical and healthcare industry. Also, the theme is fully responsive so, visitors from different devices will feel the same experience on every device.
This free theme offers users a user-friendly interface that makes it easy for them to complete tasks. Also, the theme is clear, retina-ready, and beautiful in terms of appearance. It comes with a design that you can easily edit with just a few clicks.
10. Medical Clinic Lite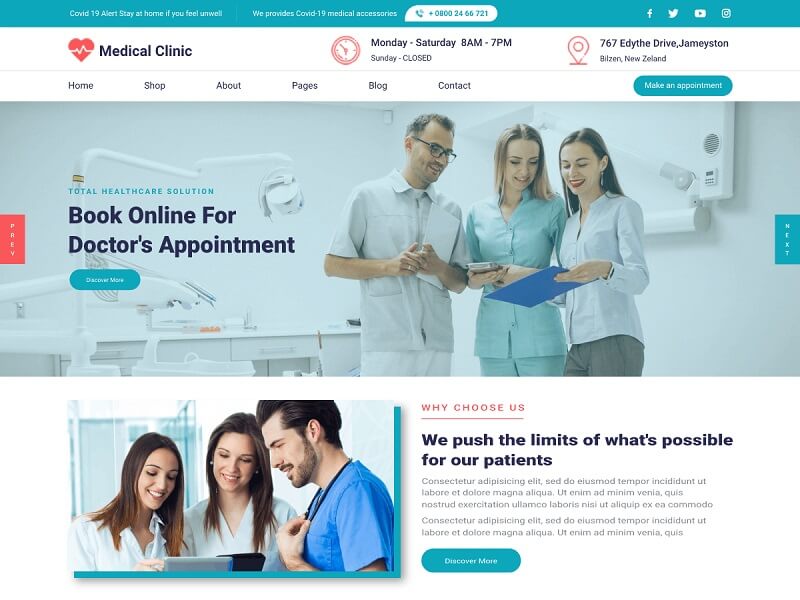 Medical Clinic Lite is an expertly designed free WordPress theme for doctors, pharmacies, etc. The theme is modernly designed so that it will reflect a professional image of your business. Also, it offers a user-friendly and clean layout.
Moreover, the theme is also compatible with famous WordPress plugins such as Contact Form 7, Mailchimp, etc. There is a huge collection of pages and layouts is available. Also, coding knowledge is not required to create a professional website with this theme.
In Conclusion:
In conclusion, it can be difficult to find the best free medical WordPress theme, but by carefully evaluating the theme's features and functionality, it is possible to find the right one for your website. We hope that you found the perfect theme for your website from the best Free Health Medical WordPress Themes listed above.
Moreover, the best free medical WordPress theme should be responsive, mobile-friendly, have customizable options, and provide features that are made specifically for the medical sector. It should also have a clean and professional design.