A landing page is not an ordinary website. To explain everything, try to imagine the simplest situation. One comes to a new city and does not know where to go. Forget about gadgets that can guide him or her. It seems that the guest needs a map. In our case, the landing page can become this very map. Actually, it can become something bigger. It allows making the necessary offer, presenting its details, and getting in contact with your audience. You can be excited to share more information about your company or services. However, you need something special to build a bridge between you and your potential clients. Today, we want you to get inspired. For this reason, we have prepared 10 best-selling landing page templates. They cover a wide range of industries. In addition to this, they guarantee to provide you with an effective way to promote your brand. Actually, it is better to look through them to understand whether they will become your perfect choices. Explore these marvelous landing page templates that should increase your popularity and overall success. You should certainly get more ideas on how to present your business thanks to them…
Lintense – Landing Page Templates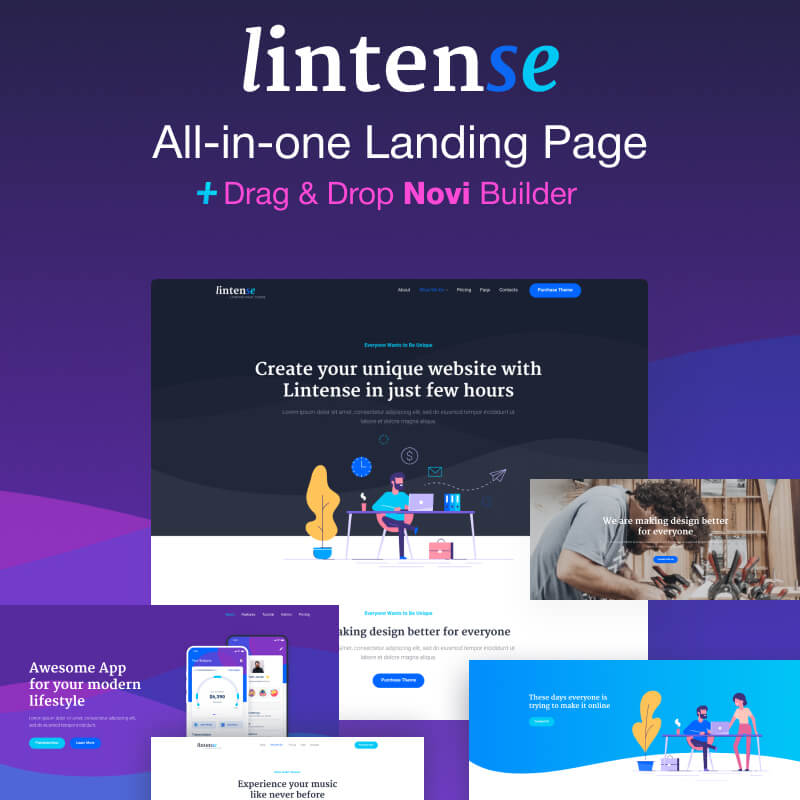 Help users decide whether your product worth their attention or not using this expressive template. Show them that your services deserve their precious time and energy. It is suitable for such popular topics. There are seven uniquely-designed pages that you can customize without having any coding skills. Let us focus your attention on its key features that are waiting for you in the package.
Main Features:
covers such niches as corporate, SEO agency, mobile application, promotion, digital agency, and one-product presentation;
drag-and-drop Novi Builder;
various useful plugins to make your online-presentation look exceptional.
Digimint – Landing Page Templates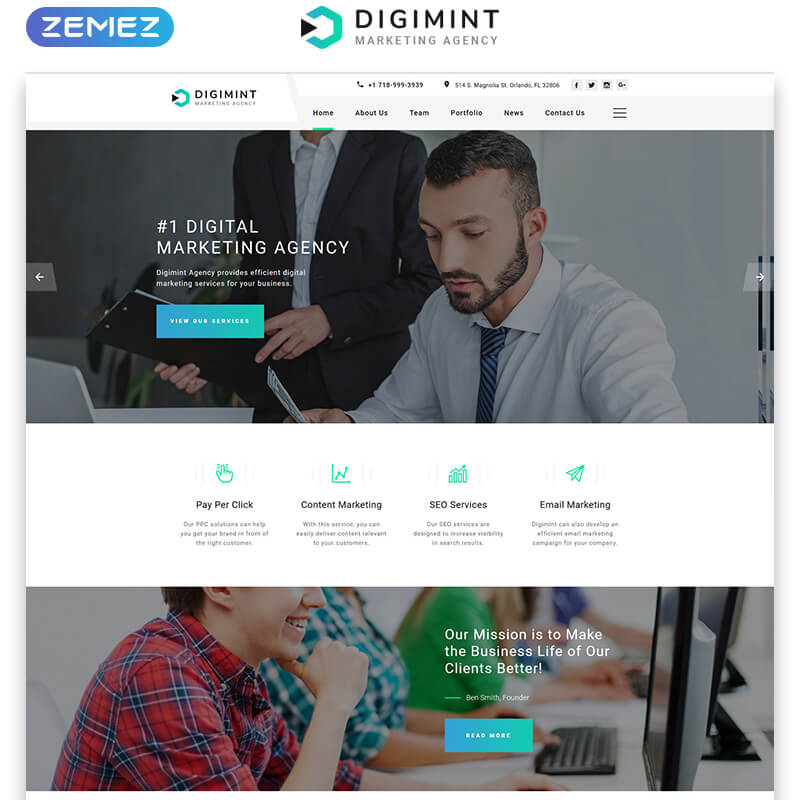 A beneficial and well-structured template that should present your marketing agency in the best possible light. Communicate with your potential clients and provide them with all the necessary details and advantages. This tool has different means of advertising your company. Due to its newest technologies, it will take you nothing to get a professionally-looking website. Look through them quickly.
Main Features:
contact form;
cross-browser compatible design;
Google Fonts;
amazing gallery variations;
eye-catching animation effects and transitions.
Andrea – Landing Page Templates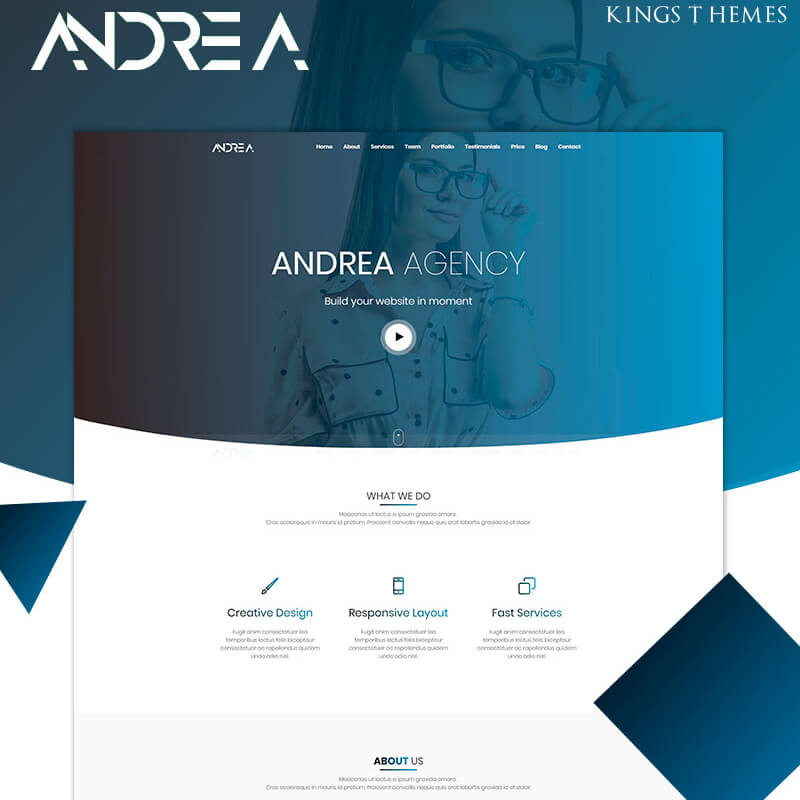 Andrea is a marvelous template will make it easier for you to get to the point. In other words, you will get a straightforward online-presentation of your services. It is packed with multiple options. As an example, you are free to speak about your team, services, and testimonials. This will make your company more reliable. It also has a fully responsive layout and super-customizable nature that you will certainly like.
Main Features:
recent works;
our skills;
contact form;
portfolio;
about.
Softlabs – Landing Page Templates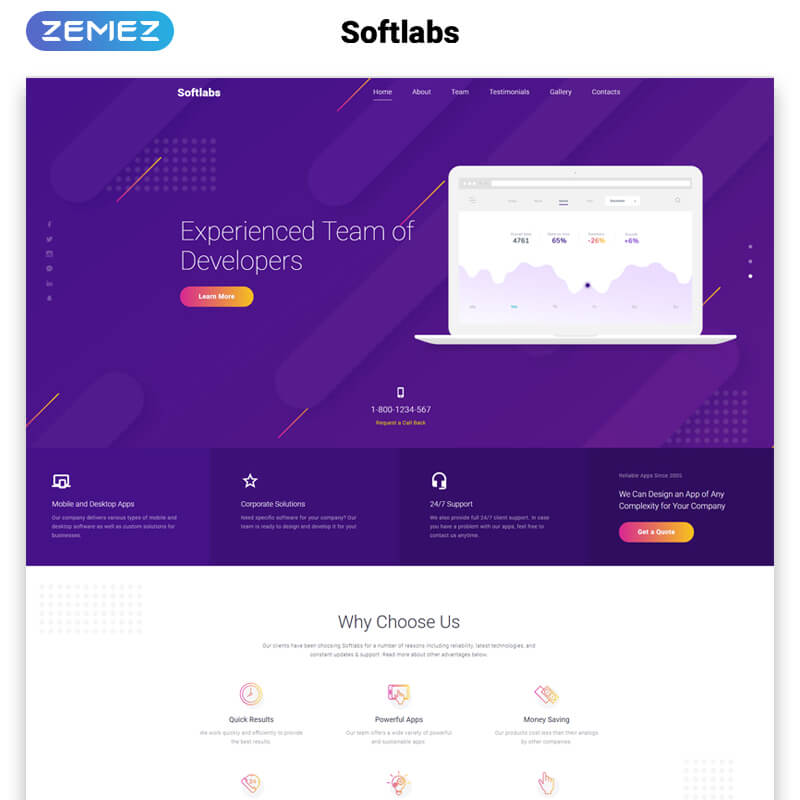 Boost the popularity of your software company together with this modern template. Its package includes an elegant gallery. You can fill it with your impressive visual content and social options. As a result, you will get something more than a simple advertising tool. You can easily keep in touch with your clients and inform them about the latest news. Do not forget that you will get a highly-responsive design. This means that your online-project will work perfectly on all possible devices.
Main Features:
testimonials;
search form;
newsletter subscription;
Google Map;
back-to-top button.
Go Agency – Landing Page Template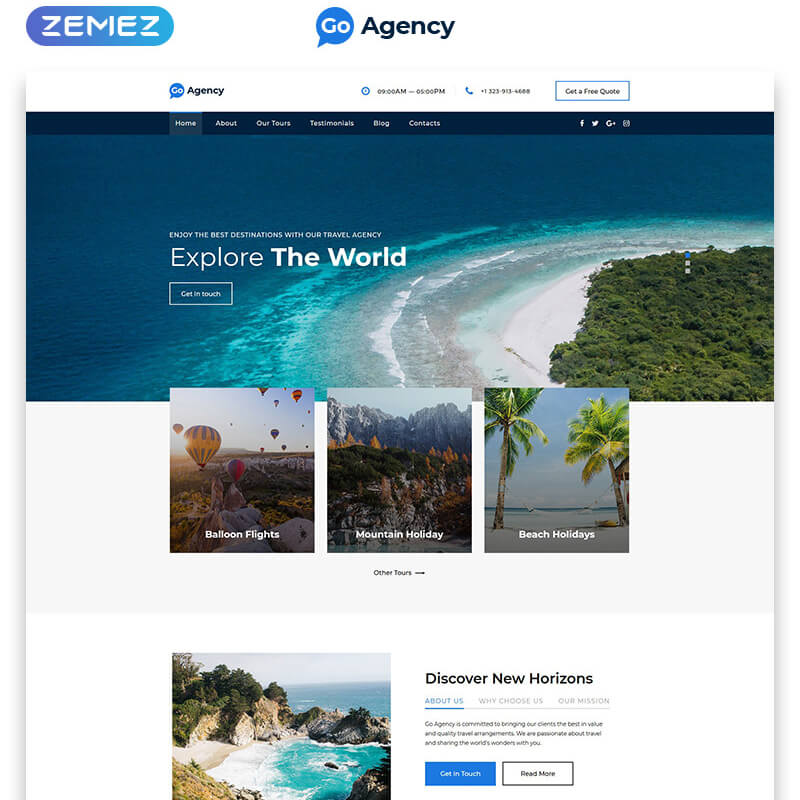 This professionally-designed template is perfect for promoting your tourism business. This might be a good option for those who are interested in making their online-presentation look simplistic. There are some visually-attractive effects and elements that can decorate your website. As you can understand, you can easily reach a wider audience. Get ready to present your services in the most preferable way using the following options.
Main Features:
Parallax effect;
contact form;
Google Fonts;
gallery;
bonus images.
SEO Studio – Landing Page Template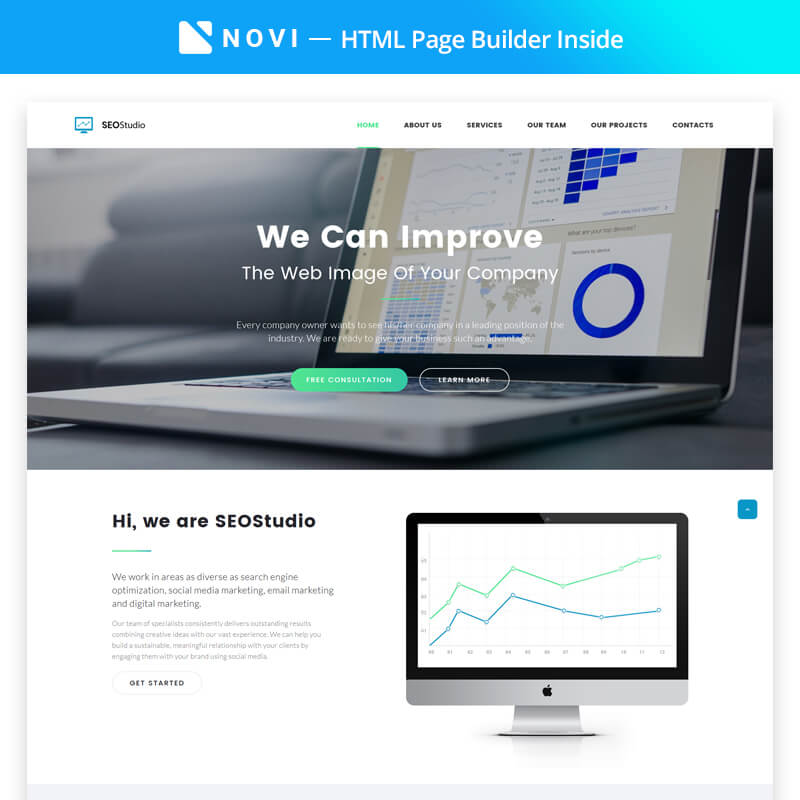 Are you fond of improving the web-image of different companies? Discover this excellent template that allows showcasing your digital services in a smart and engaging way. Bring the focus to the most essential details using this minimalist design. It also has a fully responsive design that is intended to run perfectly on all devices and their screen resolutions. Do not forget about an easy-to-use drag-and-drop functionality that makes tweaking the design more enjoyable.
Main Features:
Google Map;
Novi Builder;
back-to-top button;
different animation effects;
Google Fonts.
Kinderex – Landing Page Template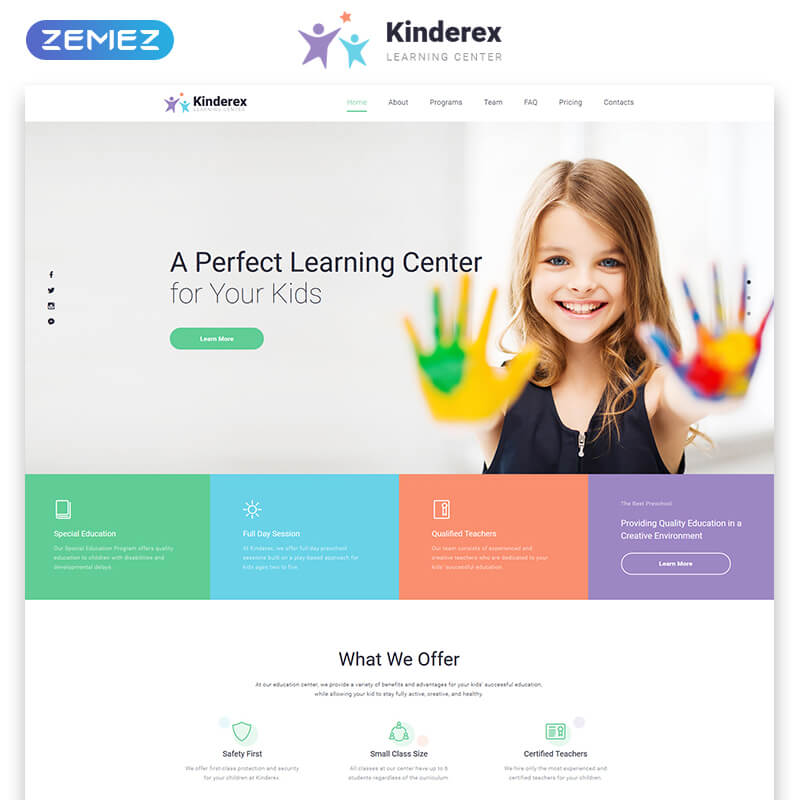 Kinderex is a vibrant template that allows creating an online project that will be difficult for your users to ignore. Its main goal is to create a well-organized landing page that will become a center of attention. It has an adaptive interface that will be perfect for all gadgets, including mobile ones. As you can understand, you will get a good example of the organization and high-quality functionality. Now, look at those options that make this ready-made solution so special.
Main Features:
newsletter subscription;
contact form;
Google Map;
Google Fonts;
bonus images.
RatherApp – Landing Page Template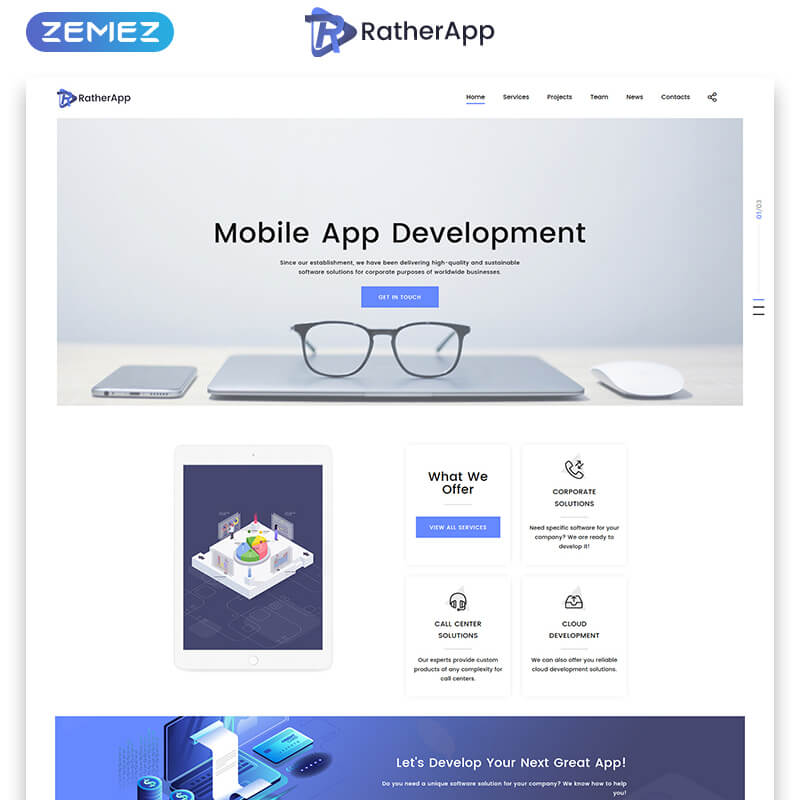 This variant will be useful for those seeking more customers. There is nothing better to use than this attention-grabbing template. Its modern design immediately inspires confidence and show reliability. When your potential clients enter your website, they see a contact form right away. This means that they can always communicate with your team and ask some questions. You are also free to add reviews from your audience on the homepage.
Main Features:
various types of the gallery;
Parallax effect;
cross-browser compatible design;
Google Fonts;
contact form.
Nivea – Landing Page Template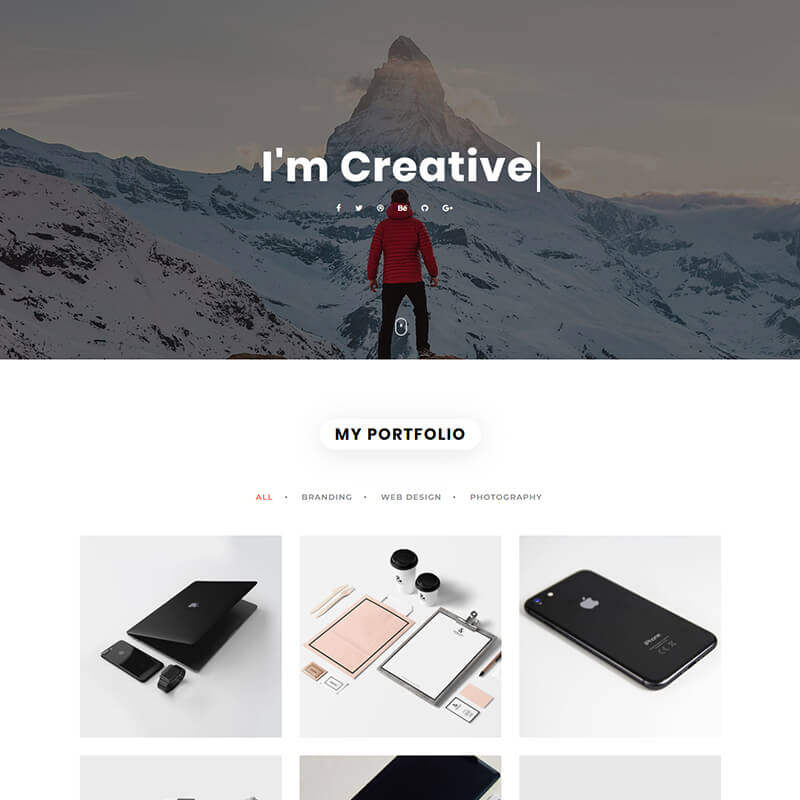 There are so many ready-made solutions that allow making your portfolio stand out from the crowd. This one is no worse than others available on the Internet. It is perfect for freelancers, photographers, and other creative people. Furthermore, your visitors can use every device their soul wants to browse your website. Its fully responsive design will always adapt to their screen resolutions.
Main Features:
smooth scrolling;
image background;
grid portfolio;
isotope and masonry layouts;
Google Fonts.
Appnova – Landing Page Template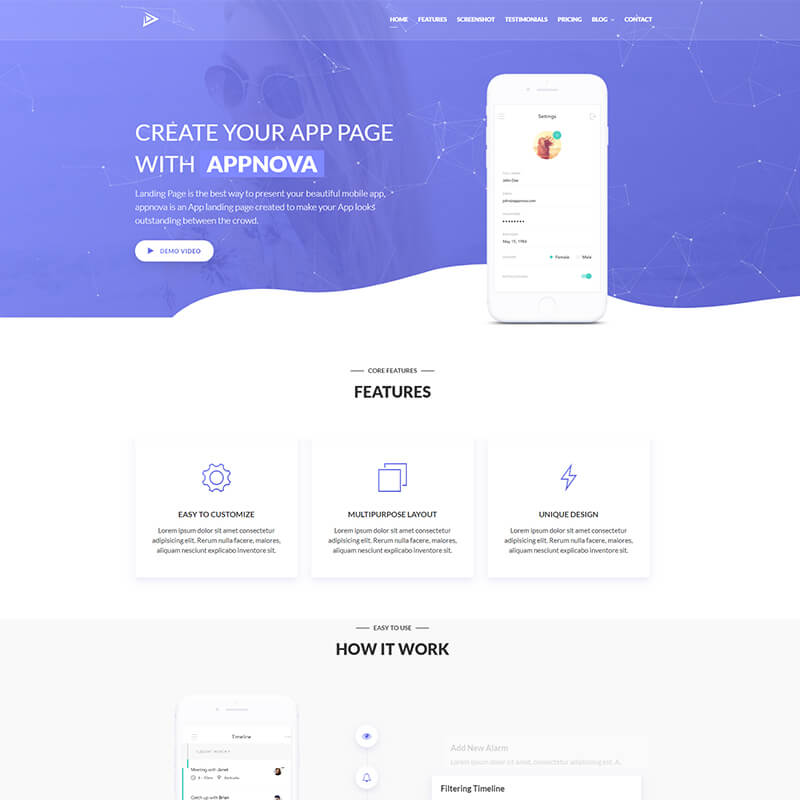 A remarkable and impressive template that will assist you in promoting your latest applications. It has an easy-to-customize nature that allows editing your website according to your needs. There are so many options included in its package. To start with, there are 350+ HTML files that you can choose from. You can also pay your attention to eight header effects. Do not forget about the availability of 12 color schemes. Actually, there are even more features you should take advantage of. We are talking about the following ones.
Main Features:
various animation effects;
three variants of the mobile slider;
smooth scrolling;
social media integration;
cross-browser compatible design.
There are so many ready-made solutions that you can choose from. We have tried to find only worthwhile variants that allow spreading the word about your company. Lead them in the right direction using your brand-new landing page. Remember that you are free to introduce every single topic your soul wants. Check these amazing templates once again and opt for something that will meet all your needs. You will be able to customize them, add your content, and engage more and more people. We hope that you have found something that really impressed you. Thanks for reading!